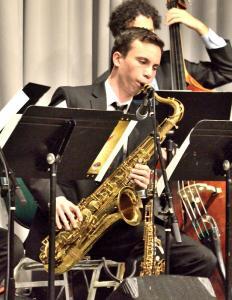 There is a special feeling of appreciation and recognition to see a young musician immersed and working hard toward his or her desired goal. Each step of achieved success reinforces their drive and enthusiasm, bringing that goal just a bit nearer. We know the satisfaction of learning and remembering through our own eyes as parents, the sense of pleasure and pride at achievements of our children.
The Valley Jazz Club audiences first saw Emilio Barkett a couple of years ago, playing alto saxophone with JazzAmerica, a group of students wanting to learn traditional jazz skills. It was co-founded 22 years ago by L.A. jazz legend, Buddy Collette, and is now directed by Richard Simon, an eminent jazz bassist and musician. JazzAmerica was formed to help students of jazz continue their education when budget cuts in many public schools left gaps in or even eliminated music education.
As a serious student embarking on jazz studies, Emilio showed good potential and merit. The Valley Jazz Club (of Canoga Park, California) awarded him a scholarship to the esteemed Sacramento Summer Youth Jazz Camp, and watched him getting better and better over time. Seeking playing experience, he came to Valley Jazz Club meetings to play with the "pickup band" jammers, assembled of available players in attendance, to play together with a jazz band for the first time. Emilio's earnest playing and rapidly (almost explosively!) developing skills and knowledge were evident, as we experienced, watched, and enjoyed his efforts and growth.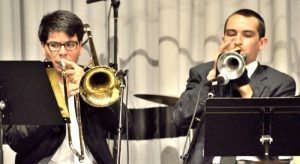 At this event, the Valley Jazz Club was pleased to recognize his accomplishments and feature 16-year-old Emilio Barkett leading his band, The Original Rays.
Stepping on stage and setting up to play, the six young musicians were dressed for "business" in dark grey, looking confident and relaxed. Band members were: Emilio Barkett, leader, tenor and soprano saxophone; Derrick Morales, piano; Parker Trent, drums; A.J. Sano, trombone and vocals; Andrew Chermack, cornet; and Ian Soloman, bass.
The first tune began with solo trombone playing for three bars, before bass joined in as a duo for another three bars before piano came in, then the rest of the band jumped in, for a novel, swinging version of "The Sheik of Araby." The Original Rays not only had great playing and performance skills, they were equipped with excellent arrangements upon which to apply those skills—and please this audience. Their focus was on early tunes, ranging from "Cake Walkin' Babies From Home," to "Summertime," to "Out Of Nowhere," and "Sweet Blue Janet."

These admirable musicians performed some pieces I found remarkable, showing challenges and even bits of humor that were exceptional: Derrick Morales' personal piano arrangement of "Tenderly" that he renamed as "Un-Tenderly," with his own creative twists; "Petite Fleur," one of the more beautiful instrumental tunes in jazz by legendary Sidney Bechet (and one that is not heard often enough); and a real surprise and treat, "Sunny Side Of The Street," with A.J. Sano putting his trombone down long enough to sing and swing it with unique "scatting," using his voice instrumentally—and very well done. (He would deserve the Ella Fitzgerald award for scatting, if we had one.) A.J. returned later to do it again, with "Just Friends."
Calling them "young musicians" is a good way to bring attention to The Original Rays, but focusing on their youth might imply lack of enough time to acquire ability or experience. They are clearly capable and dedicated, experienced and innovative musicians, with much more time invested in honing their arts than might be realized by non-musicians. They each just happen to have a much more recent birth certificate than I do!
---
Also see: Emilio Barkett & The Original Rays reviewed in 2018.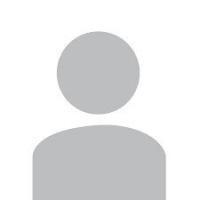 Harvey Barkan has reviewed live jazz events for several decades. His work has been published in the LA Jazz Scene, The American Rag, and many other publications.