If you're not a subscriber, no worries, it's not too late to see these stories. Subscribe now and you'll get a PDF copy of June and start receiving your print papers in July.
---
New in June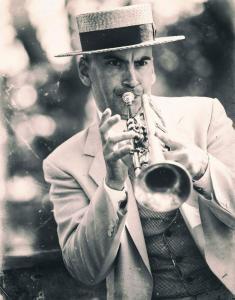 Drew Nugent is on the cover showcasing a variety of exciting venues for hot jazz artists.
Larry Melton tracks W.C. Handy, as he led the Mahara Minstrels to Sedalia, Missouri, in the time of Scott Joplin.
Lew Shaw investigates the 60 year history of The Queen City Jazz Band.
Scott Yanow continues his monthly profiles of jazz legends with Joseph "King" Oliver.
Van Young remembers Milt "The Judge " Hinton, who died in 2000.
Randi Cee tells us that her "Mama Tried."
The Professor is in with advice for jazz musicians sitting in on performances of classical music.
Bill Hoffman reports from the NYC Hot Jazz Camp.
Harvey Barkan reviews a concert by Jimmy McConnell's Super Big Band.
Russ Tarby gives us a concert review of the exciting Original Cornell Syncopators.
Joe Bebco weighs in on the controversy over the removal of a statue of Stephen Foster.
Bob Byler reports on Dick Hyman, in a never before published story from the recently deceased jazz journalist.
Lew Shaw notes the passing of New Black Eagles JB front man Tony Pringle, while Russ Tarby reports the future plans for the band.
In "Quarter Notes" Shelly Gallichio reports from the Economy Tent at the New Orleans Jazz and Heritage Festival and gives us a run down of venues to visit in the city.
In "Catching up With New Orleans" we begin to highlight the fantastic new CDs coming from the Crescent City, starting with Tuba Skinny, Twerk Thomson, and the On The Levee Jazz Band, with a second batch planned for July.
More albums are reviewed by Scott Yanow and Norman Vickers including one by Jen Hodge's All- Stars out of Vancouver.
We also tracked down some new events for The Festival Roundup including the first New York Brass Festival, scheduled in June.
Facebook Comments