Musicians rely on an exceptional sense of hearing in order to excel in the work they do every day. Ironically, that work could impede their ability to perform the work they love.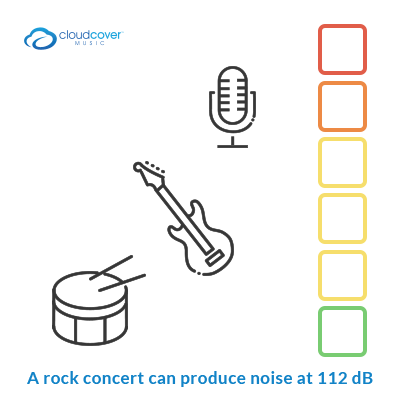 Consider this: The American Speech Language Hearing Association reports that a rock concert can produce noise at 112 dB. That is a volume the association considered extremely loud and dangerous to hearing. The association says that people attending a concert should wear earplugs to protect hearing.
A person within the audience might experience this volume level for just a few hours on a rare occasion. But someone who is playing with that rock group could experience that level of noise multiple times during the same week while on tour. That same musician might also participate in ear-splitting sound checks before each concert just to make sure the room is properly set up for the festivities.People who participate in rock concerts like this over a long period of time can develop profound hearing loss. For example, Rolling Stone reports that AC/DC singer Brian Johnson was forced to leave in the midst of a tour due to profound hearing loss. It is not clear how this loss developed, but it is easy enough to assume that music played a part in this loss. This is a band known for loud concerts and raucous crowds. Both could have exposed the signer to very damaging sound waves over his long career. When the hearing loss was found, his doctors advised the signer to stop touring or risk complete deafness.It is not just rock music that can contribute to hearing loss in musicians. Even symphonic music, known for its soothing tones, can come with deafening volumes that can harm musicians.

That risk became clear in 2017, according to The Economist, when a violinist in London filed a lawsuit, claiming that he lives with hearing loss sustained after two rehearsals for a Wagner piece. In the lawsuit, the violinist claims that the noise around him reached 137 dB.

In an article published in Audiology Online, researchers measured the dangers experienced by people playing various types of instruments, and they found that nearly no one was safe.
Woodwinds: Brass players sitting behind them in an orchestra can harm hearing.
Flutes: Neighbor flutes can reach more than 105 dB.
String sections: Small strings can play at a volume louder than 110 dB, and they may also have brass instruments blaring behind them.
Singers: Soprano singers can reach volumes of more than 115 dB.
Amplified instruments, including guitars: Speakers and monitors to amplify sound can reach dangerous levels.
In ensemble settings, musicians need to hear one another in order to keep the music playing. In traditional setups, musicians sit close to one another in order to hear complementary notes. In electronic settings, musicians use special speakers that point back at their feet.
As the crowds get louder, musicians may turn up those monitors in order to hear their own notes. When one monitor grows louder, another musician might turn up another monitor in order to hear that person's notes. It can become a game of warring speakers, with hearing as the loser.
In-ear monitors were developed to help musicians hear the mix they need to hear without adding to the noise filling the room. They seemed like the perfect solution, but as Audiology Online points out, some in-ear monitors are capable of playing volumes of 130 dB. People who listen to this level of sound can struggle with permanent hearing loss.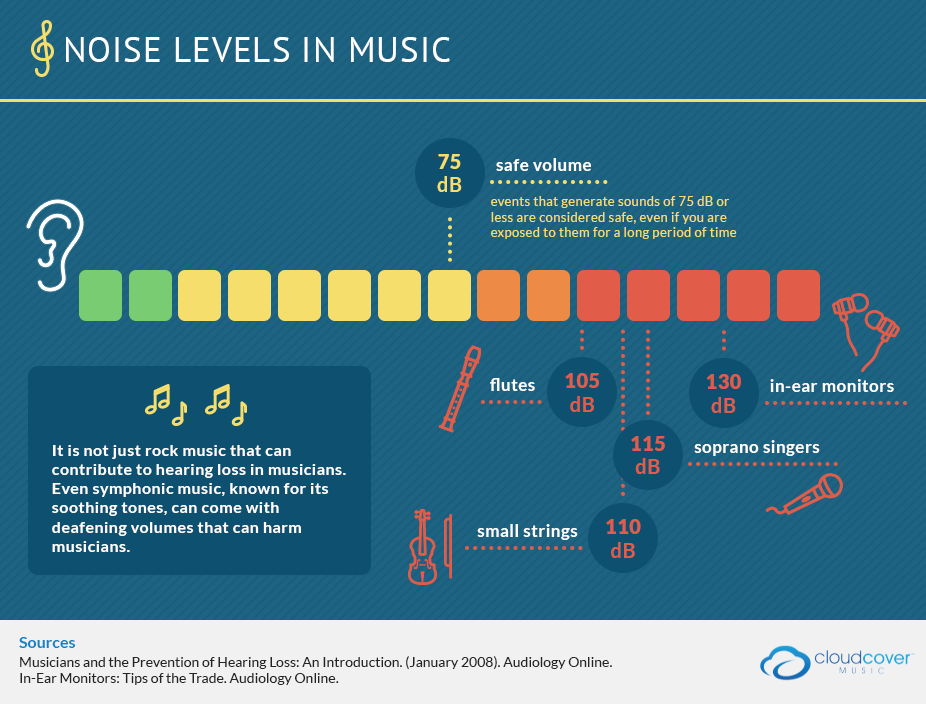 Musicians can work with audiologists, and they can be fitted with specialized equipment that allows them to hear what they need to hear without harming their ears. But musicians may be uncomfortable with using this protection.
In a piece produced for the Health and Safety Executive in England, musicians stated that they did not wear hearing protection because:
They felt the equipment hindered their musical performance.
Protection made it hard for them to hear others.
The equipment was uncomfortable, hard to use, or unsightly.
Wearing protection made them look weak.
Musicians who cannot hear the sounds around them can face difficult career choices. They may be forced to stop touring, so they will not be exposed to very loud stadiums. They may be asked to move into producer roles, so they can control the volume of the music as it plays.
One thing they will not be able to do is fix the damage that has been done. As we mentioned, hearing loss caused by loud sounds cannot be corrected. People with this type of hearing loss can use hearing aids to amplify sound, but they cannot take a pill and see the problem magically disappear.
Subscription Options
---
Or get the Print Edition with Online Access. To get the print edition of The Syncopated Times use this Paypal link. After you pay you will be issued a coupon for free online access.