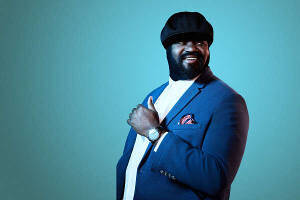 An Evening with Gregory Porter will kick off the 2019 Elkhart Jazz Festival Friday, June 21st at the Lerner Theatre in downtown Elkhart. For Porter, the influence of Nat King Cole on his life and music runs deep, a through-line that reaches back into some of his earliest childhood memories and culminates in the release of his stunning fifth studio album Nat King Cole & Me, a heartfelt tribute to the legendary singer. He has achieved international recognition with his two Grammy Award winning albums 'Liquid Spirit' and 'Take Me To The Alley', which broke records by becoming the first jazz album to break into the Top 5 for over a decade.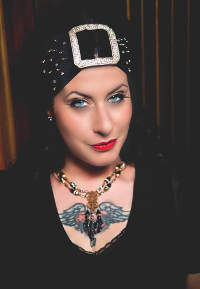 Davina and the Vagabonds will lead off the show Saturday, returning to Elkhart by popular demand. They have created a stir on the national music scene with their high-energy live shows, level A musicianship, sharp-dressed professionalism, and Sowers' commanding stage presence. With influences ranging from Fats Domino and the Preservation Hall Jazz Band to Aretha Franklin and Tom Waits, the band is converting audiences one show at a time, from Vancouver to Miami and across Europe. The group's focused, clean sound and emphasis on acoustic instruments is novel to both blues and jazz worlds.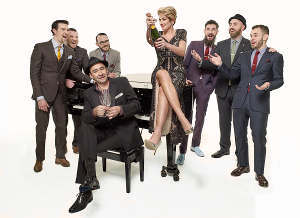 Saturday evening will feature The Hot Sardines – fueled by the belief that classic jazz feeds the heart and soul, they are on a mission to make old sounds new again and prove that joyful music can bring people together in a disconnected world. These amazing performers have been featured at the Newport Jazz Festival and the Montreal Jazz Festival, have sold out NYC venues from Joe's Pub to Bowery Ballroom and hundreds of tour dates from Chicago to London. Their talents have been acknowledged by reaching the No. 1 slot on the iTunes Jazz chart in the U.S. and internationally.
The festival will include multiple appearances from familiar favorites Alfonso Ponticelli, Dave Bennett, Derek Brown, and Joan Collaso. Collaboration is common in the jazz scene and we are looking forward to many 'Elkhart only' combinations. New York based Jon-Erik Kellso (trumpet) has put together our 2019 All-Stars with Allan Vaché (reeds), John Allred (trombone), Mark Shane (piano), Paul Keller (bass), and Butch Miles (Drums).[ad_dropper zone_id="1222″]
Henry Johnson will bring his Chicago-based quartet, adding Elkhart native Scott Allen (vibes). South Bend's Danny Lerman is pulling in Adam Hawley (guitar) from LA. There will be fantastic female led bands, the Sofia Goodman Group, Petra's Recession Seven, and Emily Cavanagh trio. Always a characteristic of Elkhart's festival, variety remains key from Sammy Miller & the Congregation to Red Lehr's Powerhouse Five and Trap Rabbit to Terry & the Pirates.
Ticket information
Headline tickets can be purchased for Friday June 21st starting at $29.50 for Gregory Porter, and Saturday, June 22nd starting at $19.50 for The Hot Sardines and special guest Davina & the Vagabonds.
Basic Pass –  $100
Access to all stages all weekend

Does not include headliners
VIP Pass – $220
Access to all stages all weekend

Does not include headliners
Includes Thursday evening Preview Party, Friday Jazz Picnic at Wellfield Botanic Gardens, Friday VIP Reception, and Sunday Jazz Brunch

($150 Value)
Top Brass – $400
Access to all stages all weekend

Includes headliners with preferred seating

*See Lerner Box office for selections

Includes Thursday evening Preview Party & Friday Jazz Picnic at Wellfield Botanic Gardens, Friday VIP Reception, and Sunday Jazz Brunch

($150 Value)

Includes Saturday evening Sponsor reception with 'Festival Supporter' acknowledgment in program
Day Pass –
FRIDAY, June 21st – $30 // SATURDAY, June 22nd – $50 // SUNDAY, June 23rd – $30
Access to all stages for one day.

Does not include headliners
Purchasers of passes, or headline tickets, to the Jazz Fest are encouraged to "do their homework" prior to the start of the weekend's entertainment to be familiar with the different musicians and their styles of music and comfortable with their ticket selections. This can be done online via musical performer website, YouTube, and Spotify. All non-headline acts will perform multiple sets over the weekend.
[ad_dropper zone_id="1222″]
About Elkhart and the Festival
Known as the Band Instrument Capital of the World, Elkhart companies employ nearly 2,000 skilled craftsmen in the production of instruments that turn music into art. Additionally, Elkhart's Festival is one of the few music events nationally that is volunteer-delivered. "The City with a Heart" thrives on its enthusiastic volunteers. More than 200 donate time throughout the weekend — and the year — to bring the Festival to life.
Since 1988, jazz legends and fans have gathered each summer for a memorable weekend at the Elkhart Jazz Festival. Combining warm, intimate, small-town hospitality with the excitement of big city jazz, the Elkhart Jazz Festival has become an internationally acclaimed event. The Festival showcases over 100 performers on seven stages and drawing over 15,000 people to our community celebration of America's classic art form – jazz.
Produced by Elkhart Festivals Inc., the Jazz Festival is made possible with the help of its fans, volunteers and many community partners. The festival is made possible in part by the Community Foundation of Elkhart County, Elkhart County Convention and Visitors Bureau, and the City of Elkhart. Key sponsors include Kem Krest, Welch Packaging, INOVA Federal Credit Union, Gaska Tape Inc., Rex Martin, and JJ Babbitt.
To learn more, to see the complete musician line-up and schedule, and to purchase ticket passes, go online to www.elkhartjazzfestival.com. Tickets may also be purchased at the Lerner Theatre box office in downtown Elkhart.
For ticket information, contact the Lerner box office at 574.293.4469
For festival information, contact Elkhart Festivals Inc at 574.218.6477
[ad_dropper zone_id="1222″]