---
Web Advertisements:
We are open to any web advertising opportunities that our readers would appreciate. If you have a proposal for a web ad please contact [email protected] 
Digital Ad Package
$200 a month ($150 for print advertisers).
A rotating scroll of all of our ads is embedded within each article after set numbers of paragraphs. Just like the one below this paragraph. Ads within the text of stories are the gold standard because people reading an article are guaranteed to look at them. On longer articles, this slider will appear as many as six times. Your ad will also appear as a smaller static ad on the sidebar of the website site wide.
Email Support Included
As part of the ad package your ad will be included in 7-10 emails a month to the 2000 people who enjoy our mailing list. Our list has an open rate of 40% and all of the ads receive clicks with every email (on average).
Preview Story Included
Where relevant, we will post an event preview article on the website timed in conjunction with your ad. It may or may not run in the print paper but will be shared on our Facebook page, and with our email list. This can be adapted from a press release, be a relevant story submitted by an event artist or director, or be written by us after talking to a featured artist about the event. To maintain journalistic integrity there is no guarantee of an event preview story, and they won't be subject to your editing, but we do prioritize giving this added boost to advertisers.
Bypass Ad Blockers
Unlike Google ads, our ads will not be blocked by adblockers. And unlike Google or Facebook who will put your ad in front of anyone who likes "jazz", our ads will reach only people who love Ragtime, Traditional Jazz, and Swing. Don't waste money reaching the wrong people! We pride ourselves on producing results for our advertisers. If we think you'd be a bad fit we promise we'll tell you so.
Stats
We have grown in online traffic for 34 consecutive months. We currently have a baseline of around 1050 different visitors a day. In December 2020 we had 31,822 unique visitors, they cumulatively visited 37,452 times and saw 55,232 pages. We expect a baseline around 30k monthly visitors going forward.
We net about 20 new online subscribers and receive several new print subscriptions each month through the website.
Demographics
Visitors in December 2020 were 61.5% male.
38% were over 55, 33% were 35-54, 29% were between 18-35. This continues a demographic trend toward a slightly younger and more female audience as the site grows.
75% were from the US or Canada, 6% from the UK,  2% from Australia, and 2% or less from a number of European countries.
Our web ads averaged 164 clicks each in June 2020, the last month in which we could track them. That isn't accounting for clicks from the emails or Facebook shares of the story about your event. These are real people with a real interest in attending jazz events or buying jazz albums.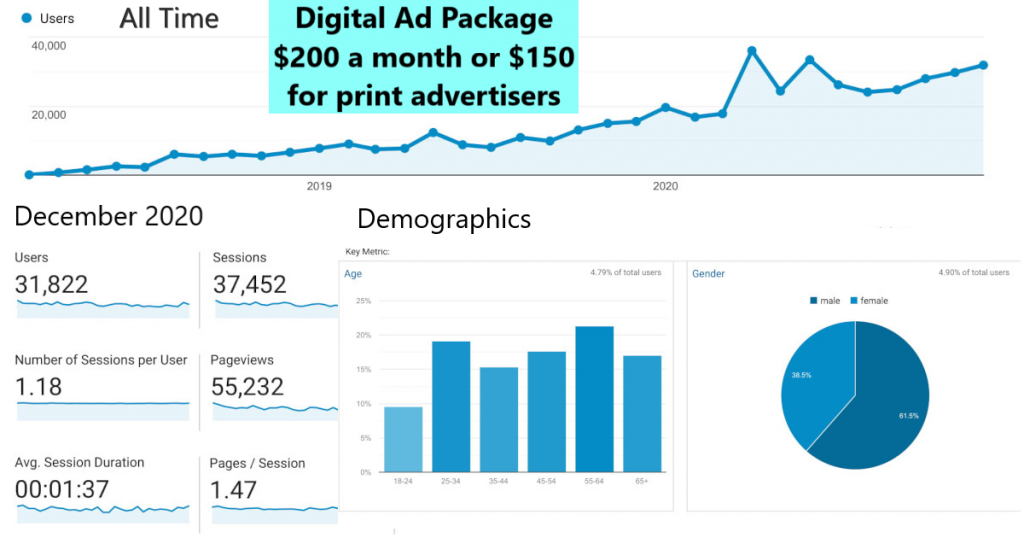 Ads in our Print Edition:
The print edition is mailed to 1000 of the most influential musicians, writers, organizers and fans in the United States, and a few more overseas. Additional copies are distributed at major traditional jazz festivals and to artists featured in an issue for distribution at their events.
A postcard-sized ad:
(3.5″ by 5″) would be $240 per year (twelve issues). Small (2.5″ square) ads are
$100 per year; 2.5″ by 5″ are $200.
Monthly display ads are as follows, with a 10% discount for multiple issues:
Full Page: $360 per insertion
Size: 10in.wide x 15.75in.deep
3/4-Page: $290 per insertion
Sizes: 10in.wide x 12in.deep
7.5in.wide x 15.75in.deep
2/3-Page: $262 per insertion
Size: 10in.wide x 11in.deep
1/2-Page: $210 per insertion
Sizes: 10in.wide x 8in.deep
7.5in.wide x 10.5in.deep
5in.wide x 15.75in.deep
Full CMYK or RGB Color: $100 per page (prorated according to the size of the ad).
1/4-Page: $130 per insertion
Sizes: 5in.wide x 8in.deep
7.5in.wide x 5in.deep
We can use high-quality PDF and JPEG files, 300 dpi if possible. We want your ad to be clear and sharp.
Scroll through this PDF to get a feel of how your ad will fit, then contact [email protected] to discuss your ad.