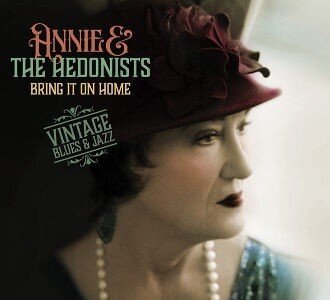 Annie and the Hedonists can be found all over upstate New York and New England sharing their brand of upbeat American music at civic concerts and in schools. They are consummate performers who enjoy teaching as they entertain. They play early jazz and blues with a focus on the female performers of the era that Annie Rosen capture's so well. Several of the guys are also fine vocalists.
In addition to return engagements at local concert series where they please diverse crowds with arrangements in styles from doo wop to blues and western swing, they also give workshops  with titles like "The Roots of Blues and Jazz" , "Great Female Blues & Jazz Artists of the 1920s – 40s", and the always fun "Double Entendre Songs".
Their commitment to giving the audience an education as well as a good time extends to the liner notes on their sixth album, Bring It On Home, which explain the origins of each song and include an enthusiastic endorsement from Syncopated Times publisher and fanboy Andy Senior.  The album includes 12 tracks, with three originals. Two of these pull on a 40s blues vein, the last, "Long Distance Call", is just a timeless soulful tune. They also rework "The Panic Is On" from 1931 to reflect the various panics of our time.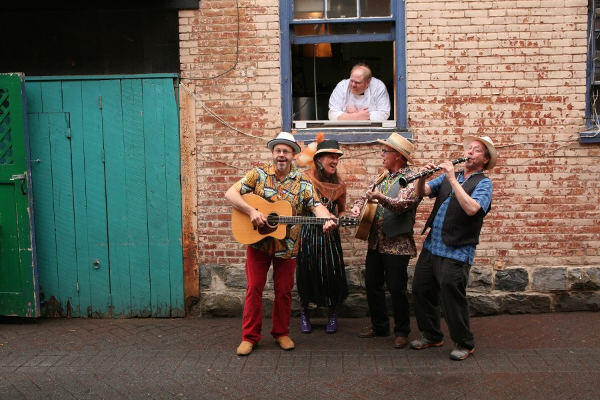 Of jazz interest, they play "Do Do Something" in a nod to Helen Kane, "Perscription For The Blues" as performed by Clara Smith, and "Too Busy" from Louis Armstrong's Hot Four with the unappreciated Lillie Delk Christian. A guest cornet and trombone also join the group's reedman on several tracks.
African American vocal groups are done justice on several tracks including the Prisonaires "Rolling Stone", Cats and the Fiddle's "I Miss You So", and the rhythm and blues "Fee Fee Fi Fo Fum". The album ends with a swaying waltz, 1951's "Under Paris Skies". The result is a fun, varied, and professional album from a group that has learned to please a crowd over the last 20 years.
Find out more at annieandthehedonists.com