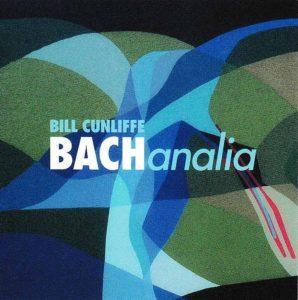 BACHanalia- Bill Cunliffe
BACHanalia
Bill Cunliffe
Metre Records
Bill Cunliffe is a prolific pianist, composer, and conductor. I am already among the converted, so was excited to see/hear Cunliffe's newest effort. On most of the numbers, he's taken a classical theme, some from the Bach family with some Prokiofiev and a Cunliffe original thrown in.
These are big band compositions and Cunliffe himself plays piano. It took three years to complete this CD with big band performances, some before live audiences and two separate studio sessions. Of special note is (wordless) vocalizing by Denise Donatelli which sounds so much like another instrument that the casual listener might overlook it. It's recorded on Cunliffe's own label, Metre Records.
This should have broad appeal to those who like big band or classical music. I list the compositions for those who might be interested. Over one hour of great music!
Sleepers Awake (J. S. Bach, arr. Cunliffe)
Afluencia (Bill Cunliffe)
Piano Concerto No. 3, 1st movement (Sergei Prokofiev, arr. Cunliffe)
Solfeggietto (C. P. E. Bach, arr. Cunliffe)
Blame It On My Youth (Oscar Levant and Edward Heyman, arr. Cunliffe)
Goldberg Contraption (J. S. Bach, arr. Cunliffe)
The Three-Cornered Hat (Manuel de Falla, arr. Cunliffe)
I've Got You Under My Skin (Cole Porter, arr. Cunliffe)
---
Online Only
For Online Only Access without delivery of the print paper sign up below.
Subscription Options
---
Print Edition
 If you'd like the PRINT EDITION, (12 monthly issues) use the following PayPal link. After your payment is complete you will be allowed to create an online account. You will receive the next mailed copy, usually shipping around the 22nd of the month. See a PDF Sample Here.