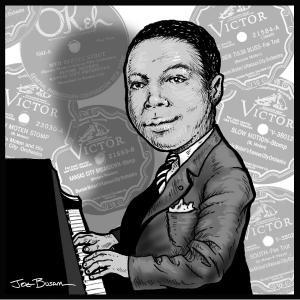 Benjamin "Bennie" Moten was born on November 13, 1894. Moten grew up in the heart of Kansas City, Missouri's dance hall district, and developed a passion for ragtime. Having become a passable ragtime pianist, Moten formed a trio with drummer Dude Langford and singer Bailey Handcock in 1918, billing themselves as "B. B.& D."
As local tastes changed from ragtime to jazz, the trio's hot performances proved the epicenter of the Kansas City music scene. In 1923, with the addition of brass and reed players, the group was finally "Bennie Moten's Kansas City Orchestra." In September 1923, Moten's Orchestra recorded their first sides for Okeh in St. Louis, "Elephant's Wobble" and "Crawdad Blues."
Bennie Moten had the most formidable band in Kansas City, and over the next few years their trademark backbeat evolved to become the sound of the city. The evolution can be heard in Moten's two recordings of his theme song, "South." The first, recorded in 1924, shows the strong beginnings of a style that came to full flower by 1928. The electrical recording process emphasized the strength of the beat as heard by owners of home phonographs; the record was a huge hit for Moten and stayed in the Victor catalog for decades, even through the 45 RPM era.
In 1929, Moten took on his kinsman Buster who added a bluesy accordion to the band's sound. Later that year, he hired Bill Basie and Eddie Durham. Basie took over as pianist with a two-fisted stride style that Moten recognized as superior to his own. Eddie Durham excelled as an arranger and doubled on trombone and guitar, the latter an aluminum-body resonator instrument which he miked up for a prototypical electric guitar effect.
Moten's band recorded extensively in 1929 and 1930; the backbeat was gone and the beginnings of swing could be heard. In 1932, as the band struggled to stay solvent, they arrived in Camden, New Jersey, to record 10 glorious classic sides, the swing now in full evidence.
Bennie Moten never lived to see his band's great success; he died in Kansas City on April 2, 1935, following a failed tonsillectomy. Bill "Count" Basie became the band's new leader, ensuring Moten's legacy—and his own.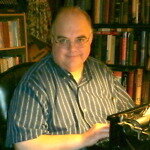 Andy Senior is the Publisher of The Syncopated Times and on occasion he still gets out a Radiola! podcast for our listening pleasure.