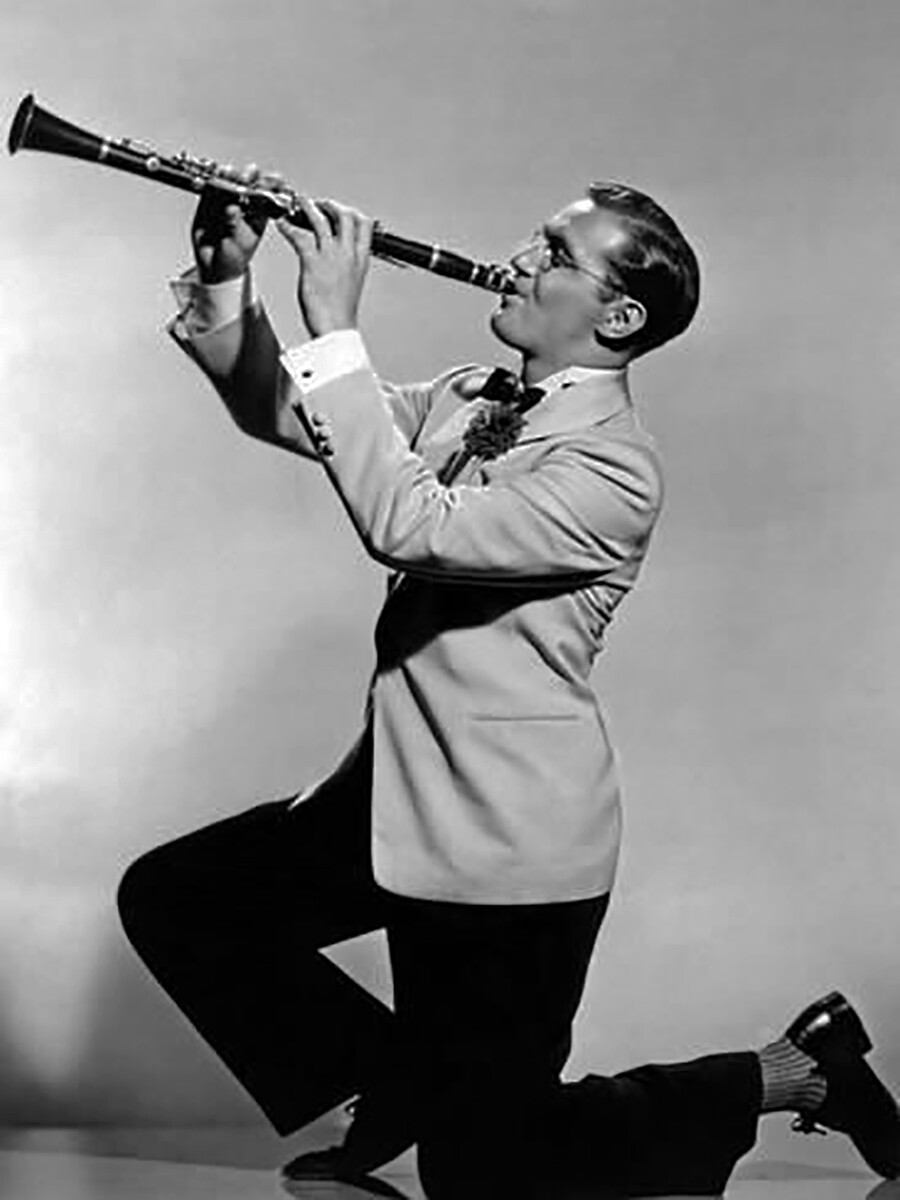 Benny Goodman (1909-1986) did for clarinet what Louis Armstrong had done for the trumpet, gave it a virtuoso leadership role in the jazz ensemble. Benny's orchestra was the most popular dance band of the Swing era, making some 5,000 commercial recordings and selling more than 100 million discs, definitive statements of 20th Century American popular culture. For the duration of the Swing era Benny was golden and the undisputed "King of Swing."
With his nimble, melody-focused lines Benny improvised with complete assurance rarely playing an improvised passage the same way twice.  As a youth he forged an unmatched clarinet style, drawing stylistically from the best elements brought North by the New Orleans clarinetists who had migrated to Chicago, adding his own astonishing inventiveness and pinpoint accuracy.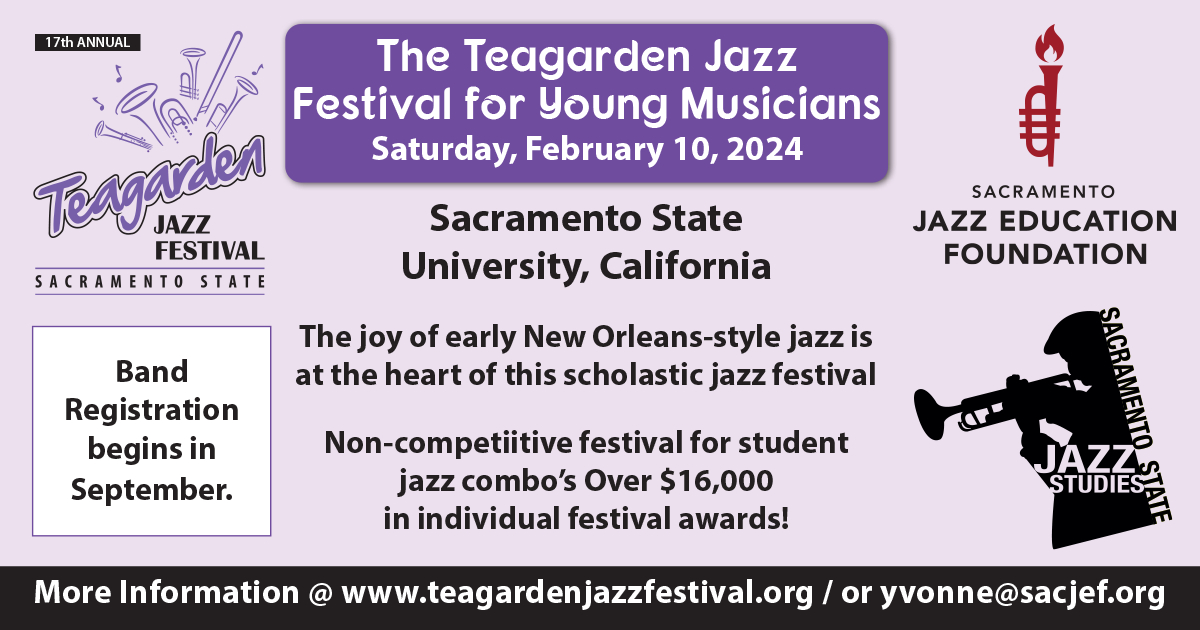 Clip 1: Introduction – Don't Be That Way, Big John Special, Taking a Chance on Love 
A Carefree Prodigy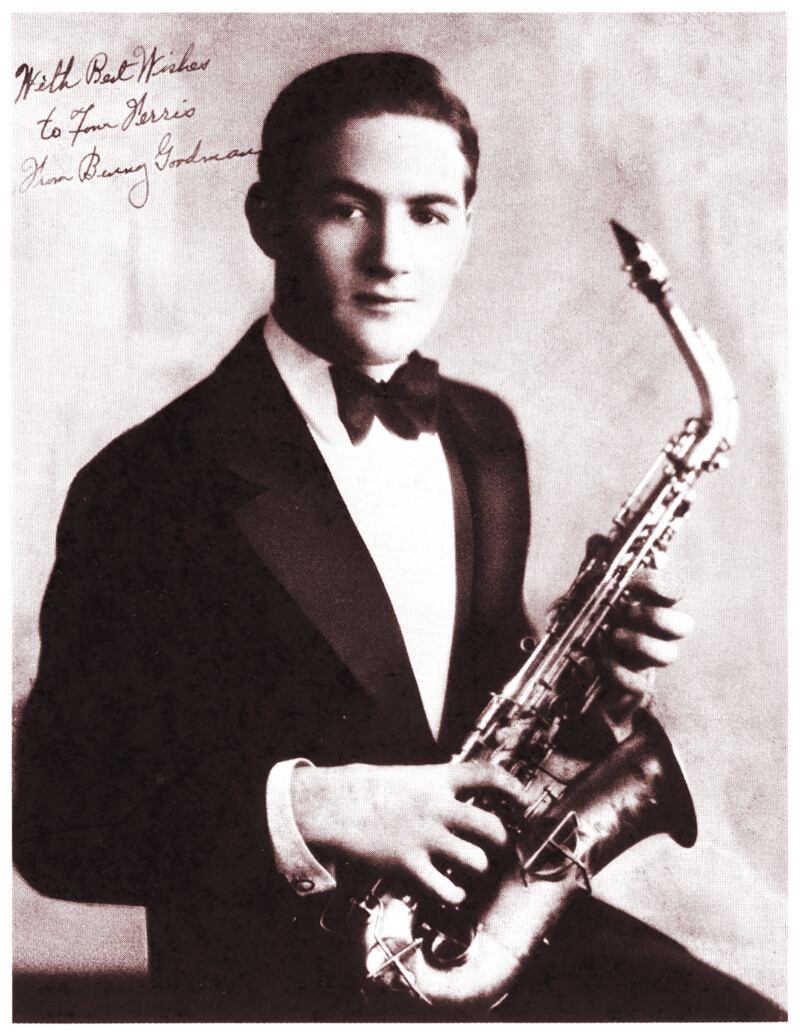 Born and raised in Chicago, Benjamin David Goodman displayed an early gift for music and enthusiasm for Jazz.  He received a correct musical education from clarinet teacher Franz Schoep who also instructed New Orleans native Jimmie Noone and Memphis-born Buster Bailey. From New Orleans clarinetists Barney Bigard and Albert Nicholas he borrowed a flowing, melody-focused Jazz style fused with his talent for endless improvisational variations.
By age 13 Goodman was a professional musician earning more than his impoverished father, a Polish immigrant Jewish tailor. Goodman split his time between working with "legitimate" dance orchestras and playing "hot" music with his Chicago buddies: pianist Art Hodes, drummer Dave Tough, horn player Bix Beiderbecke and the Austin High School gang of Jimmy McPartland, Bud Freeman and Jim Lanigan.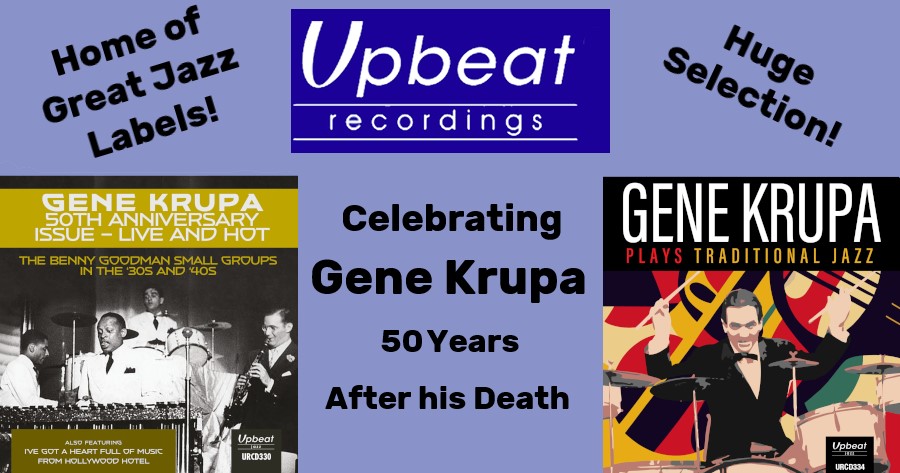 He rotated through numerous dance bands, picking-up gigs and recording sessions when he could, but mostly he followed his whims. Until the early 1930s, Benny was just one of numerous hot jazz clarinetists working in or around Chicago and New York, though he was certainly one of the most talented.
The "Let's Dance" Broadcasts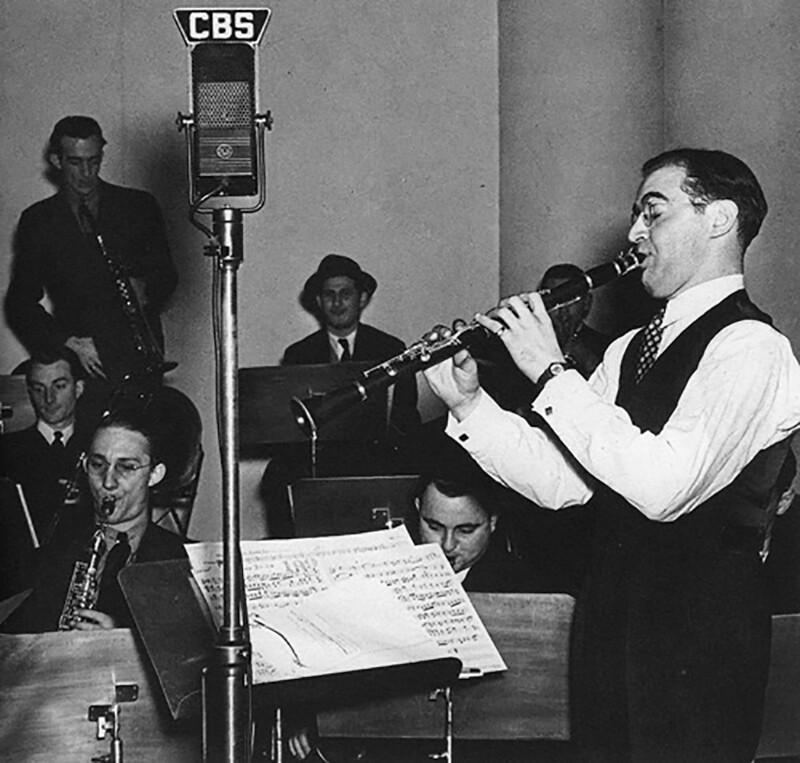 In 1934, Goodman got serious. He landed the "hot music" portion of the "Let's Dance" network radio program that was broadcast on more than 50 stations. It was his first national exposure and "the biggest thing that ever happened to me" said Benny. He dished up the dance music steaming hot on the Saturday night coast-to-coast broadcasts. Due to the three-hour time difference, his late-night shows originating in the East were broadcast in prime-time West of the Rocky Mountains.
In the Pacific time zone, Goodman was considered the standout star of "Let's Dance." His band was wildly popular with teenagers and the preferred soundtrack for Saturday night dance parties in front of the parlor radio. But neither Benny, the band, nor booking agencies realized just how popular his music was out West.
Clip 2: Becoming King of Swing
Palomar Ballroom Breakout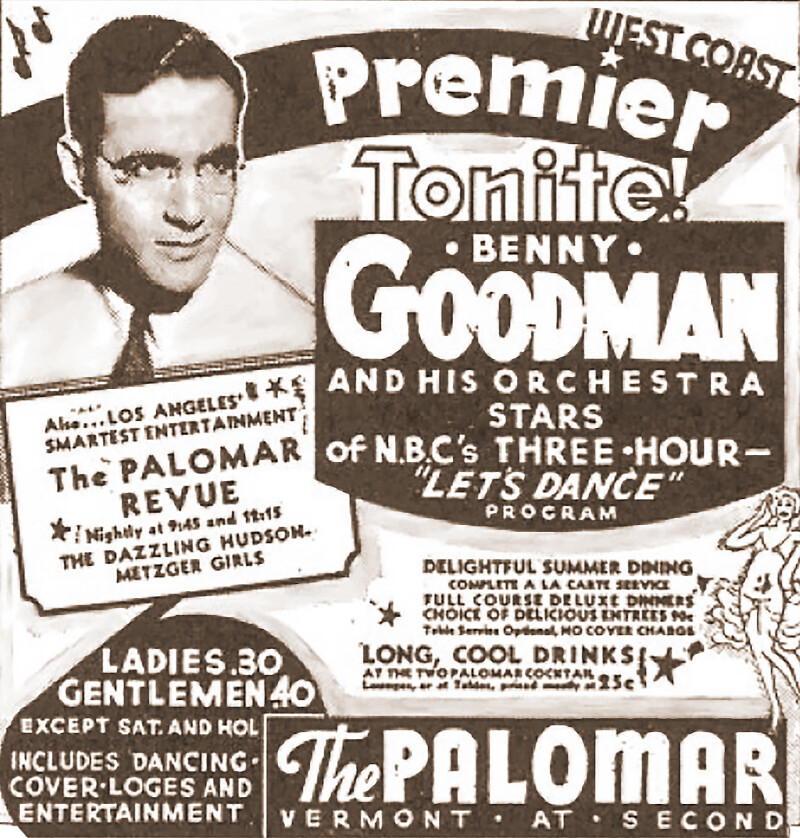 The legendary breakout happened at their final destination in Los Angeles, the popular Palomar Ballroom. During an otherwise desultory 1935 cross-country national tour, Goodman and his band were received with wild enthusiasm on the West coast, playing to large and enthusiastic crowds in San Francisco and Oakland, California. Much to their surprise, they were a colossal success with the young Jitterbug dancers and Lindy-hoppers at The Palomar Ballroom.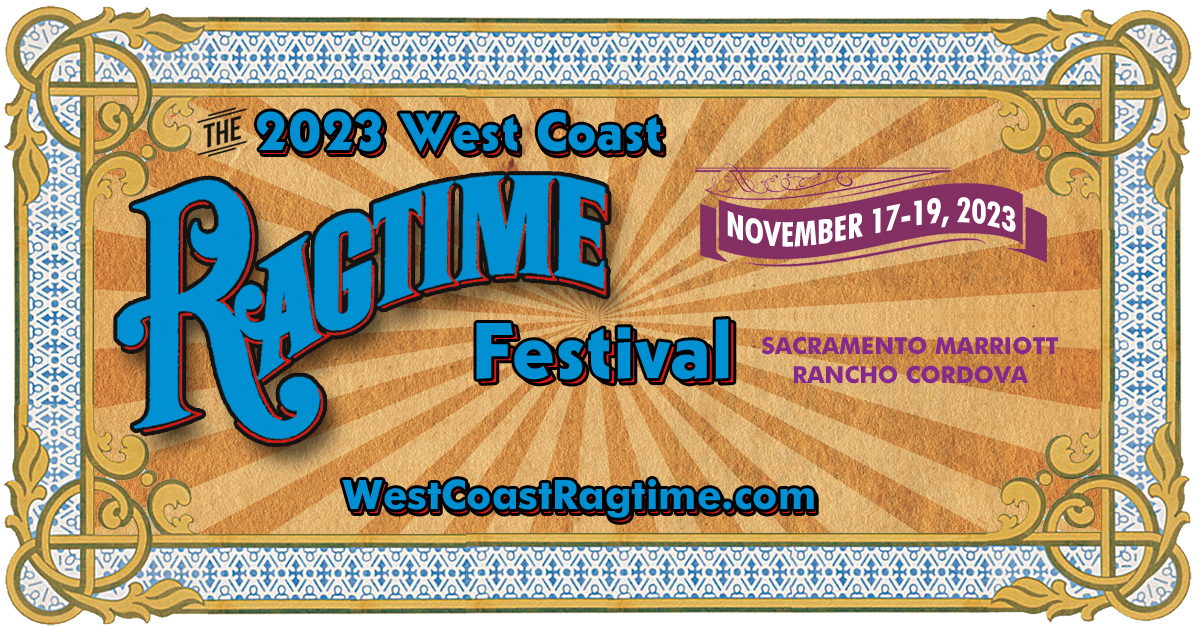 The Palomar appearance was extended. Word got out. The records sold like hot cakes. Bookings flooded in.  Soon the influential Down Beat Magazine was featuring Goodman in every issue often on the front-page.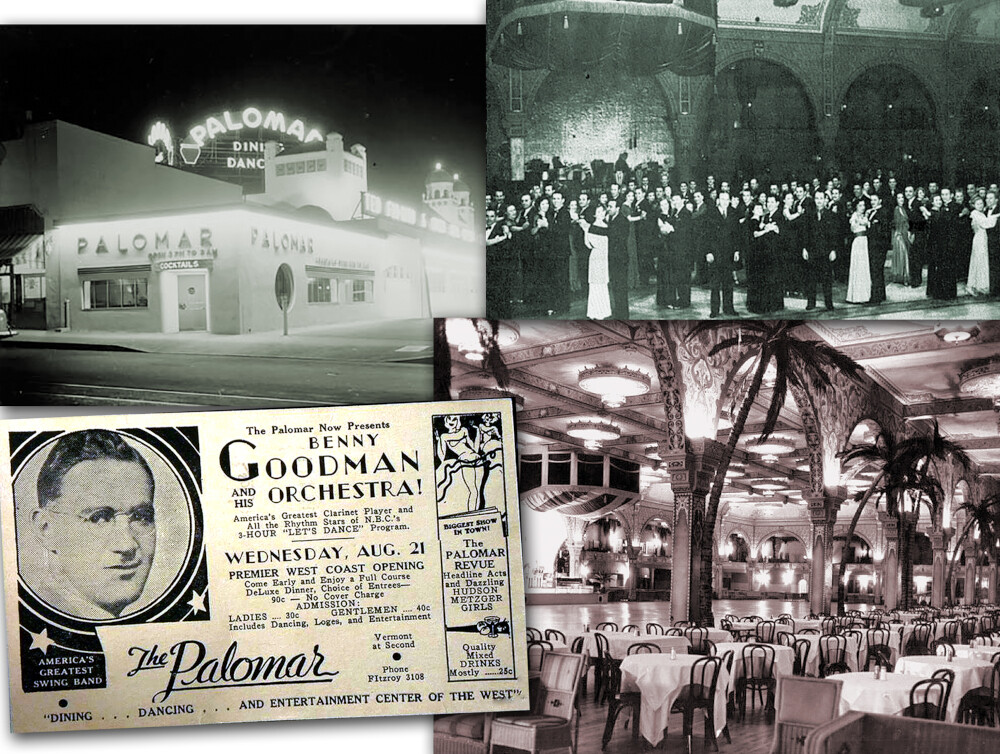 The King of Swing
There were numerous other very good White dance bands in the era, most notably the Casa Loma Orchestra.  But Goodman's particular brand of Swing matched youthful tastes more exactly than his competitors, capturing the loyalty and love of a generation whose courting rituals centered on dancing the Fox Trot.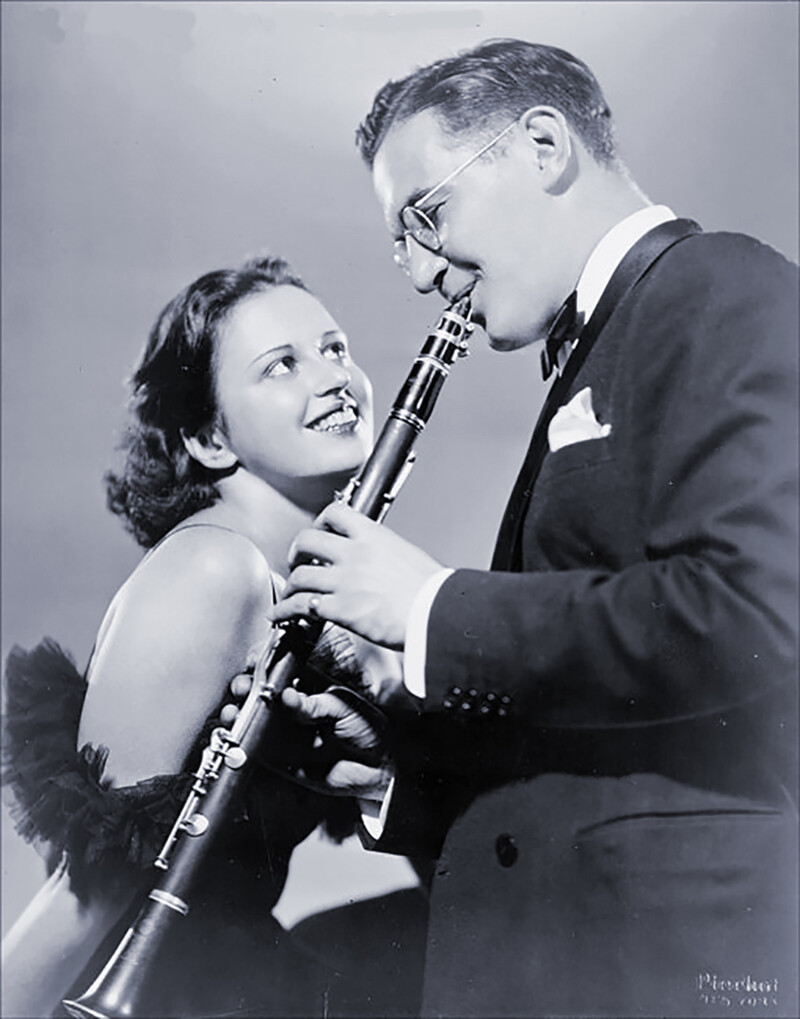 By 1937 the Goodman Orchestra and combos were the biggest thing in the music business, selling millions of records and playing prestigious venues. The press christened him "The King of Swing," though he disliked the sobriquet at first. His orchestra appeared in Hollywood films. And Benny's autobiography, The Kingdom of Swing, was published only a month before his 30th birthday.
One possible key to understanding Benny's rise was his prominently featuring female singers. He was early to employ this strategy, beginning with the very attractive and jazz-influenced Helen Ward. Her warm, direct manner was quite popular with college-age males.  She was followed by singers Helen Forrest, Martha Tilton and Peggy Lee who all had huge hits with Goodman.
Clip 3: Popularity and his Vocalists, Goody Goody & Why Don't You Do Right 
The Business of Swing
During the 1930s, hundreds, maybe thousands of touring swing bands packed the ballrooms of big cities and small bergs across America. Fueling a hundred-million-dollar industry, dance orchestras played in vast pavilions packed with hundreds, even thousands of couples. At its peak, as many as 40,000 musicians were employed, backed by a support staff of another 8,000 managing, booking, promoting and transporting them.
The best bands, like Goodman and his crew, went onto the radio and into the recording studios cutting records that rescued a badly suffering entertainment industry. In 1933 at the depth of the Great Depression six million records were sold in the United States. In 1939, fifty million discs were sold of which thirty million were popular dance music.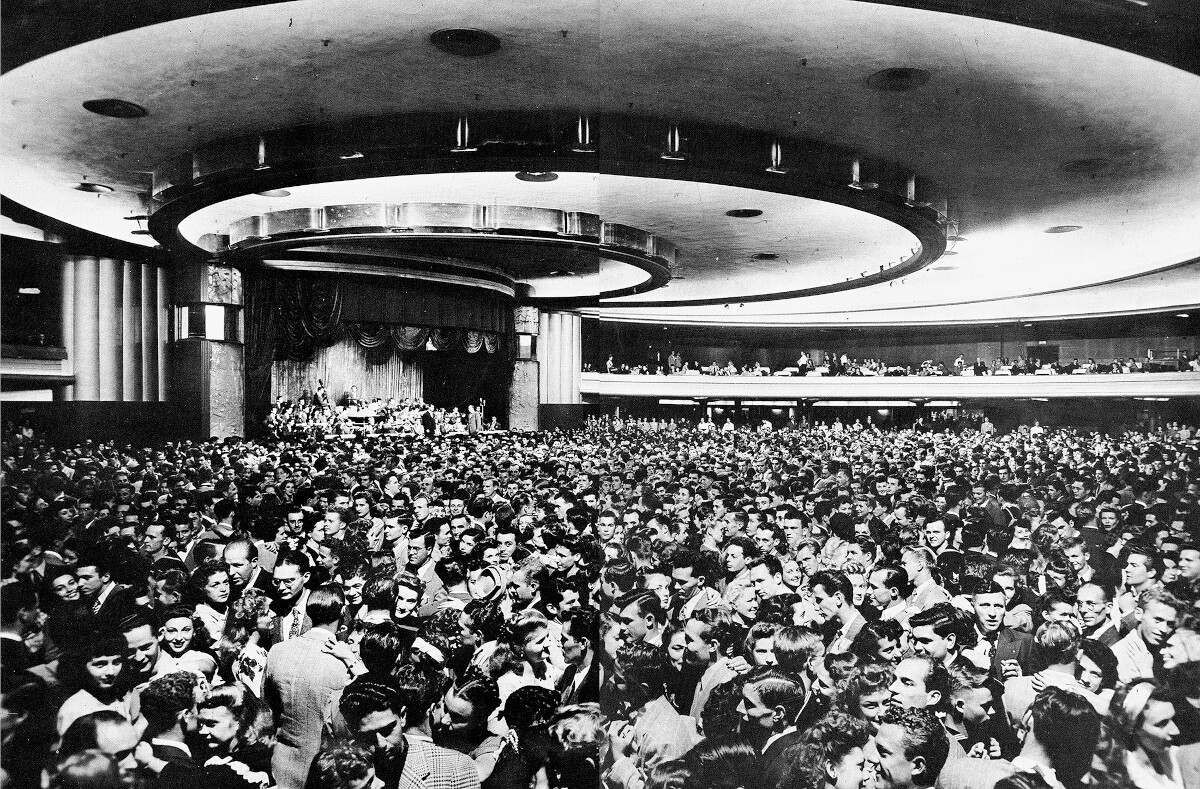 Advent of the Arrangers
Arrangers were critical to the success of the Swing orchestras — Goodman's in particular. It's often overlooked that written arrangements were vital to managing and focusing ensembles of ten or more instruments. The coterie of talented arrangers who emerged confronted the novel and complex task of organizing these musical forces and Benny hired the best. With little or no formal training, these newly recruited scribes invented techniques for scoring and organizing four or five saxophones, three or four trumpets, two or more trombones and four rhythm instruments — usually piano, guitar, bass and drums.
The most skilled arrangers succeeded by keeping the melodic themes and motifs moving through the instrumental sections of the orchestra, offering shifting timbral contrasts and highlighting the soloists while maintaining rhythmic drive. Mastering these delicately interlocking challenges deftly was (and remains) no small task.
Benny commissioned song charts from the most creative and exciting among the emerging composer/arrangers, black or white: Jimmy Mundy, Edgar Sampson, Spud Murphy, Benny Carter and Mary Lou Williams. Foremost among them was Fletcher Henderson, and his brother Horace, who authored charts for some of Benny's biggest hits including "King Porter Stomp."
Goodman's arrangers struck an ideal balance between danceable rhythms, jazz improvisation, tightly written ensemble work and that elusive but essential ingredient called Swing. His orchestra was staffed with top-drawer musicians who could play complex written arrangements with precision yet cut loose with hot solos on demand.
At its best, Swing was more than just very good dance music set to exciting rhythms. It was jazz with an enhanced harmonic complexity and greater visceral kinetic impact than had been previously experienced in Popular music.
A Simply Complex Man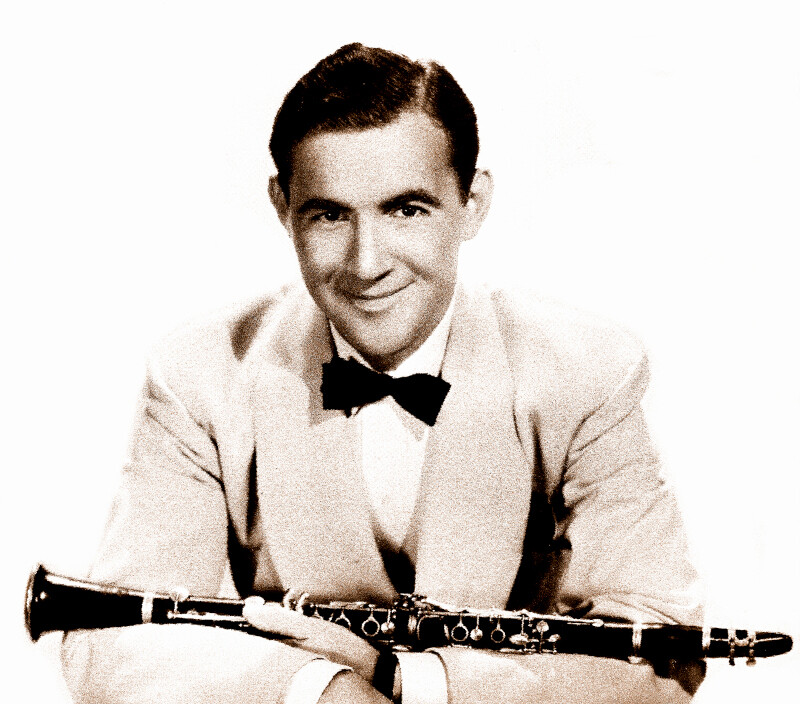 Benny Goodman was a complex but simple man. Or perhaps single-minded is a better description. Hardworking to a fault, he was a perfectionist obsessively absorbed in his music, relentlessly holding himself and others to impossibly high standards. Most former employees say he was very difficult to work for. Yet, to succeed and triumph in the tough business of American popular entertainment he may well have needed that tunnel vision.
It is notable, and somewhat unusual for a music celebrity of his stature, that Goodman lived a life free of scandal without the slightest hint of personal difficulties due to drugs or alcohol, money trouble, infidelity or womanizing.  His marriage to Alice (nee) Hammond, the sister of music impresario and producer John Hammond, lasted nearly 36 years until her sudden death in 1978.
Though legend has it that Benny was notoriously miserly there are notable instances of his personal generosity. For instance, we know that he retained a saxophonist who couldn't read music but was a brilliant soloist and quietly covered the medical bills of a dying musician.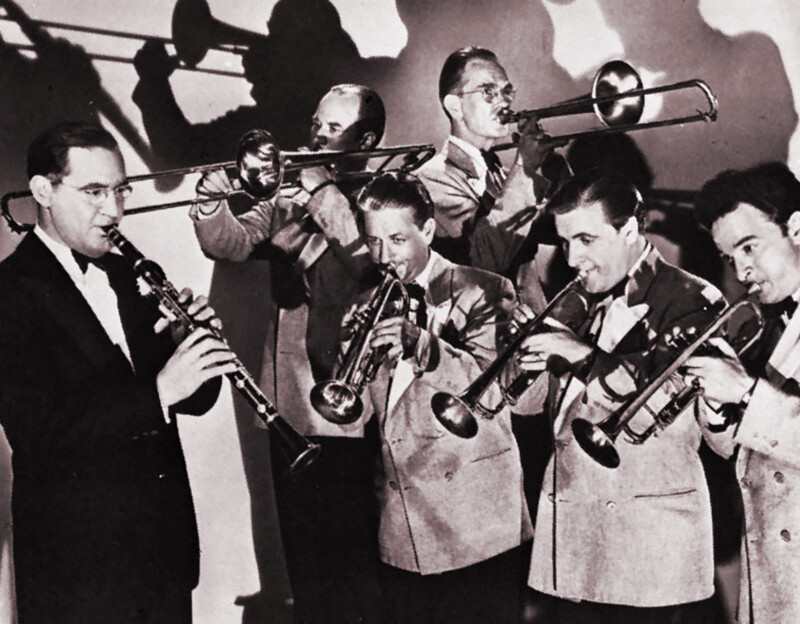 The BG Ray
By almost every account Goodman was notoriously unpleasant to work for: inscrutable, absent-minded, distant and infuriating, seemingly oblivious to the feelings of his employees. Probably the best example was his infamous stare that came to be known as "The BG Ray."
Displeased with a musician's performance, he would glare with unnerving disapproval: "Benny would look right above your eyebrows," reported singer Helen Forrest, "in the middle, right on top of the brow," declaring that her 20 months with him felt like a 20-year sentence. Nonetheless, even Benny was eventually able to chuckle about this idiosyncrasy, sharing in a passing jocular reference to 'The Ray' in a 1947 novelty vocal with bandleader Stan Kenton.
Clip 4: The BG Ray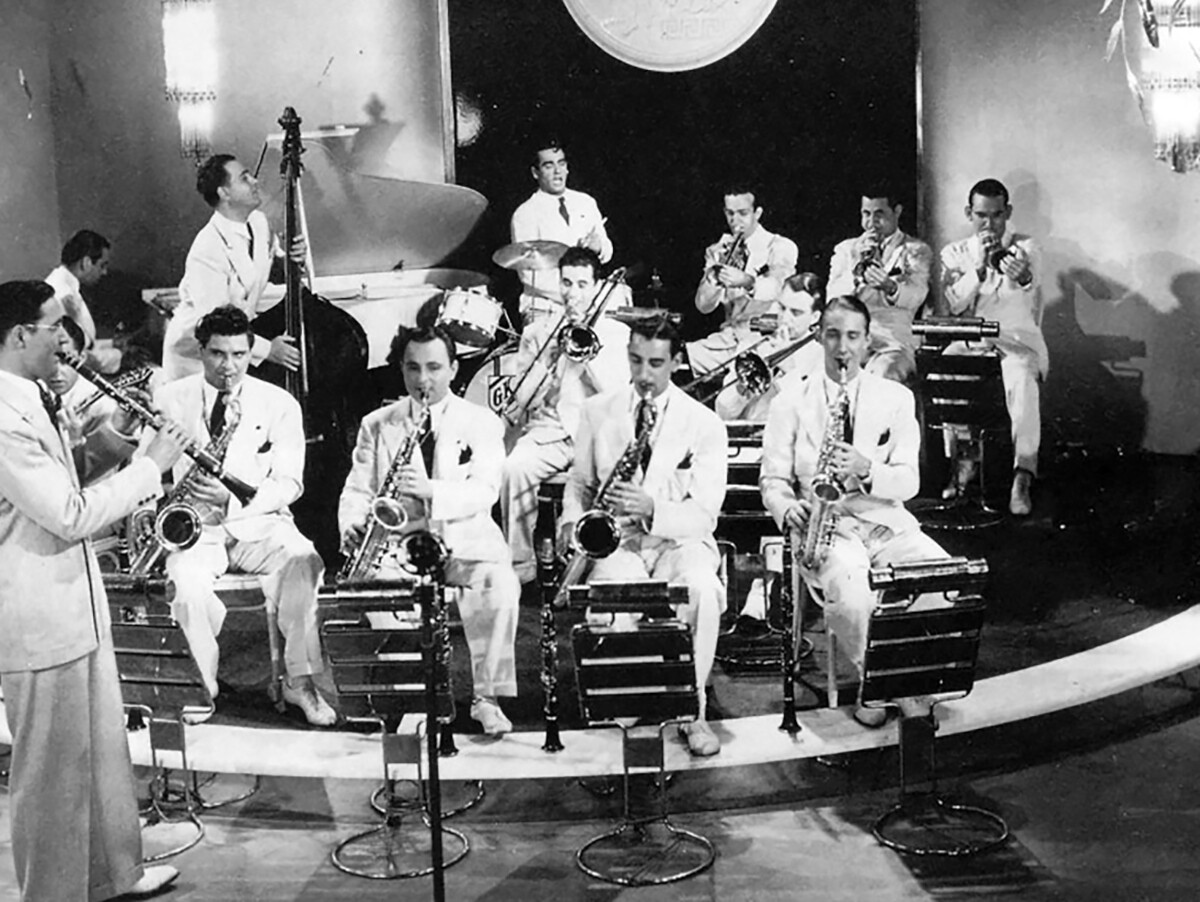 Wrapping it Up
Goodman continued performing and recording through the 1940s and '50s, vigorously re-launching orchestras, bands and combos, commissioning new music and touring the globe. The Benny Goodman Story a biopic released in 1955 was a major motion picture with a noteworthy roster of stars on both the screen and soundtrack. It's little appreciated that he also became a noteworthy classical clarinet virtuoso performing with top symphony orchestras and chamber music ensembles, a parallel instrumental career dating back to the 1940s.
In later decades Goodman taught privately and developed an affiliation with Yale University where he held seminars. Today their archives house a vast archive of his donated scores, papers, awards, ephemera and audiotapes. From this legacy The Yale Library Benny Goodman Project has issued a dozen remarkable audio anthologies.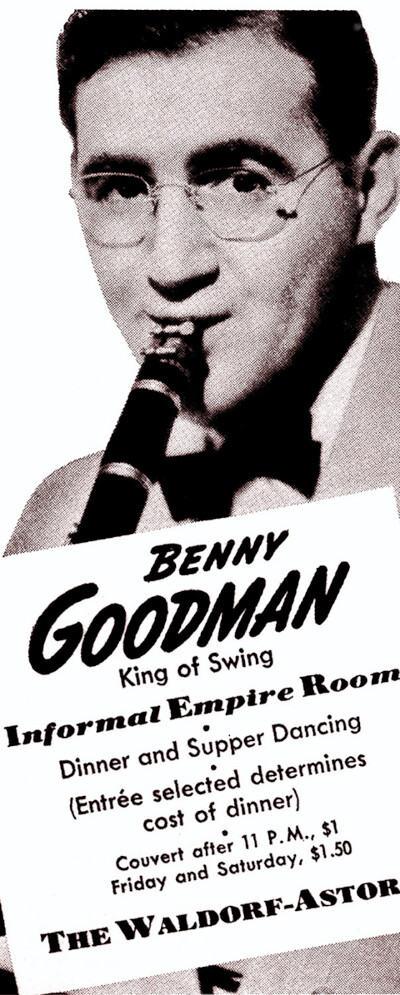 Through his brilliance, focus and drive, Benny Goodman shaped the Swing era, giving the clarinet a newly assertive leadership role in Jazz and Popular music lasting a generation. His trios, quartets and Swing combos introduced advanced chamber music Jazz to a broad popular audience (explored in part two).  Benny Goodman won lasting love and admiration for his monumental contributions to 20th Century American culture.
Clip 5: Conclusion and Benny Rides Again
This article and audio clips are based on the award-winning radio show, Benny Goodman's Kingdom of Swing.
Sources:
Benny Goodman, Giants of Jazz [box set liner booklet], Philip W. Payne (Time Life, 1979)
JAZZ, Geoffrey C Ward, Ken Burns (Knopf, 2000)Grove Dictionary of Jazz 2nd Ed., Barry Kernfeld editor (Macmillan, 2002)
An excellent Goodman tribute site is bennygoodman.com