Hal Smith: One of the greatest musicians of the New Orleans Revival was a trumpet man from Arkansas named Benny Strickler. During his too-brief career he played and recorded with top swing, Western Swing and Traditional Jazz bands before dying of Tuberculosis on December 8, 1946.
Born in Fayetteville, AR on January 9, 1917, Benny took music lessons as a pre-teen and later played in the town band. After graduating high school, he became a professional musician and played with several Territory bands in Arkansas and the Southwest. In 1935, with wife Frances in tow, he joined the migration from the Dust Bowl to the Golden State.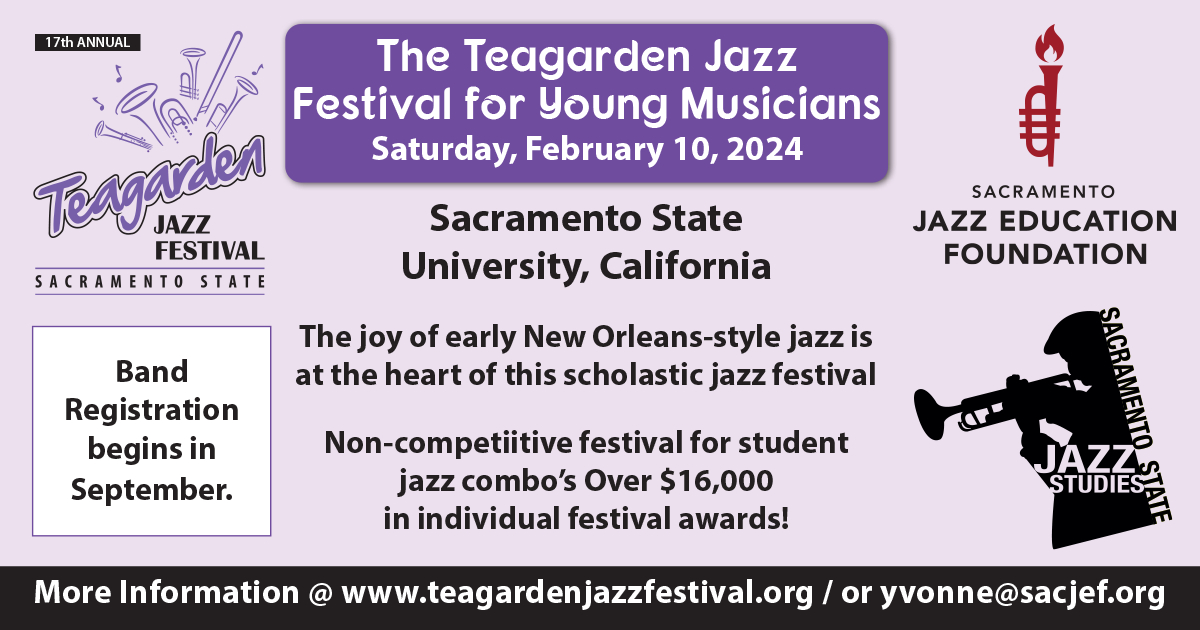 In a short time, Benny established himself as one of the top hornmen in Los Angeles. He played with a variety of "name" bands, including those led by Ben Pollack, Joe Venuti, Vido Musso, and boxing champ/string bassist Max Baer. Strickler's reputation as a trumpeter even brought an offer from Artie Shaw (which he did not accept).
His first recordings were made in 1937, with the "Choirs of Brass," led by vocalist/pianist Seger Ellis. In an era where nearly every dance and jazz orchestra featured a reed section, Ellis' group only included one reed player. Benny shared most of the trumpet solos with a fellow Southwesterner—Nate Kazebier—who had played in Benny Goodman's Orchestra of the mid-1930s.
While still based in Los Angeles, Benny heard the 1940 recordings by Bob Wills' Texas Playboys and was mightily impressed by the high jazz content of sides like "Big Beaver" which featured a blazing trumpet solo by Tubby Lewis. Unfortunately, not long after these recordings were made, Lewis passed away unexpectedly—leaving a rather large hole where the ace lead player and soloist used to be.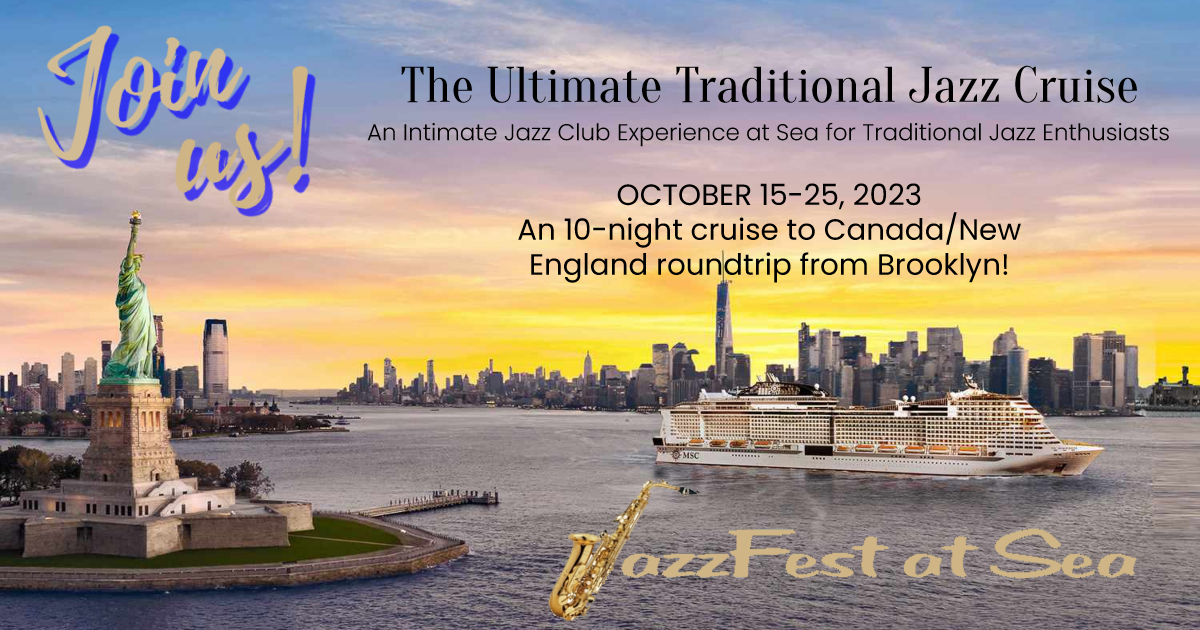 According to several sources, in 1941 Benny learned that the Texas Playboys were playing some engagements in Los Angeles. He found out the name of the hotel where the band was staying and planted himself in the lobby. He waited until Bob Wills emerged from the elevator, then walked up to the bandleader and introduced himself: "Mister Wills, I would like to have a job with your band!" Wills hired him on the spot. Later, he said of Benny "I could tell he was a great player, just by looking at him!"
Wills' observation proved to be accurate. Additionally, Strickler recommended other great jazzmen to Wills, including trumpeters Danny Alguire and Alex Brashear and reedman Woodie Woods. All three were also hired and together they helped to shape the 1941-42 Texas Playboys into one of the most swinging ensembles of the era.
World War II broke up the Texas Playboys, just as the "big horn band" was in top form. Several of the musicians enlisted or were drafted. In all probability, Benny was given an exemption from military service because of Tuberculosis. However, for the moment it did not affect his playing. He received an offer to work with the Wartime version of the Yerba Buena Jazz Band at the Dawn Club in San Francisco and accepted the invitation. Based on his knowledge of the jazz classics and previous contact with Lu Watters, Bob Helm and others, he fit right in.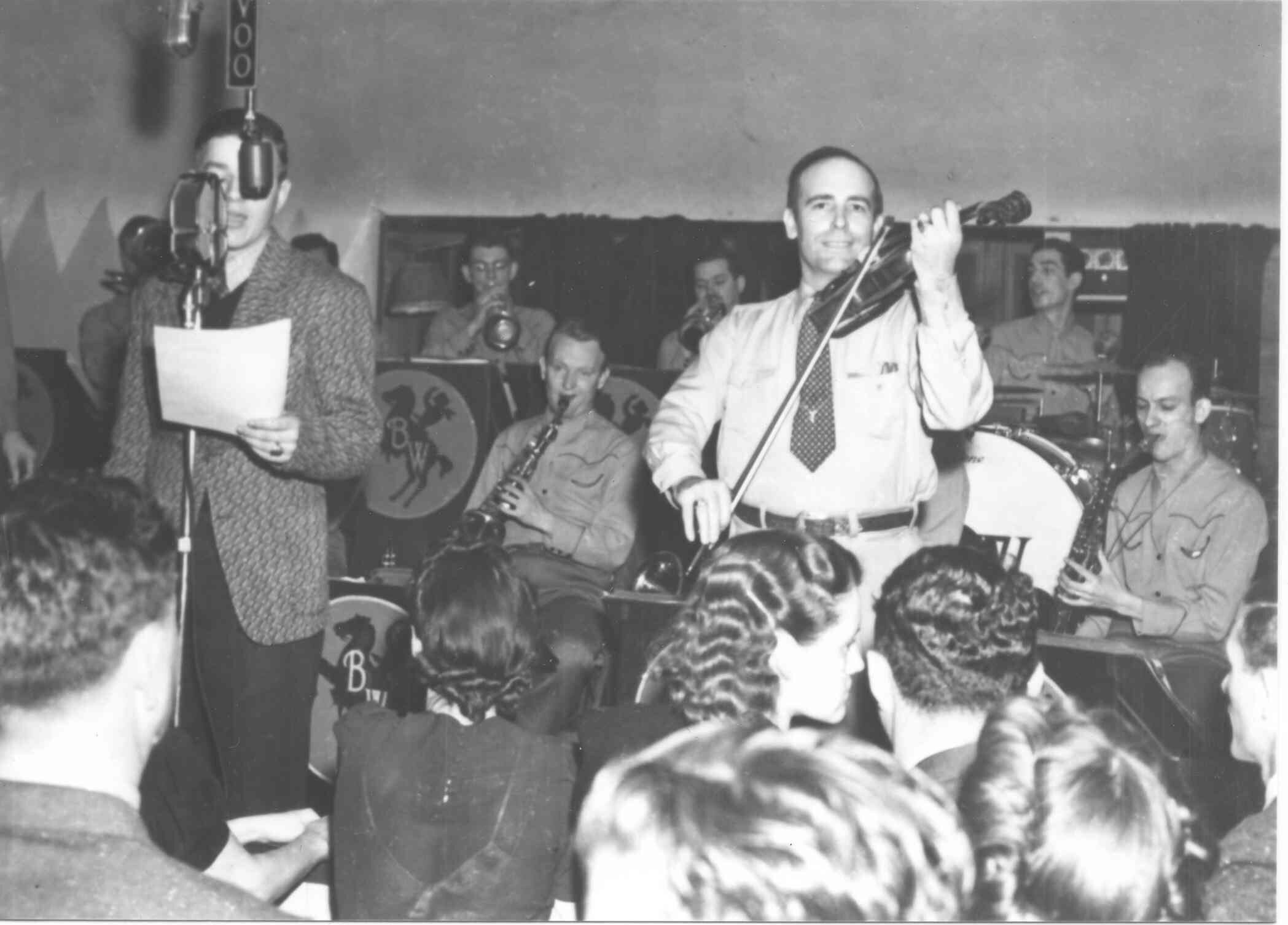 The Tuberculosis continued to worsen, and Benny was ultimately forced to quit playing. He returned to Arkansas and received treatment for T.B. at a sanitarium in Booneville. He was able to visit his family at home and continued to play trumpet whenever possible. He corresponded with Burt Bales and Turk Murphy and may have received a visit from Bob Wills. But the treatments could not overcome his disease and Benny died in the sanitarium. He was survived by his wife Frances and daughters Janet and Diane.
Luckily for Traditional Jazz fans, two world-class hornmen—Chris Tyle and Marc Caparone—have played the Benny Strickler trumpet style on contemporary recordings and live at jazz festivals. While Chris has retired from playing music, Marc is a full-time professional cornetist and trumpeter. I asked both to write down their thoughts concerning Benny's unique sound.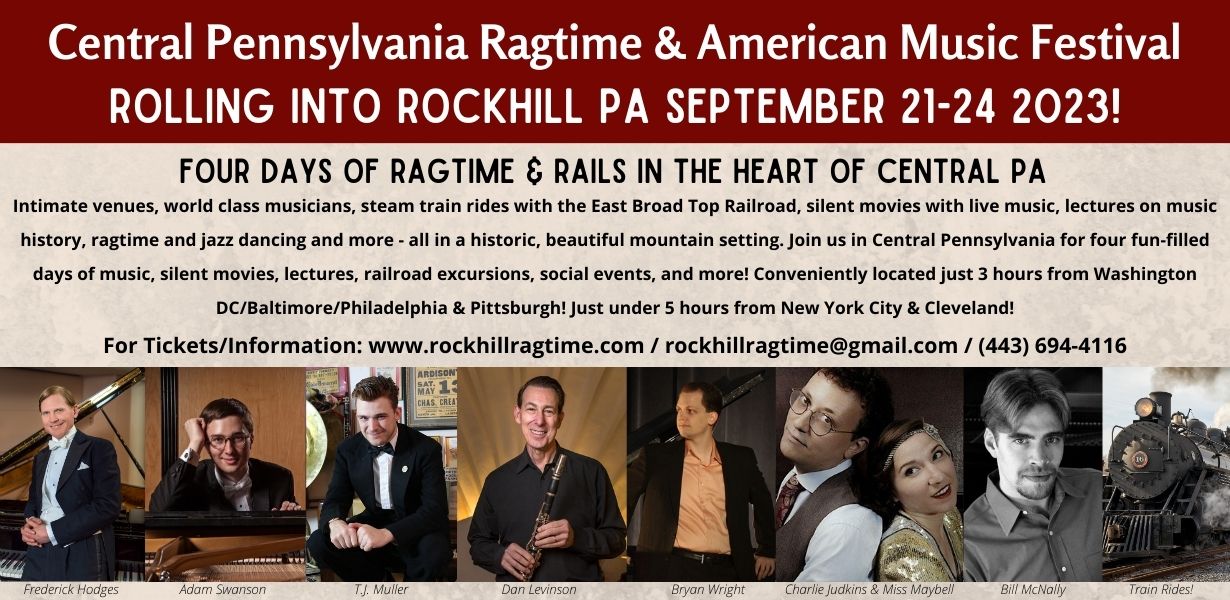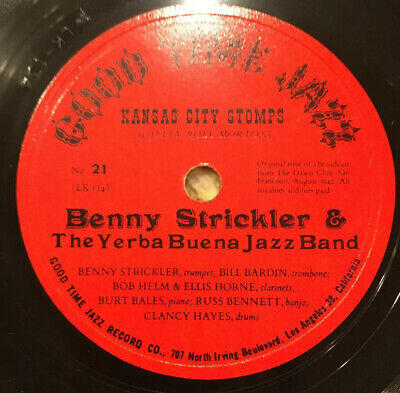 Chris Tyle: As a teenager exploring my father's 78 collection, I came across two records by Benny Strickler on the Good Time Jazz label. By then, I had heard the Lu Watters Yerba Buena Jazz Band records and was familiar with that sound. So, it was quite a surprise to hear this trumpeter Strickler, who sounded like someone straight out of New Orleans in the 1920s. It wasn't until I came across a copy of Record Changer magazine (in my dad's collection), where George Avakian reviewed the Good Time Jazz sides and told Benny's story.
Fast forward a few years; I was playing at the local jazz club and one of the tunes we did was "Fidgety Feet." As it happened, cornetist Danny Alguire was in the audience. At that point I was unaware Danny had played with Benny in Bob Wills' Texas Playboys. After the set, an elated Alguire came up to me and said, 'you played Benny's solo!' He took me aside and we chatted for a while about Benny and the Bob Wills band.
In 1991, I made a tribute CD to Benny, attempting to recreate the sound of the band on those Good Time Jazz recordings. It's a challenge trying to play like him, as his playing was so spartan and that's not my natural way of playing. At that time, it seemed unlikely the original GTJ recordings would ever be issued on CD. However, just a few years later and with the revival of the GTJ label, the Strickler recordings were reissued on a box set with the Lu Watters recordings. At that point I had a working relationship with producer George Hocutt and was able to coerce GTJ to include two additional sides with Benny—"Muskrat Ramble" from the same radio broadcast the GTJ 78s were taken from, and an unissued version of Turk Murphy's "Trombone Rag."
I am still amazed at Ben's playing. All jazz musicians have influences, but to be honest I can't pinpoint an exact player who cast a spell over him. There are similarities with Benny and Yank Lawson of Bob Crosby's band. Yet maybe there was some other trumpeter—someone who Benny heard as a lad, on the radio or with a traveling band, that made a deep impression. In listening to the recording of "Muskrat Ramble," I'm struck by how he sounds as someone who hasn't been affected by the original Louis Armstrong recording—and I know he loved Louis' playing and knew his records. Strickler remains a bit of an anachronistic enigma, like the wonderful Southern California cornetist Ray Ronnei. I think we are all blessed for the opportunity to hear such incredible players.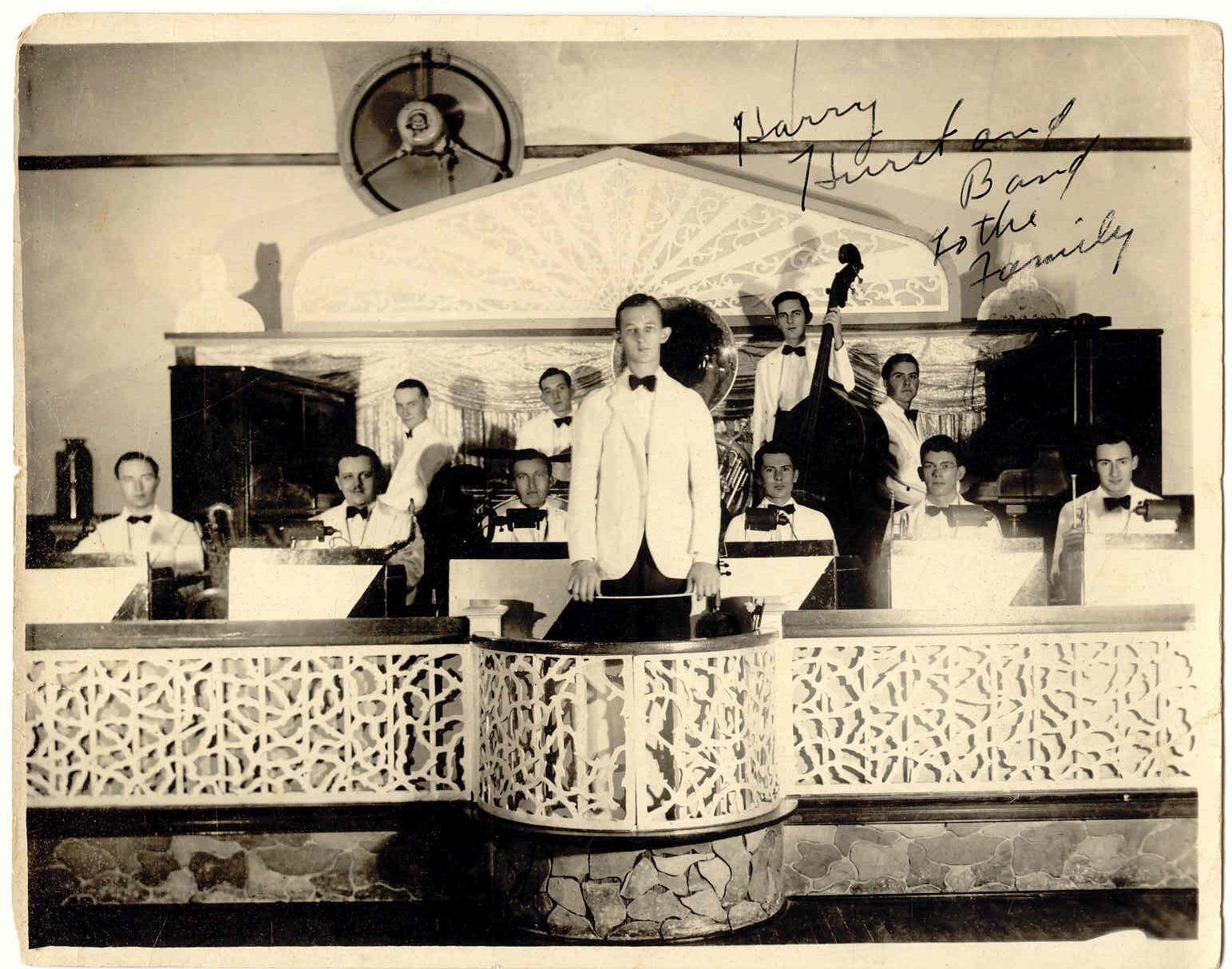 Marc Caparone: There is a certain magic to Strickler's playing that's hard to put into words. I think the magic is in the way he constructed his phrases. They were simple, profound statements that had everything—great drive and soul and tremendous swing. Benny could interpret a melody in an uncluttered yet gloriously exciting way—a skill he shared with the great New Orleans trumpeters King Oliver, Bunk Johnson and Tommy Ladnier. He was one of the great masters of early jazz trumpet.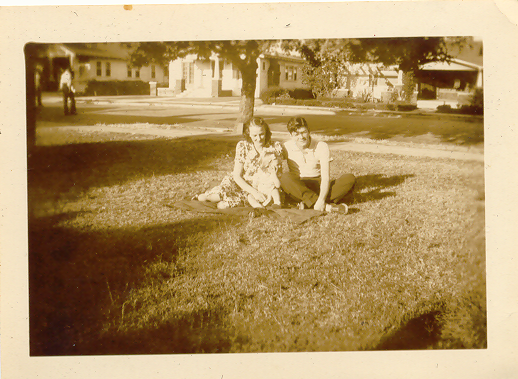 HS: In the mid 1990s, Diane (now Diane Breazeale) happened to find an online reference to Chris's Tribute to Benny Strickler CD on Stomp Off. Shortly thereafter Diane and I made contact. Since that time, I have been privileged to visit with several members of the wonderful Strickler family in person, by e-mail and on the phone. When I wrote an article about Benny for the San Francisco Traditional Jazz Foundation Frisco Cricket, Diane graciously loaned me the family scrapbook—which provided some great illustrations for the article.
I am looking forward to finding out what my good friend Jeff Barnhart has to say about Benny Strickler's recordings. But first, I would like to invite Benny's daughter Diane to share some memories of her family and particularly her father…
Diane Breazeale: Sadly, my dad's talent was born and died with him. No one else in the family had any talent. However, I do have memories of him as a dad: He loved roller coasters and scary movies. Dracula was a favorite!
He was able to come home from time to time while he was in Booneville (the sanitarium where he was being treated for TB) and would always get together with local musicians to play somewhere like the Bubble Club. I have heartbreaking letters that he wrote to Janet and me, begging us not to forget him. Janet and I were both impressed with his handwriting and language, considering how limited his education was. He graduated from high school but skipped school a lot to play in a band somewhere!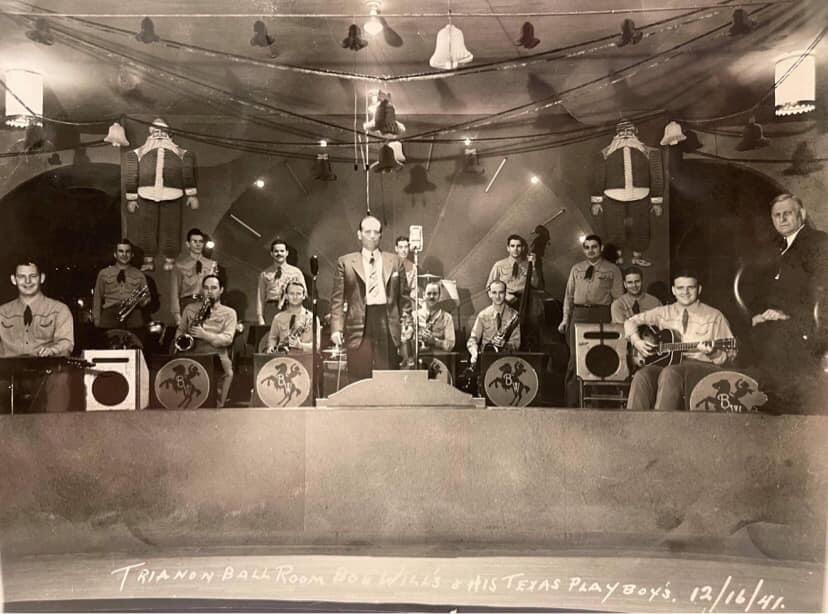 My sister and I wished we had asked more questions…how did a high school kid make his way around to places where he played in bands? How did his parents discover that he was a gifted musician?
I am SO grateful that Hal and Chris have done so much research. It means so much to me!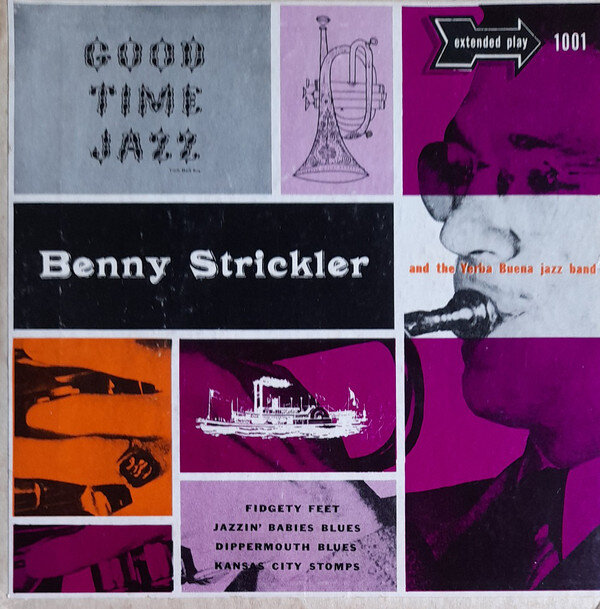 Jeff Barnhart: Diane, it means so much to all of us! It's researchers like Hal and Chris who keep the memory and the music of great performers like your dad alive! I was already acquainted with some of the Strickler/Yerba Buena sides, and my initial reaction was that Benny played with an effortless swing and, YES, was channeling the New Orleans greats, to whom I would add Papa Celestin, through his horn. Hal, let's take a listen to some of the (too few) sides Benny made and explore the invaluable contributions he provided!
From 1937, we'll start with the Seger Ellis Choirs of Brass version of "Copehnagen." This is a well-played, if heavily-arranged version of this early jazz tune (that, by the way, we should dig into sometime in the future; it's even more convoluted than "Panama!"). The far-and-away highlight is Strickler's 16 bar-chorus—incidentally, the only instance of improvisatory jazz on the whole side. His phrasing is firmly in the swing tradition—at times, he sounds a bit like a relaxed Bunny (Berigan) as well as Benny! Hal, what do you hear on this track?
HS: Jeff, I had never thought of a connection to Bunny Berigan until you mentioned it! That's a very good point, and I'm sure that Benny was listening to Bunny's records. One element of his trumpet solo that has always appealed to me are what Benny and his friend Danny Alguire described as "the wide beat." It's an unhurried way of playing, with a real lift and bounce. In fact, Bill Bardin, who played trombone with Benny in the Wartime Yerba Buena Jazz Band, described Benny's playing as "bouncy." Also, many of the melodic ideas and the phrasing in this trumpet solo can be heard in subsequent performances by Danny Alguire, Alex Brashear (section mate of Benny and Danny in the Bob Wills band) and of course Chris Tyle and Marc Caparone.
Speaking of Bob Wills…our May 2021 column for TST addressed the hot jazz sides recorded by the Texas Playboys. One of the sides we talked about was "Ten Years"—which features a hot "Dixieland" chorus by a band-within-a-band, led by Benny on trumpet. Let's re-listen to the record and enjoy that wonderful hot trumpet leading the way on a chorus that Bob Crosby's Bob Cats would have been proud to claim as their own.
JB: Yeah man, that chorus floored me earlier this year and I've listened to it a great deal since. Honestly, the tune itself doesn't do much for me, but the arrangement—especially the Strickler-led ensemble chorus—is AWESOME!! This jazz version of the Playboys puts the "H" in Hot; I'm glad Benny escaped Ellis and his "Choir!"
A much better tune is the Playboy's version of "When it's Honeysuckle Time in the Valley, Sally," in which Strickler lets loose while leading another wild "Dixieland" romp; knowing they only have a half-chorus, the boys don't hold back!
You alluded to the "Wartime" version of the Yerba Buena Jazz Band, with the only musicians from the pre-war band being Ellis Horne on clarinet, Russ Bennett on banjo, and banjoist Clancy Hayes playing (fine) drums! This allowed terrific musicians Bob Helm, Bill Bardin and Burt Bales to get into the act, and led by Benny Strickler, these seven sides, broadcast on KYA radio in San Francisco, sound unlike anything before or after in the YBJB oeuvre. Hal, let's start with "Jazzin' Babies Blues." What are we listening for here?
HS: This group has an odd instrumentation with two clarinets and no bass. But—we get to hear the wonderful contrast in styles between Ellis Horne and Bob Helm! Bill Bardin was still in his "Turk Murphy" mode. Burt Bales had already developed the very full style that he played for the rest of his career. Clancy Hayes started out as a drummer, so it was natural for him to return to his original instrument. Benny was already acquainted with most of the YBJB musicians and, as a student of early jazz, was the ideal trumpet man for the band. His playing on these transcriptions really sounds like something from an earlier era. For instance, the triplets on the fourth bar of his solo are reminiscent of Freddie Keppard. Danny Alguire said that Benny enjoyed emulating the early jazz masters. One night during a Texas Playboys performance Benny turned to Danny and Alex Brashear and said "Hey, fellas! Here's Bix!" Danny remembered that the "Bix" solo was startlingly accurate.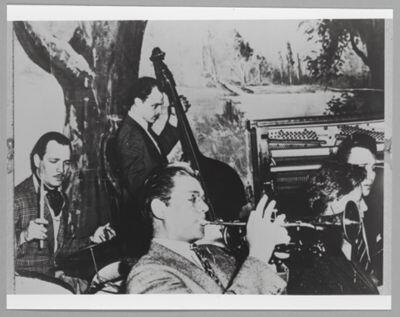 JB: Terrific anecdote! Your description of Benny's New Orleans phrasing and sound led me to "Dippermouth Blues" and "Muskrat Ramble," where I hear a punchy trumpet lead with an almost laconic swing. I'd like our readers to know that Lu Watters had arrangements for many of the tunes the band played. Since I have copies of them, I was able to read along during this and most of the Strickler/YBJB tunes. On these tunes, Benny closely reads Watters' chart the first time through each section, embellishing freely on the repeats. The real treat in "Muskrat" is the final two ensemble choruses; Watters didn't write the A section out again, so Strickler is unleashed—leading the band, building excitement throughout, into the final chorus in a freer style then anything previously heard (on record, anyway) from the YBJB. How about it, Hal?
HS: That's exactly right! Regarding "Dippermouth," I wish the acetate recording had captured the last couple of choruses, as it was really building up to a climax just as Helm's clarinet solo was cut off!
The performance of "Muskrat Ramble" is a real stomper; particularly the out-chorus. Benny's lead doesn't sound anything like Louis, or even Lu for that matter. The Yerba Buena band played this number a lot, but I think this may be the hottest version of all—thanks to Benny.
JB: Out of curiosity, I've listened to the other versions, and I certainly agree!!
HS: The next two sides, "Fidgety Feet" and "Kansas City Stomp" are my favorites from the broadcast. Right from the start, I love the trumpet break on "Fidgety Feet." It has the same kind of feel as that great trumpet break on Bennie Moten's hit record of "South." Bob Helm told me that he thought the little hesitations in the phrases were common among Southwestern trumpet and cornet players, dating back to the Moten band. You can hear similar phrasing in the recordings of other Southwesterners like Yank Lawson and Nate Kazebier and the same kind of feel is there in the records by Benny, Danny Alguire and Alex Brashear.
Benny's half-chorus on "Fidgety Feet" is the perfect example of that laid-back style. And even on that hot out-chorus, Benny is ambling rather than hurtling. He ends the song with one of his characteristic licks—two quick eighth notes.
JB: His ensemble work is brilliant as well! In "Fidgety Feet," he starts veering away from the Watters book and is really taking off by the second B strain. "Ambling" is an apt way to describe Benny's playing; he left a good amount of space (á la the N.O. players; it was as much about the notes not being played). Another treat is to hear Helm and Horne duet on the first trio strain!!
HS: "Kansas City Stomp" allows us to hear the marvelous piano of Burt Bales on the second strain. He admired Morton and Fats Waller above all others, and his playing on this side clearly shows the Morton inspiration.
Benny takes both the solos on the trio strain, with that same wonderful "wide beat." And at the end of the second solo, we hear another of his characteristic phrases: a quick triplet that almost sounds like it was bitten off. On the out-chorus he plays some great Lu Watters licks. I remember hearing this record about 50 years ago and wondering "Who is that, playing like Lu?" What do you think of this side, Jeff?
JB: On the whole, the band is playing at the PERFECT tempo for this tune. Bales' left hand is Mortonizing throughout the A section—it's terrific to be able to focus on what he does with no bass instrument to limit him! Strickler is the star here. He takes all of the solo spots on the first two trio strains, and it is remarkable to hear how he goes from channeling Ward Pinkett then Lu Watters during the first trio to pure Strickler during the second. Our final side is "Ace in the Hole," a big hit for Clancy Hayes and later for Turk himself. Can you lead us into this one?
HS: Listening to Benny's lead makes me wonder if he might have been reading a chart, or if he might not have been familiar with the song—as was the case with Bunk Johnson when he recorded it with the band. Whether he had played it before or not, Benny really made this side stomp! I especially like that double ending with all the space between the notes!
You mentioned Turk Murphy…there is one more side from 1942 which we haven't discussed: Turk's "Trombone Rag." It sounds like a first run-through, the trumpet playing is ensemble only, the recording quality is poor, and the acetate ran off.
"Trombone Rag" is one of the songs Chris Tyle recorded in 1991. Another is a song that Bob Helm told us the Wartime YBJB played with Benny: "Old Dan Tucker," which is my favorite from the session.
JB: I can hear why! When a jazz band plays an old folk tune with a limited melody and even sparser harmonic changes the groove must carry the performance and you guys nailed it! I love the two clarinets and, of course, Tyle's channeling of Strickler! Anyone not moving to this track must be dead and not yet know it! Where can our readers find out more about Benny Strickler, Hal?
HS: There is biographical information on Dave Radlauer's "Jazz Rhythm" website:
The BENNY STRICKLER Story: Bob Wills & Tulsa, 1941-42
The BENNY STRICKLER story: Frisco, 1942
Also, check out the website of the San Francisco Traditional Jazz Foundation from the Stanford Libraries:
War Time Yerba Buena Jazz Band.
JB: Awesome stuff. Next month, we'll conclude our discussion of Lu Watters and his Yerba Buena Jazz Band!
---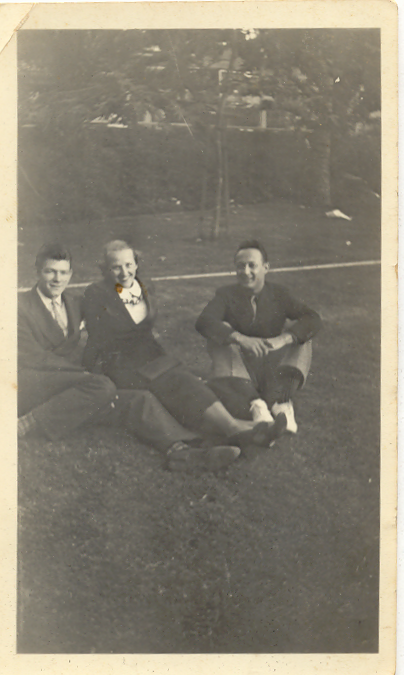 Links to selected recordings with Benny Strickler, 1937 – 1942
Seger Ellis' Choirs Of Brass "Copenhagen" (1937)
Bob Wills' Texas Playboys "Ten Years" (1942)
Yerba Buena Jazz Band (1942)
Chris Tyle's New Orleans Rover Boys (1991)