Update: A memorial that was originally hoped to be arranged for late May has been postponed. It is possible  it will be tied in with the Clearwater Jazz Festival in November.
---
Bob Byler, 87, passed away on April 28th in Venice Florida. He was a traditional jazz superfan who was well respected in the Dixieland community for his decades of writing for The Mississippi Rag and other publications. He was also a videographer who, along with his wife Ruth, who passed last year, taped hundreds of hours of concert footage at jazz festivals around the world.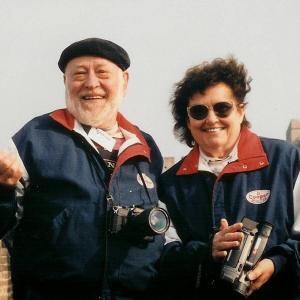 These were not the three minute cellphone videos we've come to expect from concert footage, but full shows, filmed from tripods, and going back as far as the 1980s. In many cases he captured combinations of musicians that are not preserved anywhere else. In recent years he concerned himself with making sure that this amazing resource would be available to future generations To that end he began indexing his videos and pictures online.  He created a
Youtube
page of his videos and a
Flickr
page of his thousands of photographs from festivals.
Their will be a celebration of Bob and Ruth's lives possibly tied in with the Clearwater Jazz Festival in November. We will publish a longer remembrance  in our June issue. In the meantime he expressed hope in his last days that people would utilize the pages he created.
Please visit:
---
Here is a full article his passing received in his local newspaper, it's not available online.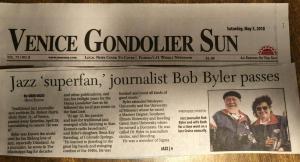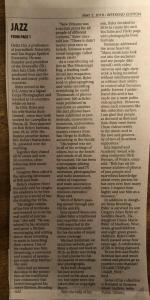 And we received the following remembrance from Norman Vickers:
Personal recollections about Bob Byler—
I met Bob in New Orleans at George Buck's Place—his record company and Palm Court Café—in the early 80s.  Bob had been in academia and the currently he and wife were traveling doing photography, videography and jazz journalism.  In fact,  when Bob called me a few days before his death indicating that he had a terminal illness and was wrapping up his affairs with the help of his son, he mentioned our original meeting in New Orleans.
Our paths crossed subsequently at various jazz parties  and events over the years.
Bob had written articles for The Mississippi Rag and for subsequent publication in The American Rag.  Over the past several years Bob had been making effort to have his jazz documents placed where they would be available for jazz historical researchers.  Bob indicated that he was especially proud of the many YouTube videos he had posted and was satisfied that his work would be available for future research.
Thanks.
Norman
Subscription Options
---
Or get the Print Edition with Online Access. To get the print edition of The Syncopated Times use this Paypal link. After you pay you will be issued a coupon for free online access.