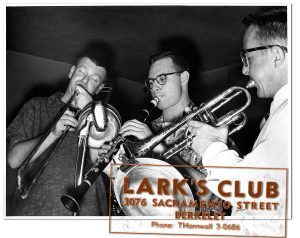 The Lark's Club played a brief but significant role in the Frisco jazz revival as the first home to Bob Mielke and The Bearcats Jazz Band. At the Lark's Club in Berkeley they jelled into a highly unified ensemble with a distinctive style all their own. It marked their first success, though a residency of less than two years.
For the next three or four decades — Bob Mielke, Dick Oxtot, P.T. Stanton, Bill Napier, Pete Allen and their associates — were the focal point and best-known brand of revival jazz in the East Bay. The Bearcats' front line became a skilled unit of expressive soloists. Clever voicing of the horns and ad hoc on-the-fly arranging by P.T. Stanton shaped the distinctive Bearcats sound.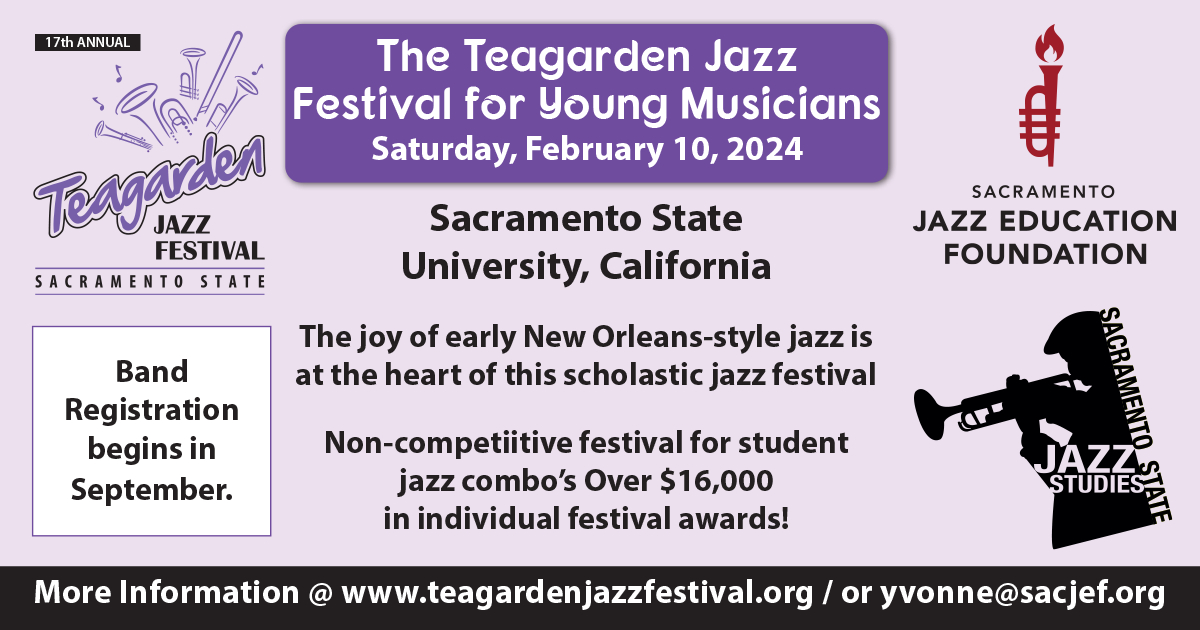 Bob and this band were part of a second wave of Bay Area traditionalist musicians emulating early jazz building a fresh style inspired by the sounds of Harlem, Kansas City Swing, and New Orleans. Fusing ensemble style and Kansas City riffs, The Bearcats crafted a fresh alternative to the formulas of Eddie Condon's Dixieland jam sessions, East Coast cutting contests or the Traditional Jazz of Lu Watters, Turk Murphy or Bob Scobey.
Lark's Club in Berkeley
Lark's Club was located in an African American neighborhood at the South end of Berkeley. About half the clientele were black, the remainder mostly young white Dixieland fans and traditional music enthusiasts. Owner Bill Nelson was a former trombone player for Jimmie Lunceford who later ran several successful auto dealerships.
The Bearcats played Thursday through Saturday nights, but other bands performed as well: Sanford Neubauer's Bay City Jazz Band, Gene Maurice's Gutbucket Five, and Dick Oxtot booked in one of his "Polecats" ensembles.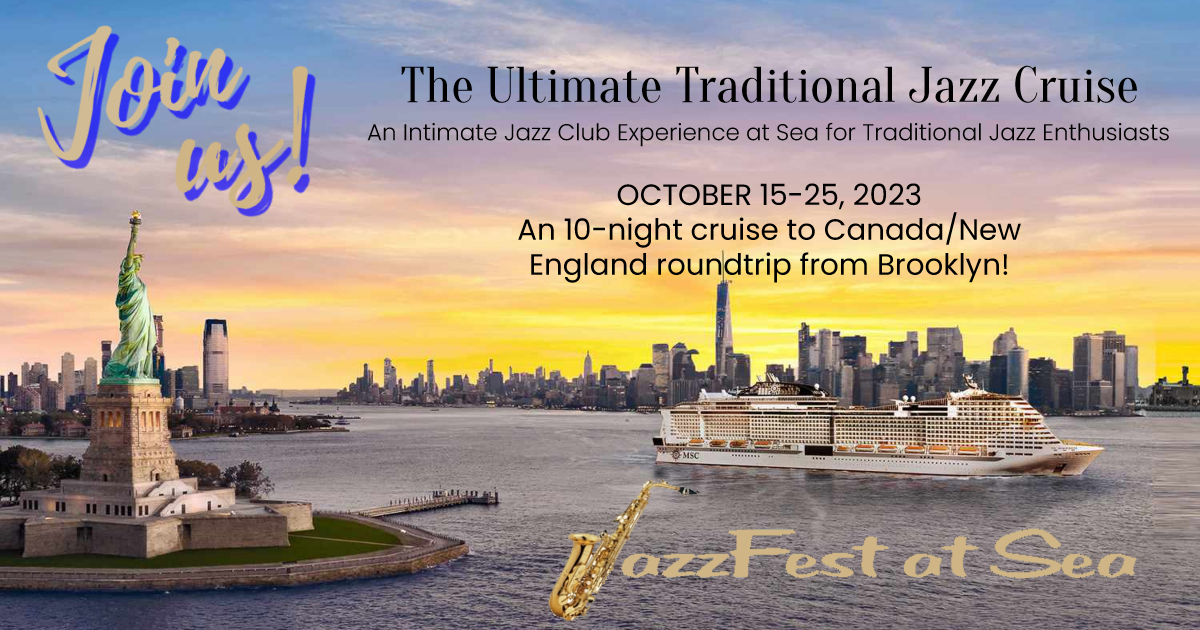 Their success demonstrated to other club owners that an eager audience would turn up for the music — and not just on weekends but several nights a week. Lark's Club was briefly gathering place for the Revival jazz vanguard of the East Bay.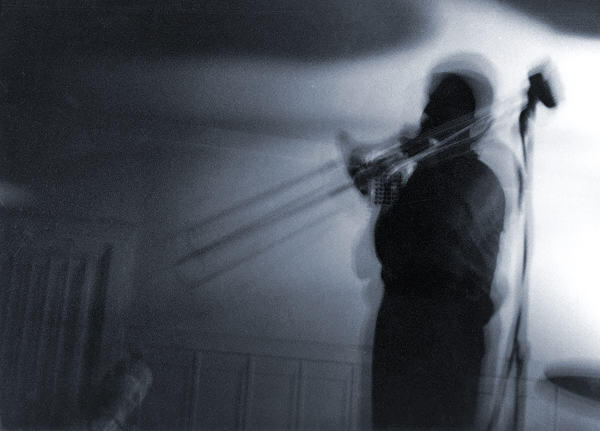 The Lark's Club Roster
These outstanding musicians and their capable alternates made this band exceptional. They forged an independent voice in the mid-century Jazz Revivalist movement.
Trombone player, vocalist and bandleader Bob Mielke (b. 1927) created his own exciting jazz trombone style fusing elements from Kid Ory's New Orleans tailgate tradition, the Harlem swing of J.C. Higginbotham and Ellington's "Tricky Sam" Nanton. His trombone exemplar for playing New Orleans parts was George Brunis, heard in the 1939 records of Muggsy Spanier's Ragtime Band.
The sound of cornet player and sometimes vocalist P.T. Stanton (1923-1987) was like no other: neither conventional nor straightforward. He rejected the clarion majesty of the horn in favor of a personal vocabulary of quavering growls, expressive cries and strangled tones — his characteristic sound a tattered, wheezy ragamuffin.
Stanton almost always had a mute, plunger or hand stuffed in or near the bell of his instrument modifying the notes. Or he aimed into the tin derby hat he kept mounted on a stand nearby. P.T. became musical director steering by the band indirectly through emphasis, counterpoint or cadence in a manner so subtle it was barely observable.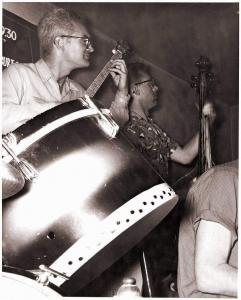 Clarinet player Bunky Colman (1932-1983) was a medical student when he joined in the early Fifties. His personal style was an appealing mix of New Orleans, Swing and Chicago clarinet influences.
Banjo player, singer and occasional cornet player, Dick Oxtot (1918-2001) was bandleader in his own right — an appealing performer, fine singer and popular entertainer in many genres. A full-time music professional, Oxtot ran his own bands in several formats, genres and venues, proffering "Vintage Music with Style" on both sides of San Francisco Bay for half a century.
String bass player Pete Allen (1921-2008) may have been the best string bass player of the Frisco jazz revival. He projected tremendous drive and volume, filling a room with his powerful beat.
Pete was associated with these musicians his entire adult life. Allen and Oxtot were an unmatched, hard driving, rock-solid timekeeping duo in The Bearcats — joined by drummers Don Marchant or Don Fay.
Bearcats Alternates and Substitutes
Playing several nights per week, key musicians sometimes couldn't attend, especially clarinet player and medical student Bunky Colman. His substitutes included Bill Napier and often, Ellis Horne. A piano was rarely employed in the Bearcats, possibly never at the Lark's Club.
The introverted Ellis Horne developed his own thoughtful yet passionate approach to clarinet in the Johnny Dodds' New Orleans-via-Chicago tradition. A frequent alternate, he played parts with a full rich tone, provided steady support for the ensemble and was always ready with a tasteful solo or chorus of the blues. Integral to the classic Lu Watters Yerba Buena Jazz Band of the 1940s, Ellis was a noteworthy talent in Frisco jazz for half a century.
Bill Napier was a brilliant hot jazz musician and certainly one of the best clarinet players produced by the Frisco revival. Owlish and self contained, he played imaginative parts with a wide range of tone colors. His daring solo improvisations teetered on the precipice of disaster, yet never failed. He and Mielke were close lifelong friends.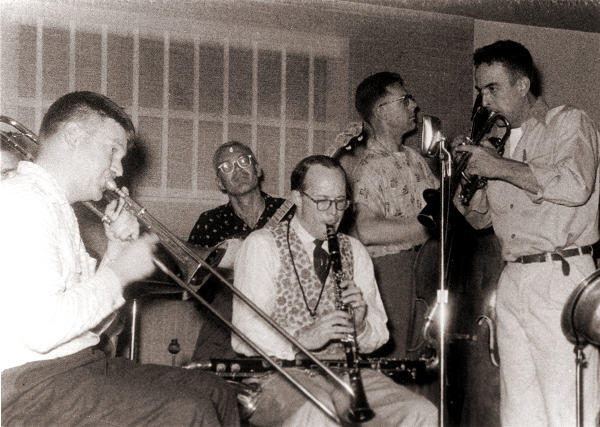 Finding a stand-in for P.T. Stanton could not have been easy. Mielke employed various horn players in the 1950s. Bob thinks he might have used Byron Berry. Or he hired good friend and excellent trumpet player (pianist, arranger and combo leader) Bill Erickson who later blew in a version of the band that Oxtot led at Burp Hollow in San Francisco.
Trombonist Bill Bardin (1924-2011) was the only known substitute for Mielke. Second to none in the Frisco crowd, he was masterful with two-beat stomps, Blues, four-beat Swing or ballads. Much of his career was spent in friendly competition with Mielke but eclipsed by his celebrity.
Lark's Club Repertoire
Surveying about 100 recovered tracks from the Lark's Club yields multiple renditions of their most popular specialties: "Saturday Night Function," "Joshua Fit De Battle of Jericho," "Sing On," "Mecca Flat Blues," "Moose March," "Milneberg Joys," "Pontchartrain Blues," "Ice Cream" and "Tiger Rag."
Oxtot regularly sang "Corrine, Corrina" or one of his delightful original songs like "My Lovin' Imogene" or "Ain't Nobody Got the Blues Like Me." Dick loved hokum from the 1920s and had a special talent for adding a knowing leer to collegiate novelties typified by "I'm Satisfied With My Gal."
Stylistically, this was not Traditional Jazz but loose four-beat New Orleans revival style. There's almost nothing of the Watters-Murphy-Scobey sound. The nearest they got to Trad Jazz were the New Orleans marches, played by the full ensemble all the way through with scarcely a break or solo, such as "1919 March" or "Gettysburg March."
Other East Bay Nightclubs
In the wake of the Bearcats' successful residency, a couple dozen nightclubs or bars on both sides of the Bay began presenting revival and traditional style jazz several nights of the week during the next decade. In Berkeley, Monkey Inn, LaVal's Garden's and Nod's Taproom were popular jazz hangouts.
In Oakland there were Reno's (where The Bearcats moved in late 1956), Storyville, Charlie Tye's and briefly The Blind Pig. Pioneer Village had two East Bay venues (San Leandro and Lafayette) where Bob Scobey or the Bearcats played.
In the mid-1970s, Oxtot ran rolling jam sessions at The Ordinary in downtown Oakland and at The Point in Point Richmond for a couple decades. Casuals, parties, special events and college fraternity or high school dances were welcome boons paying at least union rate or better.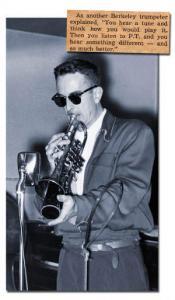 The Bearcats Legacy
The Bearcats succeeded by fusing Mielke's affinity for New Orleans ensemble parts with P.T. Stanton's sly Kansas City-style riffing. They created an original revival jazz style. Yet despite their popularity and originality, all their efforts to get a record album issued failed until decades later.
The band foundered in the early 1960s due to economics, changing musical tastes and personal circumstances. Though in response to public demand they reunited frequently, remaining close lifelong friends and associates. The Larks Club location was razed a few years later when the block was redeveloped for low-income housing.
Today, Mielke's evocative photos and surviving audio recall a pivotal music venue and halcyon days when young music enthusiasts flocked to hear Bob Mielke and The Bearcats Jazz Band blowing up a storm three nights a week at the Lark's Club in Berkeley.
The Photography of Bob Mielke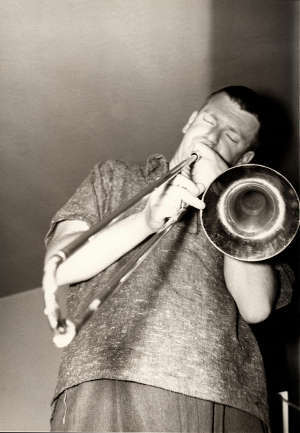 Mielke's artistic images from the club are potent and immediate. Early in life he aspired to be a professional or artistic photographer, acquiring expert knowledge, his own darkroom and an experimental flair.
All photos are by Bob Mielke and from the personal collections of Mielke or Oxtot. Their vast personal libraries of graphics, audio and ephemera utilized here are destined for the Stanford Libraries music archive as part of the Dave Radlauer Jazz collection.
This article is based on interviews or correspondence with Dave Greer, Gene Maurice, Bob Mielke and Earl Scheelar; thanks to all for their memories. Thanks to Hal Smith for music consultation and assistance.
Lark's Club Sessions and Demo Album, Late-1950s
The tracks below were probably recorded at Lark's Club on the big Ampex tape recorder that audio engineer and fan Bob Orrfelt rolled into the club several times.  One reel of Oxtot's appears to have been assembled from live sessions and may have been the prototype for a Bearcats "Demo Album" or simply a curiosity produced by a fan.
The Bearcats' "Bogalusa Strut" has authentic New Orleans flavor and the neatly voiced horns of "Sing On" add up to one of their best charts. Napier's artistry is revealed in his extended solos and close interactions with Stanton. "Pontchartrain Blues" was at the core of The Bearcats' repertoire. Though this rendition lacks drums, the unified ensemble swing and sheer quantity of sound generated by these five musicians is astonishing.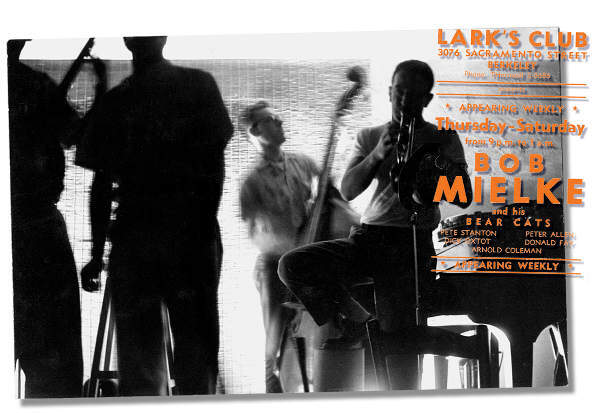 "Saturday Night Function" is Duke Ellington from before 1930. Mielke's vocal on "I'll be Glad When You're Dead (You Rascal You)" reminds us that Bob sang in addition to being master of ceremonies, chief gig-finder and star trombonist.
"Ain't Nobody Got the Blues Like Me" and "My Lovin' Imogene" are sung by their composer, Dick Oxtot. Lastly, "Darktown Strutters' Ball" is a rare opportunity to hear the effervescent vocal stylings of P.T. Stanton.
Personnel are P.T. Stanton (cornet, vocal), Bob Mielke (trombone), Dick Oxtot (banjo, vocals, kazoo), Peter Allen (string bass) and Don Marchant or Don Fay (where drums are present). Trombone alternate Bill Bardin and clarinet players Bunky Colman, Bill Napier or Ellis Horne are as noted
Lark's Club Sessions
A – Bunky Colman (clarinet)
B – Bunky Colman (clarinet), Bill Bardin (trombone)
C – Bill Napier (clarinet)
Demo Album
D – Ellis Horne (clarinet)
I'll Be Glad When You're Dead You Rascal You
Ain't Nobody Got the Blues Like Me