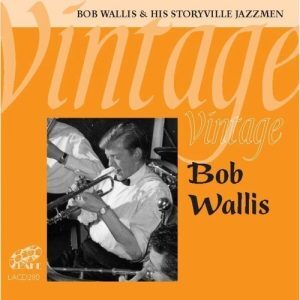 The British Lake label has reissued hundreds of valuable sessions by most of the best-known and most influential trad players of the 1950s and '60s such as Humphrey Lyttelton, Chris Barber, Ken Colyer, Kenny Ball, and Acker Bilk. Fortunately they have also compiled valuable releases from some of the less well-known but talented musicians of the era, including trumpeter Bob Wallis (1934-91).
Wallis was originally a sideman with the Storyville Jazz Band, made his recording debut with the Washboard Beaters in 1955 as a singer (his voice is quite raspy but effective), and worked with Ken Colyer and Acker Bilk. By 1958 he was the leader of a new version of the Storyville Jazz Band. During the last years of Britain's Trad Boom, before the rise of the Beatles ruined everything, he had hits with "I'm Shy Mary Ellen, I'm Shy" and "Come Along Please."
The two-CD set Vintage Bob Wallis features the strongest version of his band on two stirring sessions from 1959. Wallis, who was a hard-driving trumpeter with a powerful sound, is joined by trombonist Avo Avison, either Doug Richford or Dave Tomlin on clarinet, pianist Pete Gresham, banjoist Hugh Rainey, bassist Drag Kirby, and drummer Kenny Buckner. While the very first number on the twofer, "The Soldier's Dream," is a bit weak and out of tune, things quickly improve and the musicians show that they deserve to be remembered. The first CD has many obscurities (along with the group's popular "Everybody Loves Saturday Night") while the second mostly has their interpretations of hot standards.
The solos are full of colorful moments, the ensembles are generally heated, and this group had its own musical personality.
Bob Wallis' music will be easily enjoyed by those who love traditional jazz.
Vintage Bob Wallis
(Lake LACD 280, 27 selections, TT = 1:47:18)
www.fellside.com