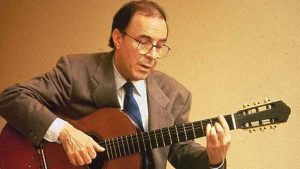 João Gilberto, Brazilian guitarist, vocalist, and bossa nova pioneer died July 6th, he was 88. Born in Bahia, Brazil he began guitar early and was performing locally before moving to Rio de Janeiro in 1950. He first joined a quartet but soon made a name for himself recording as a solo musician.
By the mid-50s he had developed a personal sound combining American jazz harmony with the native Samba rhythms. The new style, also associated with Gilberto's friend and collaborator Antônio Carlos Jobim became known as bossa nova.
His 1962 album Getz/Gilberto, recorded with saxophonist Stan Getz, became an iconic statement of the style. It remains one of the biggest selling jazz albums of all time. The album included the new standard "The Girl from Ipanema", which is second only to the Beatles' "Yesterday", in being the most frequently recorded song. He released several dozen albums of studio and live material in the decades that followed while moving to Mexico, the US, and then back permanently to Brazil in 1980.