We knew Tuba Skinny had a following but we weren't prepared for a standing room only crowd! I never saw so many joyous, boppin' people in one room. And they were young and old, rich and poor, plus three or four dozen dancers.
On August 30th, at the Commodore Barry Club in NW Philadelphia, 'PUP' – the Philadelphia Unemployment Project – brought in arguably the best early New Orleans traditional jazz band in the world. It was a risk, but wonderfully successful in every way possible. How Tuba Skinny came about is an emerging legend that has been written about previously by 'Pops Coffee", their unofficial chronicler, and several of their albums have been reviewed by Joe Bebco of this fine journal.
For Eric Alan Isaacson, out on the West Coast and a long time jazz fan, this would be his first opportunity to hear them live. A recent "convert", via YouTube, he was tempted by their July tour in France, but …
"My wife said no way are we going to spend the month of July following a washboard band around France. So we compromised … by flying to the East Coast for August 30th. Wow! So, now I'm thinking France might be in the realm of possibility next year?"
Eric is an appeals attorney and had to get a filing postponement from SCOTUS Justice Ruth Bader Ginsburg in order fit in the date. (Can't make these things up; a picture of the docket approval is on Face Book.) Such passion is commonplace among Tuba Skinny fans, and it was a "wow" kind of evening.
Here's John Dodds, jazz fan and another Tuba Skinny acolyte, (also the instigator of the concert and Exec. Dir. Of the Philadelphia Unemployment Project -PUP):
"We took a shot that Tuba Skinny would bring in a crowd in Philadelphia and boy did they! Our board was skeptical but with a minimal budget, mainly Face Book, we packed a large hall in Philly with over 450 people on Labor Day weekend. We just figured the band was so beloved on YouTube, and so talented, that we could turn out the folks and benefit our non-profit organization too. It was a great night."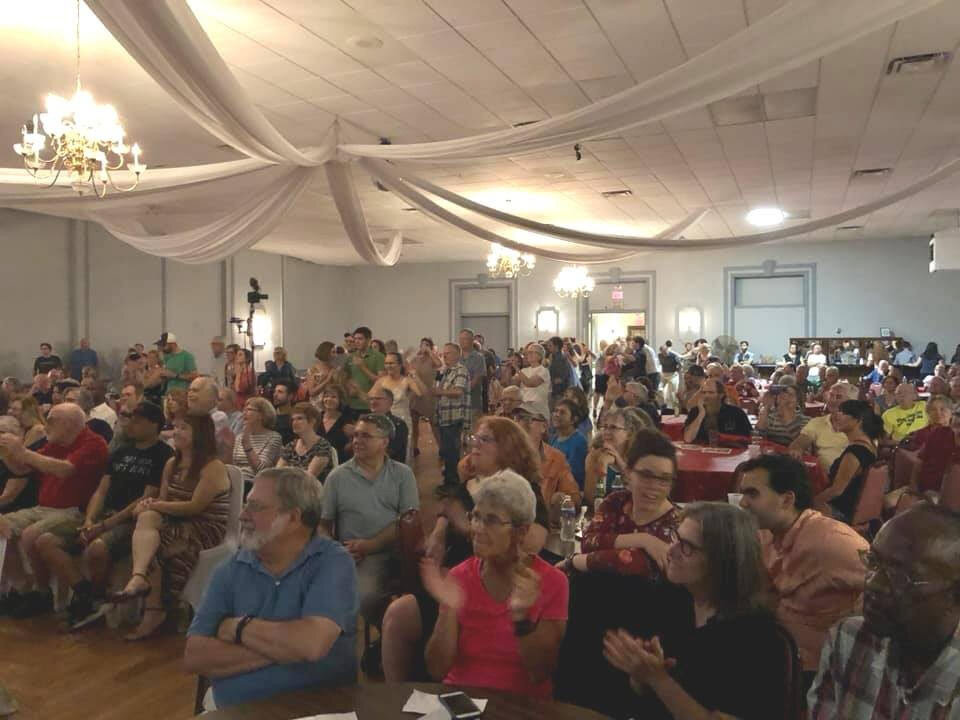 We put up a "Tuba Skinny in Philly" Face Book page in May, followed by an Event page in June. We both began posting on local jazz and dance pages. I also went to a few local 'trad jazz' events with fliers .. tough duty. We had begun to sell a few advanced sale tickets by late July. At $25 advance, $30 at the door, the price was unlikely to scare anyone away. By August 1st we had sold enough tickets that covering costs was assured. But could enough be sold to make it a seriously successful fundraiser for PUP?
By mid August sales were over 200 and John and I spent an evening handing out fliers at a Post Modern Jukebox concert; quite a few people already knew about Tuba Skinny. Ten days ahead of time it looked like we might sell 300, or even 350. And then, the week of the concert, ticket sales kept coming in. John was getting notices daily, hourly, every few minutes. When I finally saw John at the Commodore Barry Club we were over 400. In the end, it was over 450 ! Actually standing room only.
John Dodds and I had met on-line late last Winter, he having seen my comments on YouTube and on Facebook a bit about how I had "chased the band" on their Eastern Tour last year. They were already scheduled into South Jersey Labor Day Weekend, so when he asked if I wanted to help bring them to Philadelphia I said "twist my arm". After a couple of meetings with his PUP Board, and some on-line email and posting, we were pretty keyed up by the appointed date.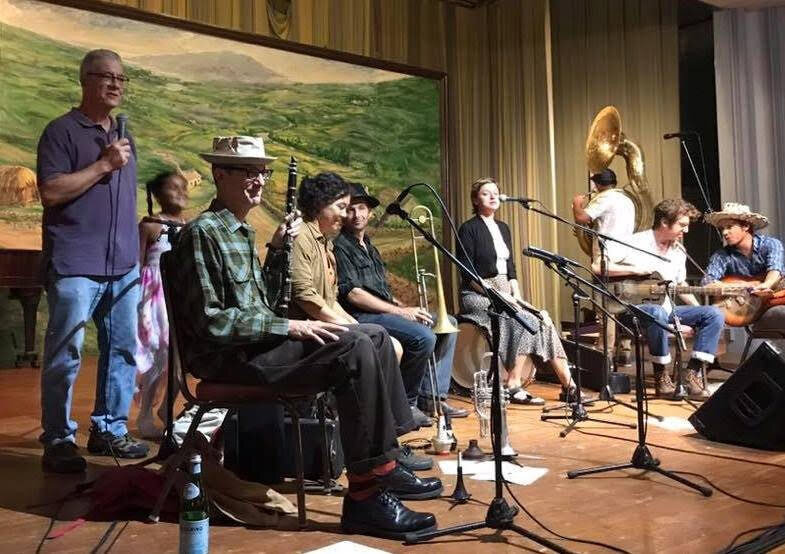 I had arrived early to put up some signs and meet the sound engineer; Tuba Skinny was due about 5:00. As you may have heard from the videos, Erika Lewis was seriously ill and had missed the gig the night before (a rare thing). They pulled in, with Erika, about 5:30. They did a sound check on the eight mike system; two primary speakers and two smaller band speakers. It went well, but it takes a bit to get each mic level and the balance set. Later, at the start of the concert, Mike Blair, the sound guy, fine-tuned the system as he walked around with a blue-tooth linked Ipad.
As you may see from the videos, the room was set up with two rows of large tables on either side, ten per table, with more chairs along the wall on either side. That came close to 400. Upon hearing the last minute ticket count we scrambled to set up another three or four rows in the middle area, leaving room up front for dancers and more room behind also. The club staffed two cash bars, one at the back – one on the side, as well as a counter selling finger food. All three were in for a busy evening. Tuba Skinny had a table at the rear too, selling CD's and vinyl .. a cookbook had been sold out early in the tour.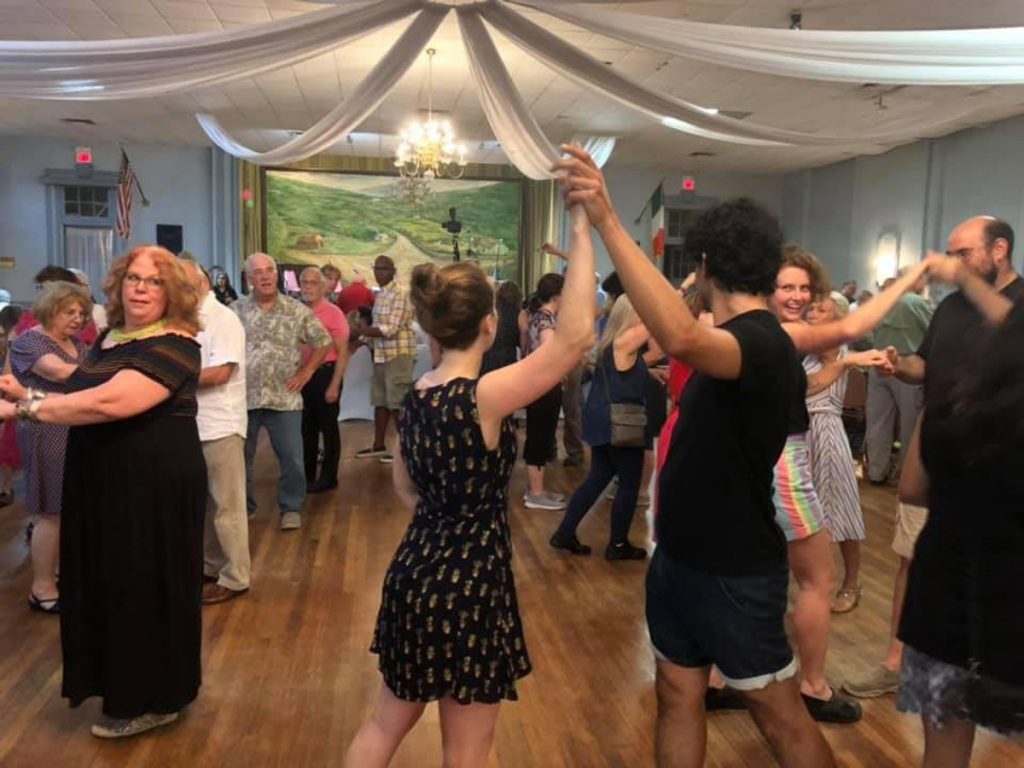 People started rolling in an hour ahead of time. John Dodds had lined up a dance instructor to teach entry level dancing at 7:00. Meanwhile, John and his wife had also prepared a complete meal for the band. At supper I was able to chat with them a bit, but John was setting up ticket tables at the two entrances for PUP volunteers. Erika didn't eat; she spent a good while head down at a table with Shaye, obviously pretty sick. Greg Sherman, also with a cold, and the other guys enjoyed the meal. When I came out to the hall just before 7:30 – Wow ! – it was filled with people, some learning to dance to a CD, others gathered at tables. There was a palpable anticipatory buzz. All that remained was Tuba Skinny's presence and their music …..
They opened with "Cushion Foot Stomp," followed by "Oh Red" and "Somebody's Been Lovin' My Baby". Whatever travel weariness or colds they may have come in with melted away with the crowds enthusiastic response. And they opened their hearts for us. This video captures the fun …
More on Tuba Skinny and Tuba Skinny musicians from The Syncopated Times.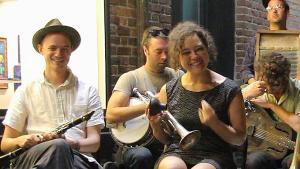 If you don't know who Pops Coffee is you've been missing out. Since 2013 he has maintained a wonderful blog chronicling the album releases, shows,
Read More »