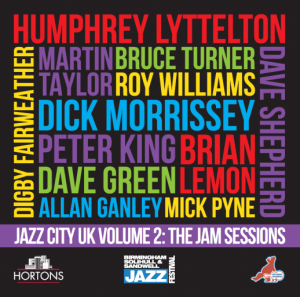 Trumpeter Humphrey Lyttelton, who led one of the top British 1920s-inspired trad bands of 1949-55, was given a lot of heat and criticism from his fans when he shifted his music towards mainstream swing in the mid-1950s. He ignored the detractors and played in that direction during the remainder of his career while not entirely neglecting his roots, particularly in his own trumpet solos.
Jazz City UK: Volume 2: The Jam Sessions has swing-oriented jam sessions from Mar. 11, 1987 and Aug. 12, 1984. The three numbers from the later session find Lyttleton leading an all-star nonet that includes many of his sidemen through "Carolina Diner" (which utilizes the chord changes of "Dinah"). Lyttleton is showcased in a duet with pianist Brian Lemon on "If I Could Be With You" and Martin Taylor takes an unaccompanied guitar solo on "Cherokee" which he plays in a couple of different tempos.
The bulk of this CD has bands led by Lyttleton and trumpeter Digby Fairweather in 1984. Lyttleton's unit (an octet with trombonist Roy Cummins, clarinetist Dave Sheppard, and Dick Morrissey on tenor) romps on "Frankie And Johnny" and "Crazy Rhythm." The latter has Fairweather's group joining Lyttleton on the final two ensembles which are quite rousing. Fairweather's own octet (with altoist Bruce Turner) is featured on an uptempo version of "Blues My Naughty Sweetie Gives To Me," and a sextet with Turner and Morrissey stretches out on "Honeysuckle Rose." In addition, the two full bands (they shared the same rhythm section) with their eight horns digs into "The Hucklebuck" and "Jumpin' At The Woodside."
Plenty of fireworks occur during these often-exuberant performances, with only Lyttleton's "If I Could Be With You" being a ballad, and the musicians and the audience clearly had a great time.
Jazz City UK: Volume 2: The Jam Sessions (Big Bear CD57, 9 selections, TT = 70:34) www.bigbearmusic.com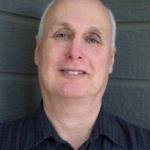 Since 1975 Scott Yanow has been a regular reviewer of albums in many jazz styles. He has written for many jazz and arts magazines, including JazzTimes, Jazziz, Down Beat, Cadence, CODA, and the Los Angeles Jazz Scene, and was the jazz editor for Record Review. He has written an in-depth biography on Dizzy Gillespie for AllMusic.com. He has authored 11 books on jazz, over 900 liner notes for CDs and over 20,000 reviews of jazz recordings.
Yanow was a contributor to and co-editor of the third edition of the All Music Guide to Jazz. He continues to write for Downbeat, Jazziz, the Los Angeles Jazz Scene, the Jazz Rag, the New York City Jazz Record and other publications.