Dr. Bruce Boyd Raeburn in the record stacks at Tulane's Hogan Jazz Archive (above) and in his office (top right). (submitted photos)
---
After Bruce Boyd Raeburn moved to New Orleans in 1971 to work on his doctoral dissertation in United States Cultural History at Tulane University, he took a low-paying student worker position in the University's library system in 1980 which introduced him to the Hogan Jazz Archive. Working his way up the ladder in a succession of positions, he achieved what he described as "his dream job" in 1989 when he became the fourth curator of the leading research center for the study of New Orleans jazz and related musical genres. Last month he retired after 46 years on the staff and headed off to Spokane, Washington, with his wife Linda for a more relaxed life of writing, consulting and lecturing on New Orleans music.
The Hogan Jazz Archive was founded in 1958 as the Archive of New Orleans Jazz by Department of History chair William Ransom Hogan in response to an idea from a Tulane graduate student who was undertaking a jazz oral history fieldwork project for his thesis covering New Orleans jazz, ragtime, gospel, blues, rhythm & blues, and Creole songs. The Ford Foundation provided initial funding for the project. The Archive currently has over 2,000 reels of taped oral history interviews with musicians, family members and observers that document the stories surrounding the emergence of jazz in New Orleans from the late 19th Century forward. It is considered the latest collection of jazz oral history and also has related photographs, recordings, sheet music, orchestrations, scrapbooks, research notes, publications, memorabilia as well as the records of American Federation of Musicians local 174-496.
– Curator since 1989 –
Bruce Raeburn officially joined the Howard-Tilton Memorial Library staff in 1984 before taking over as Curator of the Hogan Jazz Archive in 1989. Over the ensuing 28 years, he marshaled the resources of the Jazz Archive with a senior educator's insight into relating the value of its contents and information to history, and along with his dedicated staff, brought the Archive into the Digital Age. He was also Director of Special Collections at the Tulane Library and managed to find time to teach a jazz historiography seminar.
An article in The Jazz Archivist stated, "Nobody knows the Jazz Archive better than Bruce. While putting his own distinctive brand on the place, he wisely incorporated what he observed to be the most positive insights of his predecessors. During his long, eventful tenure, Bruce has nurtured more than a few promising students and gone the extra mile to avail the full Jazz Archive experience to the widest possible constituency, from local backstreet musicians to scholars and pilgrims from around the world."
– From a Musical Family –
Bruce Raeburn was born into a musical family His father, Boyd Raeburn, fronted a series of bands during the Big Band era, and his mother, Ginny Powell, was the vocalist with the Gene Krupa, Charlie Barnet, and Harry James bands in addition to the Raeburn band.
Originally from South Dakota, Boyd Raeburn primarily played the bass saxophone and began his career as a bandleader in the early 1930s, leading an orchestra at the University of Chicago. By the early 1940s, his interest had gravitated to Swing, but in 1944, he scrapped his dance band and formed a progressive jazz group that featured arrangements by Ed Finckel and George Handy, and included musicians like Dizzy Gillespie, Sonny Berman, and Al Cohn.
Musicians enjoyed working for Raeburn, for his music was a challenge to them, and many gave up more lucrative jobs to play in his band. Duke Ellington was so impressed with what Boyd was doing that he not only encouraged him verbally, but supported him financially.
A big booster of the band, Barry Ulanov, an editor at Metronome magazine, wrote "There are no limits to the imagination and daring of the leader and his arrangers. The Raeburn band is by no means a dance organization. The music it plays is designed for listening; it's modern music, cast in new molds out of classical forms and jazz rhythms and harmonies. This is the way music will be played from now on by the really hip and talented and musically healthy."
But the public wasn't buying, and in 1950, Boyd formed a smaller orchestra for dates around the New York area. Following a brief stint with George Avakian producing three LPs for Columbia Records in the later 1950s, he abandoned the music business entirely. He was in a serious automobile accident in 1965 and died of a heart attack the following year.
– His Early Years –
Regarding his upbringing, Bruce Raeburn recalled in a 2016 interview: "I grew up in New York City. A lot of musicians came over to our house, so I was really exposed to that world. I was given a miniature drum set for my sixth birthday, but I lost interest very quickly. I think it was because I didn't want to compete with my father."
"Ginny died of meningitis in 1959 in Nassau, Bahamas. She was just 33. Boyd kind of lost his ability to provide for me and my sister Susan, so we got fostered out to different families. We ended up with an uncle in Los Angeles, who worked for Capitol Records. He wanted me to be an attorney, so I started at UCLA when I was 16 years old as a pre-law student."
"I was apart from Boyd for about four years before I saw him again—Christmas 1965. He had been in a car accident and passed away in August of '66 after I went to live with him in Lafayette. I had burned all my bridges to be in Louisiana with my dad, and I lost him. But it was a very good place to be in the mid-'60s, so I don't regret that at all. In fact it remade me in interesting ways."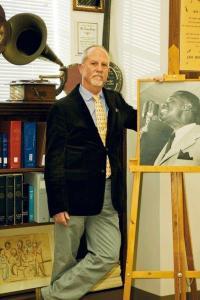 – College in Louisiana –
Deciding he wanted to be a historian rather than a lawyer, Bruce switched to the University of Southwestern Louisiana (now known as the University of Louisiana-Lafayette) and became exposed to Louisiana folklore along with Cajun and Zydeco music. It was also the time he got serious about playing the drums and took up performing with guitarist Clark Vreeland.
By 1971, Bruce moved to New Orleans to work on his Ph.D at Tulane and once again connected with Vreeland who was in a band called Ritz Hotel. Bruce continues the story: "The band's drummer quit onstage one night, so Clark called me and said 'Go find a drum set and come do this.' Subsequently the band split into two factions, and I ended up working with both of them, kind of bouncing from one to the other throughout the '70s and into the early '80s."
"Clark put together a band called the Mystery Monitors, and at one point we were part of a regular show at the Absinthe House. The Mystery Monitors would do a set, and the late bassist Becky Kury would do a set, and then we would all back up rhythm & blues guitarist Earl King. It was one of those wonderful opportunities, but that's the magic of being in New Orleans." During his 45 years as a New Orleans jazz and rock drummer, Bruce also worked with James Booker and the Pfister Sisters, among others, and appeared as a cast member on WWNO's Crescent City radio show.
In 2009, the University of Michigan Press published New Orleans Style and the Writing of American Jazz History, a 352-page book written by Bruce based on his doctoral dissertation, the essence of which he describes as "the history of jazz as it has been written over the years."
As Dr. Bruce Boyd Raeburn begins a new phase of his life in the Pacific Northwest, he can look back on his years at the Hogan Jazz Archive as representing a meaningful achievement and enduring legacy.
---
This is what our print edition feels like. If you want good news to read with your morning coffee, order a print subscription. You'll get full online access to our archives, web extras, and our next issue will arrive at your door. Online only access to all of our original material is also available! Support Hot Jazz Journalism- Subscribe
Subscription Options
---
Or get the Print Edition with Online Access. To get the print edition of The Syncopated Times use this Paypal link. After you pay you will be issued a coupon for free online access.