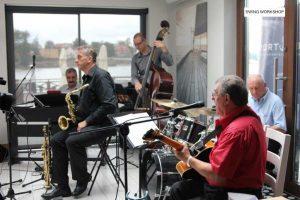 If you are wondering what that says it is something like "Wojtek Kaminski's Swing Workshop Forty Years On." The Polish small band Swing Workshop is celebrating 40 years. I think.
That's the downside of being on the receiving end of Polish jazz CDs. Even Google translate only takes you so far.  The upside is that the Poles have been punching above their weight playing jazz and swing for 60 years now. You seemingly can't go wrong with a Polish jazz album and this one is no exception.
Dymitr Markiewicz, a famous Polish musician in his own right, is a friend of the paper who sends us excellent CDs we certainly wouldn't find on our own. Most of them have been very tight Dixieland oriented traditional jazz bands. Swing Workshop demonstrates that some of those same musicians produce first-rate Swing as well.
Swing Workshop has a smooth classic sound that I must admit is not normally my cup of tea. But when a group is this solid even those who won't be converted are forced to appreciate it. The mental image I created was of an extraordinarily good resort band playing jazz standards for retirees. The whole crowd is immersed but only the few realize how uniquely good it really is.
The quintet is led by Wojtek Kamiński on piano. He provides flourish throughout but on Oscar Peterson's "Hymn to Freedom" he really shines. He has been involved in every notable traditional jazz band in Poland since helping to found the Ragtime Jazz Band in 1961. He has also led workshops for swing and jazz for Decades.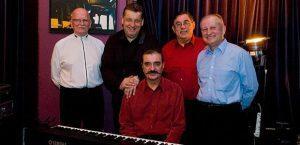 Vocals, which are superb, are provided by the guitarist Paweł Tartanus. I personally never find accents to interfere but in his case, even those who do will love the effect his slight gravel gives to tracks such as "Blue Moon", "Stardust", and "Sweet Lorraine." He has a truly special talent that fits this group like a glove.
What really makes Swing Workshop stand out is the mounting wave of swing feeling on each track. Guitar and piano, with an added kick to the rhythm provided by Andrzej Zielak's bass and Bogdan Kulik's drum. Both men are mixed prominently throughout but make special appearances to raise the bar with an excellent bass solo on "My Love is Here to Stay" and a drum ensconced crescendo closing "Hymn to Freedom." Tenor saxophonist Marek Rudnicki leads you through the instrumental tracks without any showiness. He just glides over that rhythm.
This is the kind of easy perfection only a lifetime of devotion to the music can bring. Nearly all of our readers will find something to like.
Swing Workshop Wojtka Kamińskiego
Czterdzieści lat minęło…
PSJT CD 004 (www.psjt.pl)
---
To order write [email protected], Price is about $10 (US) plus $3 shipping and patience for international delivery.