The 47th annual Bix Beiderbecke Memorial Jazz Festival
Related: The 46th annual Bix Beiderbecke Memorial Jazz Festival, Every Bix Devotee Should make a Pilgrimage
The 47th annual Bix Beiderbecke Memorial Jazz Festival in Davenport, Iowa, got off to a rousing unofficial start on Thursday, August 2, with a free concert at the Putnam Museum. Miss Jubilee and the Humdingers from St. Louis provided the music. As is customary, Bix's cornet, a Vincent Bach that he bought in 1927, was played by Ken Cebrian, the band's horn man. The horn is one of the museum's artifacts and is seldom played. What surprised me about Ken's performance is that he didn't wear white gloves to hold it, as the curator did when she gave me a close-up look (see nearby photo). Bix's name is engraved on the bell.
I missed it this year, but the Fat Babies from Chicago played for 90 minutes Wednesday evening at Grumpy's Saloon in East Davenport.
The music sets ran from Thursday evening through Saturday evening at the Rhythm City Casino, the festival's venue for the second year. Other than the excessive air-conditioning, which was also an issue last year, the venue was excellent.
Seven bands were on the card, including two formed just for this occasion. Those were the Fats Waller Legacy Band and the Benny Goodman Trio. In addition to the two mentioned earlier, there were the Bix Youth Band, Graystone Monarchs, and the Wolverines. These Wolverines are, according to their website, a 7-piece outfit from Minneapolis, not the slightly larger band of the same name from Boston, but they only brought a quartet plus a vocalist.
Each afternoon and evening session had five 45-minute sets. The Monarchs and the Youth Band only played twice, and the Wolverines four times, but all the others had five sets. On Friday evening there were three local bands, one of them Josh Duffee's, playing for free at LeClaire Park on the banks of the Mississippi downtown, but I did not go there. My transportation was my bicycle, and the park is about a 45-minute ride from the casino, so going would effectively have meant missing all the evening sets at the casino.
Added traditional events were the gravesite concert at the Beiderbecke family plot at Oakdale Cemetery and the Sunday jazz liturgy at First Presbyterian Church, where Bix's family belonged. I have been to both in the past but did not go this year. There is also an annual Sunday evening jam at the Knoxville Tap, a bar across the river in Milan, Illinois. I have never gone, but I'm told it's a memorable experience, for which reservations are now needed. With the festival no longer having music on Sunday, I've made the choice not to hang around just for this.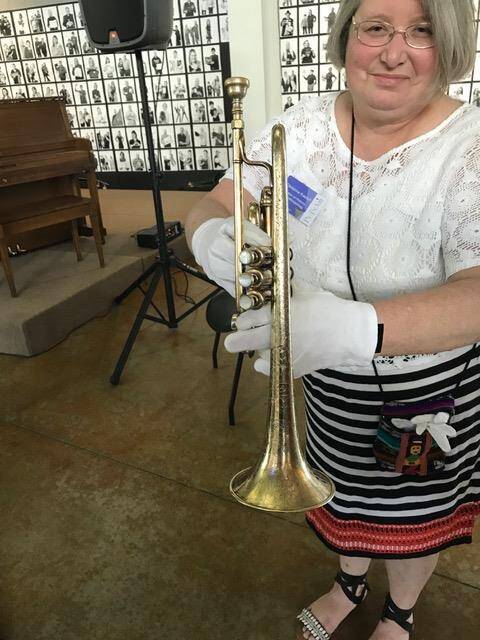 More now about the bands. The Goodman trio had Dave Bennett leading, with Jeff Barnhart on piano and Hal Smith on drums. A more fitting aggregation could not be imagined; Dave even bears a strong resemblance to Benny. They played many of their namesake's hits, including "Sing Sing Sing" to close two of their sets.
Jeff created the Waller legacy band for this occasion. In it were Jake Sanders on guitar, Hal Smith, Dave Bennett, Dave Kosmyna on trumpet, and Steve Pikal on bass. Their sets consisted, naturally enough, of tunes written or recorded by Fats. There were some obscure ones, like "You Must Be Losing Your Mind" in addition to his standards. Between Jeff and Steve, we got our day's exercise just watching these extremely animated musicians.
The Fat Babies have become a fixture of the Bix, to the enjoyment of most attendees (as well as yours truly). The personnel: Beau Sample, bass and leader; John Otto, clarinet and alto; Andy Schumm, usually on cornet but who could literally be found on any instrument; Dave Bock, trombone; Jon Donatowicz, guitar and banjo; Alex Hall, drums; and Paul Asaro, piano and most vocals. As I may have written before, the Fat Babies are to Chicago what Vince Giordano's Nighthawks are to New York. Their arrangements are catchy and faithful to the originals. It didn't happen this year, but they occasionally play multi-instrumentalist Andy Schumm's compositions. I always leave wanting more of this band.
Miss Jubilee and the St. Louis-based Humdingers appeared several years ago. The personnel has since changed slightly, and while they might not be considered strictly a trad band, I consider them a cross between a Delta blues or jug band and a bluegrass band. Almost all their tunes feature vocals by the leader, Valerie Kirchhoff. Some purists might object to so much singing, but I found her voice and folksy manner very appealing. She played a resonator ukulele here, which, while not a powerful instrument, fits quite well with the band's repertoire, which stems from extensive research by Val. Much of their book features songs performed by the leading, mostly black, blues singers of the '20s, a number of them having St. Louis connections. The regular pianist, Ethan Leinwand, was absent, and Marty Eggers subbed for him. I had seen Marty once or twice before and like him. He's often in St. Louis helping his wife, Virginia Tichenor, settle her father Trebor's estate, and Val takes full advantage of his presence. The other members are Ken Cebrian, trumpet; T.J. Mueller, banjo; Richard Tralles, bass; and Dan Conner, drums. Richard took a few vocals as well.
Josh Duffee's 10-piece Graystone Monarchs was a mix of local and nationally known players. Josh also regularly leads his eponymous orchestra, but I don't know if the Monarchs is a regular working band, given its geographic personnel mix. Their two sets featured music of several hot '20s bands, this year including the oft-overlooked Chick Webb outfit, which was one of the best.
I think I might have liked the Wolverines better at full complement, but they told festival director Steve Trainor that they were only bringing four pieces. The band had two stars, in my opinion: leader and drummer Jendeen Forberg and bassist Steve Pikal. Still, I felt its style, which was heavily '50s-oriented, didn't fit this festival. Several other people I queried said the same thing. I should mention, however, that none of my respondents disliked the quality of their musicianship.
Throughout the weekend we were urged to help keep the festival a going concern, through membership in the Bix Society, donations, and bringing one or more friends next year. While the festival has contracted since I attended my first in 2001 (and I have not gone every year), it remains a well run event, which is why I make the long multi-modal trip to Davenport as often as I do.
---
Jazz Travels columnist Bill Hoffman is a retired management consultant and is the concert booker for the Tri-State Jazz Society in greater Philadelphia. Bill lives in Lancaster, PA.
Subscription Options
---
Or get the Print Edition with Online Access. To get the print edition of The Syncopated Times use this Paypal link. After you pay you will be issued a coupon for free online access.