Imagine sitting on the platform of your towns' railroad station, whistles blowing as the old-time steam engine chugs to the platform, and live jazz music is being played in the background. Sounds like something you'd only be able to experience in a Hollywood film, right? WRONG! It can be something YOU can enjoy, alongside many other events September 21st thru 24th at the Central Pennsylvania Ragtime & American Music Festival in Rockhill Furnace, Pennsylvania!
The Festival, launched in 2009, is one of America's most intimate music gatherings, bringing award-winning musicians to central PA, performing Ragtime, Jazz, Boogie-Woogie, Stride, Blues, and hits from the Great American Songbook. This year, the festival brings back favorite performers Adam Swanson, Frederick Hodges, and Bryan Wright, and welcomes T.J. Muller, Dan Levinson, Charlie Judkins, Miss Maybell, and Bill McNally to the festival's line-up.
Tickets for the festival are on sale now at www.rockhillragtime.com or by reaching out to the festival at [email protected] or (443) 694-4116. An All Access Pass costs $200, with individual events ranging from $20-$65 each.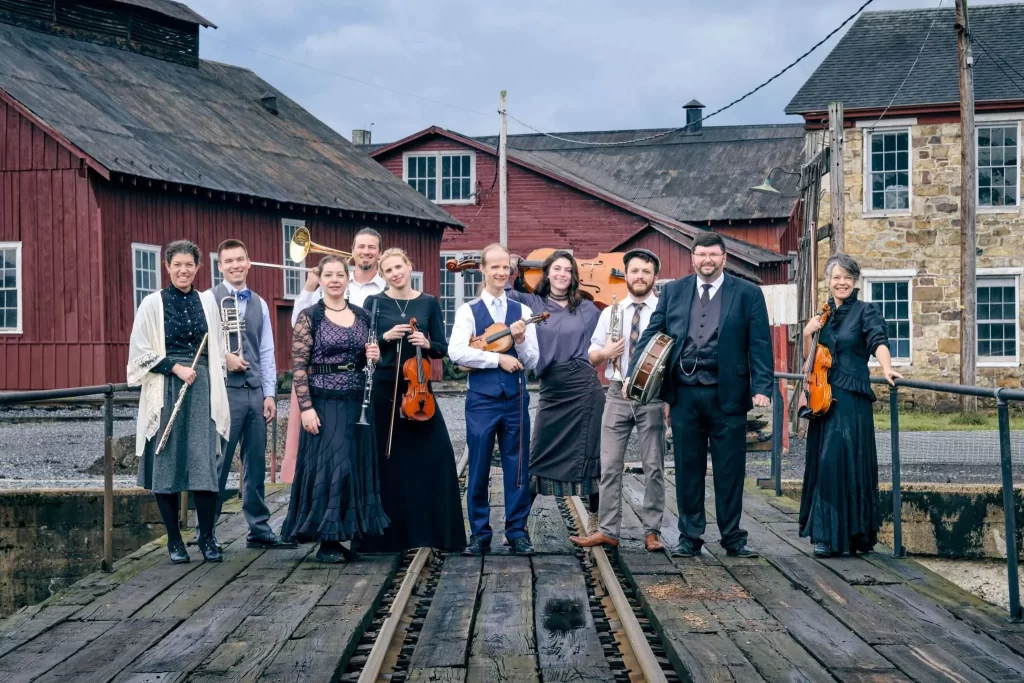 Many music festivals in the Ragtime & Jazz world talk about transporting you back in time, and the Central Pennsylvania Ragtime & American Music Festival does just that – both literally and figuratively! Based in the historic communities of Orbisonia and Rockhill Furnace, the twin boroughs hold a unique charm, with most buildings dating back to the turn-of-the-last century, and the area's signature attraction, the East Broad Top Railroad, nestled between the two. Festival attendees can hop aboard the antique, steam powered trains of the EBT, ride on a historic trolley at the Rockhill Trolley Museum, and, of course, hear live music being played on the platform of the railroad station! Concerts take place at the historic Orbisonia Presbyterian Church, on the train platform, in the county seat, Huntingdon (at the Huntingdon County Arts Council's recently restored 12th Street Church), and NEW this year – feature performances on board the train during select excursions. Plus, on select days, members of the Carousel Organ Association of America will have their street organs playing on the EBT's station platform in the afternoon, AND antique phonograph demonstrations will occur inside the baggage room of the Orbisonia Station.
"The Central PA Ragtime Festival is unlike any other music event in the United States," said Andrew Greene, who serves as Festival Coordinator. "Where else can you hear America's first popular music forms in a town whose history ties perfectly with genre? And this year, we're bringing back festival favorites, adding new groups and performers to our line-up, and are expanding on past events to make them even bigger and better. We're conveniently located off the Pennsylvania Turnpike, roughly 3 hours from Pittsburgh, Philadelphia, Baltimore & DC, and just about 5 hours from Cleveland and New York City. It's a great way to escape to the mountains, see the beginnings of fall colors, and take in fantastic live music all at the same time.
2023's festival begins on Thursday, September 21st, with a kickoff concert at 7:00 PM at the Historic 12th Street Church, 313 12th Street, Huntingdon, PA, presented in partnership with the Huntingdon County Arts Council. Last year's program was a sell-out, and the largest program for the year with the Arts Council.
Friday September 22nd brings back a festival favorite – Music on the Platform at the East Broad Top Railroad's Orbisonia Station, 421 Meadow Street, Rockhill PA. Festival artists will perform free concerts in 30-minute sets, with an open piano slot for attendees to show off their piano skills. Attendees are encouraged to bring a portable chair to enjoy this experience. The East Broad Top Railroad will be running excursion trains at 11:00 AM, 1:00 PM, and 3:00 PM, and the neighboring Rockhill Trolley Museum will be offering trolley rides throughout the day.
At 11:00 AM each day, select festival musicians will board the historic East Broad Top Railroad's steam powered excursions for an hour-round trip, entertaining guests during their journey. Afternoon concerts take place at 2:00 PM and 5:00 PM at the Orbisonia Presbyterian Church on US-522 in Orbisonia. That evening at 7:30 PM at the East Broad Top Railroad's train station, is the popular "Silent Movies At The Station", where several silent comedy shorts will be shown under the stars with live musical accompaniment by our artists. Festival attendees are encouraged to bring chairs and blankets for this outdoor film presentation, with a rain location of Orbisonia's Presbyterian Church on Ridgely Street.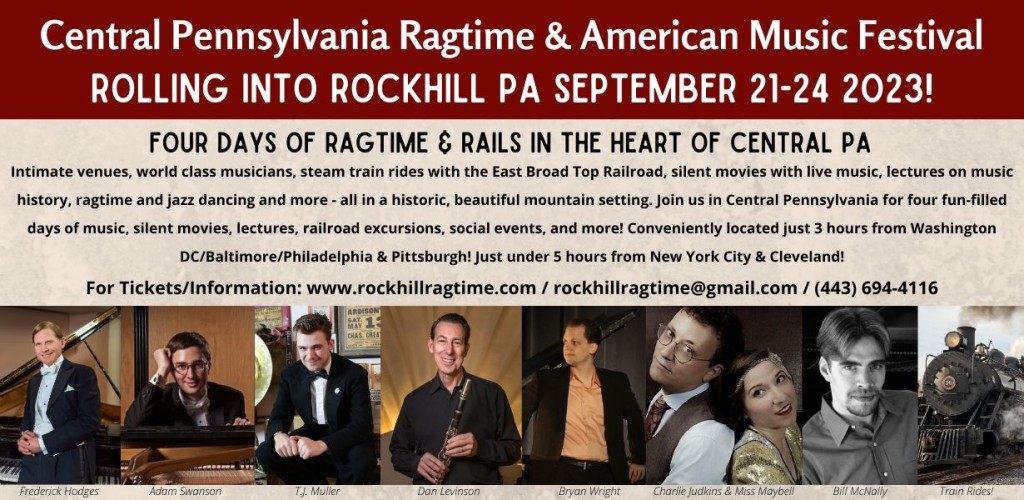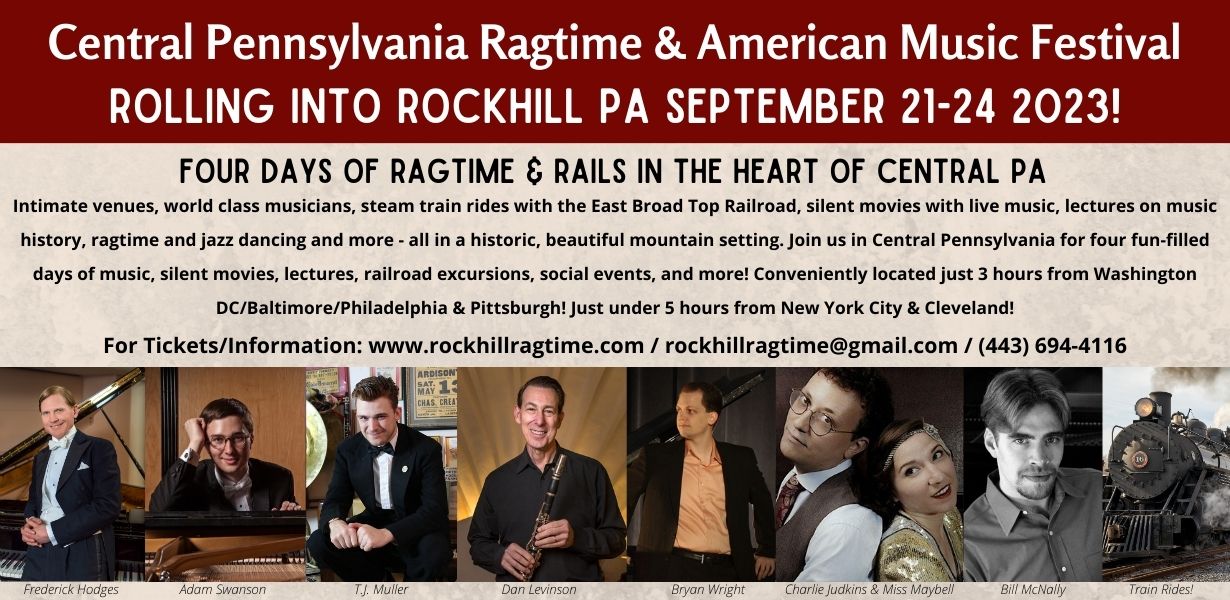 Saturday September 23rd kicks off with a lecture at 9:30 AM entitled "Accompanying Motion Pictures with Orchestra," presented by Andrew Greene of the Peacherine Ragtime Society Orchestra at the Orbisonia Presbyterian Church on Ridgely Street. Beginning at 10:00 AM, ragtime piano will again be featured in free performances at the East Broad Top Railroad's Orbisonia Station, with musicians once again roaming the 11:00 AM train. At 2:00 PM, the festival continues with an afternoon concert at the Orbisonia Presbyterian Church. At 5:00 PM, the EBT and festival jointly present the Ragtime In Rockhill Dinner Train, the festival's signature event. Guests will board the East Broad Top Railroad for a 2.5 hour excursion to Colgate Grove. Once arriving, passengers will de-board the train for a catered dinner, live music, and dancing. Attendees are again encouraged to dress in 1920s attire for this not-to-be-missed event. After two hours, the train returns to Rockhill Furnace.
Sunday September 24th resumes piano on the platform from 10:00 AM to 1:00 PM at the East Broad Top Railroad's station and the 11:00 AM roaming musicians train. The festival concludes with a 2:00 PM concert at the Orbisonia Presbyterian Church featuring all of the festival musicians.
Sounds like a great time, right? That's what audiences have been saying for almost 15 years! Make your travel plans now, and be sure to bring your bowler hat, suspenders, and flapper outfits with you! Not able to make the festival? Consider making a tax-deductible donation through the Festival's website. All donations go towards paying the musicians and helping to grow this annual event year after year.
For more information on the Central Pennsylvania Ragtime & American Music Festival, and to purchase tickets, please visit: www.rockhillragtime.com. For more information on the East Broad Top Railroad, visit: www.eastbroadtop.com.