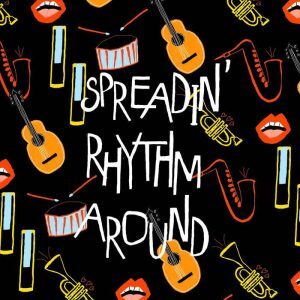 Coming off an extensive tour in June and July of Lindy events all over the Northeast, Chelsea Reed and the Fair Weather Five have settled in as stars in the dance world. Together since 2012, they decided to make an album that was originally titled Spreadin' Rhythm Around: The Dialogue of Music and Dance. They explained it as "An album of our favorite standards and originals to celebrate the conversation between the bandstand and the dance floor." They tapped expectant dancers for $10K on Kickstarter in under a month, leveraging rewards from signed LPs to T-shirts.
That approach gave them the freedom, indeed the mandate, to produce a top notch swing album when they got to the studio. They didn't disappoint. Chelsea Reed formed the band because she wanted "the chance to sing her favorite songs for an audience that loved early jazz as much as she did." She gets that on the bandstand, I'm sure, but that is also a good reason to share her powerful voice in the studio.
The album is squarely focused on lyrics and their packaging within the music. The full band fades into a support role moving the dancers. Beyond her normal five, Wycliffe Gordon joins the band on trombone for two tracks, backup vocalists join on two more, and a super full brass section fills out the sound on yet two others. In live appearances, they do sometimes appear as The Fair Weather Nine.
Most of the source tracks are from the '30s without being predictable or over-worn. Two interesting exceptions being "Illinois Jacquet Flies Again" from 1966, and "Too Close For Comfort" a 1956 hit for Eddie Gorme. The titles all suggest an investigative mining for swing gold and a wish to surprise and engage the audience.
Two of the tracks are originals. "Pastrami on Rye" is exactly what it sounds like, written by background vocalist Kat Siciliano, it could easily be from the period. Reed submits "Mind Your Business" as a bluesy closer to the album.
This review is part of a larger Women Take The Lead column