I encountered reedwoman Natalie Scharf after she joined the front line of the Chicago Cellar Boys. If you're not aware of this band (and you should be), they are to Chicago what Vince Giordano's Nighthawks are to New York. Granted, the CCBs is a smaller band than Vince's—six versus eleven—but with several multi-instrumentalists in its midst they can compare favorably with the Nighthawks in many respects, including their enormous repertoire of '20s pop and jazz tunes. Like the 'Hawks, the Cellar Boys have developed a large and loyal following and are always a favorite at festivals. To play in either band is to have reached the top in this genre.
I met Natalie in person at the Bix Beiderbecke Festival in July and asked to interview her. Here's the result.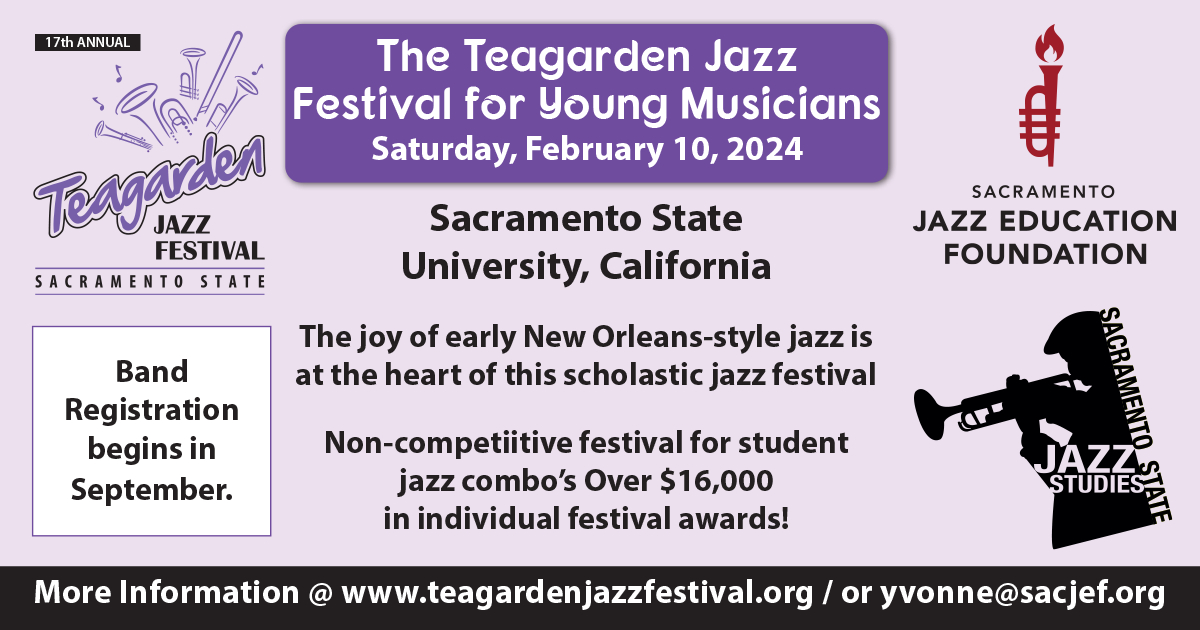 BH: How did you get involved in music?
NS: I'm the daughter and granddaughter of musicians. My dad is a professional trumpet player, mostly in the style of Clifford Brown; his dad was also a jazz trumpet player, heavily influenced by Roy Eldridge. My grandmother was a piano player and arranger, and sang in the Chicago Symphony Chorus for 40+ years, and my mother plays the French horn.
I'm also an only child, so most of my earliest socializing was with or around musicians. I was often toted along to various gigs, or there'd be rehearsals at our house, or I'd have playdates with the children of other musicians. I always loved going to my dad's gigs to hear him play, but also to hang!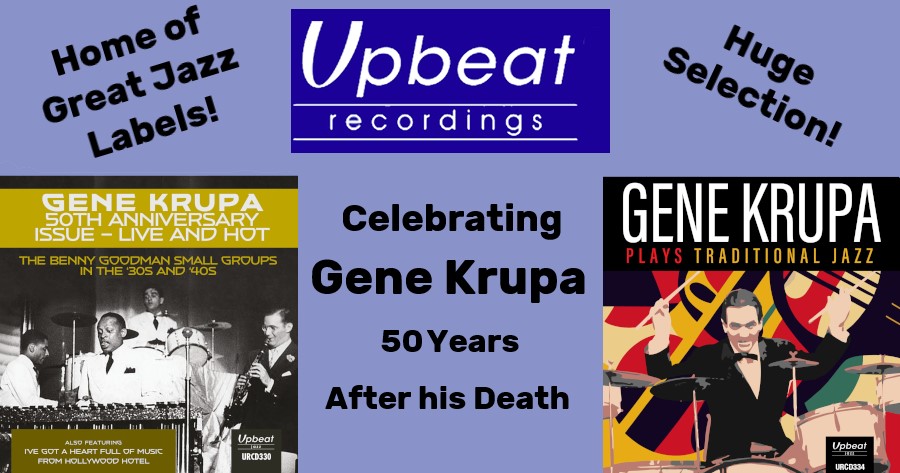 Growing up, did your parents encourage your interest in music?
Yes, but in a very laid-back way. I started piano lessons with my grandma at age four, which fizzled out after she got tired of me never, ever practicing. I remember my dad advising me, as a fourth grader trying out band instruments, that the trumpet is hard and unforgiving and perhaps I should try a less frustrating reed instrument. I started on clarinet, and then in eighth grade, about three days before the first day of jazz band rehearsal, my dad came home with a 1927 Conn Chu Berry tenor for me, which is still my horn today. My dad used to write out solos for me, that I'd then memorize and play at middle school jazz festivals and competitions. The judges were always so impressed by the 13-year-old girl who could play bebop like an old guy, but by sophomore year, my dad took off the training wheels and stopped writing me solos and then everyone realized I had no idea what I was doing.
What formal training in music have you had?
I attended Northern Illinois University and earned a bachelors degree in Music Education. Of course, growing up hearing and subconsciously studying my dad's playing has been a huge influence on me. But, probably the briefest and most valuable lesson I ever had was from Chicago trumpet player (and noted personality) George Bean—at a jam session when I was still in high school, he grabbed me by the shoulders, and implored in his georgebeanian way, "You have to SING everything you PLAY and PLAY everything that you SING!!!!" meaning, essentially, be melodic and don't play anything you don't hear. Since then, a lot of my free time is occupied with trying to air-play melodies or solos without my horn so that I'm strengthening my ear-to-finger connection.
How did you link up with the Cellar Boys?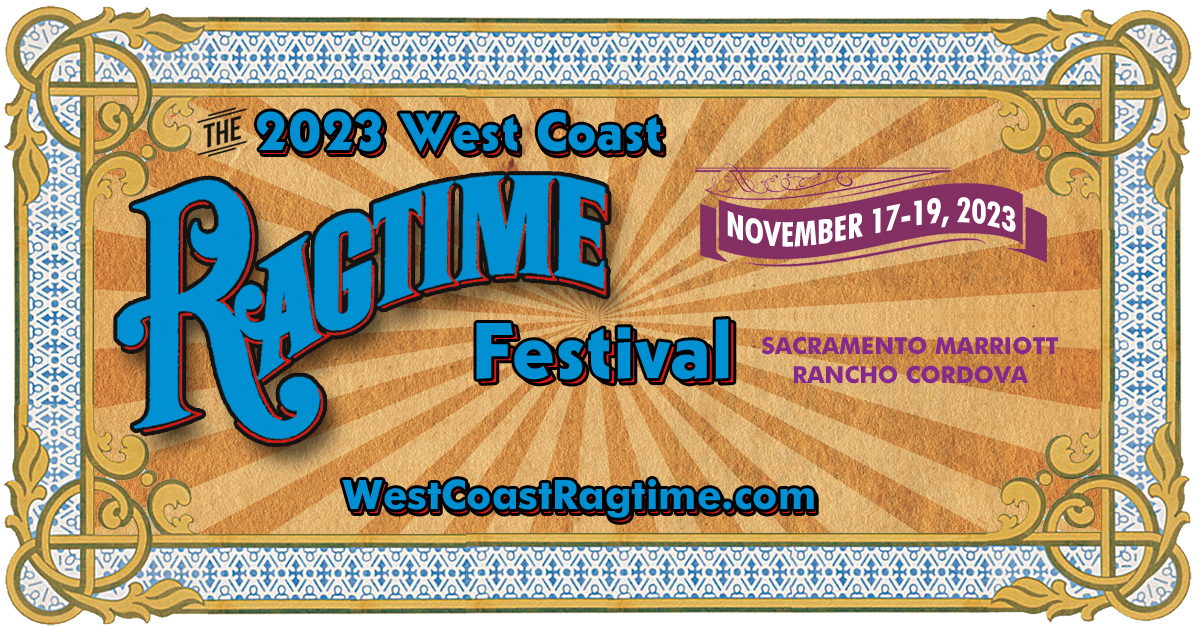 I was playing with a swing band weekly at the Green Mill (in Chicago), and Andy Schumm had already served his time with this particular group, but would come back to sub infrequently. I first saw him on the trumpet chair one week, then on the tenor chair another week. I remember he stood up to take a tenor solo, and he played like it was 1927, and I just stared mouth agape at him wondering what the hell was coming out of that horn. At that period of my life, my jazz appreciation was approximately confined to the years 1934-1959, so it was an entirely new thing to me. Andy told me later that, on that same gig, he heard me play a G# over an A minor chord during a solo (I guess as opposed to a G natural, which would've rendered it more modal and modern), which apparently endeared me enough to get called to sub in the Fat Babies a couple of times. That evolved into playing with the Cellar Boys on and off, and then more full time during the Covid Backyard Sessions Era. [BH: These were streamed from Andy's back yard on Saturday evenings. I watched a few and would have watched more if I had found out about them in time.]
Is music your full-time occupation? If not, what kind of work do you do?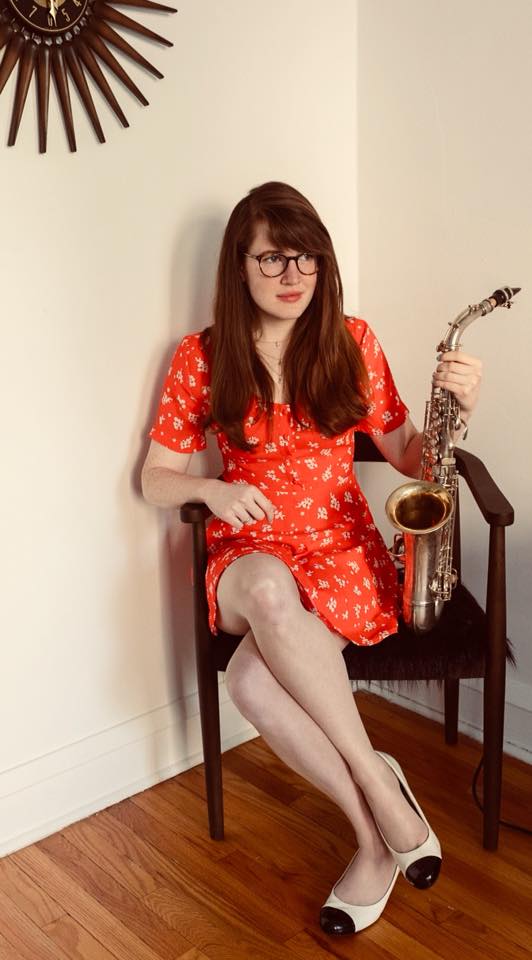 These days, yes, it is my full-time occupation. I was a middle school band director for eight years, but retired during Covid. It was good timing—I was averaging about four hours of sleep a night between gigging late and waking up early to yell at adolescents, and I knew something had to give. I taught Zoom band from home (can you imagine?) for a year, then gave my notice just as gigs were starting to come back. That the Cellar Boys work so frequently is a big part of the reason I was able to do this.
What is your favorite genre of music?
I like the good stuff from a variety of genres—in chronological order, my top favorites include J.S. Bach, Ravel, Fats Waller, Coleman Hawkins, Ben Webster, Al Cohn, and Jimmy Webb.
Maybe I shouldn't ask this, but has being the only female in the band, and its ancestor the Fat Babies, had any influence or effect on you?
Well, it's my opinion that jazz is a unique balance of masculine and feminine, and I mean that in the yin and yang abstract as opposed to literally male or female, if that makes sense. To be effective, it should be assertive and daring and confident, but also capable of warmth and nuance. Before being a part of Cellar Boys, I had warmth and some nuance but very little assertiveness. It's been a luxury to work so steadily with the same gentlemen, all of whom are serious musicians and gentle souls, which has allowed me to get comfortable enough to musically try things, take risks, and develop some confident authenticity in my language.
Thank you very much for letting me, and our readers, get to know you better.