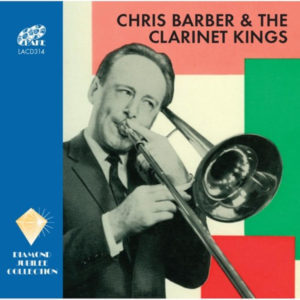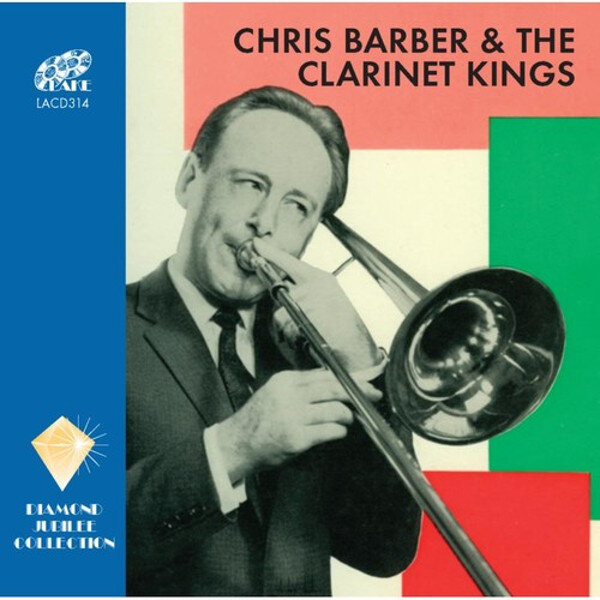 British bandleader-trombonist Chris Barber was very fortunate to have two great clarinetists in his band for extended periods: Monty Sunshine (1953-60) and Ian Wheeler (1961-68). The two-CD set Chris Barber & The Clarinet Kings features him teaming up with three other clarinetists in a variety of settings with consistently exciting results.
Edmond Hall, one of the most passionate and distinctive of all clarinetists, is well featured on three of the five sessions. At the end of a tour of the U.S., Barber had the opportunity to record with a group of Americans during Nov. 7-8, 1960, joining in with Hall, trumpeter Sidney DeParis, pianist Hank Duncan (an underrated stride master), bassist Hayes Alvis, and drummer Joe Marshall for what was originally an LP consisting of eight mostly hot numbers. Barber, in particular, sounds like he is having a great time on such tunes as "Oh Baby," "You Tell Me Your Dream," and "Li'l Liza Jane."
Hall joined Chris Barber's regular band as a guest during a tour of England in Nov. 1962. He is featured in a front line with Barber, trumpeter Pat Halcox, and altoist-clarinetist Ian Wheeler for a studio session that resulted in eight numbers on Nov. 16 and four songs from a concert the following day. While Wheeler is mostly on alto, during "High Society" his clarinet playing keeps up with Hall for a particularly stirring performance. Other high points include a heated version of "Clarinet Marmalade" and, from the concert, "Royal Garden Blues" and Ottilie Patterson's lowdown singing on "St. Louis Blues."
The New Orleans veteran Albert Nicholas, who spent his last 20 years living and performing in Europe, was only documented once playing with Chris Barber's band, during the second half of an Aug. 8, 1968 concert in Geneva, resulting in seven songs. The music (which also features Pat Halcox and altoist John Crocker) is so joyful (particularly "C Jam Blues," "Indiana" and "Royal Garden Blues") that it is a pity that it never happened again.
This very enjoyable disc concludes with four numbers from Aug. 24, 1974 by a pickup band that includes Barber, Halcox, and clarinetist Joe Darensbourg. The clarinetist plays at his best on these four loose numbers (particularly on "Ballin' The Jack" and "All Of Me") and, even if the drummer hits his bass drum too much, it cannot take away from the many superior horn solos and the happiness felt in the music.
Chris Barber & The Clarinet Kings (Lake LACD 314, 31 selections, TT = 77:54) www.fellside.com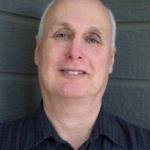 Since 1975 Scott Yanow has been a regular reviewer of albums in many jazz styles. He has written for many jazz and arts magazines, including JazzTimes, Jazziz, Down Beat, Cadence, CODA, and the Los Angeles Jazz Scene, and was the jazz editor for Record Review. He has written an in-depth biography on Dizzy Gillespie for AllMusic.com. He has authored 11 books on jazz, over 900 liner notes for CDs and over 20,000 reviews of jazz recordings.
Yanow was a contributor to and co-editor of the third edition of the All Music Guide to Jazz. He continues to write for Downbeat, Jazziz, the Los Angeles Jazz Scene, the Jazz Rag, the New York City Jazz Record and other publications.