The Arizona Classic Jazz Society held it 33rd annual Festival in Chandler, Arizona, in early November much to the delight of its many members and guests. The Crowne Plaza Phoenix-Chandler Golf Resort is a welcoming venue and offers four separate areas for entertainment all within the hotel grounds. The theme this year was "The Roaring '20s"—not the 1920s but the 2020s! The Washington Post compared the last 100 years: "100 years ago: an election, a virus, and a cry from disillusioned youth"…"The age was ruined, knocked to pieces, leaky, red-hot, threatening to blow up…for some , it feels like history repeating itself." Thus began the forward from President Helen Daley outlining all of the expected performances for the weekend.
The theme for the special educational sets was: IMAGINE the 1920s Roaring Again!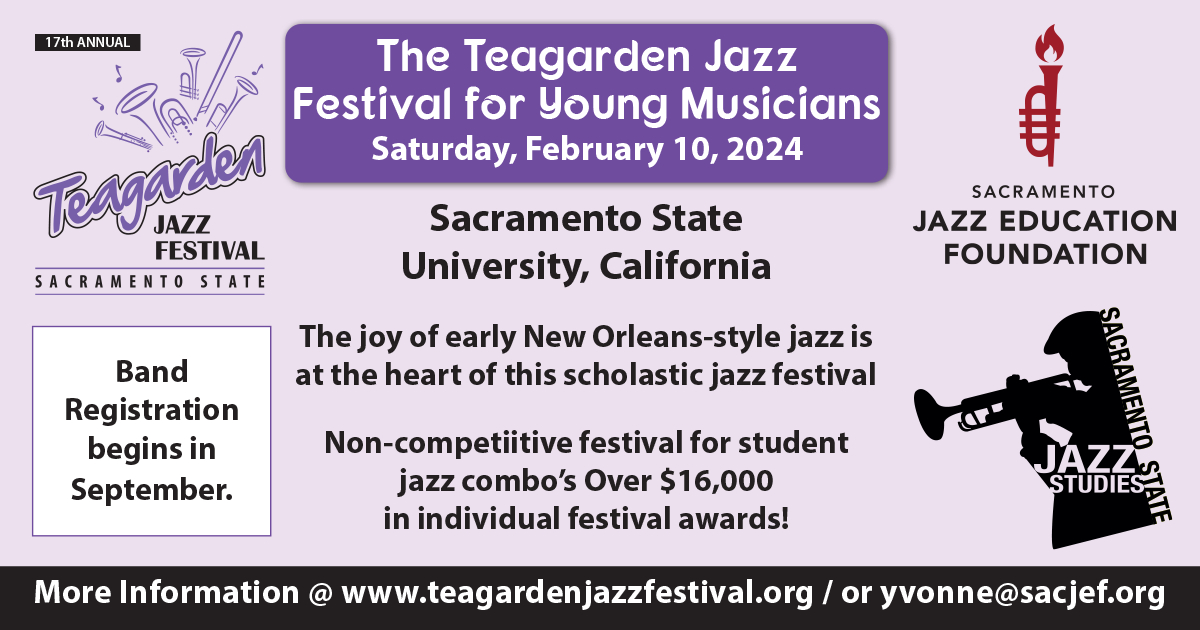 Cheryl's Vintage Jazz, with Cheryl Thurston (ldr/p), Marc Caparone (cnt), Katie Cavera (bj/gtr), Danny Coots (dr), Evan Dain (bs), Dan Levinson (reeds), and Howard Miyata (tb), profiled Louis Armstrong with his standards and own compositions. Louis wrote several tunes for Ma Rainey at the time. Songs from the musical "Pennies from Heaven," which featured both Louis Armstrong and Bing Crosby, were highlighted.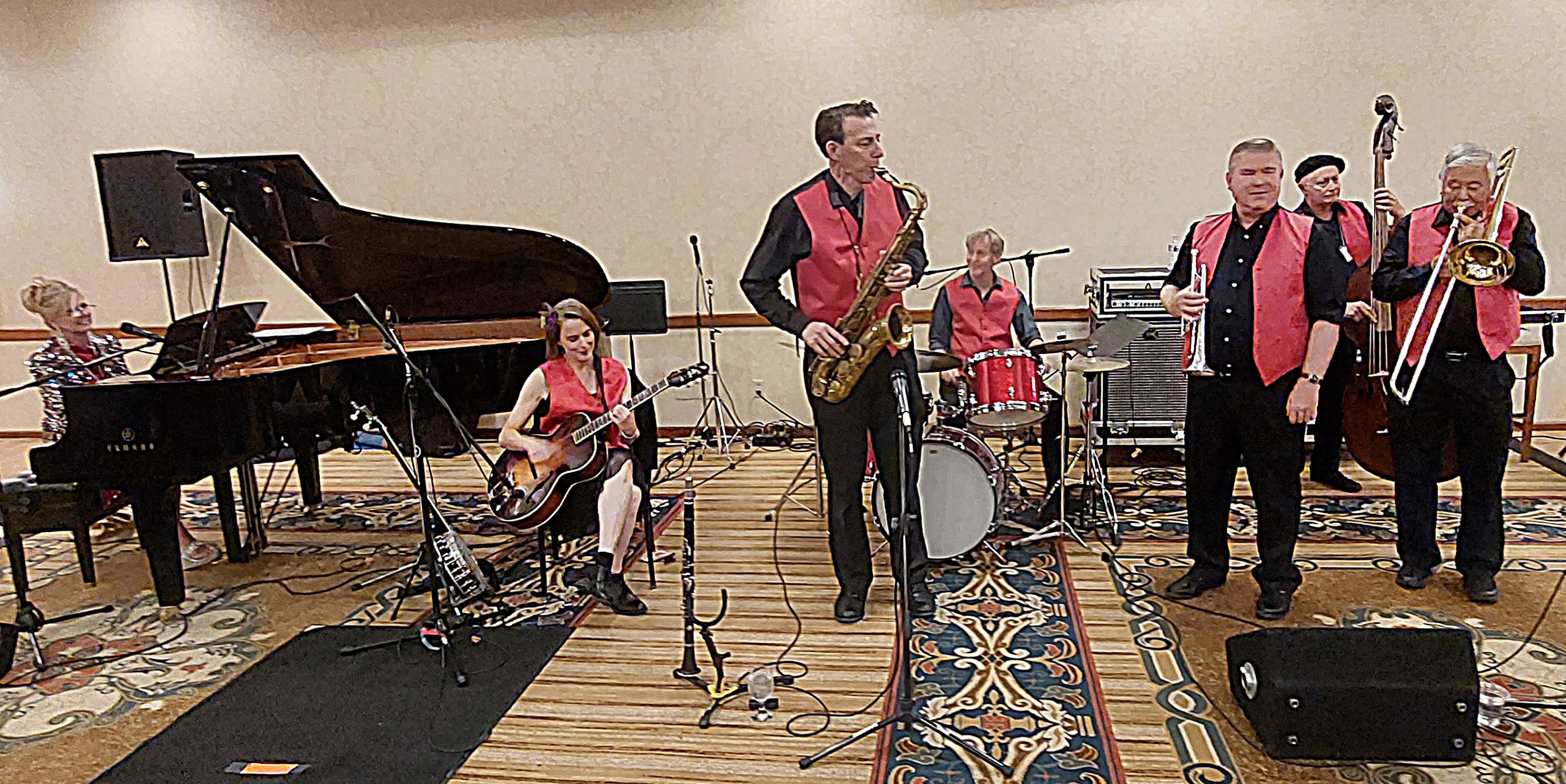 Dick Maley (ldr/dr), Herb Bruce (tb), Randy Morris (p) and Steve Pikal (bs) performed as WYSIWYG—What You See Is What You Get—and channeled the great Duke Ellington and several numbers along with some commentary.
Queen City Jazz Band, with Bill Clark (ldr/tuba), Kevin Bollinger (tp), John Bredenberg (reeds), Wende Harston (v), Tony Pantelis (dr), Eric Staffeldt (tb), Rory Thomas (bj), and Hank Troy (p), had Wende belt out numbers that personified both Bessie Smith and Ma Rainey. One song "Oh Poppa" was sung by Ma and then Bessie copied the tune and changed the title to "Oh Daddy." There was definitely a rivalry between them! Wende has done sets featuring some earlier classic female vocalists but this one focused on the lives and back stories of these two iconic songbirds.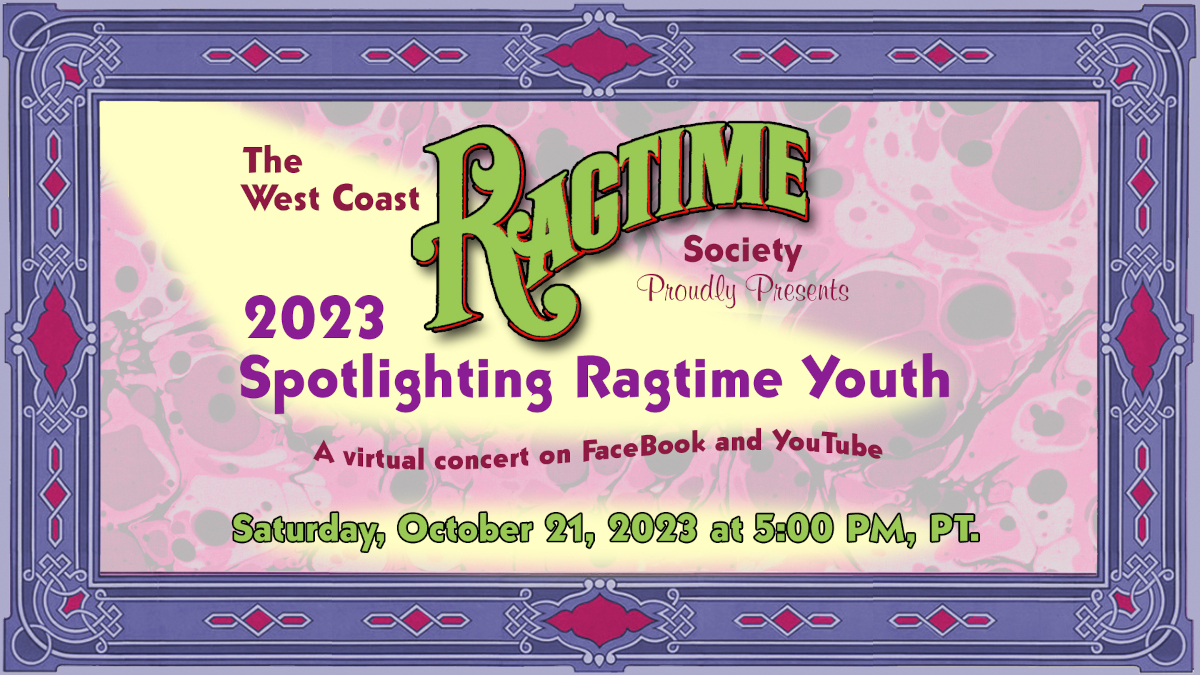 Queen City also opens up the gospel section on Sunday and Wende recalls a poem by Joseph Bert Smiley (1864-1903) titled "St. Peter at the Gate." Committed to memory, she emphasized how many who think they are very righteous can take a "back seat" to those who truly are. I always look forward to her recital of this engaging poem complete with her heartfelt emotions and vocal emphases.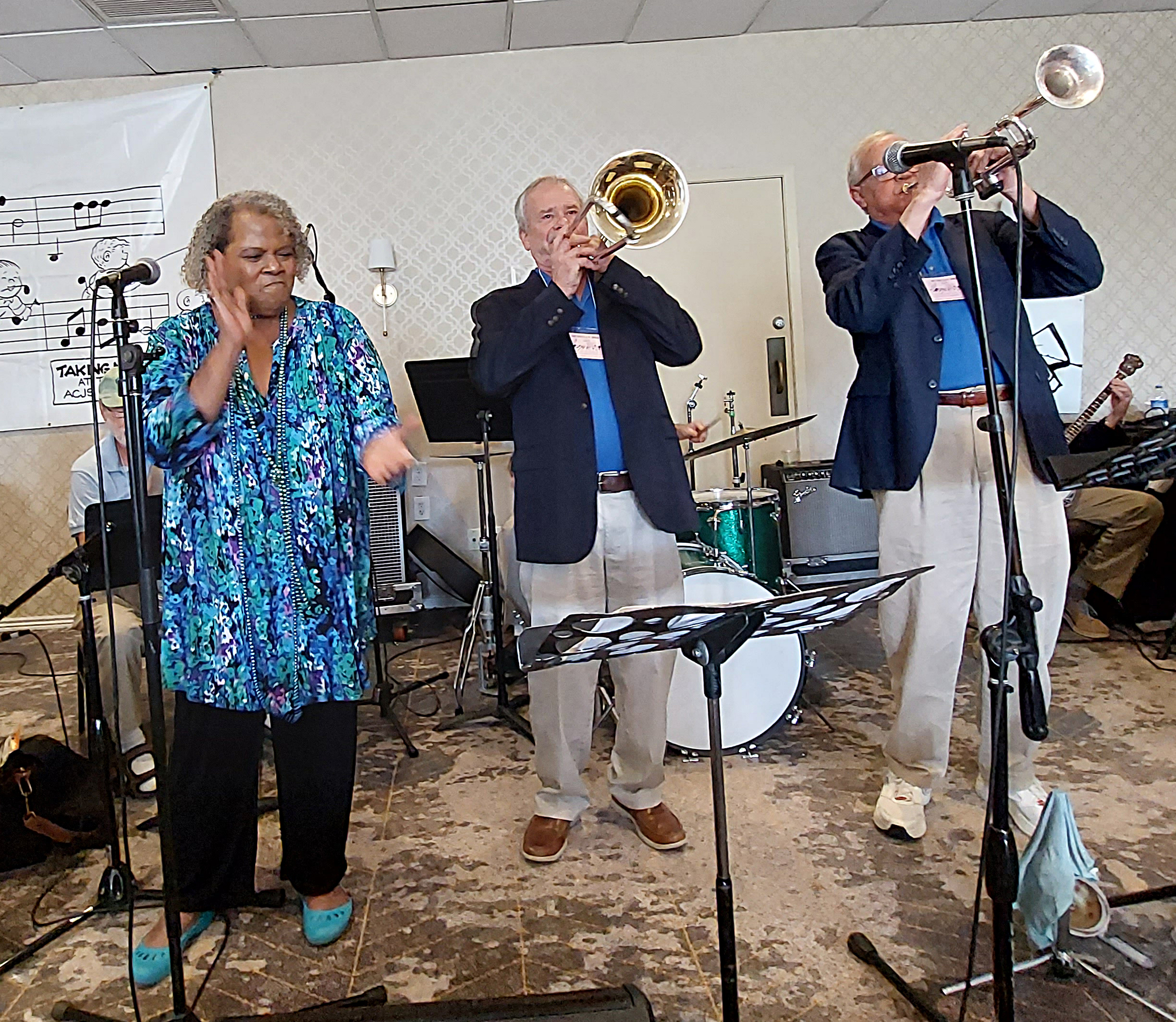 The St. Louis Stompers, with Steve Lilley (ldr/cnt), John Gillick (dr), Michael Lilley (reeds), David Majchrzak (p), Jon Siddle (tb), and David Zink (sousa), paid tribute to Jelly Roll Morton and had a few behind-the-scenes comments from his later years.
Stephanie Trick and Paolo Alderighi are always a delightful four-hands piano duo and recalled many tunes from the Great Musicals of the 1920s.
Tom Rigney & Flambeau, with Caroline Dahl (p), Marc Brinitzer (gtr), Brent Rampone (dr), and Sam Rocha (bs), also gave a lecture on "How Did I Get Here" chronicling Tom's journey from academia to beloved entertainer and accomplished musician.
The Wildcat Jazz Band, with Rob Wright (ldr/bj/gtr), Rob Boone (tb), Evan Dain (bs), Rick Peron (tp), Marco Rosano (reeds), Ray Templin (p), and Arthur Vint (dr), delved into how the '20s "roared" on Broadway citing several well-known pieces from that era. Holly Channell mastered the drums on a few sets before Arthur was able to join the band on Saturday.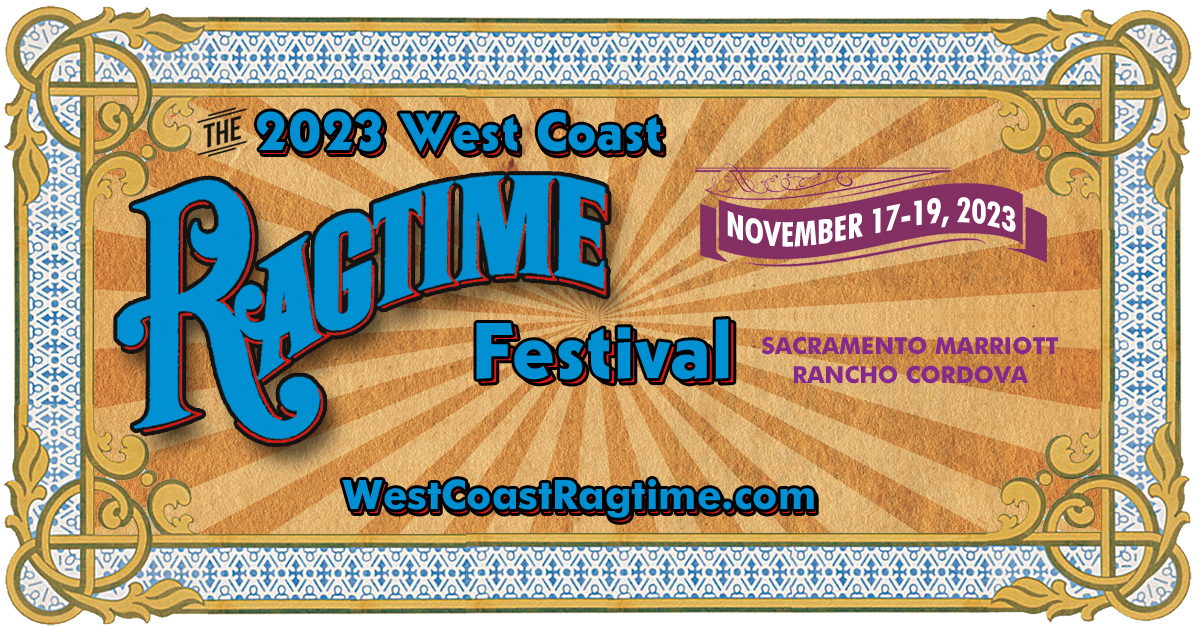 The Wolverine Jazz Band, with John Clark (ldr/reeds), Bob Barta (bj), Tom Boates (tb), Dave Didrikson (dr), Jeff Hughes (cnt), Rick MacWilliams (tuba), and Ross Petot (p), recalled the life of Sidney Bechet and recreated many of his famous inspirations.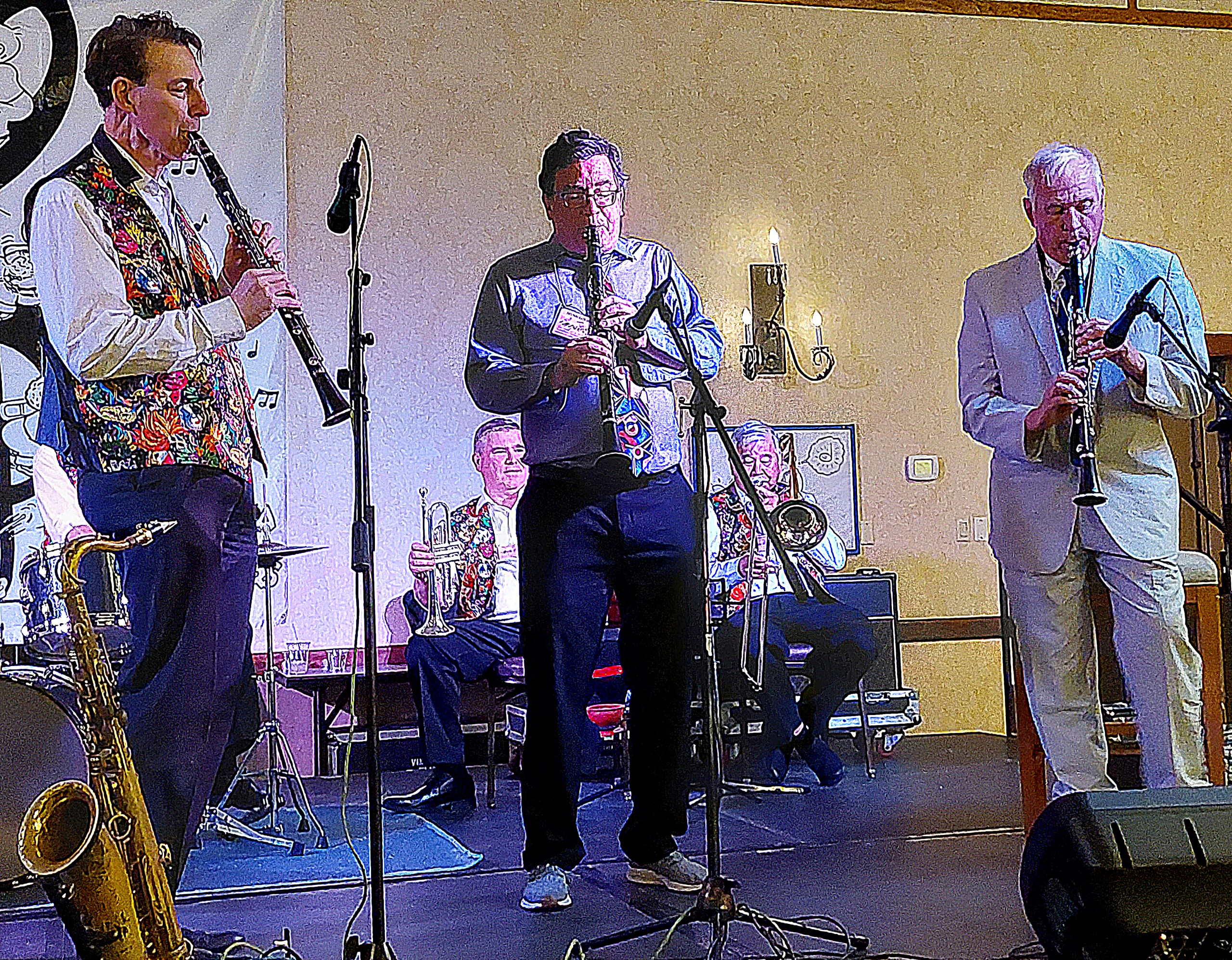 Cheryl's Vintage Jazz also backed up the Clarinet Trio set with Dan Levinson, John Clark and John Bredenberg. Pieter Meijers was originally scheduled to be a third of the trio but ended up as a hospital patient shortly before the event. His successful bypass operation will allow him to take a needed rest before tackling the festivals again with his reeds and much missed humorous anecdotes! Local band Sentimental Breeze, with Diana Perez (ldr/v), Dale Garcia (bs), Lynn Roberts (reeds), Howard Schneider (p), and Steven Swenson (dr), continued with a set highlighting George Gershwin and Bessie Smith pieces.
Another local band Sun City Stomperz, with Ernie Landes (ldr/tb), Clark Chaffee (dr), Barry Clapper (cl), Matt Mooney (bj), Dan Reed (tp), Lloyd Shaffer (p), and Chuck Stewart (tuba), focused on the works of Lil Hardin Armstrong.
Local but internationally renowned guitarist Howard Alden sat in with several bands throughout the weekend. It is always a pleasure to see him play and easily accompany any band on any tune – he is truly extraordinary!
We 3 +1, with Sheila Early (dr), Suzanne Lansford (vln), Renee Grant Patrick (v), and Nicole Pesce (p), are a special treat with their combination of instruments and vocals. Suzanne's sister, multi-instrumentalist Christine Delort, was visiting from Paris and joined the ladies on violin or bass during several sets.
The Big Little Ragtime Band aka Something Doin' with John Bredenberg (bj/cl), Bill Clark (tuba), Hank Troy (p) and Maurie Walker (bj) opened up the Festival on Friday evening with a salute to all things ragtime. Maurie once played with Queen City and the other three musicians are with the current band.
"Big" B.A.D. Rhythm, with Danny Coots (ldr/dr), Pat Bergeson (gtr/harm), Brian Holland (p), Andy Reiss (gtr), and Sam Rocha (bs), were a hit with some jazz standards and Danny's second band, Groovus, with Brian Holland (p) and Steve Pikal (bs) offered even more recognizable numbers with joyous enthusiasm.
The Grand Finale showcased Lynn Roberts (reeds) and Dan Reed (tp) with a few other musicians to form a mini-Tijuana brass ensemble complete with draped serapes and appropriate attire. It was as if Herb Alpert himself was conducting and it provided a rousing end to a classy Festival!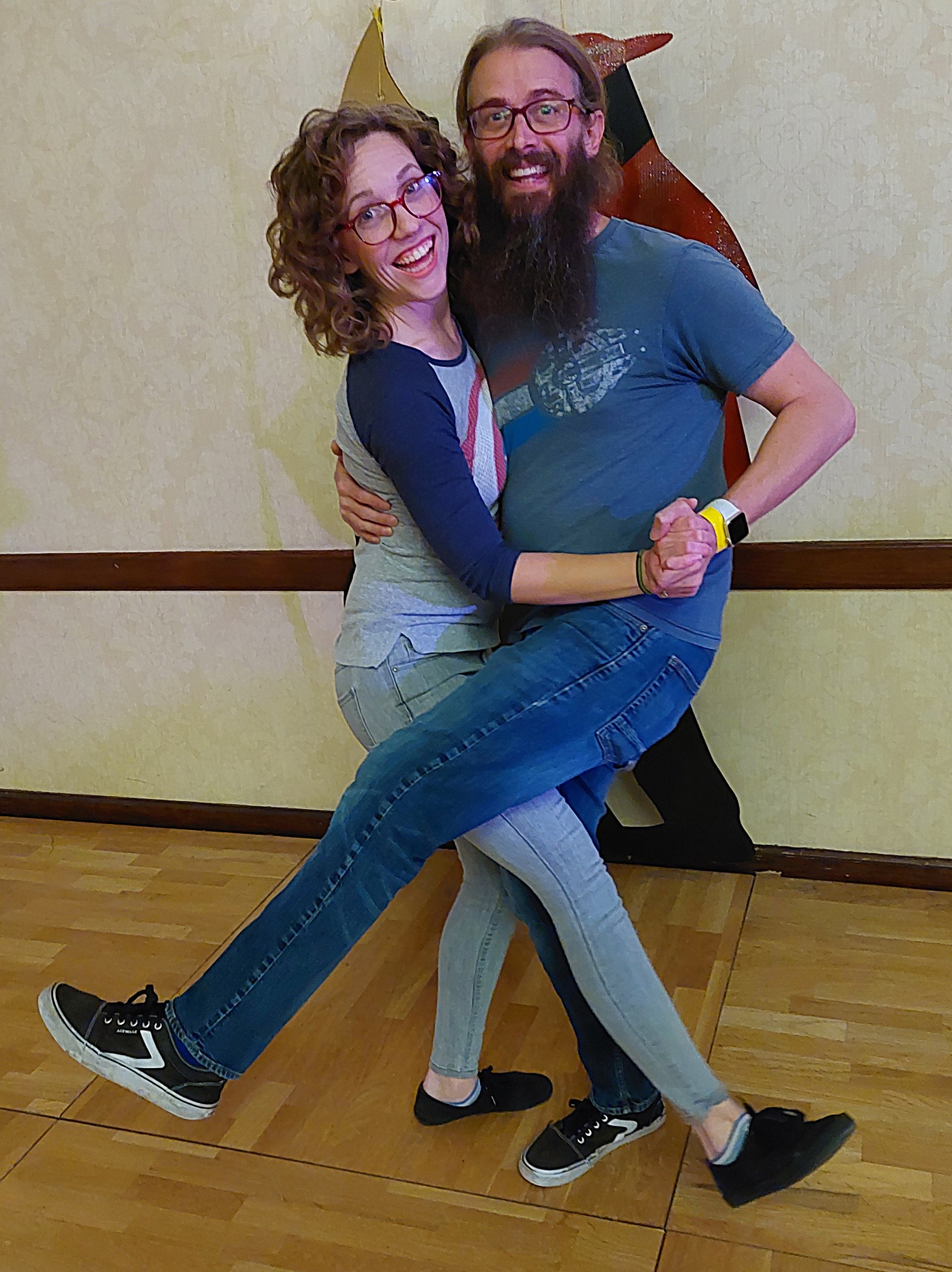 In between the sets on the weekend, The Interstate Strictly Swing Dance Contest took place with "Vegas" Nick presiding over the many couples from six states: New Mexico, Utah, California, Nevada, Montana, and Arizona. Local dancers Dabney and Karen Hopkins know how to strut their stuff through the Phoenix Lindy Exchange with Dabney running the organization for 20 years now. He and Karen have two adorable children that will be ready to take the helm when necessary and are already enjoying the many dance parties they have attended with their parents.
The Sunday night Afterglow event with dinner and dancing brought entertainment from both Cheryl's Vintage Jazz and Dick Maley's WYSIWYG. I always enjoy this evening as the musicians are winding down from their weekend and seem to be more relaxed with each other, although knowing that the Festival is now over means a sad ending with lots of goodbye hugs and handshakes.