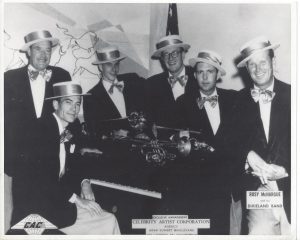 A Grateful, Loving Tribute to Rosy McHargue
In a unique cooperation of local Los Angeles area jazz clubs, the Jazz Forum (Santa Monica) presented their annual Tribute to Rosy McHargue with the Valley Jazz Club (San Fernando Valley/Canoga Park) at an extended Valley Club meeting. Formed as The Seven Sons of Rosy, the original band was made up of musicians he had mentored, taught, and musically supported for years.
James "Rosy" McHargue was a clarinetist, saxophonist, arranger, vocalist, and involved friend and mentor to many young jazz musicians. Inspired as a young man by the recordings of The Original Dixieland Jazz Band in 1917 (credited by many as the very first Jazz recordings), Rosy studied them to learn jazz, focusing on their clarinetist, Larry Shields.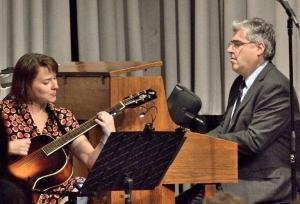 Growing into a skilled jazz clarinetist and saxophonist around Chicago, Rosy rubbed shoulders and freelanced with Bud Freeman, Red Nichols, Glenn Miller, Frank Trumbauer, and Maury Sherman, father of a favorite pianist of mine, Ray Sherman. In 1934, he joined the Ted Weems Band, and when touring, his roommate was a young singer named Perry Como. But by 1943, he had his fill of traveling and the life on the road, settling down in Los Angeles, playing with Benny Goodman and then Kay Kayser until 1946. Rosy formed and played with his own bands after that for the next five decades, while also befriending and teaching and inspiring young appreciative musicians that wanted to play jazz, and play it well.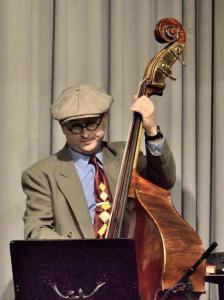 Dan Levinson commented, "His warmth and gentle spirit had a charming effect—I never knew anyone so adored by so many people. It's a testament to his greatness as a musician and as a man that, 18 years after passing, we're still honoring him." His musical "sons" lovingly refresh his memory each year with a tribute, playing his music, his arrangements, and his way, as The Seven Sons of Rosy. This was indeed a memorable event, with surprises for the enthusiastic audience of fans, and even for Dan Levinson; and true quality, honest, and very well played traditional jazz by world-class players to raise your glass to; and warm memories of a wonderful man and musician, whose recorded voice and music were also going to be briefly heard.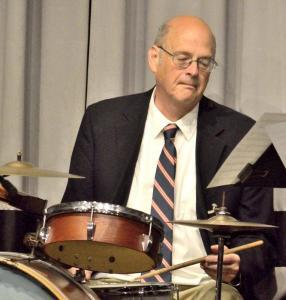 The afternoon was filled with Rosy's songs and arrangements, all intact, because they were left to his dear friend and student, Dan Levinson. Coming from the difficult Depression times, surprisingly, many songs were uplifting and even funny, with a light-hearted, laughing-at-life theme. Rosy loved to find and play songs overlooked by others that he felt deserved to be heard, and novelty songs, to briefly escape from the tough-times. The program opened with "You Gotta Quit Kickin' My Dawg Around," with the entire band singing the chorus. Dan asked our ace soundman, Marty McGinnis, to play an original recording he brought of Rosy's band playing "Don't Bring Me Posies (When It's Shoesies That I Need)," a down-to-earth, tough-times song originally sung by vocalist Rink Leslie on the 1952 record.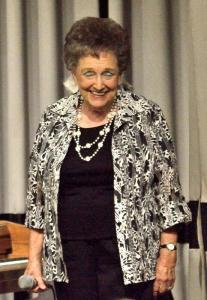 He had been unsuccessfully searching to find her or any information about her. However, Dan's wife, vocalist Molly Ryan, loved the song and included it on her new CD, which was heard by Rink's son. He mail-ordered the CD and included a note to Dan and Molly about his mother's original vocal of it on Rosy's early record.
Rink was quickly contacted and invited to attend a couple of events with Dan, including this tribute at the Valley Jazz Club. After a portion of the 65 year old recording was played, Rink was invited to recreate her vocal, live on stage, accompanied by The Seven Sons of Rosy. Certainly a touching moment enjoyed by all, but especially enjoyed by Rink Leslie, now in her 90s, saying it made her feel "Just great," like she "could still contribute to music!" Another vintage recording was played, this time of Rosy singing, "O'er The Billowing Sea," as the live band melded into the old recording, to seamlessly continue on with the song as the recording faded out. It seemed almost magical, transitioning from recording to live music.
I should disclose here, that for this performance, The Seven Sons of Rosy were actually six sons and one daughter: Katie Cavera filled in on guitar and sang a song of warning to men considering marriage, "Poor Papa":
Momma's got shoes, Momma's got clothes,
Momma's got these, and Momma's got those,
But poor Papa, poor Papa, he got nothin' at all!
The other six sons of Rosy were: Dan Levinson (leader, clarinet, C-Melody Saxophone, vocalist and master of ceremonies); Byron Shaw (trumpet); Keith Elliott (trombone, saxophone); Chris Dawson (piano); Clint Baker (acoustic bass); and Larry Wright (drums).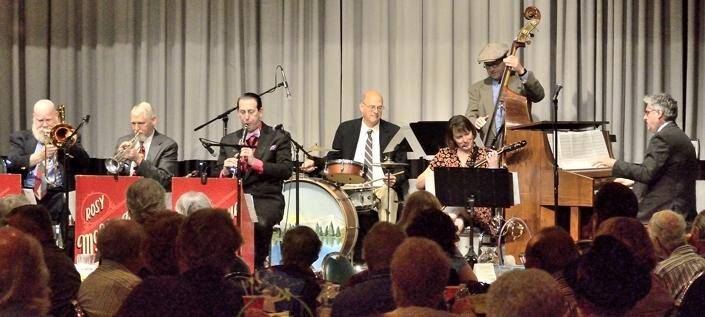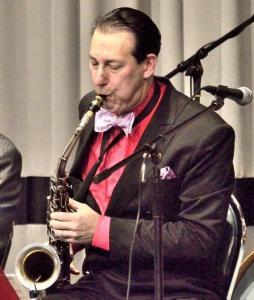 These are top-notch jazz musicians with a strong affinity for vintage jazz, respectfully playing it with something of themselves that can't be well expressed in the music charts. Special guest, in addition to Rink Leslie, was Grammy Award-winning recording artist, author and historian, Ian Whitcomb, singing "I'd Hate To Lose You Now" and "Aileen." Ian's fans will be pleased to hear he is making nice progress and improvement from his lengthy illness.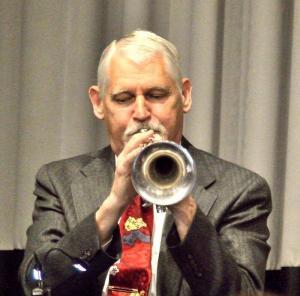 Other songs played included: "She Looks Like Helen Brown;" "Moon Light," a Ted Weems Band tune featuring Dan on his C-Melody Saxophone (although out of production since the 1930s, Dan is partial to it for its mellow-sweet tone, with less "shout," as his preferred sax); "Tuck Me To Sleep In My Old Kentucky Home;" and "Jacksonville Gal." Certainly not tunes many of us are familiar with, but they were Rosy's gems.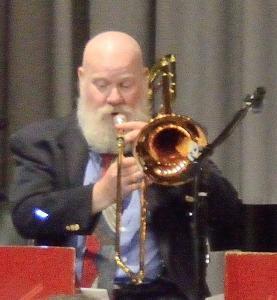 And the surprise for Dan Levinson—a woman read of his coming performances in Southern California, and came to one to introduce herself to him: she took care of him as his babysitter during his first to fifth years of age!
Finally, in an affirmative nod to "doing it Rosy's way," all proceeds from this event were being donated to The Rosy McHargue Memorial Youth Scholarship Program, to benefit teenage jazz musicians. Rosy's love for both jazz, and for the young musicians with the drive to want to be part of it, continues…
---
On Rosy McHargue's centennial Dan Levinson made the following album with an even larger group.  We have it on good authority that it contains a "Masterpiece of Liner Notes" not to be missed: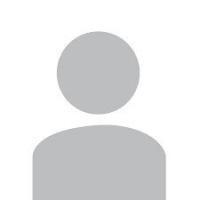 Harvey Barkan has reviewed live jazz events for several decades. His work has been published in the LA Jazz Scene, The American Rag, and many other publications.