The Harlem-based Bandleader Ruminates on Music, Performance, and Style
William Shakespeare once famously asked "What's in a name?" That line from Romeo and Juliet could be asked of Dandy Wellington, a Harlem-based bandleader, singer, songwriter, and choreographer because, in his case, his name is everything. It represents his outlook on life, how he approaches jazz, and how he dresses. Of course, he wasn't born with that moniker. Wellington chose it just as how he chooses the music he plays, the clothes he wears, and the attitude he puts forward on the bandstand.
What's in a Name?
Wellington jokes that his real name "need never be published or written down unless it's on a check." "Dandy Wellington" was born in 2010 at the suggestion of his friend, after a discussion about music and clothing.
Wellington had always been a flamboyant dresser—mixing vintage pieces with modern colors. There's no way one would miss seeing him on the streets of New York City. He's always decked out in a suit and tie often sporting a top hat, straw boater, or fedora. There's no changing into his "work clothes" when he gets to the gig. Wellington shows up stage ready. His style even earned him a place in Nathaniel Adams and Rose Callaghan's epic book about dandies "I Am Dandy" and a related feature on CBS's "Sunday Morning."
The name, he says, has become his brand. A "dandy" is a person concerned with personal style and elegance and Wellington lives it 24 hours a day. It is definitely not an act.
"I am exactly as I was 20 years ago,' Wellington tells The Syncopated Times from his home in Harlem. "I just have a business to run. That's the difference. So, you know, my day-to-day life is focused on business, and marketing, and payroll, and staffing, and all those things. But I am no different. So, even ascribe the word 'persona' to what I am is doing my own regular personality a disservice. This is who I am. I don't act any different in public or in private than I do and I don't speak differently on the microphone. I am just being myself."
Performing Music with Style
Wellington notes three elements —music, performance, and style— that came together during his upbringing and resulted creating the man who entertains audiences around the world. Born in 1984 in Harlem, he says music was always playing in his house. Wellington absorbed the sounds of the Gershwins, the Hammersteins, Cole Porter, Duke Ellington, and other performers of the Jazz Age.
As for the performance element, Wellington studied the works of Gene Kelly and Fred Astaire. He attended New York University's theater program which lead to his first career as a choreographer/performer. In 2010, Wellington joined the Harlem James Gang, a quartet of men who danced and performed hip-hop music impeccably dressed in Edwardian/ Victorian suits. The British style of clothing—mixed with an urban sensibility—had been part of Wellington's prep school days. His look not only came from the jazz performers he enjoyed but his grandmother, who was a tailor in Jamaica and made clothing by hand. Consequently, he doesn't do casual clothing. You will never see him in a T-shirt and jeans.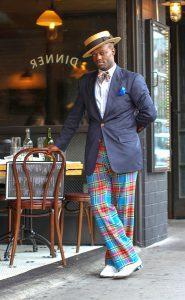 "You don't need an event to get dressed up," Wellington says. "Life, in and of itself, is an event. All the trials and tribulations, and all the excitement, all the positive moments, they are all part of the events of life. In my opinion, if you can help it, why dress down for that occasion that is life?"
Coming into his own
Following his success with the Harlem James Gang, Wellington formed his own band to allow him to perform jazz, the music he heard as a youngster. Wellington's many connections in New York City's nightlife—he spent several years acting as host and emcee for events—gave him entry to venues where he could expose people to jazz that were not jazz clubs. "It strengthens the art form when you can expose people to it who might not be expected it," Wellington says. For his repertoire, Wellington chooses tunes from the first three decades of the 20th century because of how much they, and songwriters who wrote them, speak to him- such as Fats Waller.
"I'm a huge fan of Fats Waller, and his songwriting, (because) of his use of language. Music is a snapshot of the language that was used at the time and how people spoke," Wellington says.
He points to such tunes such as "You're the Picture (I'm The Frame)," "Have a Little Dream on Me," and "There's Going to Be the Devil to Pay" as examples of how Waller took the template of the "love song" and turned it upside with more articulate lyrics that today still "feels revolutionary."
Early Years
Wellington himself grew up when popular music began including the urban sounds of hip-hop and rap, which he loved then and still loves today. His beloved Harlem also saw change as crack cocaine, economic problems, and violence claimed the lives of many young men and undermined the community. He says he didn't directly experience those problems though he certainly was aware of them. Wellington credits his mom, and other strong women in his life, for their support and positive examples they set during his formative years.
"What I had from a young age was a really strong understanding of what the black experience in America was, and the many different types of black experience there could be," Wellington says. "I had all the resources of history, and literature, and music from the black experience at my fingertips. Now, of course, like any young kid, I didn't necessarily take advantage of those things until later on. But it is about your environment, you know. You have to be carefully taught, as they say. And so, that environment growing up was greatly the reason why I'm able to see the effects of people of color on the history of this country."
Culture and History
His understanding of culture and history are the reasons why he doesn't want his association with the past to be too specific. Though he embraces New York's vintage scene, introduced to him by long-time friend and fellow NYU alum Gin Minsky, a NYC burlesque performer, Wellington doesn't pinpoint an exact time for his style because he knows those past decades weren't easy for African-Americans. He believes his understanding of history adds a connection to many of the songs he sings on stage.
"As a bandleader, I find a way to sometimes let that music speak to our own present. Songs like 'Till Times Get Better' from Jabbo Smith. That is one of those songs that certainly has resonated quite a bit in New York, in this particular political landscape, as it were. And from a Black perspective, 'nobody's making money, the cops are getting rough.' For me, to be saying that, it resonates differently. So, maybe, it resonates the way it was intended," he says.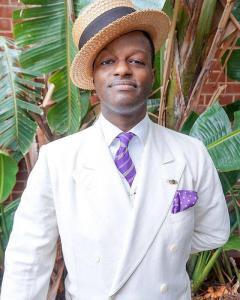 It also must resonate with his audiences. Wellington is in-demand as he not only leads his own band, with residencies at some of Manhattan's more upscale hotels, but also guests with other hot jazz groups such as the Glenn Crytzer Orchestra. New York's hot jazz scene is a tightknit group of talented young musicians, and they attract audiences with various interests such as burlesque, swing dancing, cocktail culture and vintage clothing. Wellington says it is a unique ecosystem that isn't found in any other part of the country.
"I will say that every night that I play it's a little bit different stylistically, because it's about who's on the bandstand," Wellington says. "[It's] because I do have a really wide range of loves when it comes to this music. I mean, everything from Al Bowlly to Benny Goodman. From Bessie Smith to Stan Getz. I love a lot of that stuff. So, it's about seeing who's on the bandstand and leaning in to that."
"A New Vibe Every Time"
As Wellington sees it, the New York-based musicians have such varied backgrounds, the music benefits from the different perspectives these players can bring to the same song.
"[There are] people that have studied more modern stuff but grew up with traditional jazz, maybe have gone to the Monk Institute, or different conservatories that are focused on modern jazz. But they're still able to distill those elements often into a traditional jazz framework. Also you have real preservationists —people that will do things exactly the way that record was done. And that's the beautiful thing, that's a beautiful thing for the music, because it's living, you know."
As an example, Wellington points to a song everyone jazz musician knows, "Honeysuckle Rose. "I could do 'Honeysuckle Rose' for all of my gigs, every single day, and because of the way the scene is—a largely freelance scene—there is a rotation in a large ecosystem of players. So, I could play that song every day, and it would take on a new feel. It would have a new vibe every time."
As a bandleader, Wellington says he's aware of how the "language of jazz," as captured on records and in sheet music, references the past but becomes new in the present. "As a leader, I get to play with that," he says. "I get to decide the feel and the vibe of a particular song and what record is influencing me, what one particular version or time period I want to focus on with any particular tune."
In The Studio
He sees his own sound has more in the mid-1930s swing style with driving rhythms (think Jimmie Lunceford) to showcase not only his singing but dancing abilities. In 2015, Wellington—without the backing of a record label—recorded three original songs that he wrote on a four-song EP titled "Harlem Rhythm." He followed it up with two digital releases of his original songs, "Winter Afternoon" (2017), and "Four Eyes" (2018). Both songs also have accompanying music videos featuring Wellington's showmanship. He also sings on Glenn Crytzer's landmark double album Ain't It Grand.
Wellington went into the studio this year and independently recorded even more of his own original music that he intends to slowly release over the coming months, flying in the face of modern record industry release practices.
"What I'll be doing is releasing them little by little. The music industry conversation is an interesting one. A lot of people have strong perspectives and beliefs about the downfall of the record industry. But, largely, I think that putting out a full album isn't the greatest use of your, sort of, bully pulpit as it were. Because once you've released the album, you've released it," he says.
Taking it Global
Wellington's also taken his act out of country. As a member of the cabaret show "Club Swizzle," he has performed in England and Australia which included a run at the famous Sydney Opera House. He says his audiences experience a bit of culture shock when he takes the stage decked out in vintage finery and begins crooning "Everybody Loves My Baby" (1924) and "Shake That Thing" (1925).
"In Australia, they don't have African black people in their cities as much. Their black people are indigenous, and that culture is very, very different. So, largely, I am people's first experience with jazz music with an African-American who isn't connected to hip hop. So, it's interesting to see the looks on people's faces, because for most people, they don't fully understand what they're seeing," he says.
No matter where his fans are in the world, Wellington does keep in touch through his prodigious use of social media. His Instagram account chronicles his adventures, and his clothing choices, to his 21.4 thousand followers. The hashtags he uses, like #StyleAsResistance and #VintageStyleNOTVintageValues, show his awareness of current social issues. Wellington also helps other musicians promote themselves online.
If Wellington's notoriety continues to spread, there may come a day where he may be recognized by only his first name. "Dandy" could join the ranks of "Duke," "Count," and even Prince in that regard. It is evident that "the man and the brand" are one. Dandy is a real class act —musically and sartorially—on stage and off and not in name only.
Visit Dandy Wellington online at www.dandywellington.com.
---
Brian R. Sheridan, MA, is the chair of the Communication Department at Mercyhurst University in Erie, PA (hometown of Ish Kabibble) and a longtime journalist in broadcast and print. He also co-authored the book America in the Thirties published by Syracuse University Press. Brian Sheridan can be reached at bsheridan@mercyhurst.edu. Find him on Twitter @briansheridan and brianrsheridan on Instagram.
Subscription Options
---
Or get the Print Edition with Online Access. To get the print edition of The Syncopated Times use this Paypal link. After you pay you will be issued a coupon for free online access.