Vibraphonist Peter Appleyard with Dick Hyman in March 2008. (photo by Bob Byler)
---
Bob Byler, who passed away on April 28 at the age of 88, was an associate professor of journalism at Bowling Green State University and wrote for The Mississippi Rag and numerous other publications. He was also an accomplished jazz photographer and videographer. The following piece, written for the Venice, Florida, Gondolier-Sun in October 2015, was submitted (with accompanying photos) to The Syncopated Times in the first few months of our existence. We offer it now as a tribute to Mr. Byler. 
---
Reporting on Dick Hyman's multi-faceted career is like inscribing a poem on a pinhead. His autobiography is, in effect, "published" in many audio, video, print and online sources. And it continues as he maintains a daunting creative pace at age 88.
This article focuses on highlights from his 25 years in Florida. Some other sources are identified for fans and researchers to access.
Dick and Julia Hyman came from New York City to their new Venice, Florida, home in 1989, then added his studio for music and hers for sculpting. He was honored at the Venice Museum and Archives in 2012 with a two-month exhibit. Julia's works have been frequently displayed at the Venice Art Museum. Last year Dick premiered his Piano Concerto No. 2 with the Venice Symphony at the new performance hall.
Dick's career includes jazz, pop, and "whatever was on the page," he says. He composed, arranged and directed for recordings, films, radio, and TV shows with a galaxy of famous emcees, singers, and musicians. He is best known as a pianist, also performs on organ, and made a hit recording on a Moog synthesizer.
In a video interview by Ed Vinson for the Venice Archives, he recalls being musical director, composing and arranging for twelve Woody Allen films, artistic director for Jazz in July concerts at New York's 92nd Street Y for 20 years, and the Oregon Festival of American Music for 10 years.
He recorded with and toured the Soviet Union with Benny Goodman's band honoring Louis Armstrong, won a "Satchmo" award from the Sarasota Jazz Club, a National Academy of Arts and Sciences Emmy, and other awards.
Hyman was music director for Arthur Godfrey's and other TV shows and has been a frequent guest on Garrison Keillor's Prairie Home Companion and Jim Cullum's Riverwalk radio shows. He modestly didn't report honorary doctorates from his alma mater, Columbia University, and others.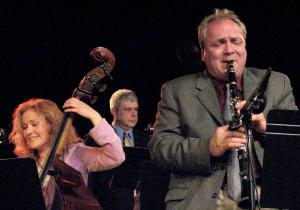 Dick summarized for my interview a typical day as a New York City studio and jazz musician. It might begin with a 7 a.m. "wake-up" NBC radio show, a 9 a.m. TV program on a show with comedian Morey Amsterdam, afternoon recording sessions, perhaps with Mitch Miller or Andre Kostelanetz, and sometimes a night club date later on.
The Hymans discovered the musically-rich Suncoast when he began playing Sarasota jazz festivals. He's led many bands there and in Venice festivals and concerts. Some are now seen on YouTube in the Bob and Ruth Byler Archival Jazz Videos site. They show well-known all-stars who play creatively and compatibly in bands, combos and duos.
A highly productive relationship was with the late Mat Domber, whose Arbors Records in Clearwater is now directed by his wife Rachel. Dick played its annual March of Jazz events with various groups and two-piano sets with a favorite partner, Derek Smith, and others.
A virtuoso package of five CDs and a video was produced by Arbors in 2009 as Dick Hyman's Century of Jazz Piano. He terms that period as "a great and continuing march of individual achievements." It is stretched to include an 1869 tune with ragtime feeling by Louis Moreau Gottschalk, whose works reflected Cuban dance music, a longtime influence on American music (that should continue as our relations with Cuba resume).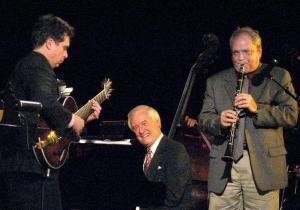 Contents of the 104-tune CD group are: Disk 1: Ragtime, the "Latin tinge" in Jelly Roll Morton's term, stride and early pianists. Disk 2: Gershwin, blues, boogie woogie, Art Tatum and swing. Disk 3: Duke Ellington, swingers, beboppers, later blues and funk. Disk 4: modern pianists and new directions. Disk 5: Hyman's original Etudes for Jazz Piano and improvised tunes. His 40-page booklet offers analyses of musical styles, influences, and techniques. A "crown jewel" of the package is a DVD of 13 lessons, filmed to show Hyman's hands on the keyboard. He adds informative comments and slows to half-speed at times to help learners and teachers use the video.
His website at DickHyman.com lists other recordings and details of his career. Other useful online sources are in Wikipedia, Arbors Records, the Sarasota Jazz Club, and other event sponsors.
I photographed and reviewed Hyman concerts 10 times for national jazz publications. He reported 25 dates in six states from March to May 2004 for my column. In September 2005, I reported his lifetime achievement award in Connecticut, Woody Allen film music concerts at the Hollywood Bowl and Chicago's Ravinia fest, and directing a 10th festival in Oregon. He's also done ballet scores, orchestral pieces, and concertos for instrumentalists.
Among his valued musical friends seen in photos here are reedmen Ken Peplowski and Bob Wilber, vibraphonist Peter Appleyard, and trumpeter Randy Sandke. Area bassist Mark Neuenschwander played on some CD tunes, and vibist Jack Fanning plays piano with Hyman in a remake of his synthesizer hit, "The Minotaur." The late bassist Bob Haggart, also a famous resident of Venice, led all-star bands in which Dick played and was in his trios.
I reported on the 2012 Dick Hyman Day at the Venice Archives for a national jazz email list. Besides his talents, I saluted his congeniality and unselfish help to other performers. The Vinson video there showed Dick and Julia, who married in 1948, strolling the beach with a sunset backdrop as they "sealed it with a kiss." The Gondolier's Fran Valencic reported, "Dick and Julia Hyman are two people who make Venice a great place to live." That influence also extends to the music and arts cultures they have enriched.
---
This is what our print edition feels like. If you want good news to read with your morning coffee, order a subscription ($30 for 12 monthly issues). You'll get full online access to our archives, web extras, and our next issue will arrive at your door. Online only access is available for only $20 a year! Support Hot Jazz Journalism- Subscribe
Subscription Options
---
Or get the Print Edition with Online Access. To get the print edition of The Syncopated Times use this Paypal link. After you pay you will be issued a coupon for free online access.