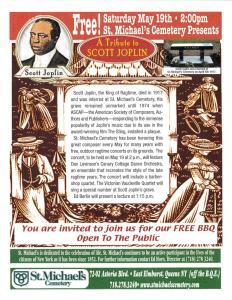 The Syncopated Times intended to run a review of the Scott Joplin Memorial Concert, held every year at his graveside in St. Michael's Cemetery, Queens.
During the crunch of press time, there was a delay in obtaining pictures of the May 19th event. The month in which the story would have seemed timely slipped past. We've left ourselves the equivalent of Post-It notes to make sure we are ready to go ahead of the event next year. (Let's hope the glue holds that long).
We wanted to highlight the annual memorial because of the presence of artists who should be familiar to our readers, particularly Dan Levinson, and Neal Siegal. Had we covered the concert it would have focused on their efforts, with perhaps a paragraph or so on Scott Joplin himself.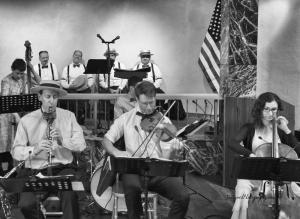 Other news media have different audiences and a different focus. It makes sense to explain the significance of Joplin more fully if your audience may be unfamiliar with him. Still, any coverage of the event should have included the names of the living musicians who prepared for it and made it possible. It should have also reflected the spirit of joyful celebration at the event itself.
The New York Times ran a story about the memorial titled "The Forgotten Entertainer" which had a maudlin focus on the sad and sensational aspects of Scott Joplin's life. While using Dan Levinson as a primary source and fact checker the article also failed to mention him or his band, The Canary Cottage Orchestra, by name.
The slight inspired Mr. Levinson to share the following note on his Facebook page, and write a letter to the editor of The New York Times. We share them in their entirety because he details well the efforts and stresses artists go through making important events such as the Scott Joplin Memorial Concert possible. The people making our kind of music don't expect a bowl of green M &Ms when they show up to play, but they deserve to be named and credited for their efforts.