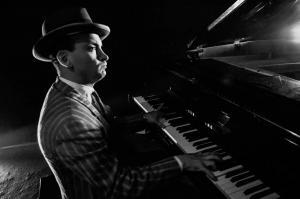 In our June issue we will be profiling Drew Nugent. Along with his band, The Midnight Society, he's been reviving and shaping the traditional music scene in  Philadelphia for almost a decade.  Drew embraces the full spectrum of early 20th century popular music. As this run down he gave us of his current endeavors clearly shows this approach has opened up a variety of opportunities for him to reach new audiences:
On top of the regular band gig load, we are presently hosting a monthly swing dance event in Olde City, a burlesque show called the "Blind Tiger Speakeasy" in Queen Village, USO show, as well as a Vaudeville/variety show called "Nugent's Follies" in a historic vaudeville theater on the edge of Chinatown called The Trocadero Theater.
His success has helped to make hot jazz and ragtime part of the creative culture in Philly. This hilarious, and very professional, music video for Drew's take on a Cliff Edwards song is a great example of what can be accomplished through partnerships with local artists.
Here's another worth watching:
Drew revives some sweet numbers and novelty tunes while his band plays as hot as any out there. Fans who came to love vintage music by way of shellac records will be thrilled to hear this material treated with such… fidelity!
Drew is also an accomplished ragtime and stride pianist. Indeed that was his first love. Nothing online compares to the beautiful constructions you will find intermixed with the other material on his albums, (we recommend Hot, Sweet and Sassy from 2017) but this great video gives you Drew on the keys, and as always the band is stylish.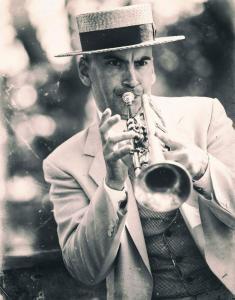 The revival of Vaudevillian and Burlesque culture as venues for hot jazz in Philly, and elsewhere, provides a welcome context for the music. Putting it back into the settings it arose from with the hope that everyone will have a good time. These are promising additions to playing for dancers that more local scenes should explore. At only 32 Drew Nugent already has a lot to teach others about doing it right.
Subscribe before the 20th of May to receive the June issue in the mail. New Subscribers after that date can receive a PDF of the June issue.