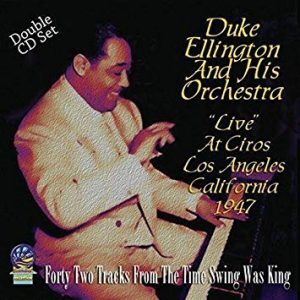 In Duke Ellington's career, it is not an exaggeration to say that he and his orchestra were in their prime from mid-1926 when they found their sound until Duke's death in 1974. Although historians cite certain periods as being the peak of his creativity, even in the so-called "off" periods, Ellington's big band was a mighty force.
Consider the two-CD set Live At Ciros which is comprised of eight 15-minute broadcasts from Los Angeles' Ciro's dating from July-August 1947. At the time, other big bands from the swing era were breaking up on a regular basis as their audience became fragmented between bebop, Dixieland, rhythm & blues, and pop vocalists.
Ellington's long-time plunger mute genius of the trombone Tricky Sam Nanton had passed away, he was down to two trumpet soloists with the departure of Taft Jordan and Cat Anderson (temporarily in the latter case), and his record dates for the Columbia label, (along with a few worthy numbers) included such forgotten songs as "Women They'll Get You," "Put Yourself In My Place, Baby," "Cowboy Rumba," and "You're Just An Old Antidisestablishmentarian." From outward appearances, Ellington seemed to be struggling a little although "The Liberian Suite," a successful Carnegie Hall concert, and the arrival of singer Al Hibbler was in the near future.
Listening to this twofer, it becomes immediately apparent that the Duke Ellington Orchestra was still at the top of its field. Boasting such soloists and distinctive voices as trumpeter Harold "Shorty" Baker, Ray Nance on cornet, violin and vocals, trombonists Lawrence Brown and Tyree Glenn (although the latter was not yet utilized much), bassist Oscar Pettiford and a reed section comprised of clarinetist Jimmy Hamilton, altoist Johnny Hodges, baritonist Harry Carney, the stomping tenor Al Sears, and the valuable Russell Procope on clarinet and alto, not to mention the pianist, it was still quite a band.
While the announcer on these broadcasts occasionally talks over the music and a few songs are cut short to fit into the 15-minute shows, the Ellington orchestra and particularly such soloists as Baker, Nance, Brown, Hamilton, Hodges, Carney and Sears have their opportunities to shine. Kay Davis, mostly used for semi-operatic wordless vocals on Ellington's studio recordings, gets to sing a few songs more conventionally while Chester Crumpster, who was only with Duke for two months and made no studio sides, proves to be reasonably effective, particularly singing two versions of "It's Kind Of Lonesome Out Tonight."
That worthwhile song, which had recently been recorded by Nat King Cole, would not be documented again until 1973 when it was revived for a date with Teresa Brewer. Since then it has only been recorded by singers Daryl Sherman (1999) and Carla White (2001) but it deserves to be brought back.
Mixing together such favorites as "Harlem Air Shaft," "Mood Indigo," "Tulip Or Turnip" (the first of two versions has Nance singing at his best), and "Stompy Jones" with a few rarer numbers ("Brown Penny," two movements from "The Beautiful Indians," and "Flippant Flurry"), a modernized "Royal Garden Blues," and a blues suite with "Beale Street Blues," "Memphis Blues" and "St. Louis Blues," Live at Ciro's has plenty of highpoints. It shows that, even during 1947 when Duke Ellington was being overshadowed by many other jazz and pop artists, there was no one in his league.
Live At Ciro's
(Sounds of Yesteryear DSOS 2100, 42 selections, TT = 1:55:41)
www.cityhallrecords.com