As someone who tours frequently, I find myself more and more impressed with today's airlines. Not their service, of course, but their unwavering dedication to their business model. The formula of their success? Provide a service that gets you from point A to point B. Nothing new there folks. But here's the genius: make the basic level of service so intolerable that you, the customer, will be enticed to buy basic human comforts, marketed as "luxury extras."
Let me expound this strategy with some airline logic, and ask you:
-Are you a hobbit? Or perhaps, a human that lost your legs in a random shark attack? Then you'll love our economy seating. But perhaps you have two legs and are of average height? No problem! You can pay a little extra for an "economy plus" ticket, offering the legroom of a regular human.
-Boarding the plane from back to front is very efficient, and this method will leave you relaxed and free of stress. But not our shareholders! So instead, we've implemented a non-sensical yet lucrative system called priority boarding. With a small payment, you can board first, sit back, relax, and watch all the "poor people" pile in like cattle.
And the list goes on. Now, I know airline travel sounds like a crappy experience, folks. But you're looking at it the wrong way. Don't think of it as hours of cramped discomfort. Think of it as a small sacrifice. An investment, if you will…in the happiness and well-being of not only airline CEOs and shareholders but their future generations.
So, I for one salute the airlines for their unwavering dedication to their record-breaking profits. ‭This is surely a business model of the future! And with that in mind, I've been crunching some numbers, and I'm happy to announce a new pricing system for my band Professor Cunningham and His Old School.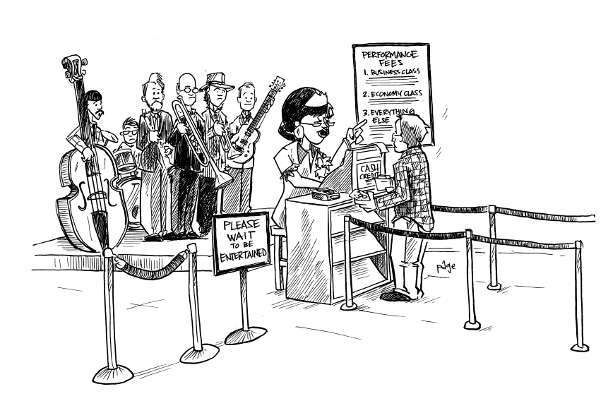 Do you have an upcoming event and are looking for a band? Feel free to peruse our airline-based structure of performance fees:
1. First/Business Class. This is the Professor's top shelf service. You will get a well presented, highly trained and experienced band that will play perfectly in tune, dressed in tailored suits. We will be polite, punctual, and play some world class jazz. We will be extremely responsive with our communication, and perform any requests given by our hosts. We want you to be happy! So sit back, relax, and enjoy the show.
2. Economy. You want a band? You got one! For this service you'll get… musicians. And we personally guarantee to make some noise for the agreed performance time. Guaranteed noise!
And don't forget to peruse our "economy plus" range of extras (at a small charge) for your comfort and peace of mind:
*Having a band for your event would be even more special if we used musical instruments! For a small instrument surcharge, our musicians will actually bring AND use their instruments to enhance the quality of our musical performance.
*If our musicians have been kicked out by their girlfriends, they will essentially be homeless. But no need for concern! For a negligible get off our property fee, you will have peace of mind knowing that we will not camp out on your couch for a few days and eat all your leftovers.
*Here at Professor Cunningham and His Old School, we strive to give the best possible service at a reasonable price. But sometimes, our bass player, after a few beers, has been known to get a little randy. To ensure he doesn't hit on your wife, we can offer a small celibacy surcharge to ensure a hassle free performance with no leering or butt-grabbing.
*We value your event as much as you do! However, sometimes mishaps can occur, especially with alcohol. For a small garden protection fee, we will provide well-behaved musicians guaranteed to not to raid your liquor cabinet, get drunk, and throw up on your prize-winning roses.
We here at Professor Cunningham and His Old School tirelessly endeavor to offer you the best possible service, and your feedback is important to us. If you have any issues with the quality of our service, please contact us at [email protected].