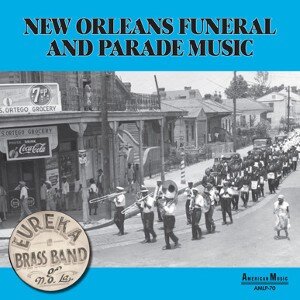 One of the best known of the early traditional New Orleans brass bands was the Eureka Brass Band. Founded around 1920 by trumpeter Willie Wilson, it was led through the years by Wilson, trumpeter Alcide Landry, sousaphonist Joseph "Red" Clark (briefly in 1937), Dominique "T-Boy" Remy, and finally Percy Humphrey from 1946 until it broke up in 1975. It was a fixture in New Orleans for many years, performing at parades, funerals, and parties.
The Eureka Brass Band's first recordings were in 1951 and 1956. Those selections had previously been released in full (along with alternate takes) on CD as New Orleans Funeral & Parade and the two-CD set In Rehearsal 1956, both from American Music (which is owned by GHB/Jazzology).
Recently, an LP titled New Orleans Funeral and Parade Music was released that has the best performances from those two dates, with five songs from 1951 and two from five years later. Listening to these primitive performances, it is easy to imagine that this is how jazz sounded 50-55 years earlier when it was first being formed. "Sing On" is entirely comprised of ensembles by the 11-piece band (consisting of three trumpets, two trombones, E flat clarinet, alto sax, tenor sax, sousaphone, snare drum, and bass drum) and has the group repeating the melody throughout the performance. There is some improvising by the horns and the bass and snare drummers contribute exuberant rhythms.
Particularly effective is the very slow and mournful "West Lawn Dirge" which, with its halting rhythm, slightly out-of-tune horns, and very dramatic playing, is certainly very serious funeral music. It is followed by a joyful "Lady Be Good" which clearly is what the band would be playing right after a burial is completed.
The other pieces include a rather somber and archaic sounding "Just A Closer Walk With Thee," happy versions of "Sweet Fields" and "Panama," and a long rendition of "Garland Flowers" that is quite haunting.
While this LP would certainly have benefitted from liner notes, it serves as an excellent introduction to what a real New Orleans funeral band sounded like in the earlier days.
New Orleans Funeral and Parade Music
(American Music AMLP-70, 7 selections, TT = approx. 40:00)
www.jazzology.com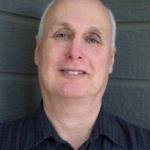 Since 1975 Scott Yanow has been a regular reviewer of albums in many jazz styles. He has written for many jazz and arts magazines, including JazzTimes, Jazziz, Down Beat, Cadence, CODA, and the Los Angeles Jazz Scene, and was the jazz editor for Record Review. He has written an in-depth biography on Dizzy Gillespie for AllMusic.com. He has authored 11 books on jazz, over 900 liner notes for CDs and over 20,000 reviews of jazz recordings.
Yanow was a contributor to and co-editor of the third edition of the All Music Guide to Jazz. He continues to write for Downbeat, Jazziz, the Los Angeles Jazz Scene, the Jazz Rag, the New York City Jazz Record and other publications.