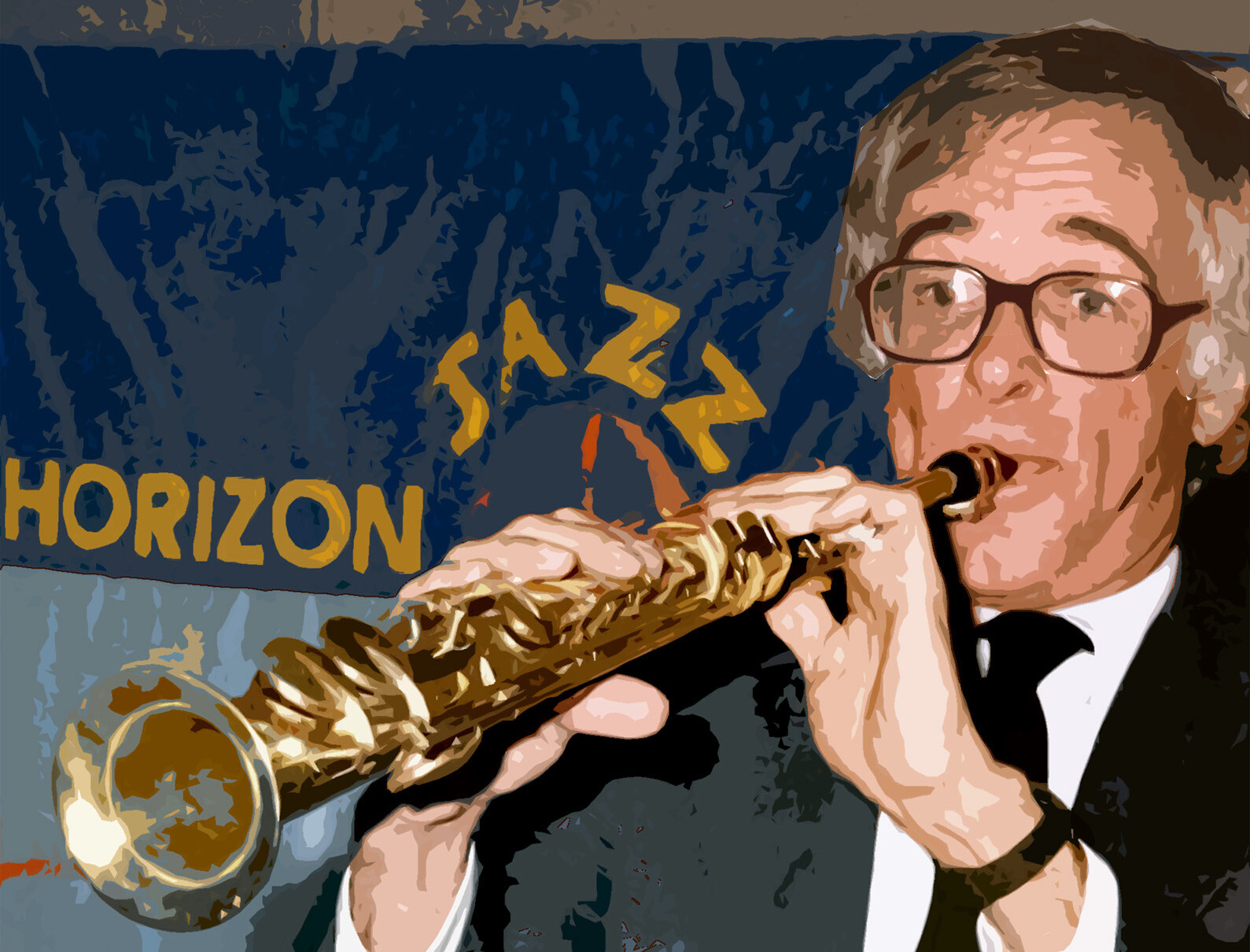 Stanley 'Stan' Montrose McDonald, Jr. (1935-2021) loved the music of Sidney Bechet, his wife Ellen, their historic semi-rural Massachusetts home and a hard-driving rhythm section pushing him. He was born and raised near Boston and spent most of his professional life and music career in or near Massachusetts.
Stan was a co-founder of the Boston-based New Black Eagle Jazz Band with Tony Pringle, Stan Vincent and Peter Bullis. It became the premier Traditional Jazz band from the 1970s forward, appearing in concerts across the country and on radio and television.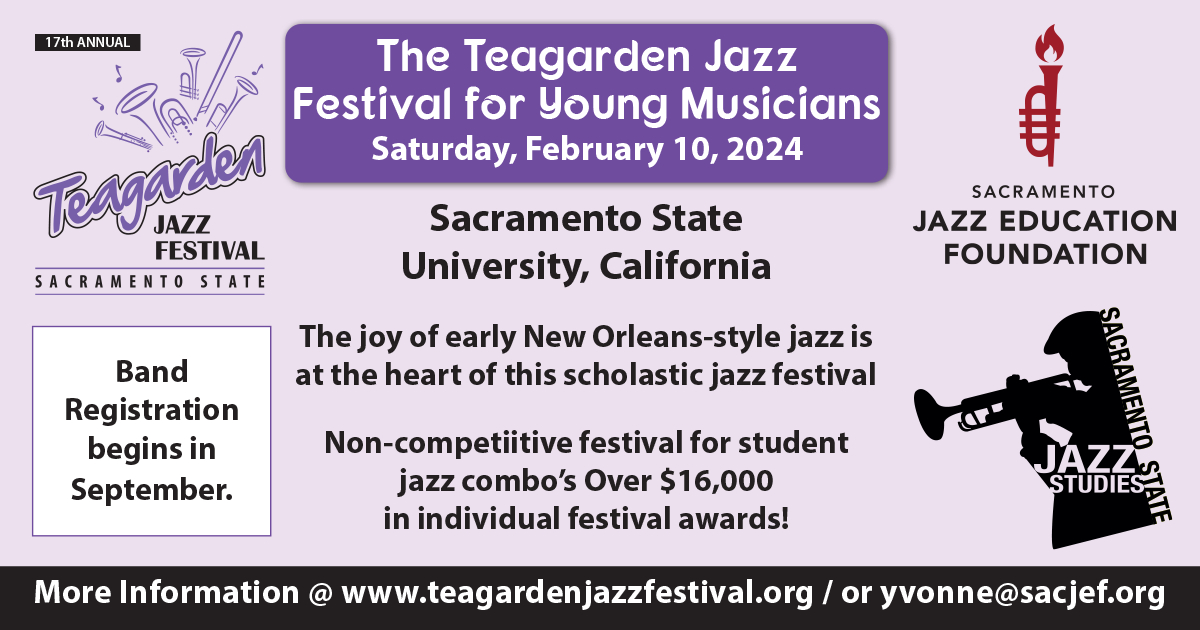 This article is based on a 2011 interview with McDonald and award-winning radio show, Visiting Stan McDonald. You'll find appended to this article a trove of rare McDonald performances from the 1950s to the 1990s.
Origins and Inspirations
The touchstone of Stan's music was Soprano saxophone giant Sidney Bechet, first and foremost. Emulating his repertoire and outlook, he became one of the foremost proponents of Bechet's style, praising his:
". . . broad, big, rich tone and vibrato, very innovative phrasing and that he's unique in the way he handles a song. . . When he's playing with another horn he knows just the right note to play and where to play it.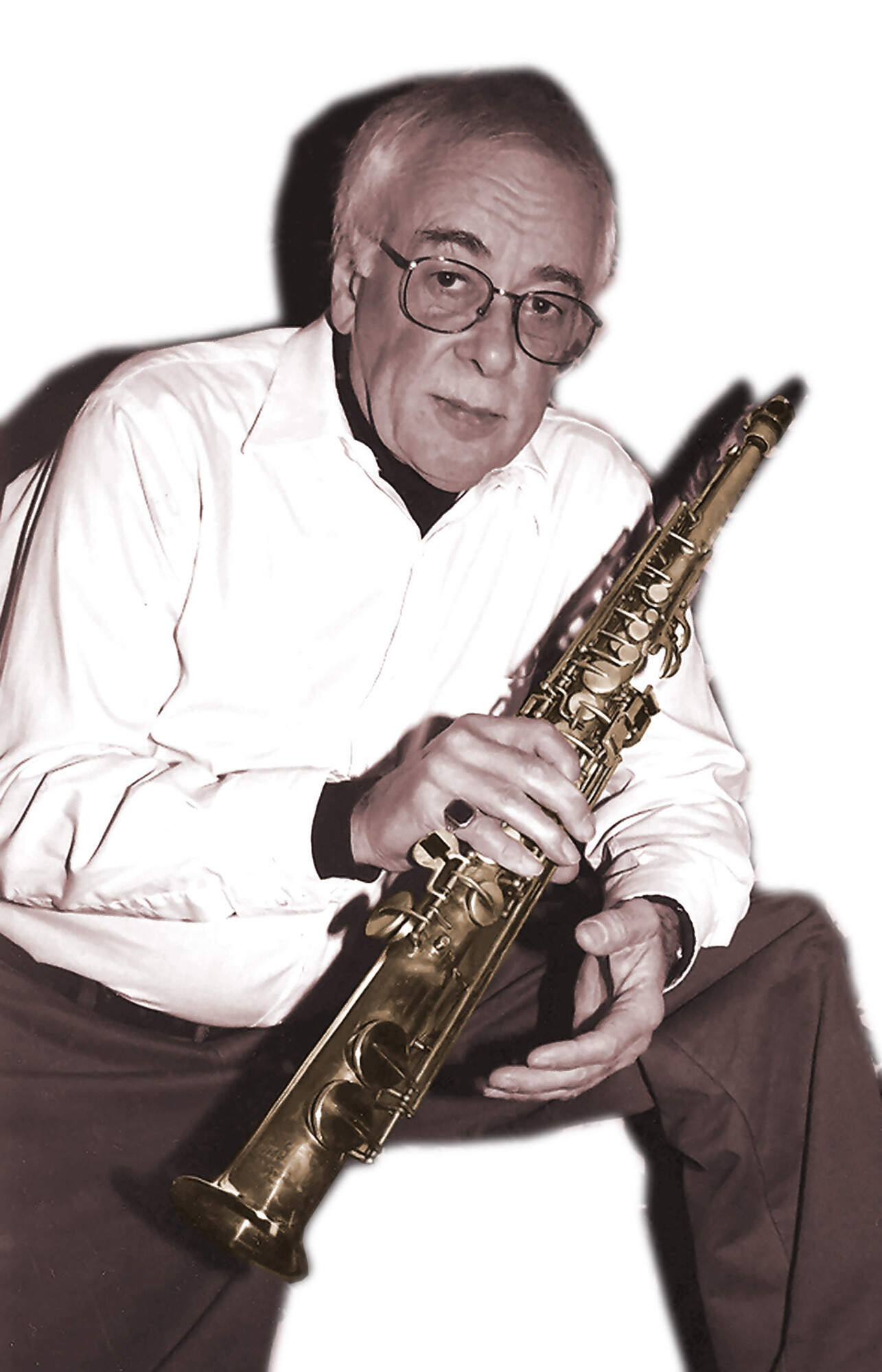 I came within an ace of meeting him in Paris, but he was ill. I had brought a note with me from Tommy Benford, the drummer and a good friend of mine . . . but I was never able to deliver that note."
Early in life Stan developed an avid interest in music, starting piano at age seven. Desiring to improvise he took up alto saxophone at age 14. Playing in high school concert, marching and dance bands, he meanwhile taught himself improvising by listening and playing along to his favorites on radio and records. He jammed with other budding jazz cats occasionally and at age sixteen sat-in playing alto sax with drummer Tommy Benford at the Log Cabin Club in nearby Denham, Massachusetts.
For more than a half century the McDonalds owned an historic house in semi-rural Sherborn, Massachusetts that's on the National Register of Historic Places. Once owned by a prominent local citizen, it was "built in 1838, the home of Revered Edmund Dowse, pastor of the village church for 67 years. Of course, it's a job to keep it up, but I'm proud to have it."
From the early 1970s onward, he collaborated in creating a couple of remarkable bands that were strongly influenced by his extensive book of Bechet tunes: The New Black Eagle Jazz Band and Stan McDonald's Blue Horizon Jazz Band.
New Black Eagle Jazz Band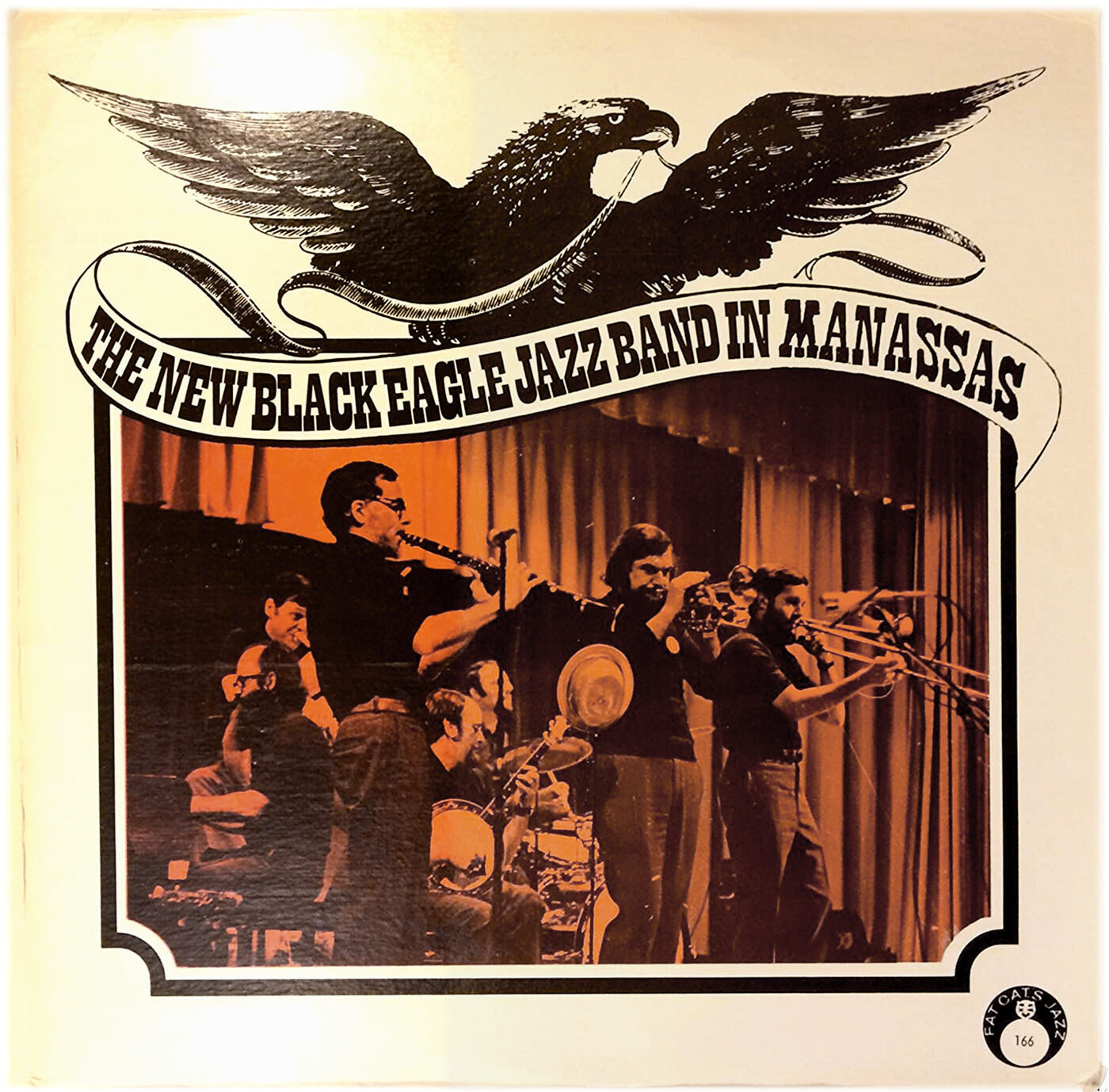 McDonald was integral to New Black Eagle Jazz Band from its inception in 1971 to his departure in 1981:
"It was a committee of the whole for one thing. Every member was committed to the excellence of the band. We rehearsed a lot and got deeply involved in digging up things that hadn't been played often. It was not run by one individual, although three of us really established most of the policy – me and Tony Pringle and manager Peter Bullis."
Black Eagle formed in a merger of the guys around McDonald (pianist Bob Pillsbury and old comrade trombonist Stan Vincent) with followers of Tommy Sancton (cornetist Tony Pringle and banjo player Peter Bullis). Clarinet player Tommy Sancton was a follower of George Lewis with genuine New Orleans family roots in Preservation Hall. He had run a loosely organized New Orleans Revival-style group in the area known as the Black Eagles, hence the designation "New."
The New Black Eagle band played hundreds of Jazz festivals, concerts and a regular local gig at The Sticky Wicket Pub not far from Boston. Stan attended four of their European tours and numerous guest-appearances with the Boston Pops Orchestra and other symphony orchestras.
Jazz at UMass 1950s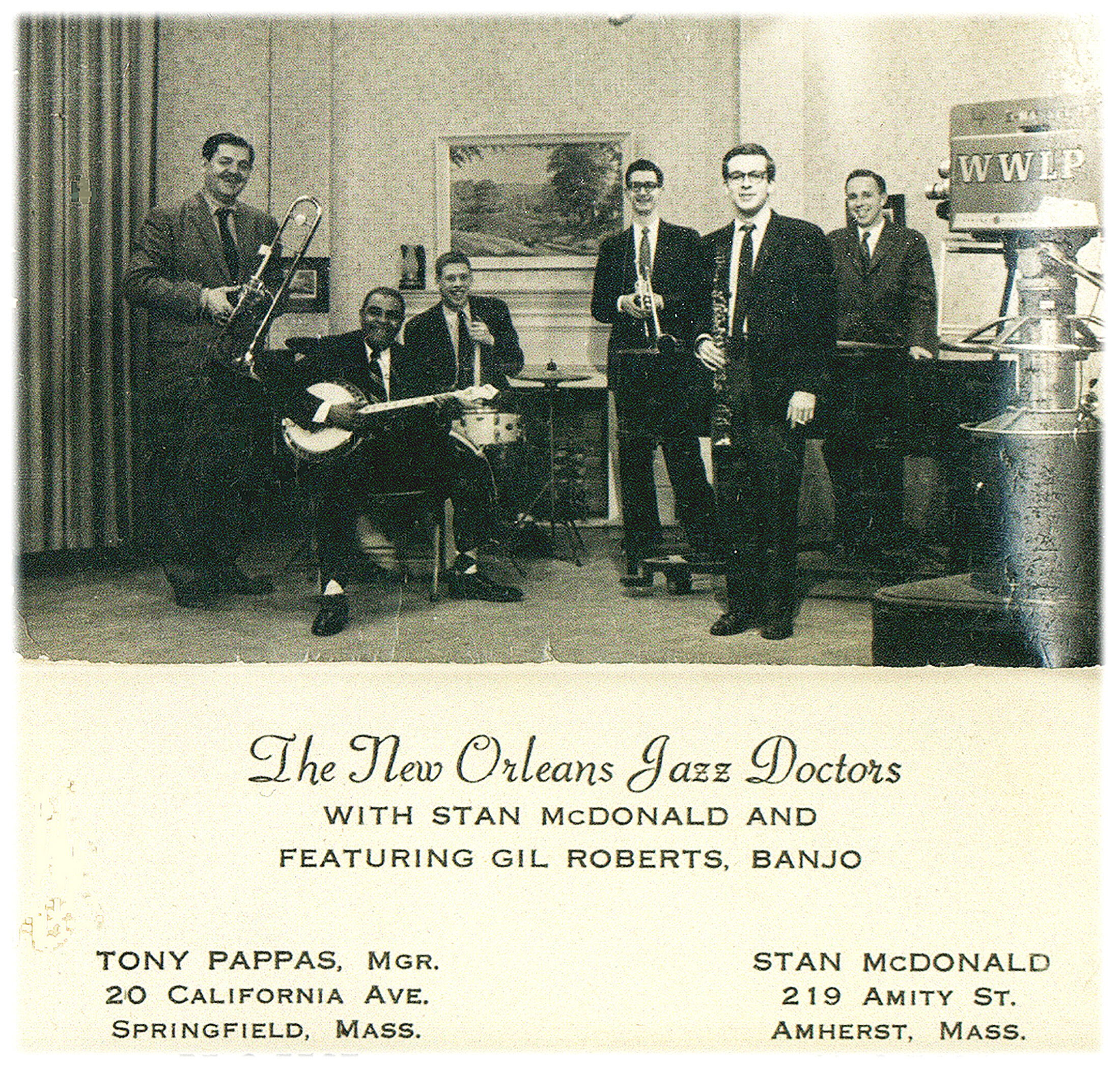 In the mid-1950s McDonald was enrolled in the University of Massachusetts at Amherst (UMass) and had taken up the soprano saxophone. He formed the New Orleans Six for playing at fraternity parties and the Sportsman's Club in nearby Hadley: "We played the fraternity circuit all throughout New England . . . At that time, our kind of music was the music of choice at fraternities."
He teamed up with horn player Tony Pappas forming one of the first Traditionalist/Revivalist group around Boston:
"We played things that nobody else played – Oliver and Morton stuff. There was one Jazz joint called the Log Cabin in Denham and that's where I actually got my first experience playing with a live band. That is, with a fully functioning Jazz band, not some little pickup high school group.
Tommy Benford was the drummer at that point. It was right next to Mosley's-on-the-Charles Dance Hall, which was a famous dance hall."
Forming Stan McDonald's New Orleans Jazz Band in the mid-1950s, they played fraternity parties as far away as Pennsylvania and Troy, New York:
"They had parties up there that would start at 2:00 in the morning . . . And we'd play like 2:00 to 5:00 and then catch a few hours' sleep and then drive back and play a 'milk punch' party [bourbon with milk] at Middlebury College from noon to 2:00."
His bands were often joined by future Black Eagles: trombonist Stan Vincent and piano players Robin Verdier or Bob Pillsbury. "Those were great days and we were indefatigable. We'd stay up all night and not think a thing of it."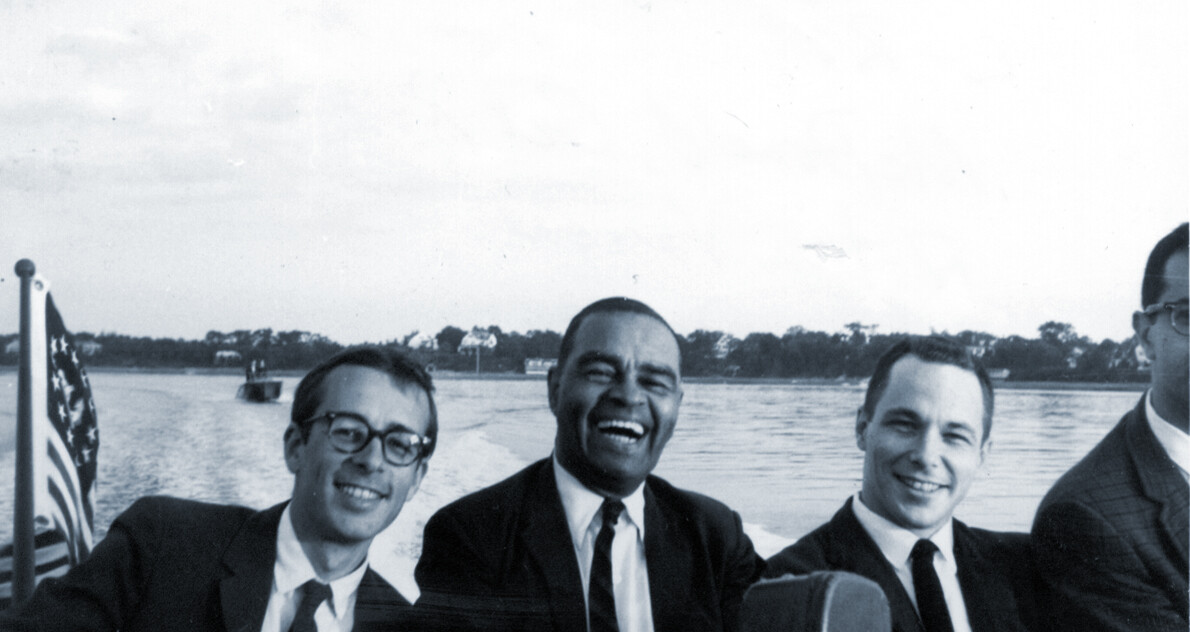 Stan's local following and fame grew steadily. He took up clarinet. The band appeared on public television in Springfield. And he often visited Jazz clubs in New York City and Boston, sitting in trumpeter Red Allen, reed man Tony Parenti or drummer Zutty Singleton.
Paris, Summer 1958
All this performing was briefly interrupted by his studies at the Sorbonne in Paris. He went for a course in 19th Century French literature, credited toward a degree in English literature, though he confesses to spending more time with local jazz musicians and les femmes.
McDonald got a chance to sit-in with clarinet player Mezz Mezzrow and was invited to an evening with Albert Nicholas, one of his favorite clarinetists, they drank cognac and listened to his French recordings that weren't available in America.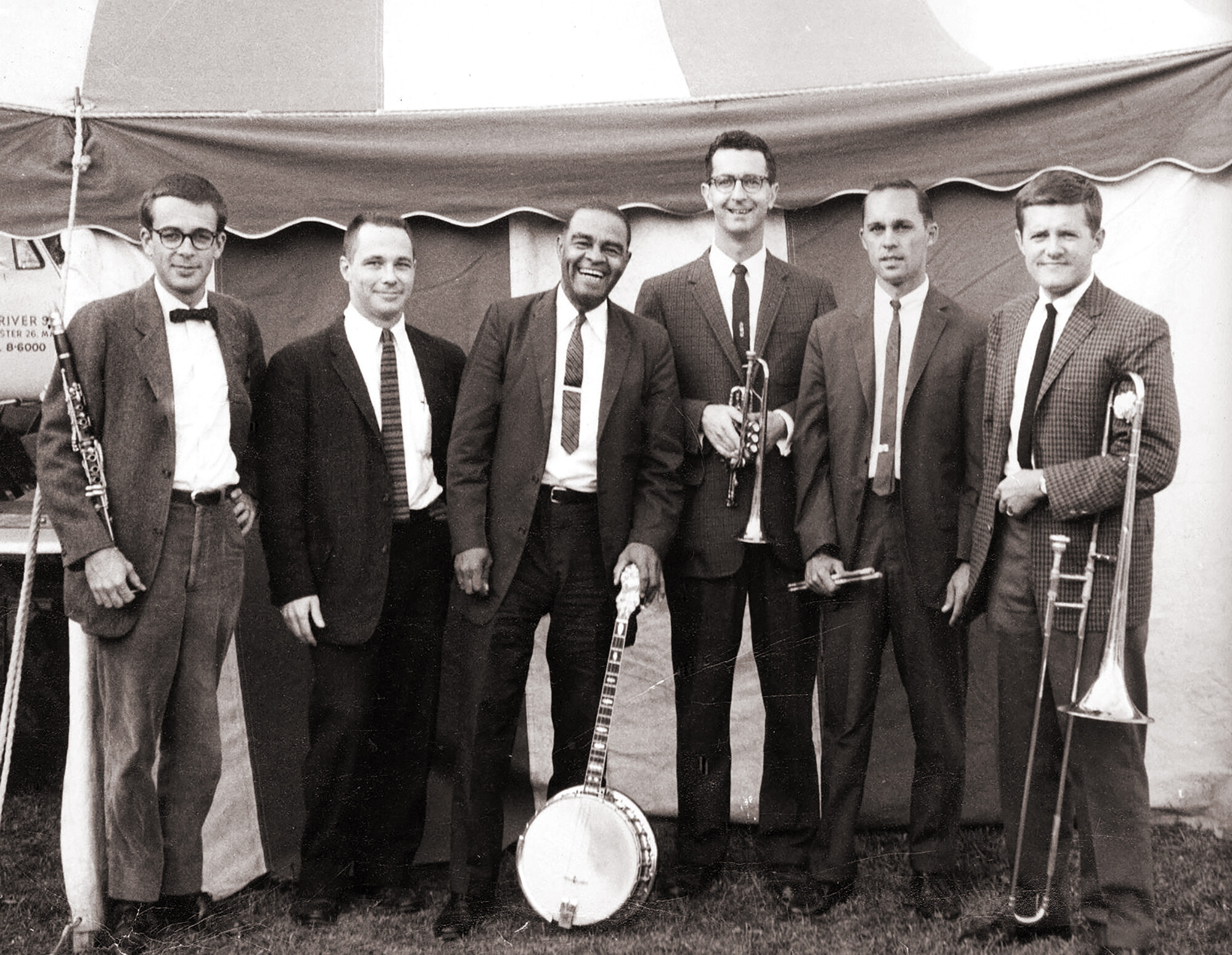 Gil Roberts
McDonald launched The New Orleans Jazz Doctors with Tony Pappas and coaxed banjo player Gil Roberts out of musical retirement. An African American banjo player, singer and stellar showman, Gil Roberts (1896-2002) was working as a maintenance man at Amherst college. He'd been a minor star, recording and touring internationally.
Stan located him, literally, shoveling coal in a fraternity hall basement: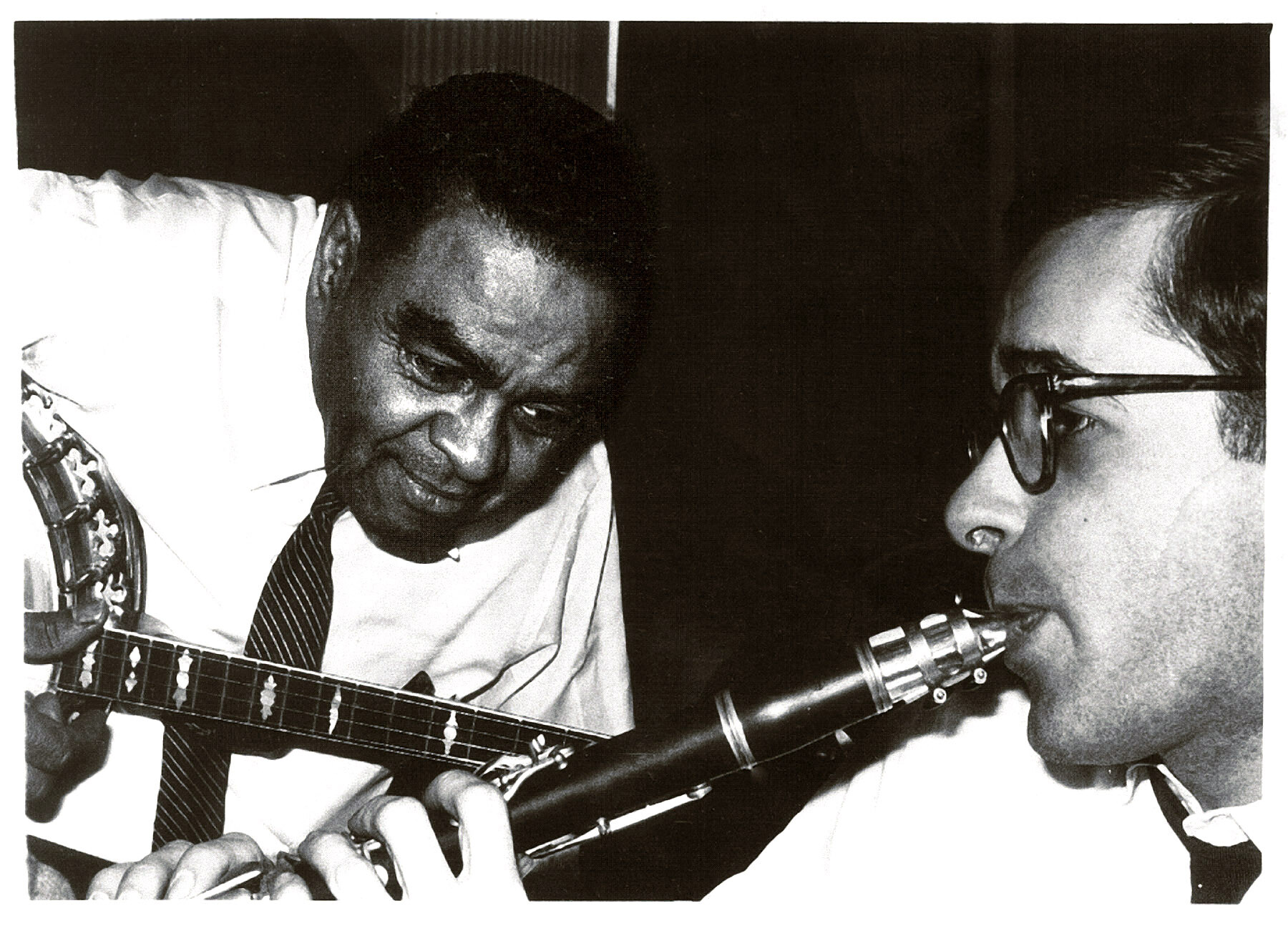 "In the 1920s and '30s he played in 34 countries in Europe and North Africa, including for [Egyptian] King Farouk's harem. He was shoveling coal in the furnace room of the Lord Jeff [fraternity] Club. Tony Pappas, my trumpet player and I went down and met him in the furnace room and got him to join our band we called The New Orleans Jazz Doctors. That was about 1955.
Gil played with us from then up into the '60s. Of course, he'd sing and shout and everything. He was the life of the party, always. He was one of the warmest, kindest people I've ever known. He would advise the band in a very constructive way about how we might sound better."
I don't think I ever saw him frown. He was just always upbeat and enthusiastic. If you played a good solo he'd holler in the background, 'Nice breathin' Stan'.
He would always evoke a tremendous response from the audience. He would stamp his foot to the rhythm. Fling the banjo around his head without dropping it or missing a stroke. One of the most remarkable things is that he lived to be 106. He died . . . in 2002."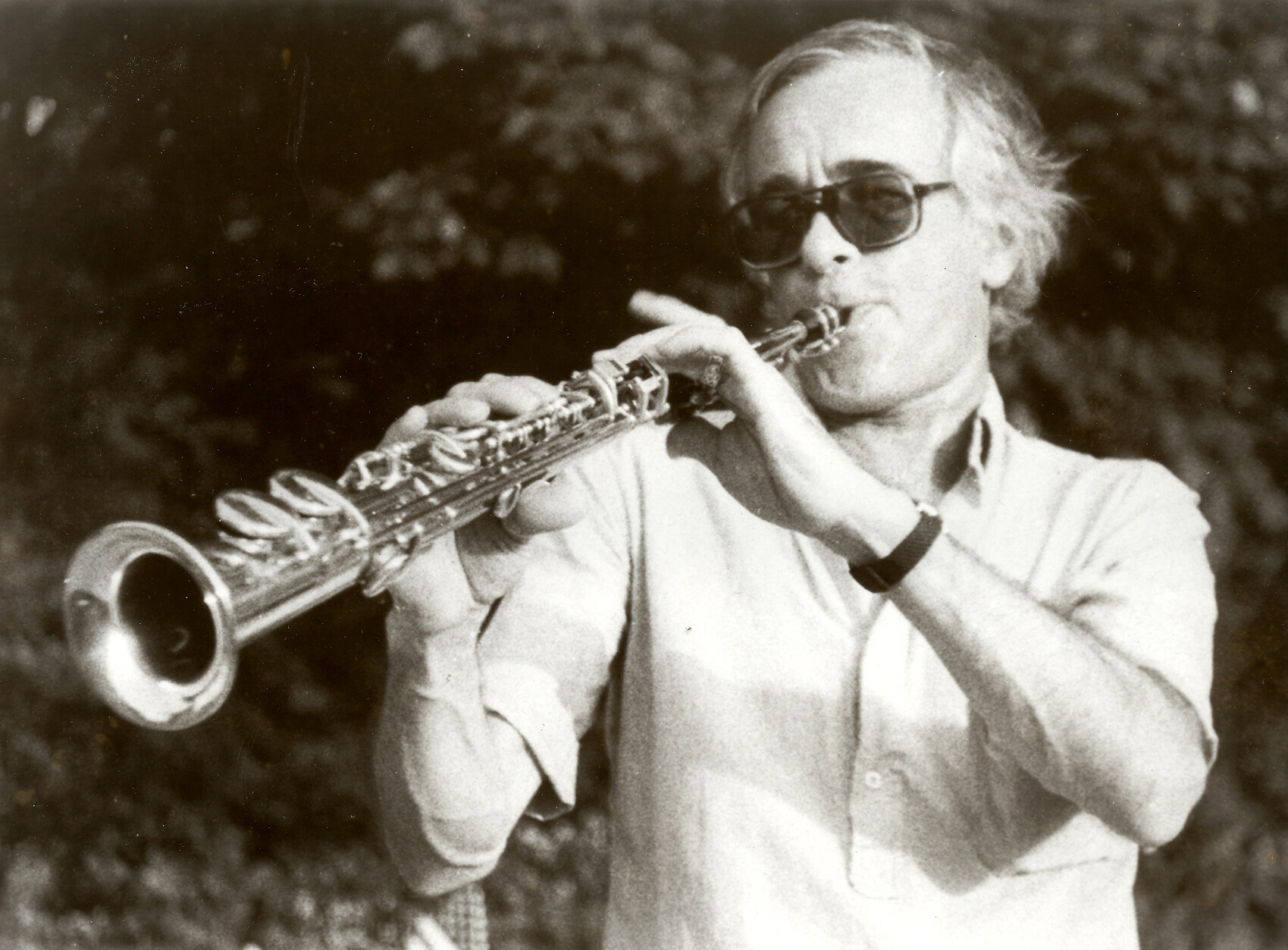 With Doc Cheatham, 1980
Stan worked a few high-profile Classic Jazz venues on boats cruising Boston Bay. Early versions of New Black Eagles performed often on the Jazz Boat, a very popular venue for uninhibited nautical outings. Celebrated trumpet player Doc Cheatham substituted for Tony Pringle on numerous occasions:
"Doc was one of the nicest people I've ever played with. Modest, very warm and friendly. Just a perfect person to play with. You could never quite predict what you thought were going to hear. It would always be a little bit different . . .
His phrasing was much more modern than I would have imagined. Really quite unusual and unpredictable. He often played behind the beat and was full of surprises. But all within . . . a relatively restrained style.
He wouldn't get pyrotechnical or play sixteen triplets in a row. Or screech. Unlike some other players. Restrained is maybe not quite the right word. He was very, very consistent."
Blue Horizon Jazz Band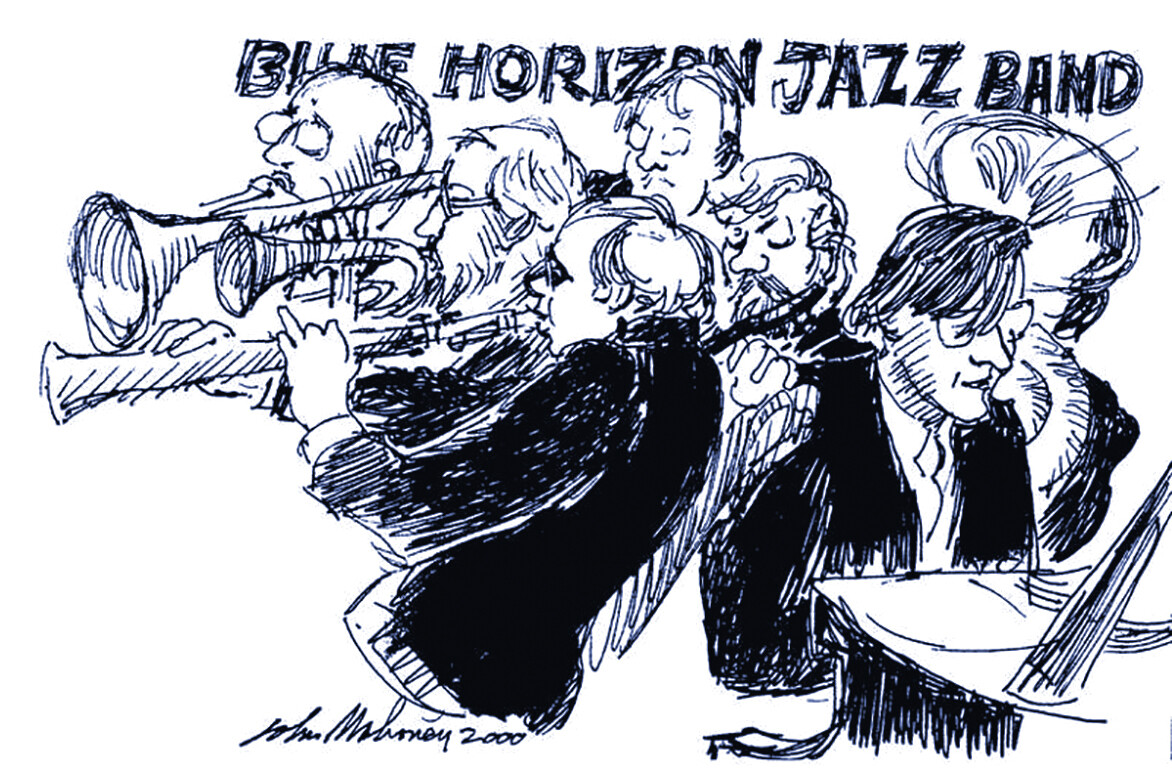 After departing the New Black Eagle Jazz Band in 1981 McDonald formed the Blue Horizon Jazz Band. It was a fine ensemble reflecting by his mature outlook on the music. They made quite a few recordings, appeared at dozens of Jazz festivals and performed at the famed Hatch Memorial Shell on the Charles River in Boston, playing regularly at the Sherborn Inn about a mile from his home.
In a major coup, Stan wooed an old comrade from university days out of retirement, trumpeter Walt Miller: "He played with Buck Clayton in Paris, I think, years and years ago. He had a very deep grounding in the music and the history and the sources. That always enlarged our depth."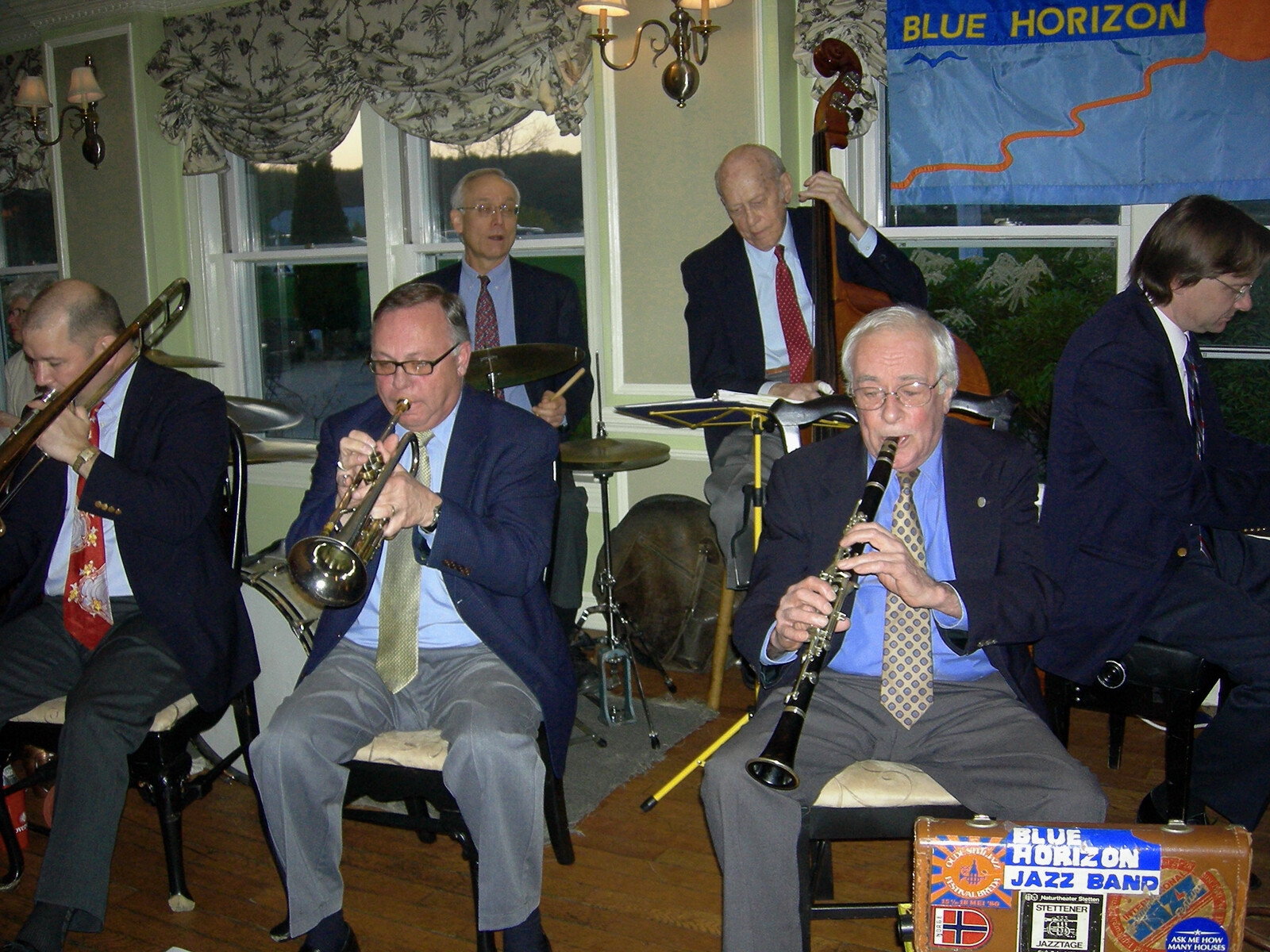 With Sammy Price
McDonald got to work with Jazz piano great Sammy Price, joining him at the pleasant Sandy's Jazz Festival on the Massachusetts North shore. Stan proudly quoted Sammy who said:
"'McDonald is running Sidney Bechet a close second. I want McDonald and this drummer [Jack Pagnotti] at my funeral.' A fantastic showman. He produced and recorded recordings with Sidney Bechet, which were just wonderful. I first met him at the Copley Plaza in Boston where he was holding forth.
He challenged me for sure because he wanted to expand his role beyond just playing supportive background to my solos. So, he would play very challenging stuff. We played a Blues once and he played every key on the piano, changing keys every twelve bars to see if I could hack it. He could drive you; it was sometimes sink or swim with him."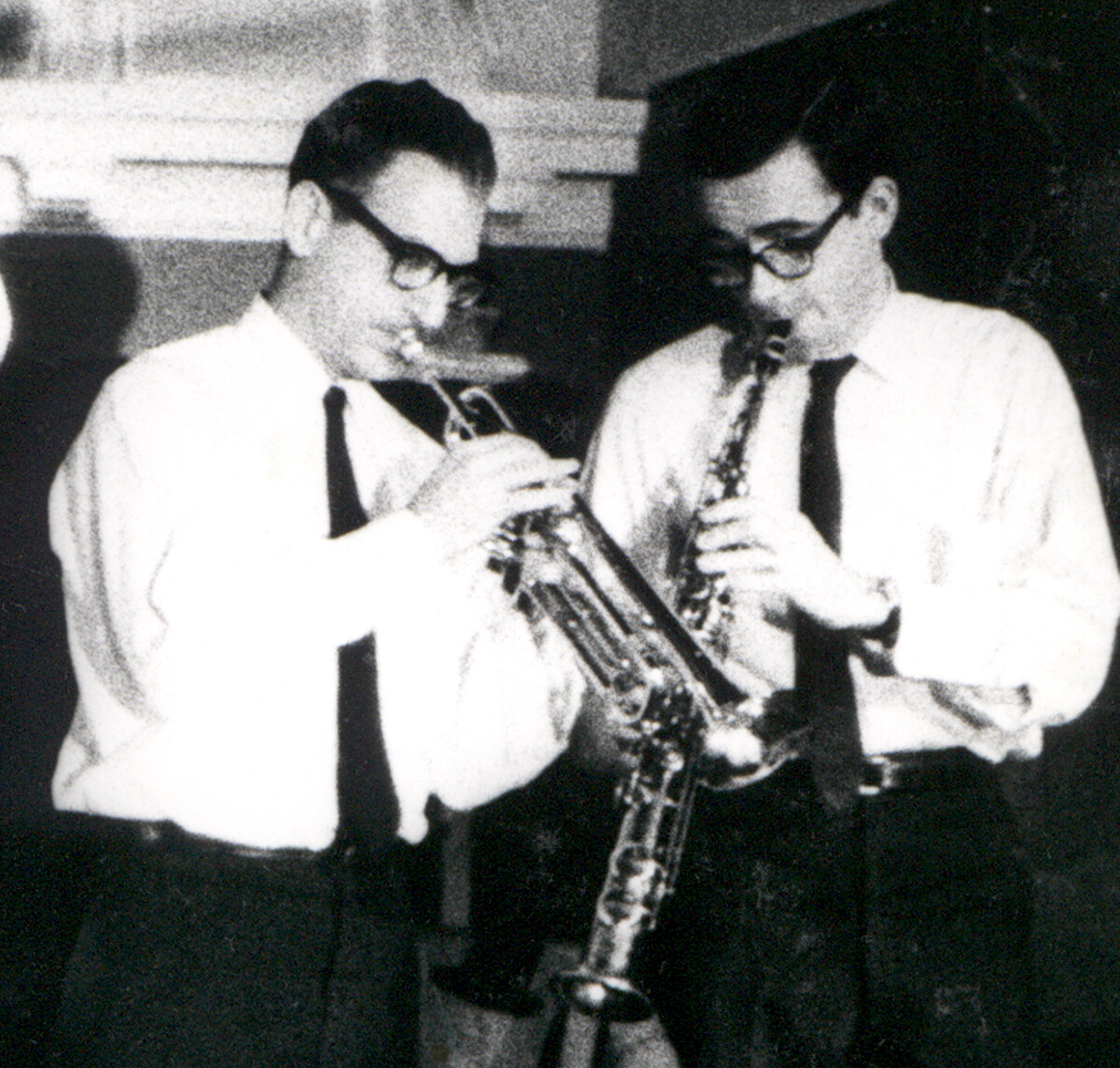 Emulating Bechet
Sidney Bechet's expression of passionate emotions is key to understanding why McDonald was so completely taken by his music:
"There's a brooding element in Bechet that runs deep in me too. So that's where the emotion comes from that you can put into any [song]. Brooding, nostalgic, romantic — the passion Bechet plays with is the hallmark of his playing.
A broad, big, rich tone and vibrato, very innovative phrasing and that he's unique in the way he handles a song. With another horn he knows just the right note to play and where to play it. When I first heard his recordings, I was simply astounded and taken totally. They never cease to amaze and enrich me.
I used to spend hours and hours playing along with his recordings. And I'll say shamelessly, that I copy, to this day, many of his phrases and play them note for note. But I'm also able to use his style on all kinds of material."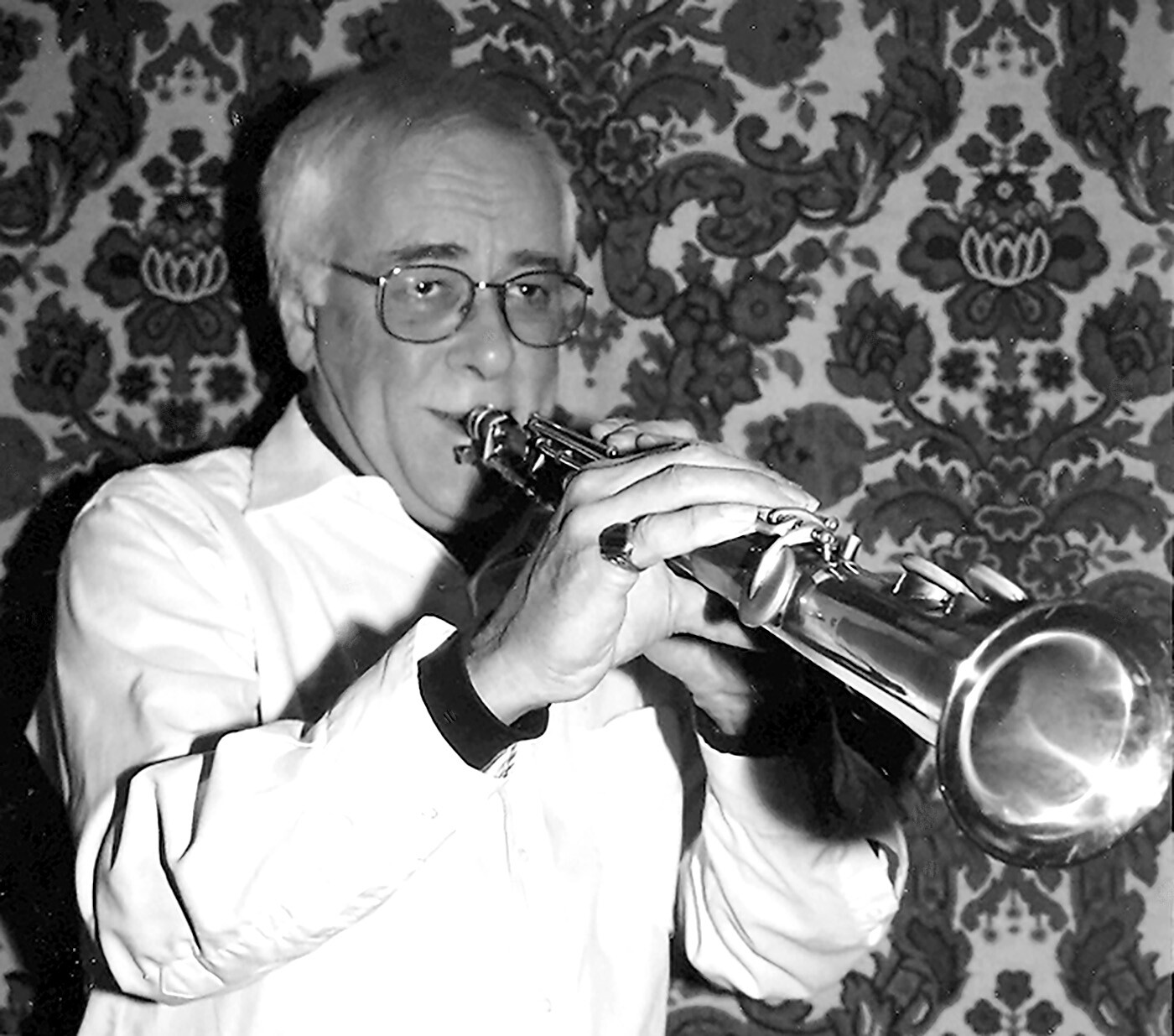 Stride Pianist Ralph Sutton
He became quite friendly with stride piano master Ralph Sutton who played regularly for years at the Sherborn Inn, Stan's local gig, and stayed with the McDonalds:
"He played with his trio and me from 1995 to 2000. He died in 2001. He'd make an annual appearance here and we packed the place. I'm telling you his rhythm was so supportive as a pianist, as much so as anyone I've ever played with, maybe more.
I felt like I was floating on air. It was effortless for me to play on that. As intimidated as I might have been by this master he put me right at ease and I played well over my expectations."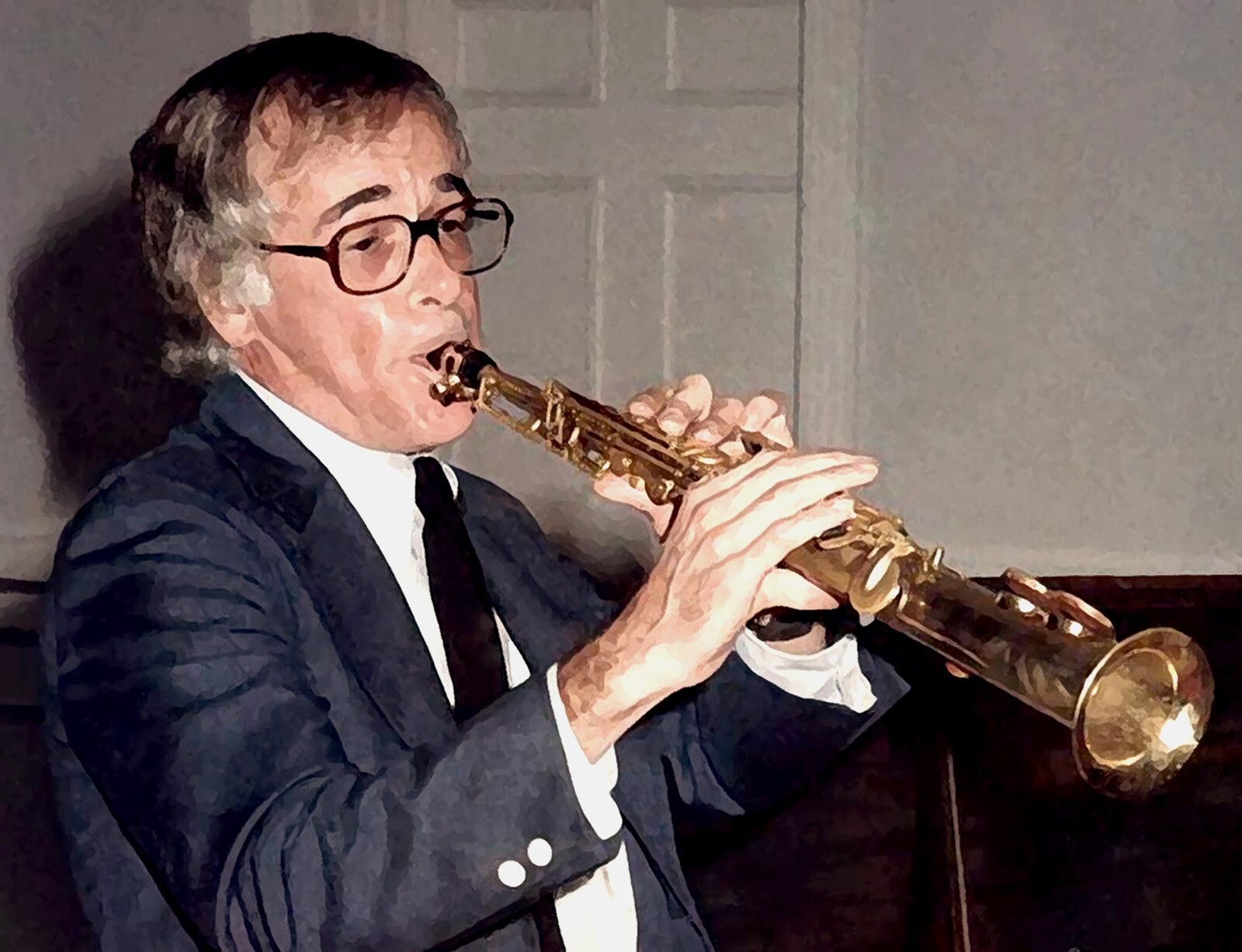 The Passion of Stan McDonald
McDonald was a passionate and emotional person — that much is apparent in his music. He faced vexing complications in his personal and professional lives. His split with the Black Eagles in 1981 was traumatic resulting in litigation: "It was like getting divorced from six people at once."
He had deep concerns for his son Andy, who had developmental challenges. A divorce from Andy's mother and his loss of custody were distressing. Anyone who received Stan's besotted late-night calls like me knowns of his struggles and preoccupations, but also his optimism and generous nature.
Like many artists, McDonald's music transcended his personal shortcomings. He speaks to us directly with an eloquent instrumental voice, in communication with the larger body of jazz history. Engaging us through his heart and horn, Stan McDonald left a rich musical legacy which may be sampled below.
"I get very bored by people who may be wonderful technical players but aren't expressing anything, whether it's joy or sadness or whatever. I want to hear some personal emotion."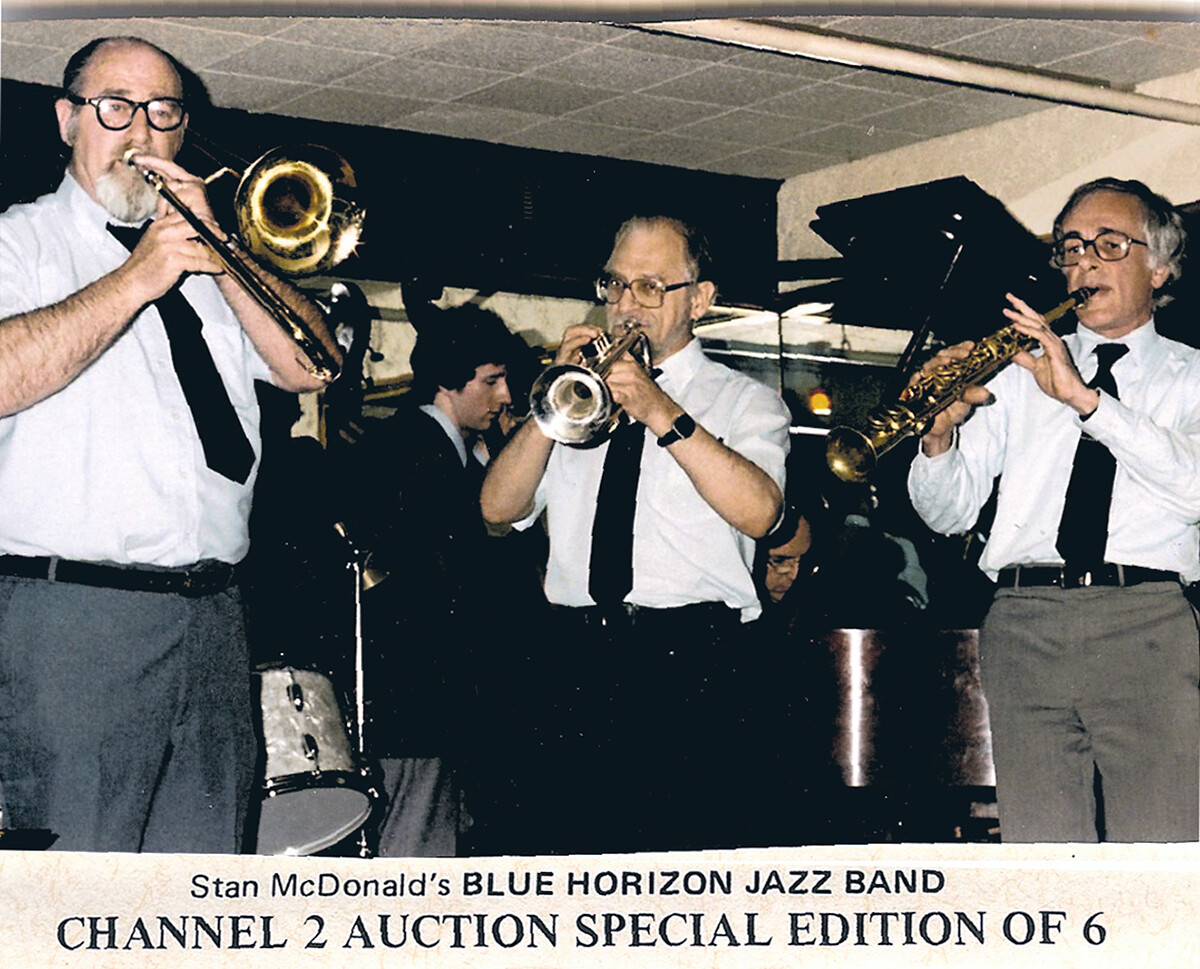 Music by Stan McDonald
Historic Jazz Band, 1958
Gid Loring's house party 1966
New Black Eagle Jazz Band 1979-80
Doc Cheatham and Stan McDonald, Jazz Boat, Boston 1980
Sammy Price, Stan McDonald and Jack Pagnotti, Sandy's Jazz Festival 1984
Stan McDonald's Blue Horizon Jazz Band, Sticky Wicket Pub 1986
Ralph Sutton with Stan McDonald, Sherborn Inn 1995
Find more music or listen to the award-winning profile of Stan McDonald at the Jazz Rhythm website. 
Thanks, and Additional Sources:
Thanks to Stan and his wife Ellen McDonald.
Stan McDonald: Playing it with Passion, George A. Borgman, Mississippi Rag, Feb. 2003
Biographical Material on Stan McDonald compiled by Alan C. Webber abstracted from liner notes for Dawn of the Blue Horizon Jazz Band, 1983