Sedalia syncopated again this year as the 38th Scott Joplin Ragtime Festival attracted aficionados from near and far for four days of revelry in ragtime and related vintage music styles. Festivities opened Wednesday, May 29, and closed Saturday, June 1, having presented seven formal ticketed concerts, seven symposium sessions, a vintage fashion contest, a donors' party, and uncounted hours of free performances at two listening venues about town. In addition, after hours festivities each evening at the State Fair Best Western featuring open piano and whatever other instruments fans might supply fostered unlimited sociability.
By my strictly unofficial count, 30 performers contributed to the melodic fantasia which musical guru Brian Holland organized into magic totality. Headliners included famed New Orleans pianist Tom McDermott; pianist and entertainer Jeff Barnhart, who also performed with his flutist wife Anne as Ivory and Gold; Brit Neville Dickie; boogie exponent Carl Sonny Leland; Frederick Hodges, virtuoso of all styles of music; violinist David Reffkin; and percussionist Danny Coots.
This year's festival continued the somewhat stealthy retrenchment that had begun in 2017 with the elimination of the popular opening day informal gathering in the lounge at State Fair Community College. Of the former six free performance and dance venues about town, only two remained: the capacious open-sided tent known as the John Stark Pavilion in Fifth Street next to the Pettis County Courthouse; and a much smaller shaded seating area nearby known as the gazebo. No dance events were held and no orchestral groups performed. No master class advised pianists how to improve their technique. Even historic Maple Leaf Park, adjoining the railroad and contributing its own bit of nostalgia as passing trains added their bells and whistles to the ambiance, lay abandoned. A rare plus was return of string band ragtime to the performance lineup.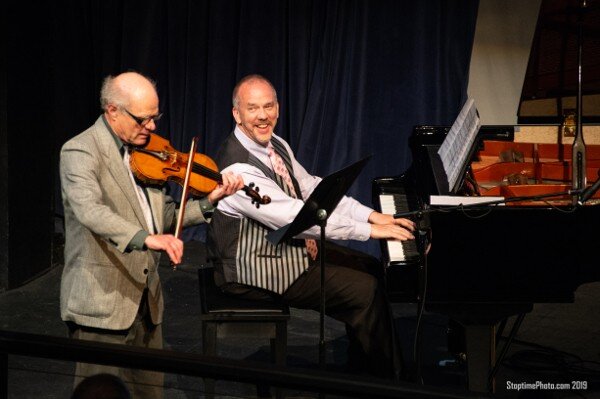 Wednesday
The opening concert Wednesday evening featured pianist Paul Asaro, virtuoso of stride, from Chicago. "Stride" was an outgrowth of ragtime developed in 1921 Harlem as an exhibitionistic style and fostered by pianists James P. Johnson and Luckey Roberts, but featuring more complex bass figurations and improvisation more akin to jazz. Asaro pleased his audience with a selection of pieces by Willie "the Lion" Smith, Eubie Blake, Thomas "Fats" Waller, Jelly Roll Morton, and other stars of the stride school finishing with the Donald Lambert specialty, "Golden Wedding."
Thursday
Hosted by Bill Edwards, the annual symposium series, redubbed the "Ragtime University," began in the morning. Taslimah Bey, teacher in the Detroit public schools and one of the few African-Americans to embrace ragtime, presented "Ragtime Genre and Beyond" profiling the lives of early ragtime composers. Although she had prepared a PowerPoint lecture, she dismissed her material with the comment, "I don't know if you want to read all those words," and frustratingly cleared the screens before the audience could get more than a quick glance.
Alex Hassan related his trials and tribulations in selling Johnny Maddox's vast collection of sheet music estimated at 65,000 pieces over a three-year period on eBay to pay his medical bills before his death in November 2018. Maddox, known for his "Crazy Otto Medley" which hit during the "honky-tonk" ragtime revival of the 1950s, had been accumulating the sheets and cylinders since 1939 and had stored them in his attic in Gallatin, Tennessee. The many rarities brought good prices: several copies of "Stoptime Rag," $750 each; Maple Leaf Rag Song, $3,040; one of the Disney sheets $1,500.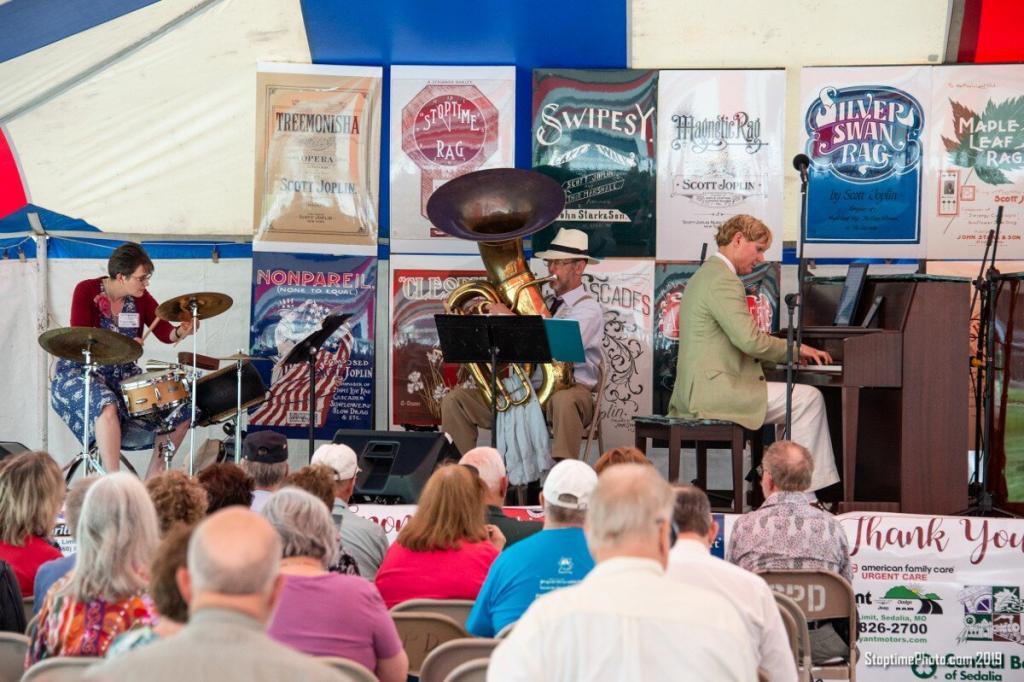 Tom McDermott critiqued the "Terra Verde" movement. In 1994 exposure to Latin American music was spurring development of a new eclectic, ragtime-based music by a core group of composers David Thomas Roberts, Scott Kirby, Frank French, and Hal Isbitz. "Hal Isbitz wrote rags until he heard Ernesto Nazareth," observed McDermott. They had become concerned that the descriptor "ragtime" was limiting their audience, and chose "Terra Verde" as the replacement. McDermott ranked Isbitz's "Chandelier Rag" (often cited as an exemplar of "Terra Verde") with "Graceful Ghost," "Roberto Clemente," and "Belle of Louisville," among the best of contemporary ragtime but admitted to bewilderment why the descriptor "new ragtime" was inadequate.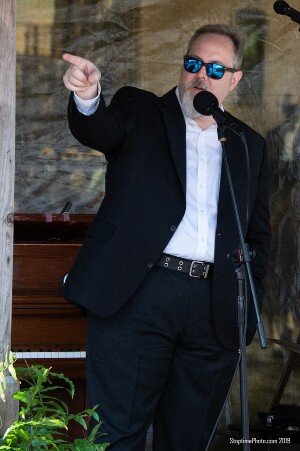 The popular "Ragtime Revelations" concert in the afternoon brought a good turnout but not a full house. Classically trained pianist Bill McNally hosted. Although this concert has traditionally featured contemporary ragtime, its theme has been inconsistent over the years. This year it was primarily but not exclusively devoted to contemporary material. Substyles ranged widely. At one extreme was McNally's offering of Carter Pann's "The Cheese Grater" from 1996 which, although tonal, was largely non-melodic. At the other extreme were Oliver Moore playing Vincent Johnson's compelling "Milk and Honey" invoking Klezmer harmonies, and John Reed-Torres, whose own composition "Blue State Rag" in traditional nostalgic ragtime style was an audience pleaser. Following the concert, the annual party for donors and sponsors was held in a downtown building.
The Thursday evening concert was devoted to the work of the late pianist Trebor Jay Tichenor, native of St. Louis who had devoted his life to spreading the word about ragtime, and was hosted by his daughter Virginia. The first half constituted selections from his folios of reissued material from the ragtime era published by Dover, "Ragtime Rarities" (1975) and "Ragtime Rediscoveries" (1979). His efforts have resulted in saving many worthy rags from obscurity. Performers and some of their selections included Bill Edwards, "Coal Smoak"; Bryan Wright, "Impecunious Davis"; Oliver Moore and Frederick Hodges, "Lion Tamer Rag"; Dr. Dave Majchrzak, "The Cannon Ball." The second half featured many Tichenor originals played by Virginia and her husband Marty Eggers: "Show-Me Rag" (1966), "Deep in the Ozarks" (1993) "Bucksnort Stomp" (1964). The concert closed on a sentimental note with Grace Bolan's "Smoky Topaz" (1901) and a favorite of Trebor's, "Coon Hollow Capers" (1899).
Friday
The symposia continued with Carl Sonny Leland's presentation, "Boogie at the Roots." He showed how boogie had evolved from blues in incremental steps, "little bursts." In 1923 Jimmie Blythe was first to carry the boogie walking bass throughout a recording. In 1928 the word first appeared on a record label: "Pine Top's Boogie Woogie."
Bill Edwards addressed the ragtime revival, an involved subject which I can only oversimplify in summary. After languishing in obscurity through the 1930s, ragtime's first stage revival began in the early 1940s. Band leader Lu Watters of the Yerba Buena Jazz Band set out to enhance the music of the ODJB, Armstrong, and Oliver in new arrangements and freed his pianist Wally Rose to record ragtime solos. World War II intervened. Although swing had predominated in 1940 and '41, as Edwards explained it when the service men and women returned from the war ready to celebrate, swing had become passé and no musical center predominated thus leaving an open niche filled by ragtime.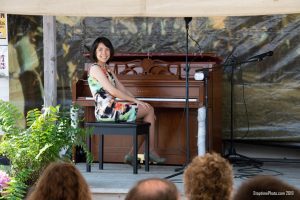 Edwards showed that the revival continued in a series of fits and starts over the years. The second stage of the revival began in 1970 when Vera Brodsky Lawrence, Library of Congress, published the extraordinary volume of almost all of Joplin's music and climaxed in 1974 when George Roy Hill, directing a film entitled "The Sting," heard a nephew of his playing Joplin on the piano, liked what he heard, and called Gunther Schuller. Schuller was preoccupied, so Marvin Hamlisch got the job of performing Joplin's music in the film. Edwards concluded with a plea for suggestions how to perpetuate ragtime. Although its popularity on YouTube is encouraging, that espousal is not devolving to the festivals.
Photographic glass lantern slides incorporating lyrics and artwork were an essential complement to the motion picture experience from 1894-1915. Thirty thousand were found stored in a St. Louis basement in 1960. Sean Sharp showed a selection and described their restoration and preservation.
Jeff Barnhart hosted the Friday afternoon concert spotlighting stride, an outgrowth of ragtime that had blossomed in 1921 Harlem. Fostered by pianists James P. Johnson (JPJ) and Luckey Roberts, stride was based on ragtime but featured more complex bass figurations and improvisation more akin to jazz. Some highlights were Paul Asaro, "Goin' About" (Waller); Neville Dickie, "You've Got to Be Modernistic" (JPJ); Tom McDermott, "Alligator Crawl" (Waller); Oliver Moore and Jeff Barnhart, "Limehouse Blues" (Braham); Dalton Ridenhour with Danny Coots, "Keep Off the Grass" (JPJ); Stephanie Trick, "Steeplechase Rag" ("Over the Bars") and "Carolina Shout" (both JPJ).
Friday evening's concert returned the festival to classic ragtime—"by luminaries not named Joplin." Featured composers included James Scott, Joe Lamb, May Aufderheide, George Cobb, Arthur Marshall, Charles Hunter, and Eubie Blake. Most rags were performed as written with minor embellishments and occasional improvisation. Bill McNally's "Efficiency Rag" seemed to strike a balance with tradition. John Reed-Torres enhanced Marshall's "Ham and!" and "Kinklets" with prudent smears. Dave Majchrzak contributed a sensitive "Alaskan Rag" by Lamb and accompanied violinist David Reffkin for Hunter's "A Tennessee Tantilizer." The fiddle and guitar duet Rhythmia offered a sprightly "Champagne Rag" by Lamb.
Saturday
In the morning Jeff Barnhart related "Tales from the Road" that he and his flutist wife Anne had experienced in their many years appearing at jazz and ragtime festivals. Hotels and airlines were the target of much of his material as were his experiences as a kid trying gradually to break in as a professional pianist.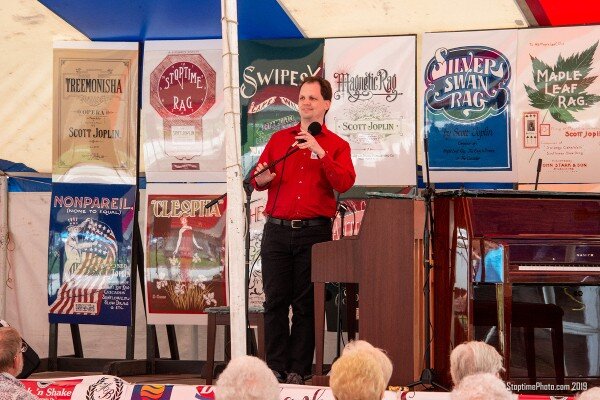 At 10:00 a.m. a 90-minute documentary film was screened featuring ragtime and trad jazz piano and pianists, All the Keys and Then Some: A Piano Story, produced by Tom McDermott. Memorable scenes included Trebor Tichenor's massive collection of piano rolls stored in his basement, Scott Kirby in 1988 during his 11-year sojourn in New Orleans playing his portable piano on the streets, an interview with David Thomas Roberts explaining the influence of Charles Ives on his music and decrying all the bad pianos that he has had to play, and the ragtime festivals held annually for many years on the Goldenrod Showboat docked at St. Louis before its demolition.
As is customary, the 2:00 p.m. concert featured the compositions of Scott Joplin. Frederick Hodges hosted. Most renditions followed the original scores often with a few prudent embellishments, but several were heavily arranged and even jazzed. Tom McDermott converted "Swipesy Cakewalk" into a chorro. David Reffkin arranged an "extra weeping" take on Weeping Willow in a minor key, "with apologies to Scott Joplin." Bryan Wright offered a slow and gentle "Searchlight Rag" and a more spirited "Sugar Cane." Jeff and Anne Barnhart as Ivory and Gold offered "A Real Slow Drag" (from Treemonisha) and "Pine Apple Rag." Frederick Hodges closed with a marvelous, spirited, take on "Antoinette," one of Joplin's 6/8 marches that lesser pianists have called "unplayable."
Brian Holland hosted the festival climax, the popular Saturday evening "Ragtime Music Hall" presenting a notably wide spectrum of examples of ragtime and derived musical styles. Holland introduced the new artistic director, Bryan Wright, whose successful promotion of ragtime and early jazz on his Rivermont record label is unique today. During the concert the Joplin award for lifetime achievement in the field of ragtime was presented to long-time devotee Peter Lundberg from Sweden, composer of "Gothenburg Rag." As an early researcher seeking the roots of American ragtime and traditional jazz, Peter had toured the United States in 1963 with his mother visiting performers and fans.
Ragging the classics seemed to be the fashion as Neville Dickie offered "Anitra's Dance," adapted from Grieg by Donald Lambert, followed with "Carmen's Boogie" after Bizet. Tom McDermott followed suit with Chopin's E Flat Minor Waltz but finished with John Philip Sousa's "Stars and Stripes Forever." A trio of Holland, Coots, and Leyland joined for "Honky-Tonk Train Blues." Jeff Barnhart resurrected Bert Williams' 1910 hit, "I'll Lend You Everything I've Got except My Wife." Dalton Ridenhour performed my latest composition "A Breezy Day" in vintage rag style. Oliver Moore contributed the Percy Grainger showpiece "Cakewalk Smasher" (1909) which one music writer described as "a concert rag of huge dimensions which ranges in character from gentle impressionism to wild abandon" including "a cataclysm of virtuosic tricks including glissandi of every known type." The Crown Syncopators—Frederick Hodges, piano; Marty Eggers, tuba; and Virginia Tichenor, drums—returned to sprightly ragtime from the era to conclude a superb concert and festival with Muriel Pollock's "Rooster Rag," Adaline Shepherd's "Pickles and Peppers," and an encore, Irene Giblin's "Chicken Chowder."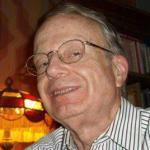 Fred Hoeptner is a Ragtime historian and composer of new ragtime pieces frequently performed today. He was a founder of the John Edwards Memorial Foundation which was a non-profit of the University of California at Los Angeles to promote the study and dissemination of knowledge about American folk music of the 1920s-1940s. It is part of the University of North Carolina at Chapel Hill's Southern Folklife Collection today and contains several important taped interviews Fred conducted in the 1950s.