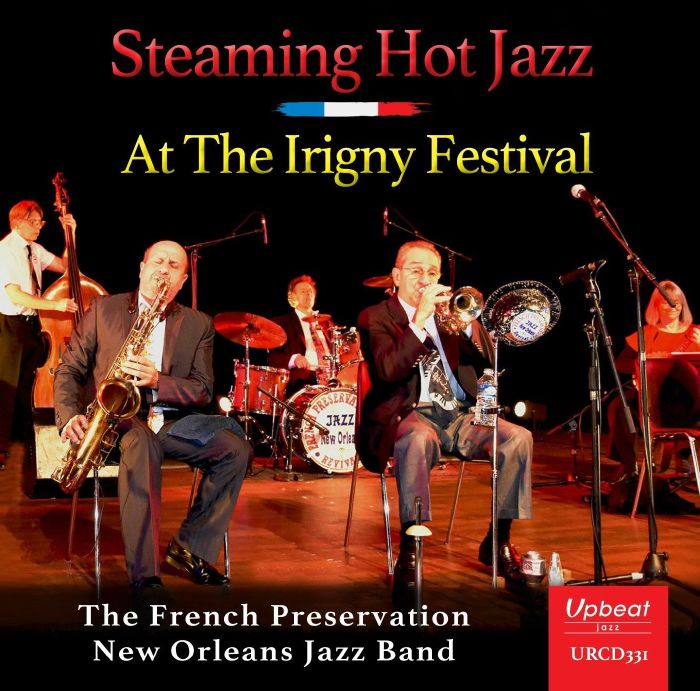 The French Preservation New Orleans Jazz Band has issued numerous recordings—in his liner notes JP Alessi speaks of this latest one being the 36th—and like those that came before and as the band's name* suggests, this one again treats us to New Orleans style jazz, the emphasis being on collective improvisation rather than solos. This was not the band's first appearance at Irigny and not the first recording made there. (See French Preservation New Orleans Jazz Band • Alive and Kicking in Europe • Upbeat URCD299D, for example. There is also a recording of different tunes from this 2016 Festival, but apparently, despite the numbering, on mp3 file only: FPCD26 French Preservation New Orleans 2016 Live at Irigny.)
Joining Alessi in the front line are two musicians with whom he has collaborated previously and who can be heard on other recordings. On cornet is Fred Vigorito from Connecticut, USA. He has travelled extensively in the US and abroad and leads his own band, The Galvanized Jazz Band. Vigorito has also had a number of previous outings with the French Preservation New Orleans Jazz Band. The other is Soren Sorensen on sax. He has also appeared with the band previously. Thus there are two saxes—which will probably make those who deplore the sax in traditional jazz gasp—one taking the place of a trombone, and quite adequately, I might add.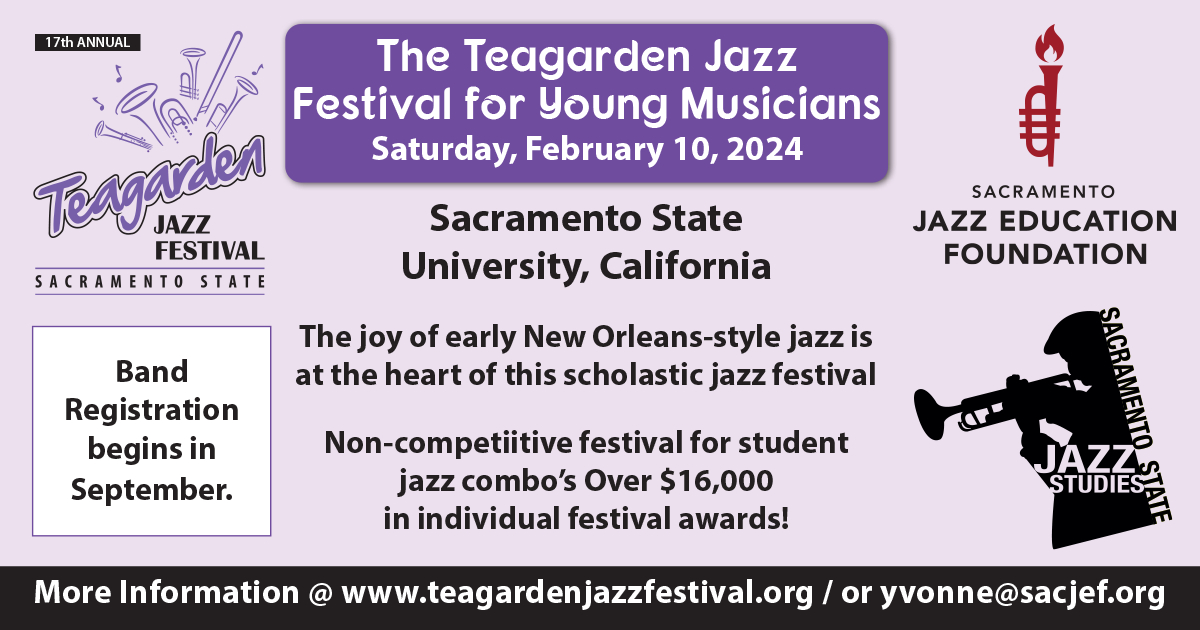 On piano is Cyrille O, who dispenses with a last name (elsewhere only his first name is given, the O not appearing), and completing the rhythm section are Myriam Lemaire on banjo, Christian Devaux on string bass, and Eric Di Tursi drums. Sadly Di Tursi died a couple of days after this concert during which he had had a birthday. The band had saluted him by playing and singing "Happy Birthday," and in tribute, it was decided to include it on this CD. The band does not try to "jazz it up," as I have heard so many other bands do, but stays in the slow tempo through both choruses.
While not too many bands that appear at Preservation Hall in New Orleans have quite the line-up of this band, in other respects there are similarities. The band, like those at the Hall, features polyphony, rather than strings of solos. Some tracks may, however, have one or two solos embedded. Vigorito plays a commanding lead, marshaling the troops, often with bursts of Kid Thomas-inspired flares and mute work. Endings, often a problem with some bands, are not with this one as under Vigorito's guidance they are clean, especially the ritards. Carrick, in the notes, says of him: "Vigorito must be the best cornet player alive today," an assessment with which I would concur if the word were "may" rather than "must." And the spirit of the band's playing is certainly that found in Preservation Hall in New Orleans.
The tune list comprises mainly standards, other perhaps than the first track, "Captain Manny's Boogie Woogie"—which is more often listed elsewhere as "Kid Thomas Boogie Woogie," a tune to which I have never been particularly partial—and "Ting a Ling." Nevertheless, none comes across as a tired, cliché-ridden retread. One of the joys for me of collective improvisation is in listening to how each of the instruments plays against, around, in harmony with, etc., the others, often resulting in what might almost be a new tune altogether. This phenomenon is detectable on just about every cut.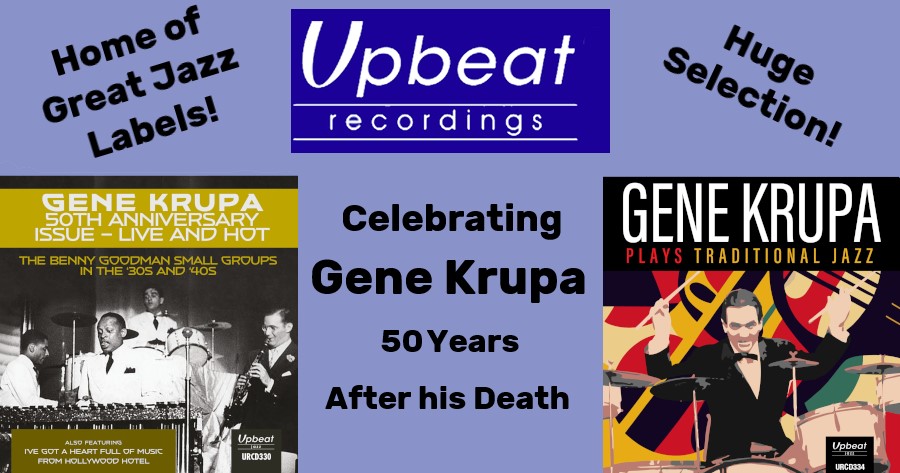 A tune can also be enlivened and made unique by its "arrangement," as "Tiger Rag" here exemplifies. It is taken by the ensemble throughout except for the breaks. Then about ⅔ of the way through there is a drum solo, followed by the familiar strain where the tiger "roars." One might ask, "How can the tiger roar when there is no tuba or trombone to accomplish such?" The answer to that question is that all instruments participate in the "roaring," even the cornet—and in the upper register no less—and by all musicians' voices in chorus. The coda ends with two tags: a 4-bar drum tag, followed by a 4-bar call (sax)-response (ens) tag, repeated. So this is not the "Tiger Rag" we are accustomed to hearing.
The saxes are featured on "The Old Rugged Cross," the first half of the track being a duet between them, the two tenors trading the melody and counter melody back and forth. The two saxes also lead the ensemble throughout "Amazing Grace," only the piano being given a solo here. In passing I should mention that the piano solos are a little under-recorded, causing one to strain a bit to hear them.
The drums are given solos on two tunes: "Tiger Rag" and "Chinatown My Chinatown," that on the latter being a true solo insofar as no one accompanies Di Tursi. So frequently the rest of a group will play a stop time behind a drum solo, but it has always been my contention that doing so is for their benefit rather than the drummer's, saving them the trouble of counting measures and/or being embarrassed by coming in too soon or too late! (I grant that some drummers do, indeed, lose the count and need the restraint.)
There are a couple of somewhat minor issues. The sound could have been a bit better—the liner notes credit JP Alessi with the recording, but no mention is made of the equipment he used. Some more separation of instruments might have helped. The vocals are not clearly intelligible, and see my comment earlier about the piano solos, but these impairments are not grievous. The audience gave the band a vote of confidence judging by their rousing response to each track.
While there might have been one or two more tracks as there was room for such, possibly the ones included were all that were deemed of sufficient quality. What is presented shows that all in all this set was quite a romp by the band, and the disc makes a worthwhile addition to their discography. Along with other Upbeat CDs, this one can be had from the Upbeat Recordings' web site www.upbeatmailorder.co.uk and from other web sites such as Amazon.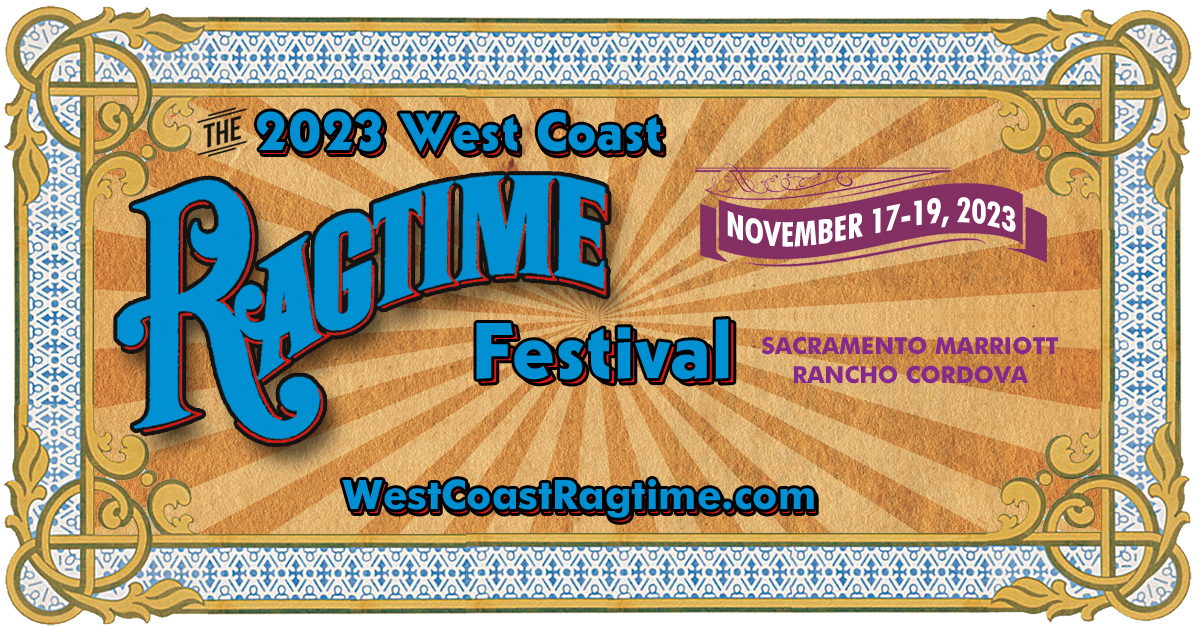 *Interestingly, both Alessi and Brian Carrick, in the liner notes, refer to the band as "The French Preservation Hall New Orleans Jazz Band." In some respects the band does sound like those that appear at Preservation Hall, so the "slip" may be intended and not unfounded.
Steaming Hot Jazz at the Irigny Festival
French Preservation New Orleans Band
Upbeat URCD331
www.upbeatmailorder.co.uk
Personnel: JP Alessi, leader, tenor sax†, alto sax*; Fred Vigorito, cornet, vocal°; Soren Sorensen, tenor sax, vocal‡; Myriam Lemaire, banjo; Cyrille O, piano; Christian Devaux, string bass; Eric Di Tursi, drums.
Recorded live at the Irigny Festival, France, in 2016.