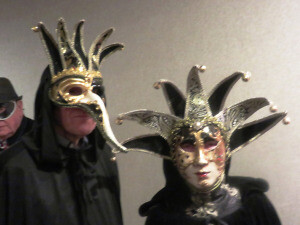 On the second weekend in February the Doubletree Hotel in downtown Fresno was filled with the "Sounds of Mardi Gras." All four venues are located under one roof at the lovely hotel and convention center. The buzz in the halls and on the surveys was, "This was the best festival ever!"
The new free (with 3-day badge) Thursday night kick-off dance filled the double dance floors until 11 pm. There were three traditional jazz bands (Bob Schultz Frisco Jazz, Grand Dominion, and Climax Jazz Band). The hotel was packed and the food in the restaurant was better than ever. The energy level was high, the dance floors were full but not overly crowded, and there were smiles everywhere.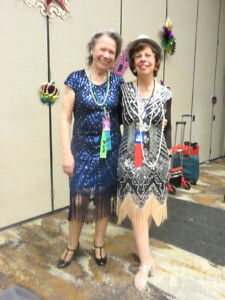 The unofficial theme of the weekend was "Musical Chairs," with performers popping up in unexpected places. On Thursday night David Kosmyna from Climax Jazz Band filled in for Grand Dominion's cornet player, Clint Baker. Climax from Toronto is always a festival favorite with fun and laughter, and we got to enjoy three sets from David Kosmyna that night. The band worked out their arrangements on stage between Chris Daniels' stories. Chris even introduced us to the over-100-year-old bass he has had since he was 17. It was a great way to start off the festival.
Sister Swing and the Pub Crawlers canceled due to an injury. Continuing with the musical chairs theme, bonus dance lessons were given in some of the open sets by Peter Netzley, a certified Ballroom, Latin, and Swing Instructor.
More musical chairs: pianist Jason Wanner and bassist Sam Rocha were missing from the Blue Street Jazz Band lineup. On Friday afternoon they were also missing Forrest Helmick, who was out teaching elementary band students while honorary Blue Streeter David Aus was on piano and Kevin Hill did a fantastic job on bass and tuba. Friday night, Brian Casserly joined Forrest and Tom Richards of Climax covering on sousaphone.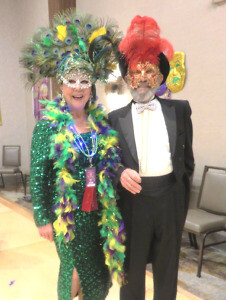 At one of Blue Street's sets, Sherry Colby's young daughter was asked to dance by one of the band's sponsors and she wowed the crowd. Another young man, Malcolm, decided he wanted to do a parasol parade, so he and Sherry's daughter grabbed umbrellas and started their own parasol parade. They were promptly joined by many enthusiastic grandmothers from the audience.
Jeff Gurule's 15-year-old daughter, Elva, joined Yosemite Jazz Band for her YJB premier. The highlight of their sets this year had to be the inclusion of Elva on trumpet. She has played for a year and a half. Last year Elva sat in with the Jazz Sea Jammers, but this year proved that she has talent and her dad's love of traditional music. Jeff was a proud dad, as were her other six honorary dads in the band!
Bay City Swing—no, not THAT Bay City—from Coos Bay, Oregon, is a band that we are sure to be hearing from for years. Ladies and gentlemen, this is why we put these festivals on, to spread the love of trad jazz and swing to the younger generations. In their first appearance at the "Sounds of Mardi Gras" they showed that young musicians can hold their own here, with a nice command of the standards of swing and some new twists on old favorites. They impressed us with their smooth vocals and original arrangements by the band members. The band, who all went to a jazz camp, donated $100 of their earnings back into the scholarship fund for the next batch of young musicians.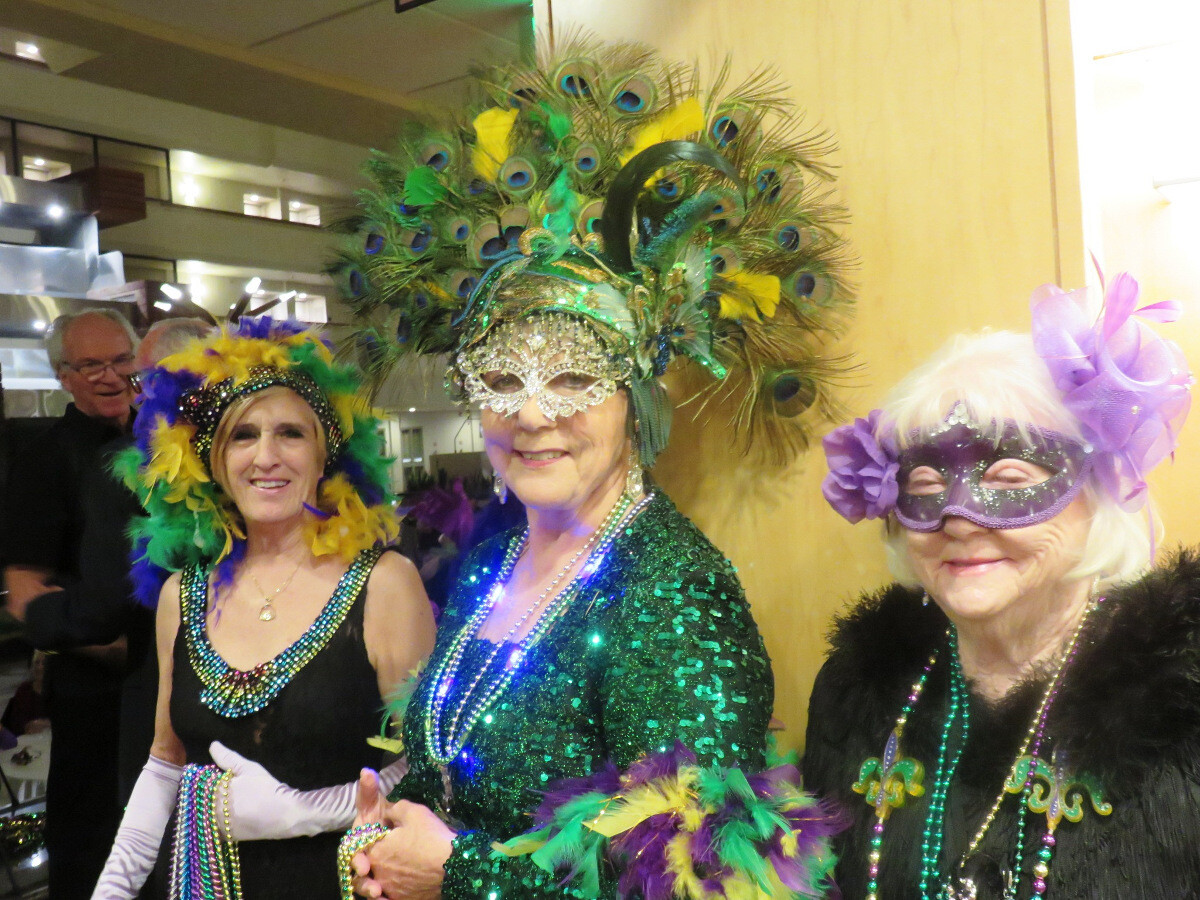 Another newcomer to the festival this year, Black Market Trust, is a string-based band in the vein of Django's gypsy jazz. Many new fans were gained as people caught multiple sets of this band throughout the weekend. Mixing songs like "Paper Moon" and "All of Me" all the way to violinist Nick Coventry's burning rendition of "Czardas" with talent and humor, these five gentlemen put on a grand show. They have fun together and that translates to the crowd. We loved them!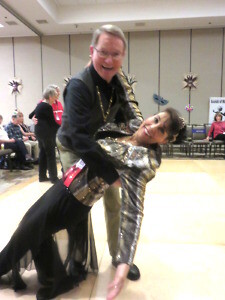 We always anticipate the three different parades that wander through the venues on Friday and Saturday. A record number of people participated in parades this year, with the Parasol Parade being the biggest. The theme was "Gangsters and Dolls," featuring flappers with cigarette holders and men dressed in dark striped suits with fedoras. The only things missing were the violin cases. The Costume Parade on Saturday evening featured a "Frozen" family group, as well as seven people from the Redwood Jazz Festival dressed as nurses and doctors to honor the festival President, Linda Shipp, RN, and her husband, ER doctor Alfredo Montelongo.
What would Mardi Gras be without a King and Queen, complete with a coronation ceremony? Last year's King and Queen, John and Betty Reenalda, crowned John and I to represent the Festival for the upcoming year. John Crawford was the Master of Ceremonies. Stephanie D'Angio is the permanent "Queen of Dixieland" because of her talented local presence on TV and YouTube.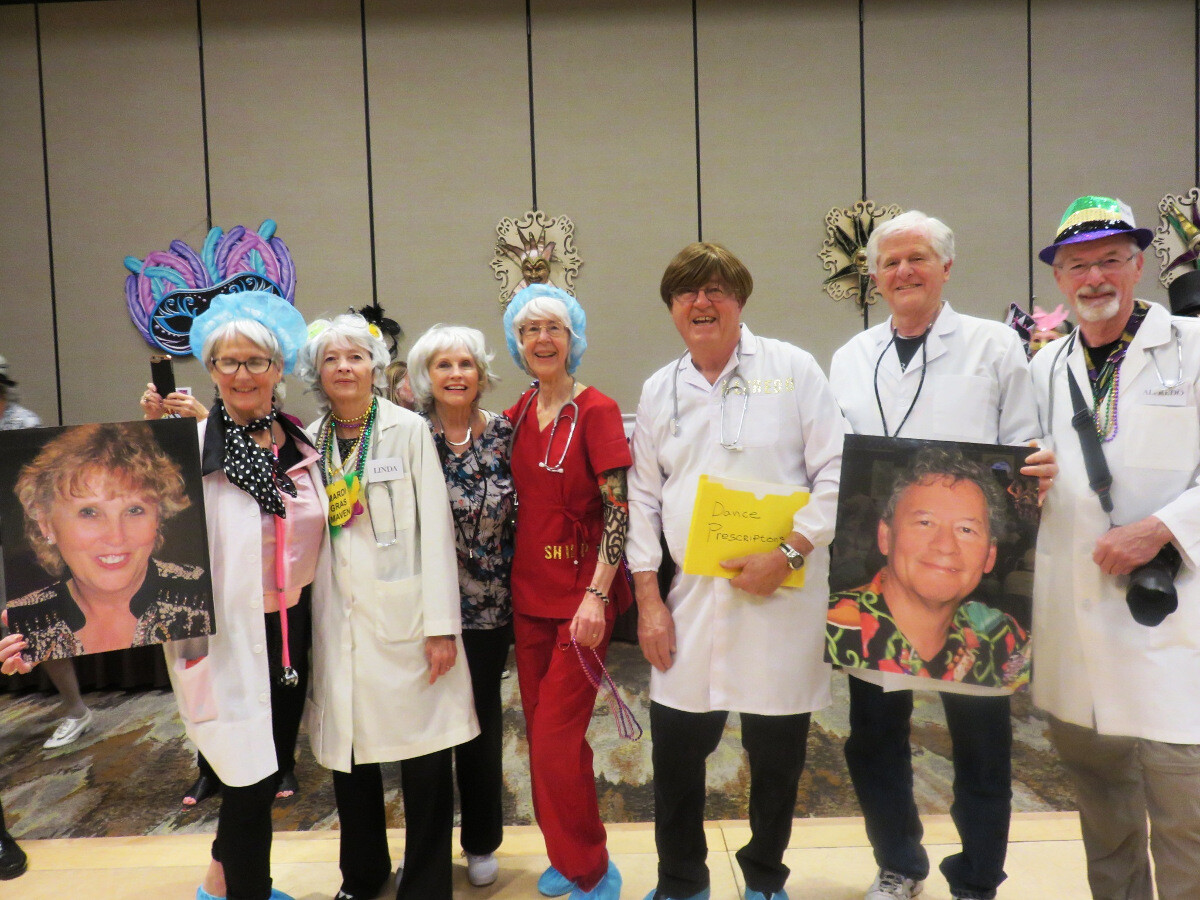 What made this festival the best yet? Was it the enthusiastic attendees that fed off the high-energy bands? Was it the "Boogie-Woogie Bugle Boy" flash mob dance or the coronation that was attended by many first-timers from Fresno and the Central Coast? Was it all the people who dressed up for the parades and the World War II-themed Saturday night dance? What about the wonderful Mardi Gras decorations that made you smile every place you looked? Whatever it was, you can bet that Linda Shipp and the board will put on their thinking caps and make next year even better!