The eleventh annual Central Pennsylvania Ragtime & American Music Festival took place on September 20-22 in Orbisonia and Mount Union. There was a slight change of venue this year—all of Sunday's events took place at St. Luke's Lutheran Church in Mt. Union. In past years, only the Sunday musical worship service occurred there; all the others were at the Orbisonia Presbyterian Church and the Rockhill Trolley Museum.
The roster of performers varied a little from past years. In addition to the regulars—pianists Brian Holland, Richard Dowling, Frederick Hodges, Adam Swanson, and Bryan Wright, and drummer Danny Coots—two more pianists were added: Daniel Souvigny and Ed Clute. Daniel had been here before. He is now studying music at Northern Illinois University, having found the Berklee School in Boston not to his liking. Ed made his first appearance, and hopefully not his last. Longtime readers of this paper may remember the feature on Ed in the February 2016 issue. Blind since birth, Ed recently recorded his second CD on the Rivermont label. I must also mention Yuko Wright, who occasionally sings to accompany husband Bryan. During Sunday's concert Yuko sang with their 12-week-old daughter Kiyomi in harness, who slept through the entire performance of "What, No Spinach?," spoofed to "What, No Sushi?"
I have attended this festival every year since the date was changed from June to September, and to my ears, and those of several other regulars I spoke with, this edition was the best. What made it better, given that the format and cast were largely unchanged? I thought it was the freshness of the way the music was presented. Additionally, all the performers were at the top of their game. Daniel, the youngest at just shy of 19, claimed to be nervous the first night. If he was, he soon got over it, being among old friends on and off the stage.
The festival opened Friday evening at the Presbyterian church, with that concert's theme being "The Legacy of Scott Joplin." Not all the rags played were Joplin's; Adam started the show with Tom Turpin's "St. Louis Rag." And not all tunes were rags. Some Gershwin numbers were thrown in, particularly by Frederick, who with Richard has recently released a Rivermont CD Cocktails for Two. Ed played two obscure tunes—"String Beans" and "Tell Me More," the latter a Gershwin piece I had never heard.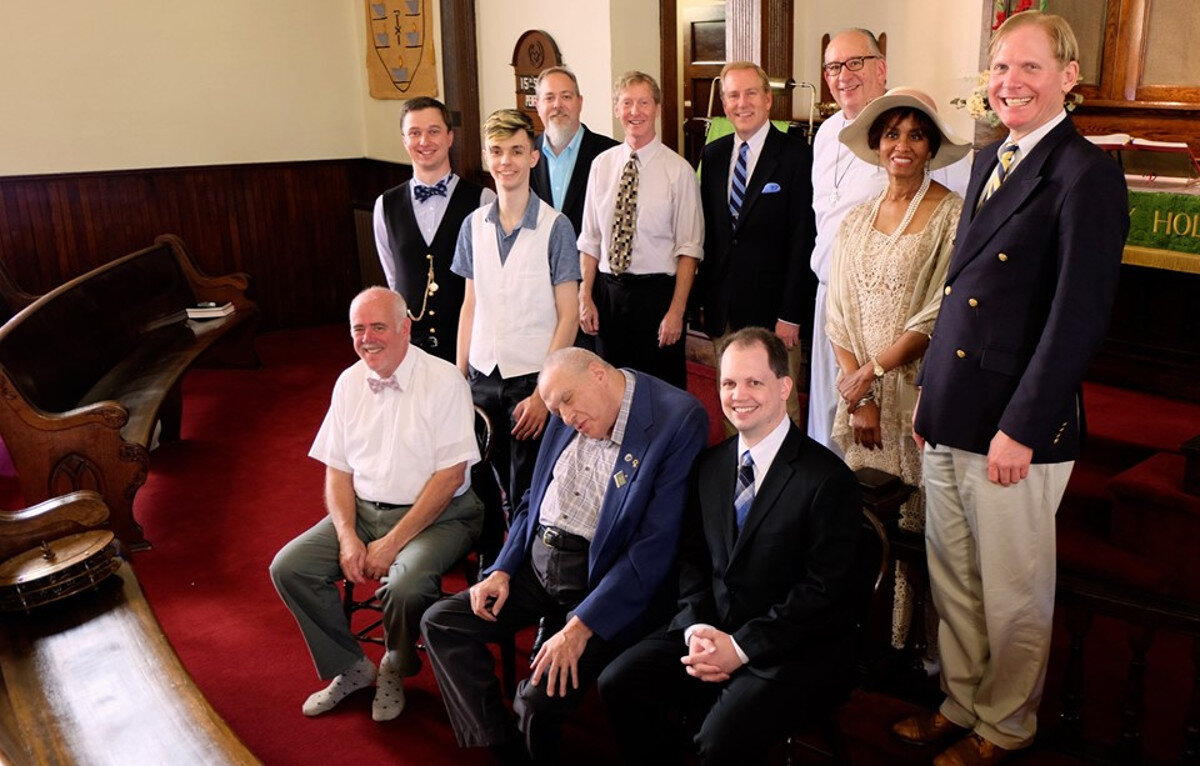 Although Ed was as much a part of every concert as the other musicians, his lack of sight made his sets so memorable. Once he got seated at the bench, he would quietly play one note to orient himself to where his hands were on the keyboard. What followed were flawless renditions. Sightless people compensate for lack of vision with their other senses. Ed, like other blind people I have known, also has an astounding memory, not only for his large repertoire but for incidents that happened many years ago. At the Friday concert, he told of Paul Whiteman staying at his parents' house in the 1960s and of accompanying composer-singer Irving Caesar in the '70s at a theater in Ithaca. He said Irving was astounded that Ed knew the tune on the flip side of the famous "Crazy Rhythm" that Roger Wolfe Kahn's band recorded in 1928–"Imagination."
Saturday morning always features a lecture. This time it was Frederick presenting a narrated video show on the early years of Fred Astaire, from childhood performances starting in 1905 until the early '30s. This included his time in vaudeville with his older sister Adele. Frederick pointed out that many of Fred's later musicals with Ginger Rogers and others were set in the ragtime era. One can always count on Frederick to give a thoroughly researched talk, often accompanied by his playing, as this one was.
The weekend's remaining concerts—Saturday afternoon and evening and Sunday afternoon—followed the same format as Friday evening's. Each ran about two hours with a 15-minute intermission, except for Sunday's, which was one 90-minute set. Each musician played one or two tunes in each set, sometimes with Danny on drums, occasionally with a second pianist. Here are some of the tunes and performers I deemed most noteworthy:
"Fifth Avenue Breakdown" by Brian and Danny (a tune composed by Brian)
"Hymn to Freedom" by Daniel (played twice)
Chopin's Nocturne by Richard, first played "straight," then "ragged"
"Moonlight," a rousing version by Bryan and Ed
"Here Comes My Ball and Chain" by Adam and Danny, a tune written by Danny's famous great-uncle J. Fred Coots
On Saturday afternoon between sets it was announced that the festival is going to incorporate as a non-profit, at the suggestion of retired attorney and longtime attendee and supporter Michael Schwarz. That allows contributors to claim a tax deduction for their donation and makes it easier for the festival to seek grants. Ticket sales cover only one-third of the festival's expenses. But most important, it means that the festival is going to continue. Upon hearing this, I pointed out that people who are taking mandatory withdrawals from their taxable IRAs (which applies to a large part of the audience) can have this, and any, charitable contributions issued directly by the custodian of their account and avoid paying income tax on that money, yet have those donations count toward their annual RMD (required minimum distribution).
The 2020 festival dates were not announced during the weekend. I checked Penn State's football schedule and found that the Nittany Lions are away on September 12 and October 3, so my guess is that the festival will be on one of those weekends. Hotel rooms are scarce and expensive anywhere within 50 miles of State College on home game weekends.
What makes Central PA stand out among other, much larger, festivals is its ability to draw top talent from all over the country to this out-of-the-way location. The regulars come from the San Francisco area (Frederick), Nashville (Brian and Danny), Durango, CO (Adam), Illinois (Daniel) and New York City (Richard). Bryan and Yuko are the closest, in Pittsburgh (130 miles). Ed Clute lives in Watkins Glen, NY, about 200 miles away.
I encourage you to put this festival on your calendar for next year, knowing that you will be competing with me and the 100-plus other regulars for a limited number of hotel rooms.

Bill Hoffman is a travel writer, an avid jazz fan and a supporter of musicians keeping traditional jazz alive in performance. He is the concert booker for the Tri-State Jazz Society in greater Philadelphia. Bill lives in Lancaster, PA. He is the author of Going Dutch: A Visitors Guide to the Pennsylvania Dutch Country, Unique and Unusual Places in the Mid-Atlantic Region, and The New York Bicycle Touring Guide. Bill lives in Lancaster, PA.