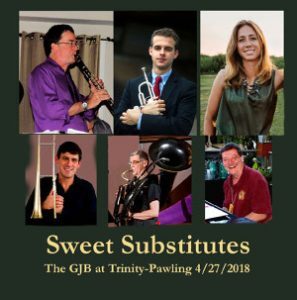 In 2018, the Galvanized Jazz Band was hired to fill in for a band for two days at the Trinity-Pawling School in upstate New York. The only problem was that the only band member available was bassist and tuba player Art Hovey. However in a short time he was able to gather together an impressive group that somehow conveyed the spirit, drive, and joy of the Galvanized Jazz Band. Sweet Substitutes documents the short-term septet.
With cornetist Alex Owen, trombonist Jim Fryer, clarinetist John Clark, pianist Charles Freeman, and drummer Molly Sayles as subs, Covey was able to field quite an impressive band. On the Sweet Substitutes CD, they perform 18 pieces, all but one ("Caravan") being Dixieland warhorses.
The musicians create fresh statements, exciting ensembles and plenty of happiness on such tunes as "Original Dixieland One Step," "Who's Sorry Now," "Bourbon Street Parade," "Dippermouth Blues," and "The Saints." Particularly impressive is that this very spontaneous band, which spanned three generations, conducted four workshops and a concert with no rehearsals or arrangements. They simply knew the tunes and put their own personalities into the music while using their ears to react to each other's playing.
It all worked well and resulted in plenty of fireworks, like the best jazz.
Sweet Substitutes (GJB 4/27/018, 18 selections, TT = 73:47)