Longtime reader Patrick Scull tells The Syncopated Times that the Holy Crow Jazz Band was the sleeper hit of this year's Jazz Bash by the Bay in Monterey. He said their first set was to a nearly empty room and by the end of the weekend the room was jammed. It was "refreshing", he said, to hear a younger band play "our music" and be so well received.
This was the Crow's first festival performance but they've been together since 2015 and a few members and regular substitutes will be familiar from other West Coast groups.
Trumpet player Charles De Castro has been in the LA music scene for nearly twenty years. He has spent the last ten performing with The Petrojvic Blasting Company and California Feetwarmers.
Justin Rubenstein on trombone hails from Nashville. An experienced and well-traveled busker he played the cello for several years but due to daily wear and tear, maintenance became prohibitively expensive on a busking income and he was forced to seek a more economical version of the cello, which he found in the trombone. Also with the California Feetwarmers and The Petrojvic Blasting Company, he has recorded music for cartoons like Costume Quest and Over the Garden Wall.
David Elsenbroich is originally from the San Francisco Bay Area where he started playing classical guitar at the age of nine. In high school he started playing jazz and went on to study at USC's Thornton School of Music, receiving both a bachelor and masters degree in music. Since graduating in 2010, David has been playing regularly in a variety of bands throughout the Los Angeles area and teaches music at Chaffey College in Rancho Cucamonga.
Brandon Armstrong, sousaphone, was exposed to square dances, church choir, and marching bands while growing up in Tennesee. While studying in Germany he ended up playing in brass or jazz bands more than attending school. He moved to Los Angeles to play the popular Balkan brass style with The Petrojvic Blasting Company. He also tours with the California Feetwarmers.
The Holy Crows were organized by husband and wife team Mario J. Maggio, who plays reeds, and Jessy Carolina who plays a mean washboard.
Maggio started learning the clarinet at age ten. He spent the following 24 years playing an eclectic mix of styles while "hoarding" as many instruments as he could afford, from sitars to a pump organ. He studied at The New School for Jazz & Contemporary Music in NYC. After playing with gypsy and traditional jazz bands he was hired by Jessy Carolina to play clarinet in her group. In 2016 they relocated from New York to Los Angeles with their three children.
Performances are led by the washboard of Jessy Carolina who also contributes most of the vocals. Carolina hails from North Dakota, where she began her love of music in various choirs, orchestras, and in musical theater. She moved to New York City at the age of sixteen and attended Talent Unlimited High School on the upper east side.
Around 2004, Jessy started busking in NYC parks and subways performing folk and blues songs on guitar and began writing her own music in the vein of American roots traditions. She has been leader or co-leader of multiple bands: The Square Struts, The Bill Murray Experience, Jessy Carolina and The Hot Mess, Holy Crow Jazz Band, and Ommie Wise. While in New York another young star, Blind Boy Paxton, was frequently involved with her bands.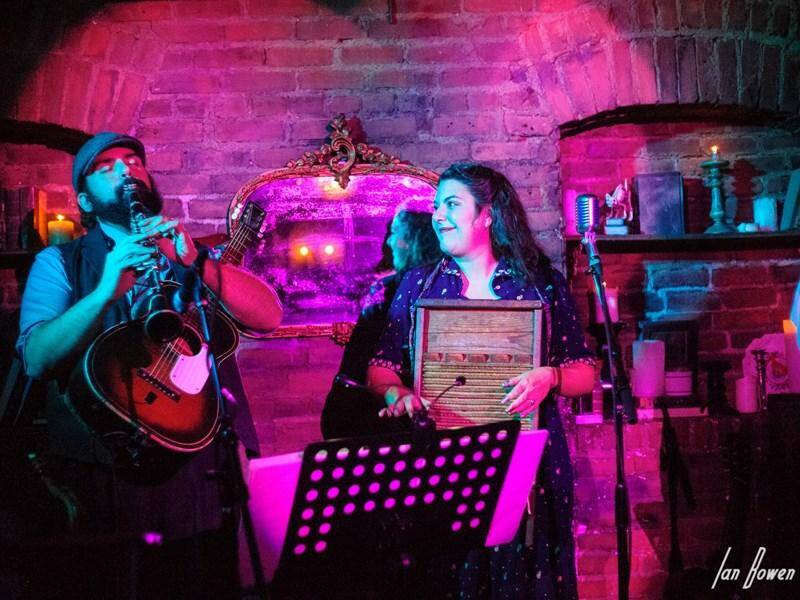 As an interesting side note, in 2009 Carolina was on the early jazz-themed videogame soundtrack for Bioshock Infinite which was also a launch pad for Scott Bradlee who went on to form Postmodern Jukebox.
If you'd like to get a taste of what they sounded like at Monterey the band has a live album, Crows in a Barn, available to stream or download on their website, www.holycrowjazzband.com. The set of lively standards includes "Blues My Naughty Sweetie", "Original Dixieland One-Step", "Tishomingo Blues", and "I Ain't Got Nobody", a tune Carolina has been revisiting for a decade.
They released a second album on March 12th. Called Home Recordings, it features Carolina and Maggio playing all of the instruments (guitars, piano, clarinet, bass clarinet, saxes, banjo, violin, flute, accordion, drums, washboard, kazoo). While the live full band album is a danceable hoot, the majority of Home Recordings is calm simplicity, with softly swinging takes on classics like "Hindustan", "Sister Kate" and "Tonight You Belong To Me". You can picture the couple playing for friends on their front porch. Carolina who is known for memorably wild vocal presentation proves she can sing just as sweetly.