POLYMATH: a person of wide-ranging knowledge or learning.
Jazz trumpeter and bandleader Humphrey Lyttelton was an author, broadcaster, illustrator, composer and journalist. A popular radio personality for 35 years, he hosted a humorous panel quiz show on the BBC becoming a British national treasure.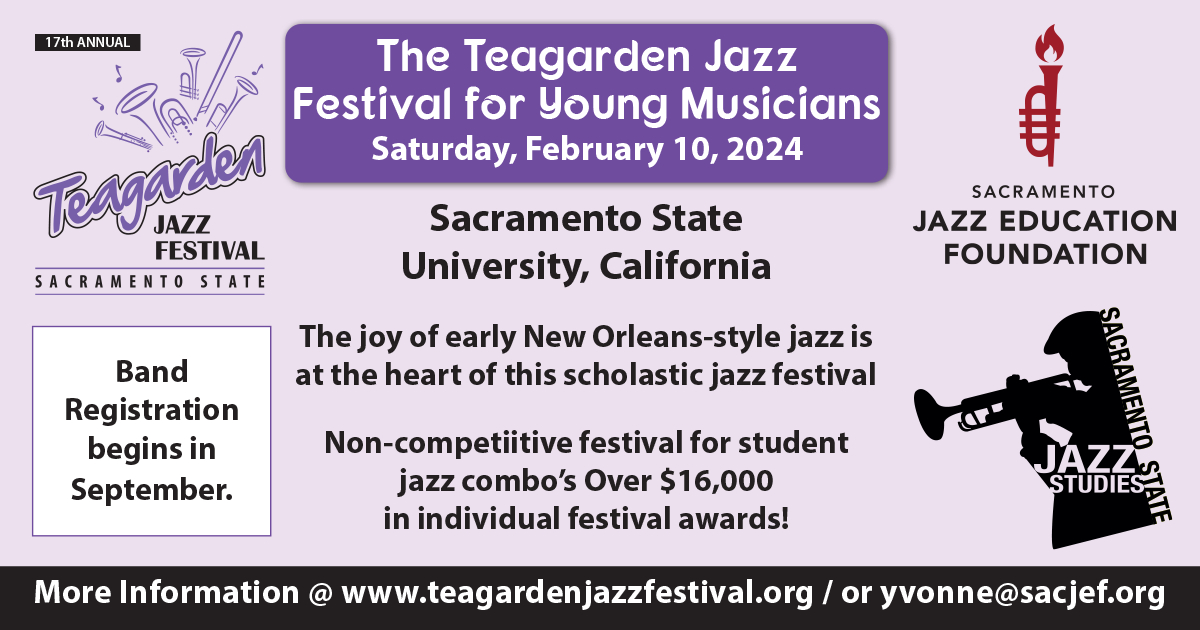 Tall, well-spoken and a natural leader, Humphrey Lyttelton (1921-2008) had a clear musical outlook. His cohesive recordings had a strong sense of purpose. He was often joined by his longtime associate New Orleans-style clarinetist Wally Fawkes. Directing ensembles with considerable drive, Lyttelton worked his will through a collaborative process.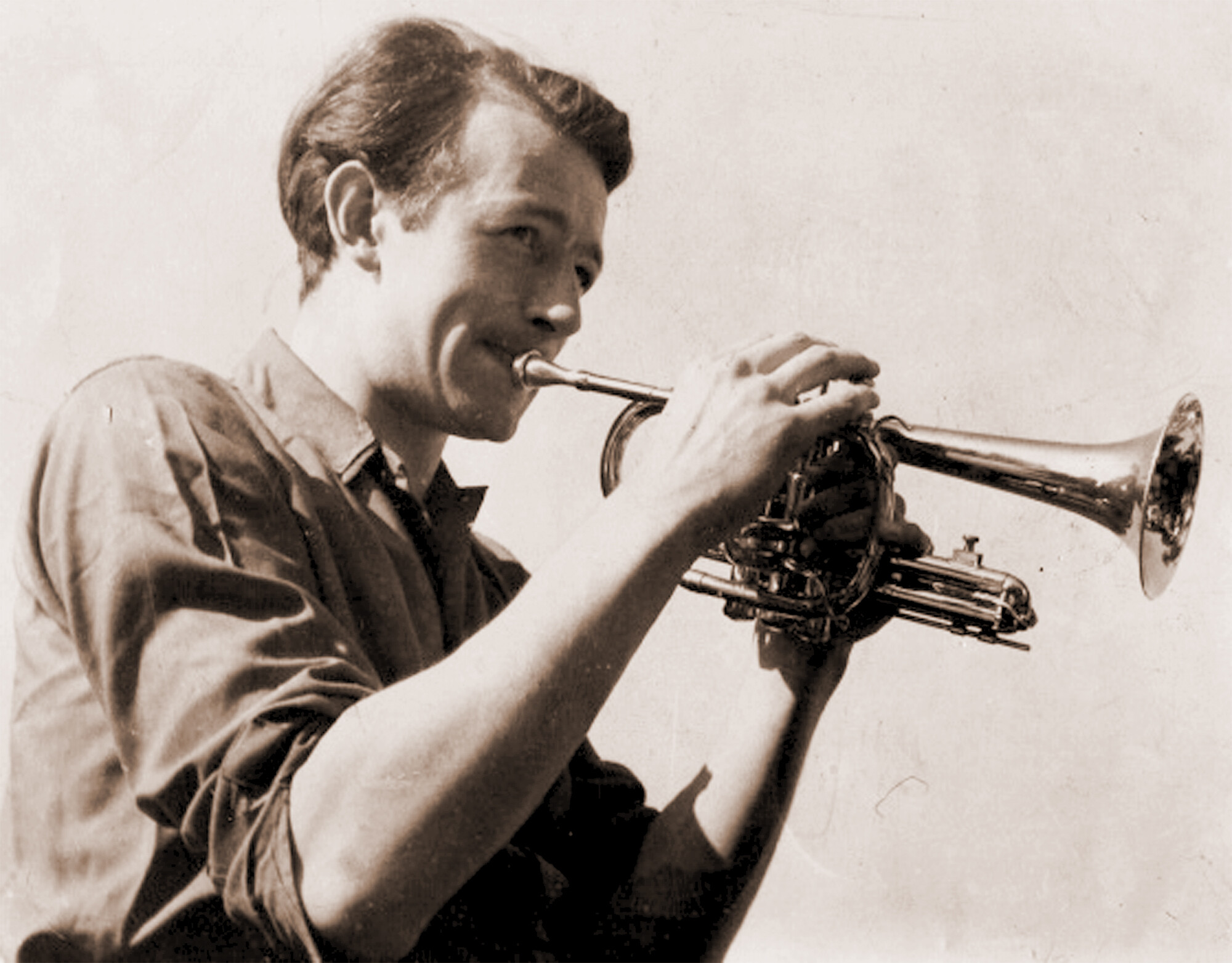 Yet he shocked Jazz traditionalists when he added saxophone(s) to his ensembles, switched to Kansas City Swing and experimented with Calypso and West Indian rhythms. In the 1960s and '70s he worked with contemporary singers and instrumentalists, fully embracing Mainstream Jazz. Yet after decades of experimentation he returned to the Revival style in the 1980s, renewing his Classic Jazz credentials and reuniting with old comrade Fawkes.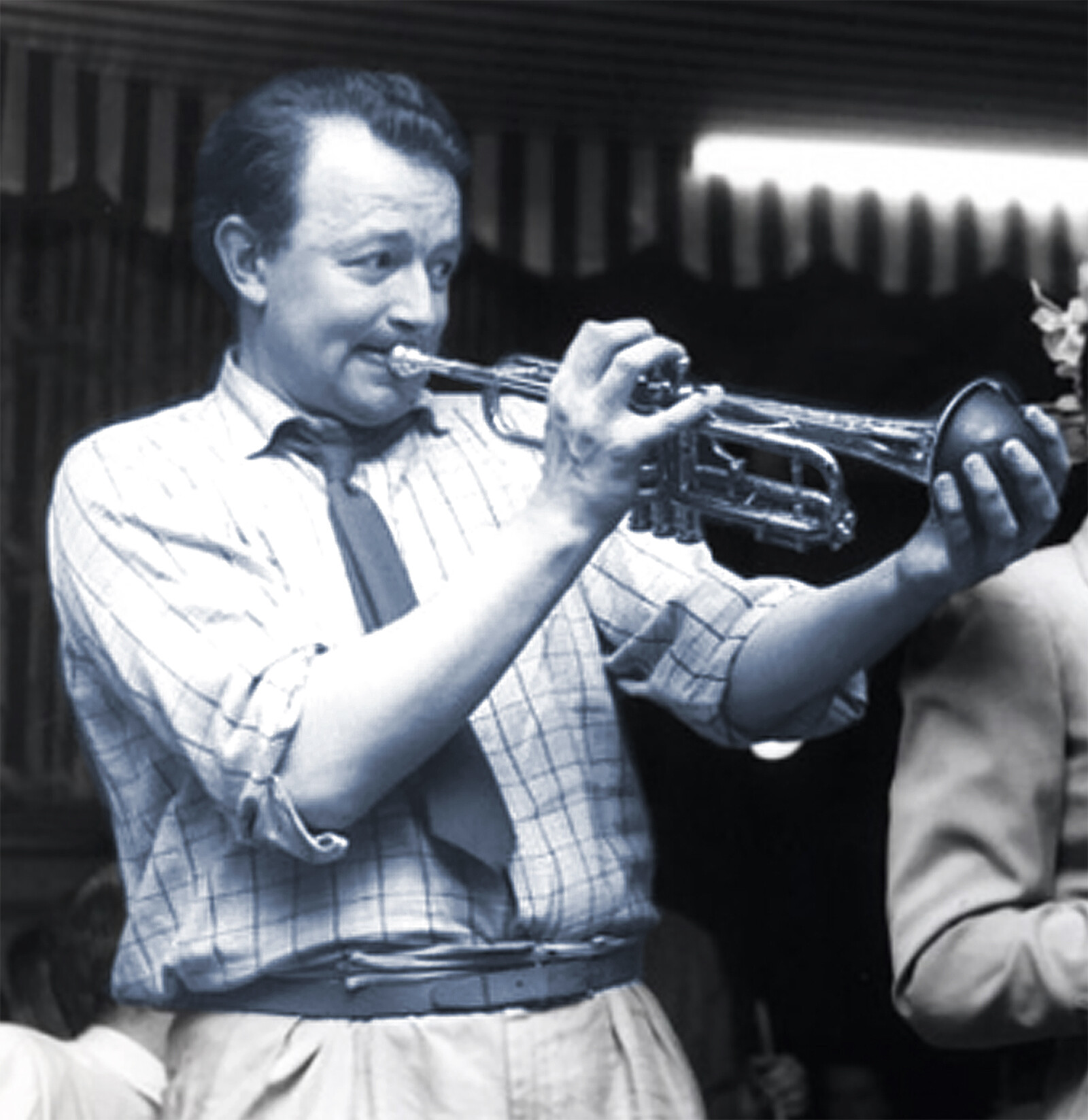 The Consummate Jazz Musician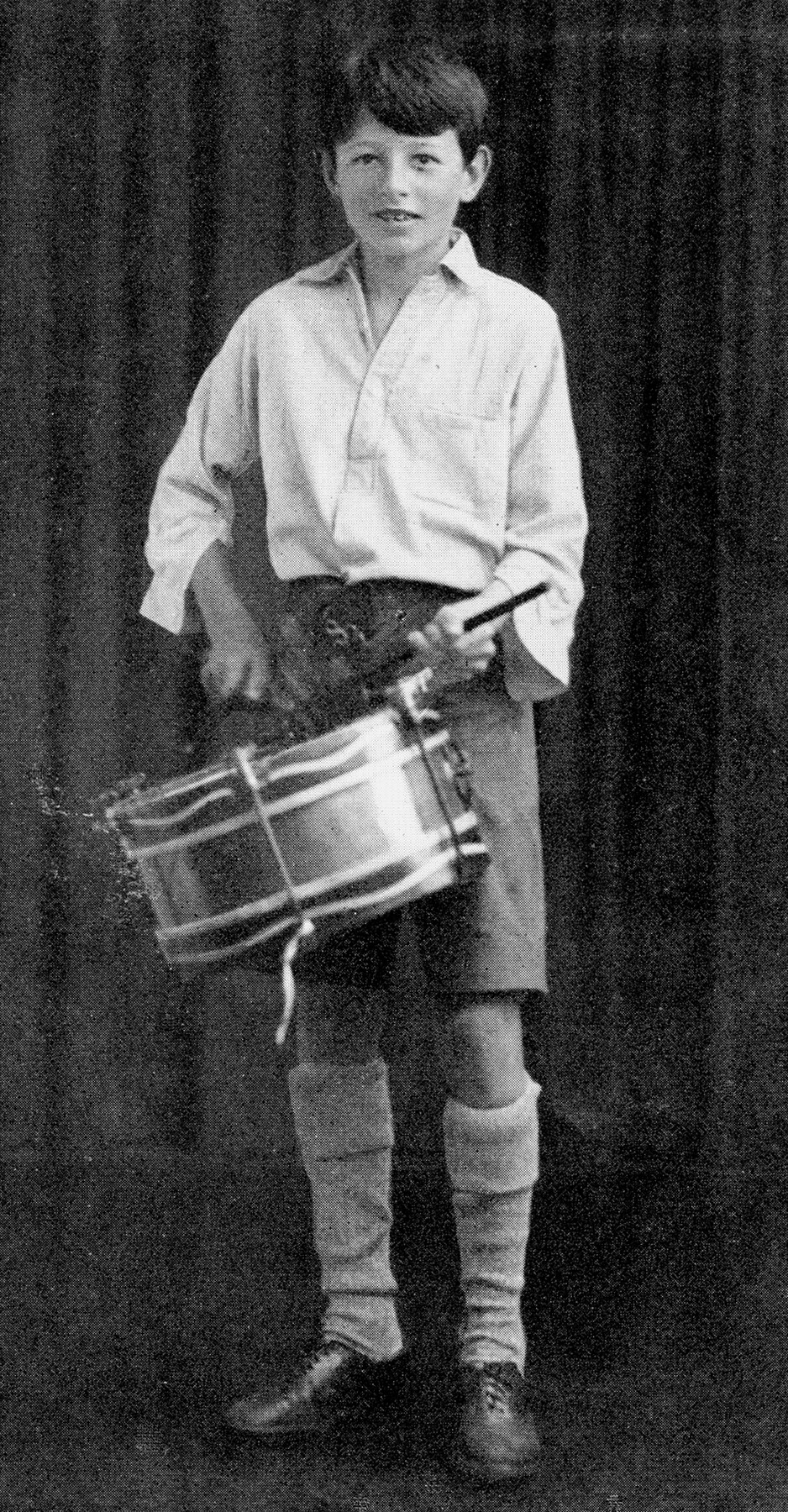 Humphrey was born at Eton College in Berkshire England. Though his father was a university housemaster of modest means, the Lytteltons were an illustrious aristocratic family dating back to the 1400s.
Humphrey turned his back on the titles of baron and viscount, striking out on his own as an artist and musician. Gifted with copious natural abilities, he did not seek greatness, but it sought him. Much to his own surprise, he became a champion and the leading light of a New Orleans Jazz Revival sweeping Britain around 1950, "not so much a revival as a revelation," he wrote.
Starting out, Lyttelton played horn in the early style of Louis Armstrong, who praised him more than once. But to say his horn style was based on Satchmo's would be only a superficial analysis. Avoiding showy pyrotechnics, he played in a succession of styles reflecting many influences: Classic Jazz, Kansas City, Latin and Mainstream Jazz, eventually returning to the New Orleans Revival sound.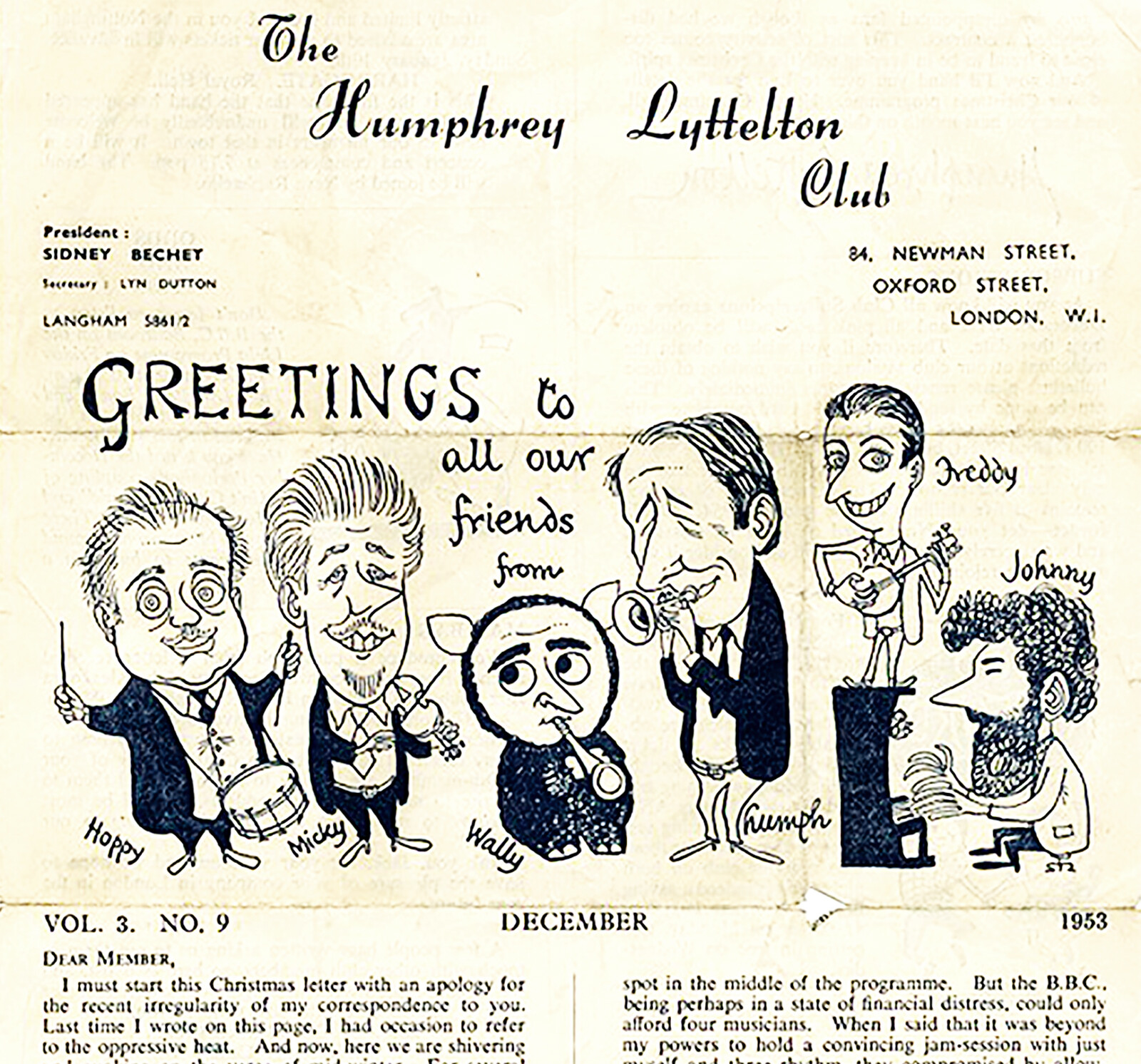 'We Played as we Pleased'
Traditional Jazz was a novelty in England when Lyttelton formed his first band in 1947. He and his comrades were amateur musicians with day-jobs. Playing small or informal clubs and a steady popular venue at 100 Oxford Street in London, the Lyttleton groups' following spread by word of mouth and an enthusiastic fan club.
Lyttelton issued their early 78 rpm records on his own independent London Records label. Within a year he'd proven the sales appeal of the music, signing with a major label, Parlophone, which eventually issued more than 170 sides by Lyttelton and his bands.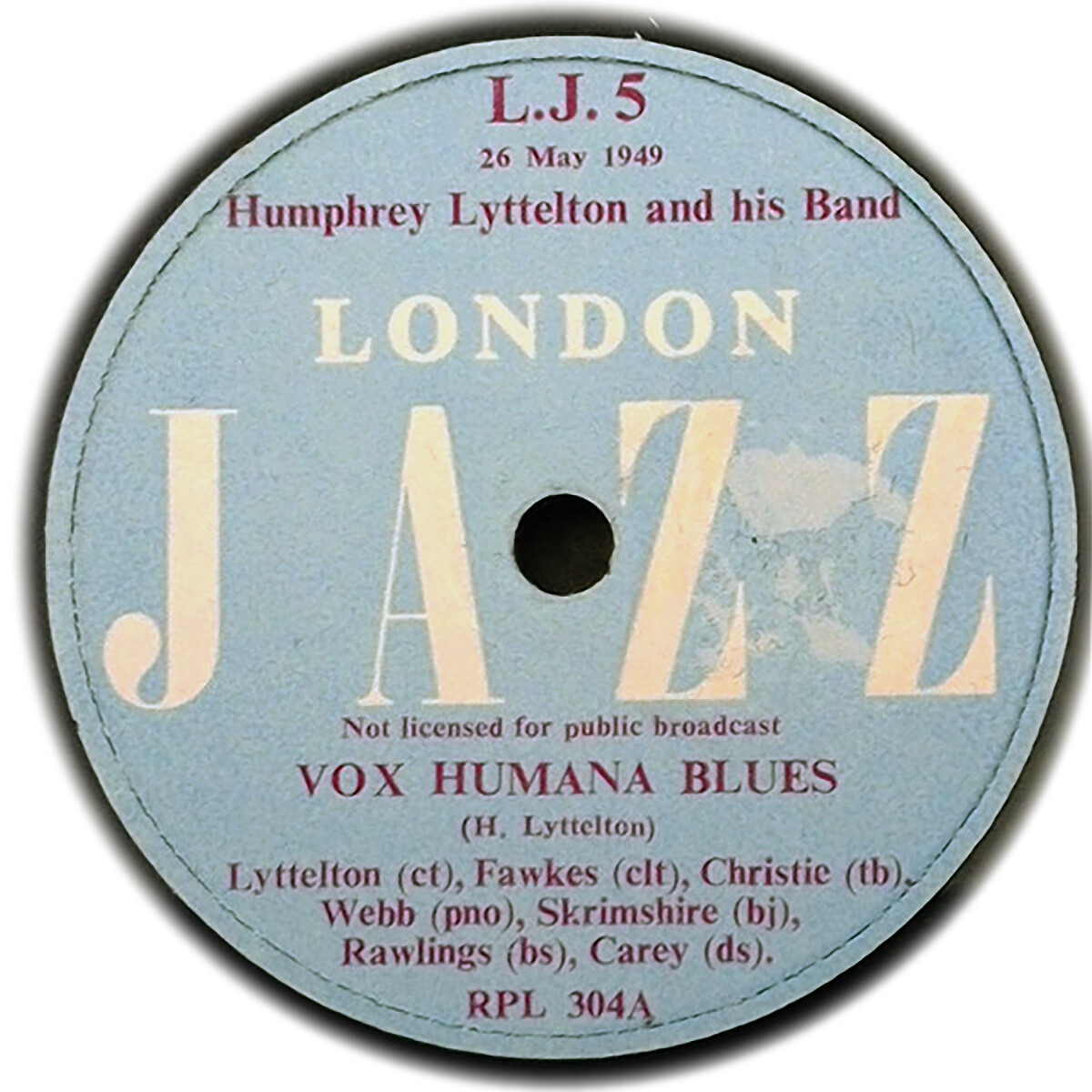 His style and danceable music reflected the widespread enthusiasm for a new kind of amateur music making, writing "above all else we had fun . . . we played as we pleased." Indeed, I Play as I Please was the title for his first of four memoirs in 1954.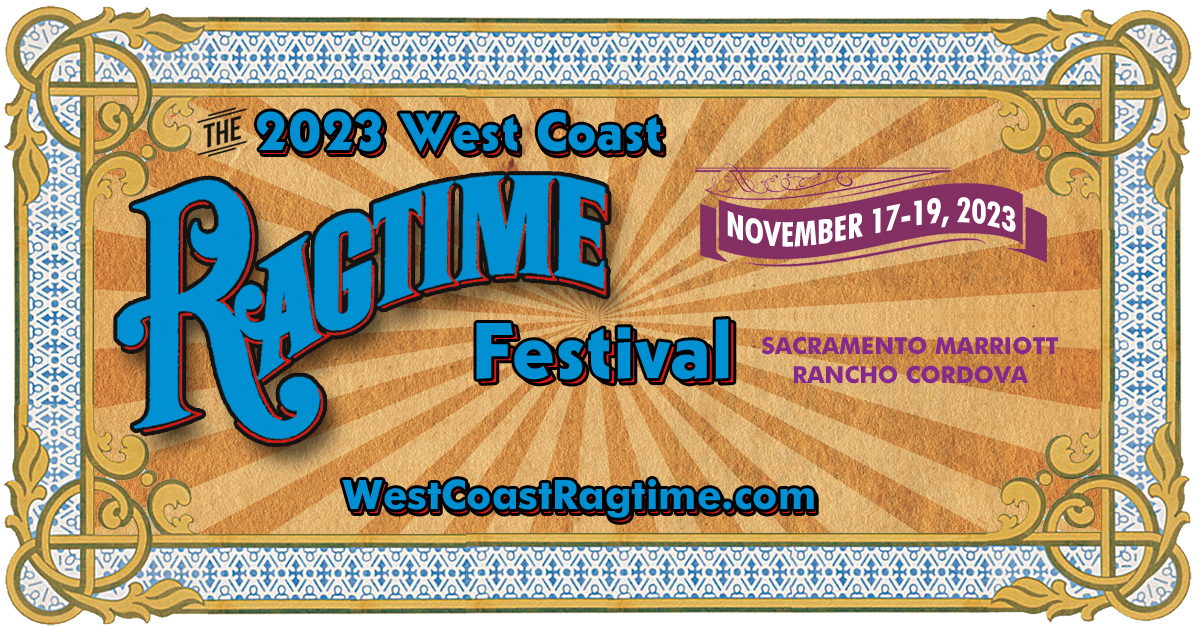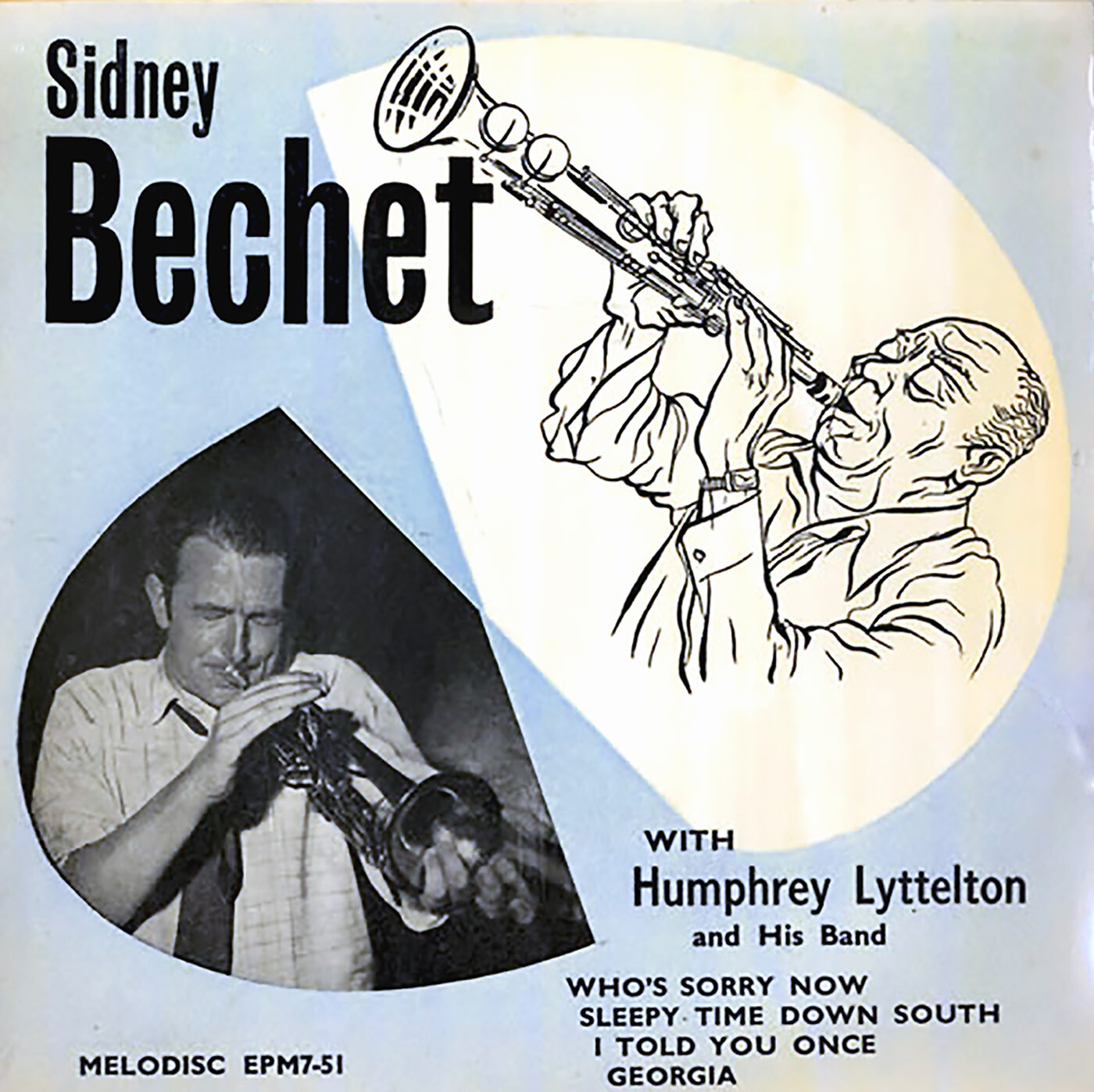 complained that postwar British Swing had become "quite abysmal . . . infected with a watery refinement far removed from the essence of jazz." He suggests that the direct, brassy New Orleans sound was refreshing at a time when "modern jazz was in grave danger of becoming isolated from any audience except critics and musicologists. The revival re-established [Jazz] as a popular music."
Wally Fawkes' Clarinet Counterpoint
Wally Fawkes was the first Jazz clarinet player in England to record in the style of Johnny Dodds, Sidney Bechet and the Creoles of New Orleans. In 1944 he was in George Webb's Dixielanders, which Lyttelton joined briefly in 1947. Wally was a founding member of Humph's first band, playing clarinet for almost all of his recordings until 1956, after which they reunited frequently.
Humph often favored a second clarinet in his Revivalist bands, sometimes playing the second reed himself. No slouch on the instrument, the Lyttelton-Fawkes reed duos were superlative.
Fawkes played extraordinarily well in the manner of Sidney Bechet, who recorded with Lyttelton's crew in 1949, reporting that it was Bechet himself who made the comparison calling Fawkes "my shadow." Composed by Lyttelton and evoking Bechet's rhapsodic mood pieces, "Small Hour Fantasy"  features Fawkes.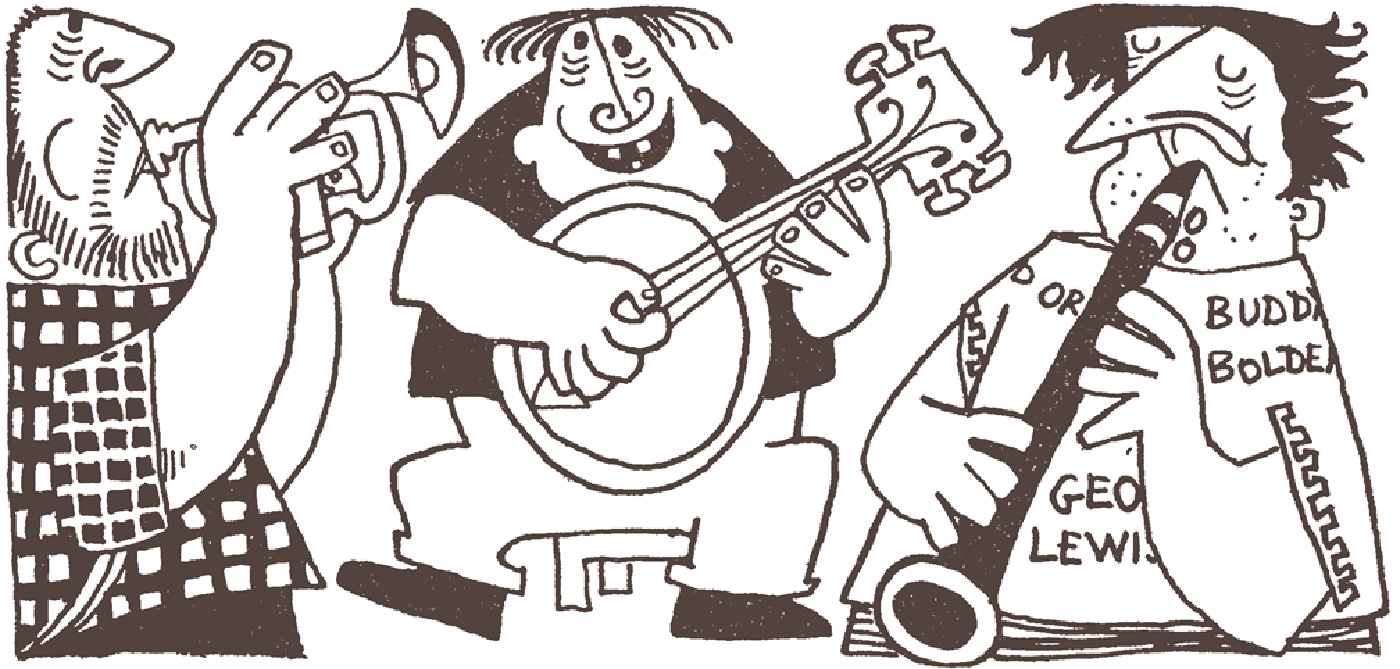 Humph, Trog and The Gunpowder Plot
Music aside, Humph and Wally collaborated in other endeavors. In 1949 Fawkes tipped off Humphrey about an illustrator's job available at the Daily Mail. As partners they generated social satire, cartoons and irreverent commentary for a half century.
Depending who you ask, Wally Fawkes was either Britain's finest New Orleans Jazz clarinetist or greatest political cartoonist. Under the nom de plume Trog, his satires appeared in mainstream newspapers and magazines for six decades. In alliance with Humph, Wally was the first to caricature royalty — even the Queen! — in British periodicals including The Daily Mail, Observer, Punch and Sunday Telegraph.
Oddly, both men had distant predecessors involved in the notorious 1605 "Gun Powder Plot" to bomb Parliament, assassinate the King and restore Catholicism to England. One Humphrey Littleton was executed for his alleged role in that notorious conspiracy.
Similarly, Fawkes also bore the surname of a central plotter in that conspiracy, the infamous Guy Fawkes. For 400 years in Britain and the former Empire, the 5th of November has been known as Guy Fawkes Night  and celebrated with fireworks and bonfires.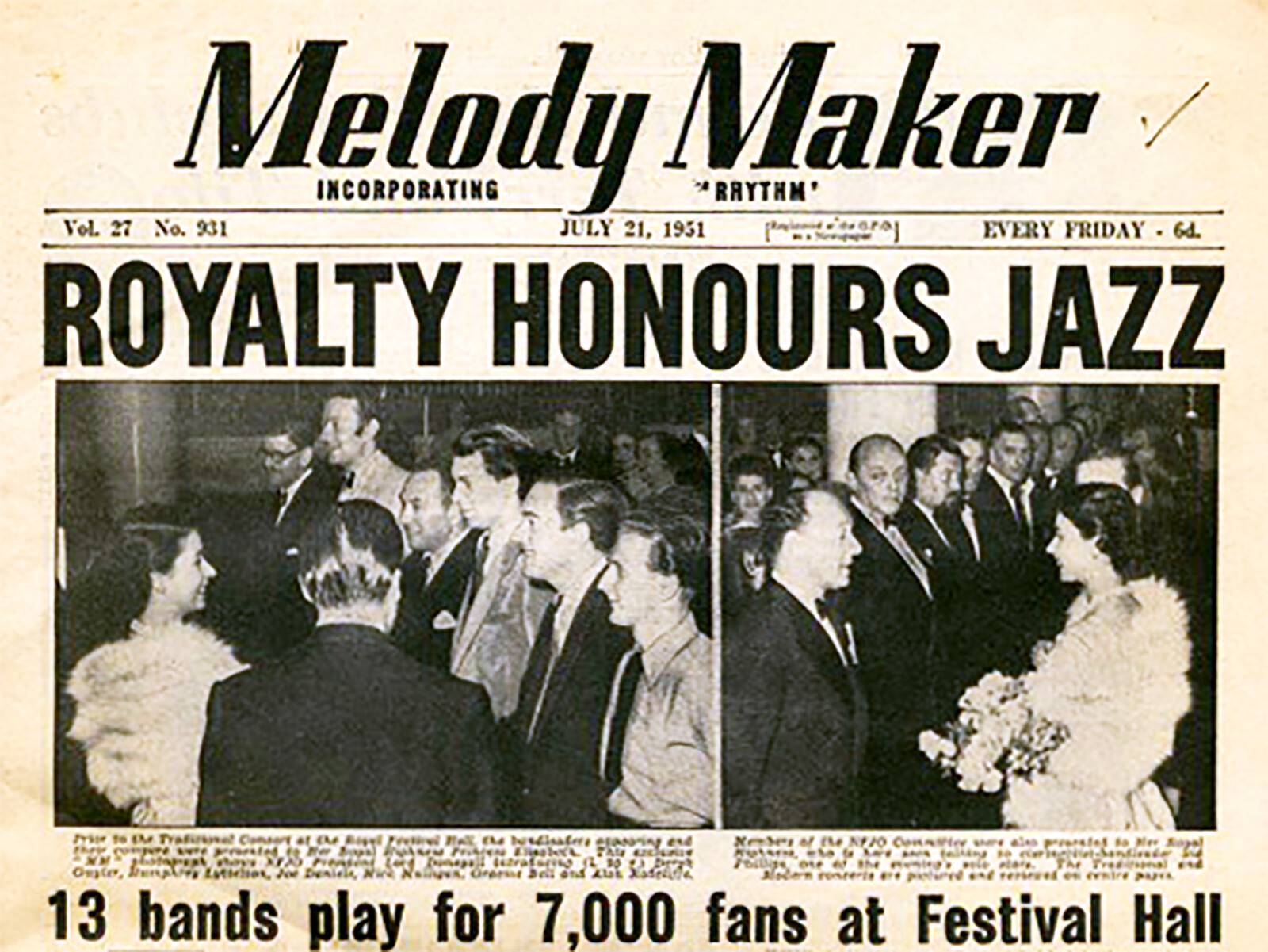 Concert at Royal Festival Hall, 1951
At the newly commissioned Royal Festival Hall, Princess Elizabeth attended a noteworthy concert by Lyttelton's merry band as part of a larger 1951 celebration of Jazz. British royalty was generally favorable toward Jazz, particularly the House of Windsor.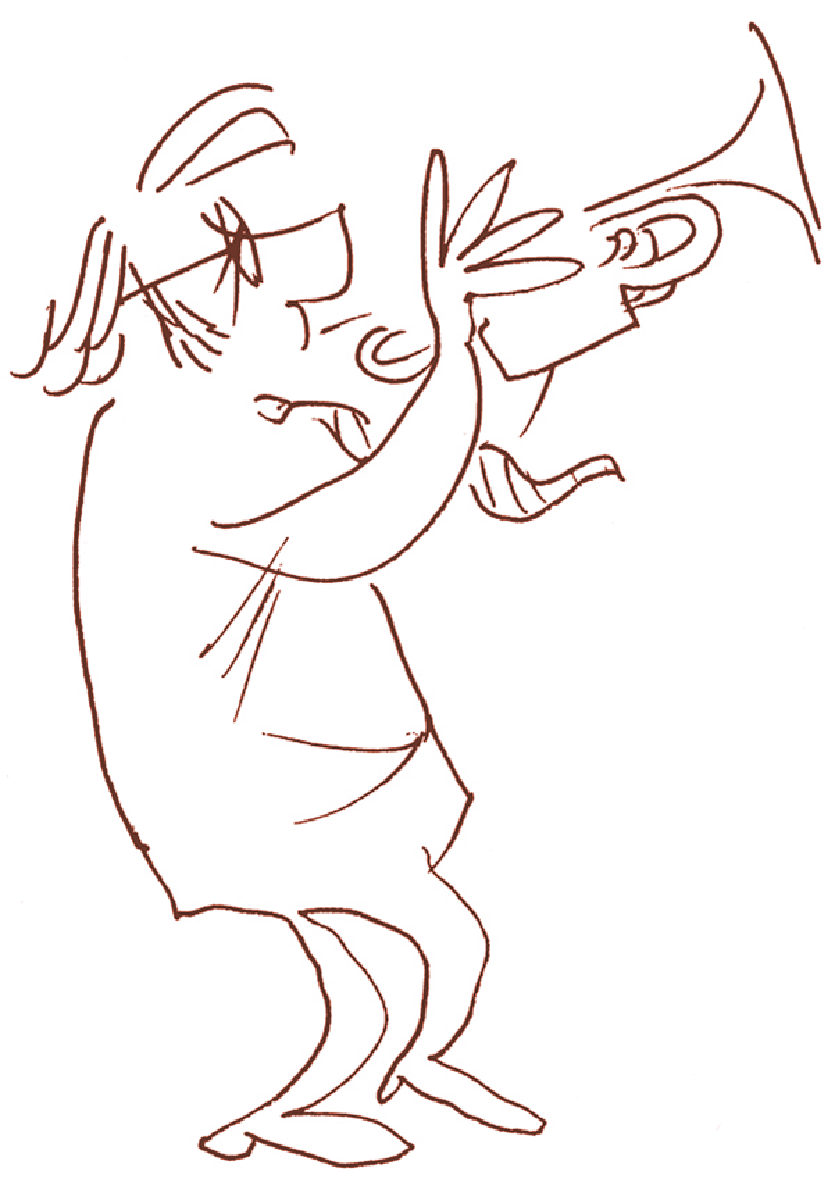 Performing at that concert, and seen in the newspaper clipping above were, on the left, Humphrey Lyttelton, Joe Daniels, Mick Mulligan and Graeme Bell. On the right are Sid Philips speaking to Princess Elizabeth and Alan Radcliffe. Bert Thompson, who identified them, notes that all were leading bands at the time.
Concert highlights included "It Makes My Love Come Down" featuring Lyttelton interacting sympathetically with Wally Fawkes and his long-time trombonist Keith Christie. "Blues for an Unknown Gypsy" is a superb Fawkes-Lyttelton reed duo.
Around this time, a black British boxer named Randolph Turpin briefly seized the World Middleweight boxing title from American Sugar Ray Robinson. It was a moment of considerable national pride for the Brits, commemorated by Lyttelton in "Randolph Turpin Stomp" premiered at the concert, another stunning clarinet duet.
The Ozzies Visit
At the peak of his musical popularity in 1951-52, Lyttelton was informal host for the second visit to England of the outstanding Australian Jazz Band of pianist Graeme Bell and his brother, trumpeter Roger Bell.
The Australians were welcomed at the dock by Humph's band. Co-leader Roger Bell, his family and some of the musicians lodged with the Lytteltons. Blending into mixed ensembles they, made terrific sessions and produced some of the most exciting hot jazz records ever made in England, like "Hoppin' Mad" and "Midnight Creep" by The Bell-Lyttelton Jazz Ten.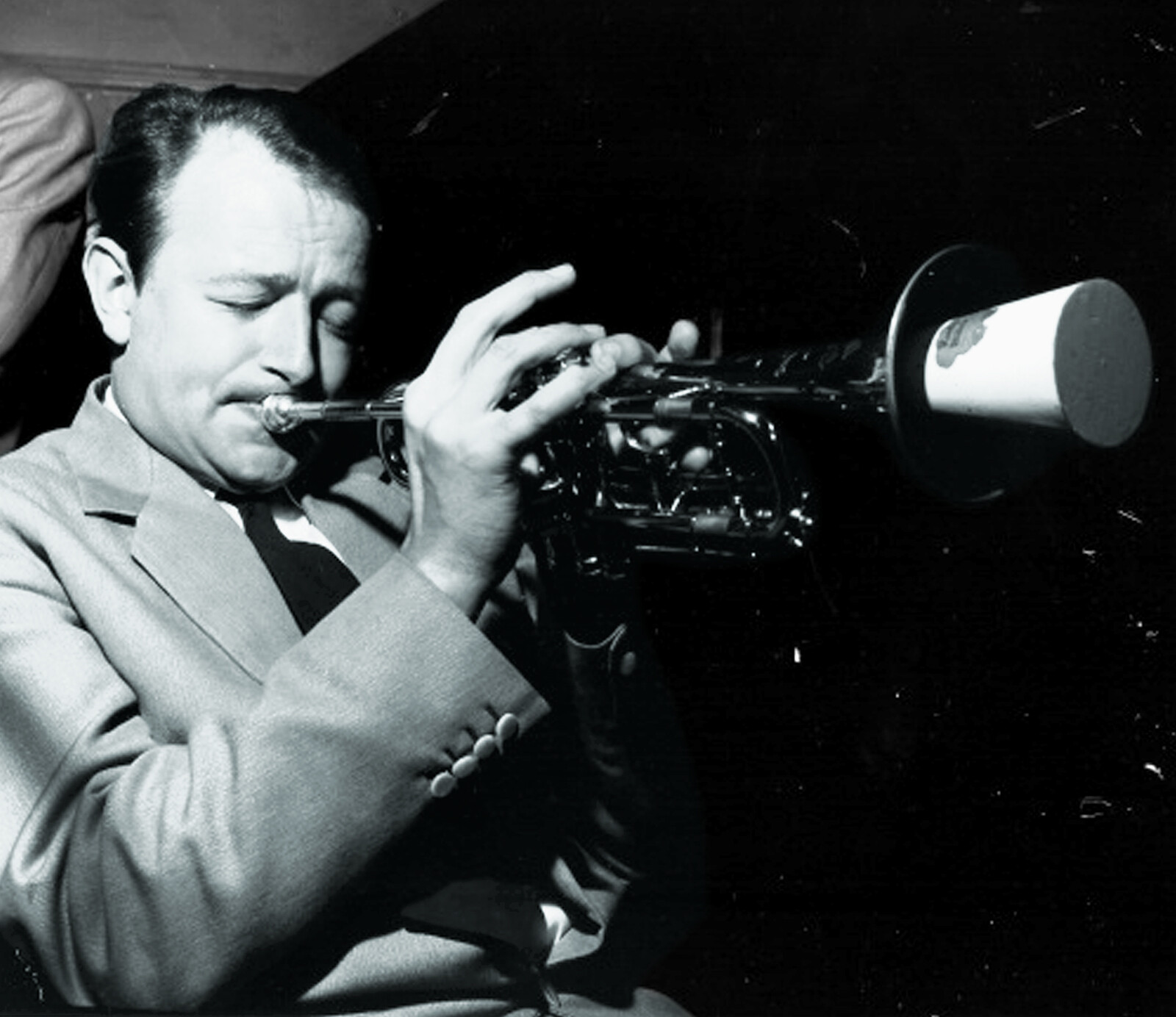 The Grant-Lyttelton Paseo Jazz Band, 1952-53
As Lyttelton moved increasingly into the musical mainstream, he collaborated with big-time Jazz and Pop musicians on both sides of the Atlantic: Armstrong, Ellington, Buck Clayton, Sidney Bechet and others.
I've invited comment on this experimental blending of Classic Jazz with Caribbean and West Indian music from Scottish-born Trad Jazz drummer Bert Thompson. He explains that the band emerged from Lyttelton's encounter with a prominent Caribbean musician, Freddy Grant, and that The Paseo is a gliding, graceful two-step couples-dance from Trinidad and Tobago.
Thompson notes that the ensemble received a tepid response, was costly to operate and didn't last very long:
The Grant-Lyttelton Paseo Jazz Band consisted of trumpet, clarinets, saxes, piano, guitar, cuatro (a Spanish guitar), string bass, and various percussion instruments: conga drums, bongos, maracas, and cowbells. The band became part of a show that featured Lyttelton's "regular" band, Freddy Grant's Calypso Band, and the Paseo, an amalgamation of the first two. It issued several recordings on the Parlophone and Odeon labels.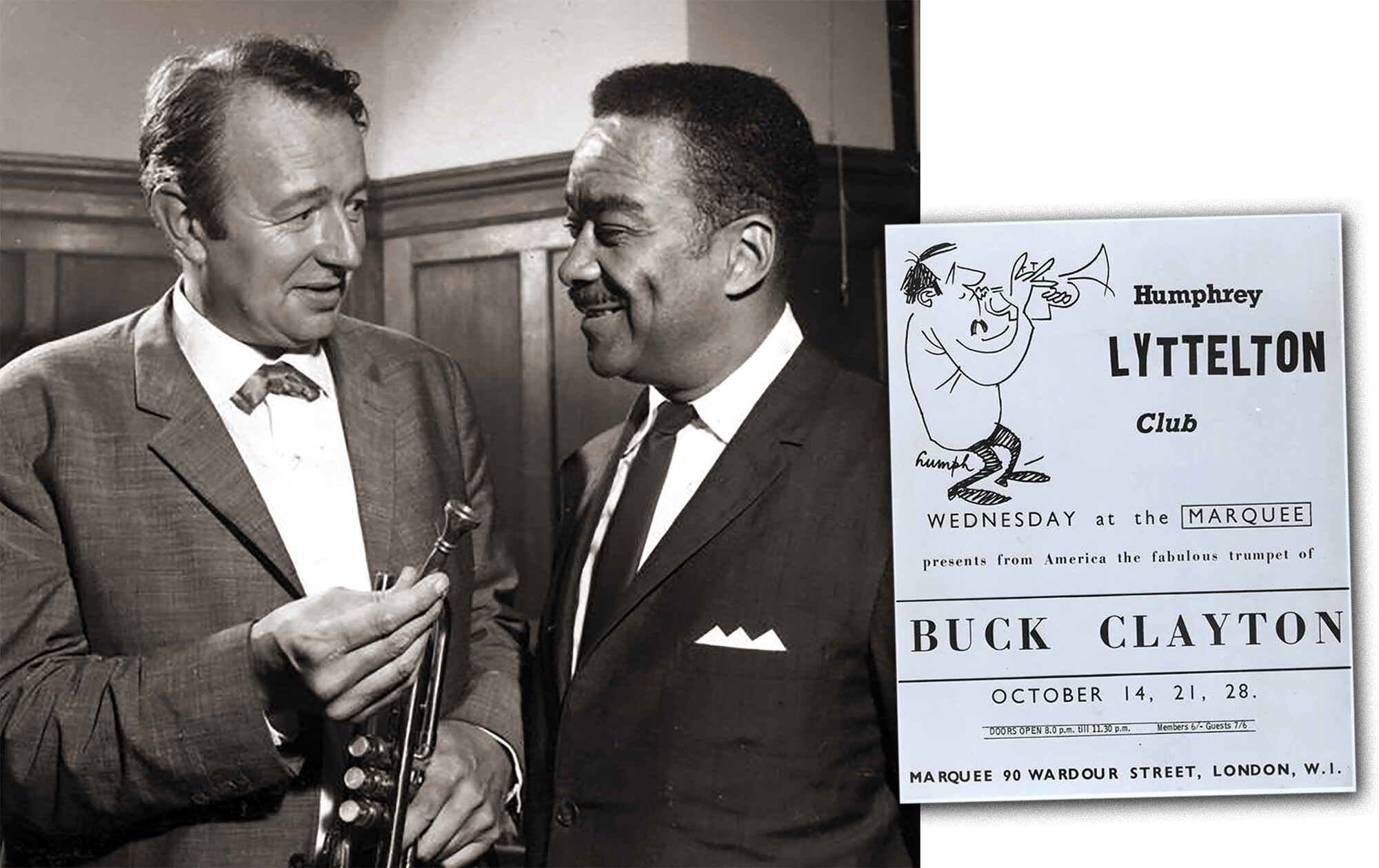 Buck Clayton: 'Trumpet Brother'
By the mid-1950s, Lyttelton had migrated away from the New Orleans-style completely, turning to Mainstream Jazz. He became very close friends with trumpeter Buck Clayton, best known for his years with Count Basie and backing Billie Holiday.
He invited Clayton to join him touring England and Europe, making records and television shows. In the mid-1960s Humph was playing in the Count Basie manner and presenting a "Kansas City Jazz Show" starring Clayton, Ben Webster (tenor sax), Vic Dickenson (trombone) and singers Big Joe Turner or Jimmy Rushing.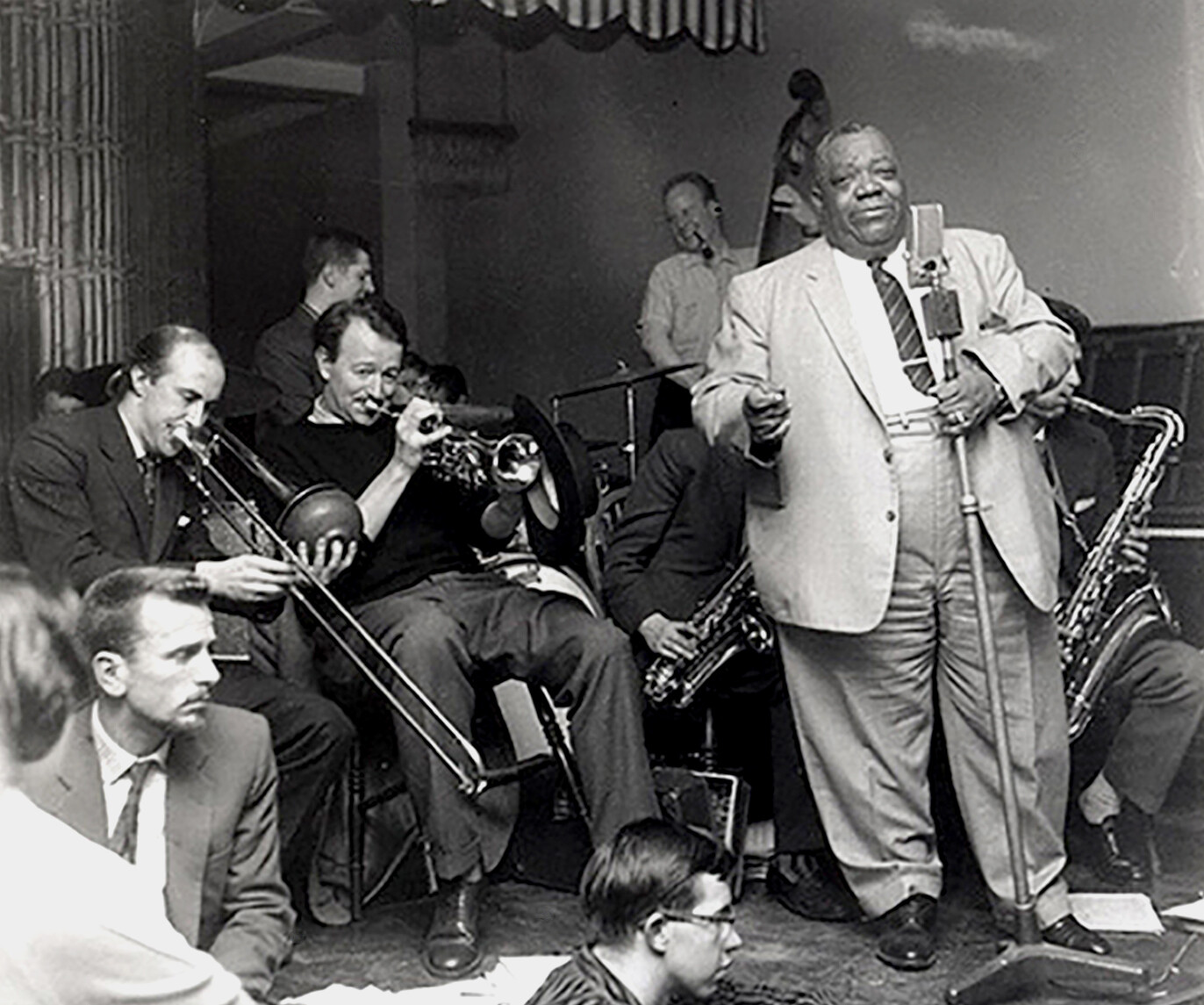 Clayton dedicated an entire chapter of his memoir to those years in Buck Clayton's Jazz World (1986) asking Lyttelton to write the foreword. Calling him a "trumpet brother," Clayton declaims that he:
. . . had just about everything . . . a good trumpet player . . . a good band . . . a quick wit (and) one of the most friendly people that I'd met . . . if he had been an American he would have been compared with the greatest.  He was never credited with being as good as he really was.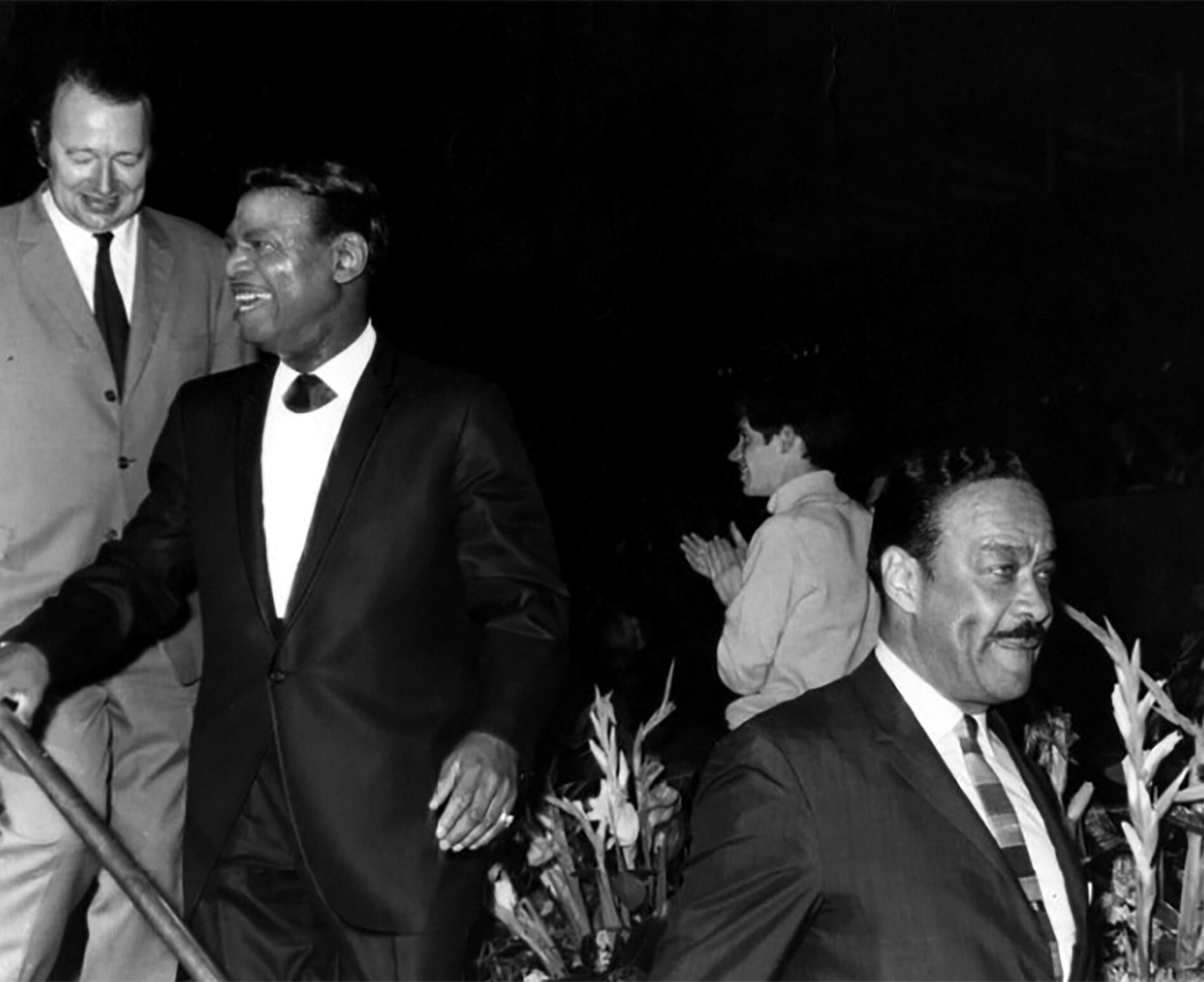 Over the course of several tours they had "a ball blowing together" recalled Clayton. Buck loved riding in Humphrey's sports car, racing at high speed through the English countryside, pausing at roadside pubs for meat pies and ale.
Mainstream, Memoirs and the BBC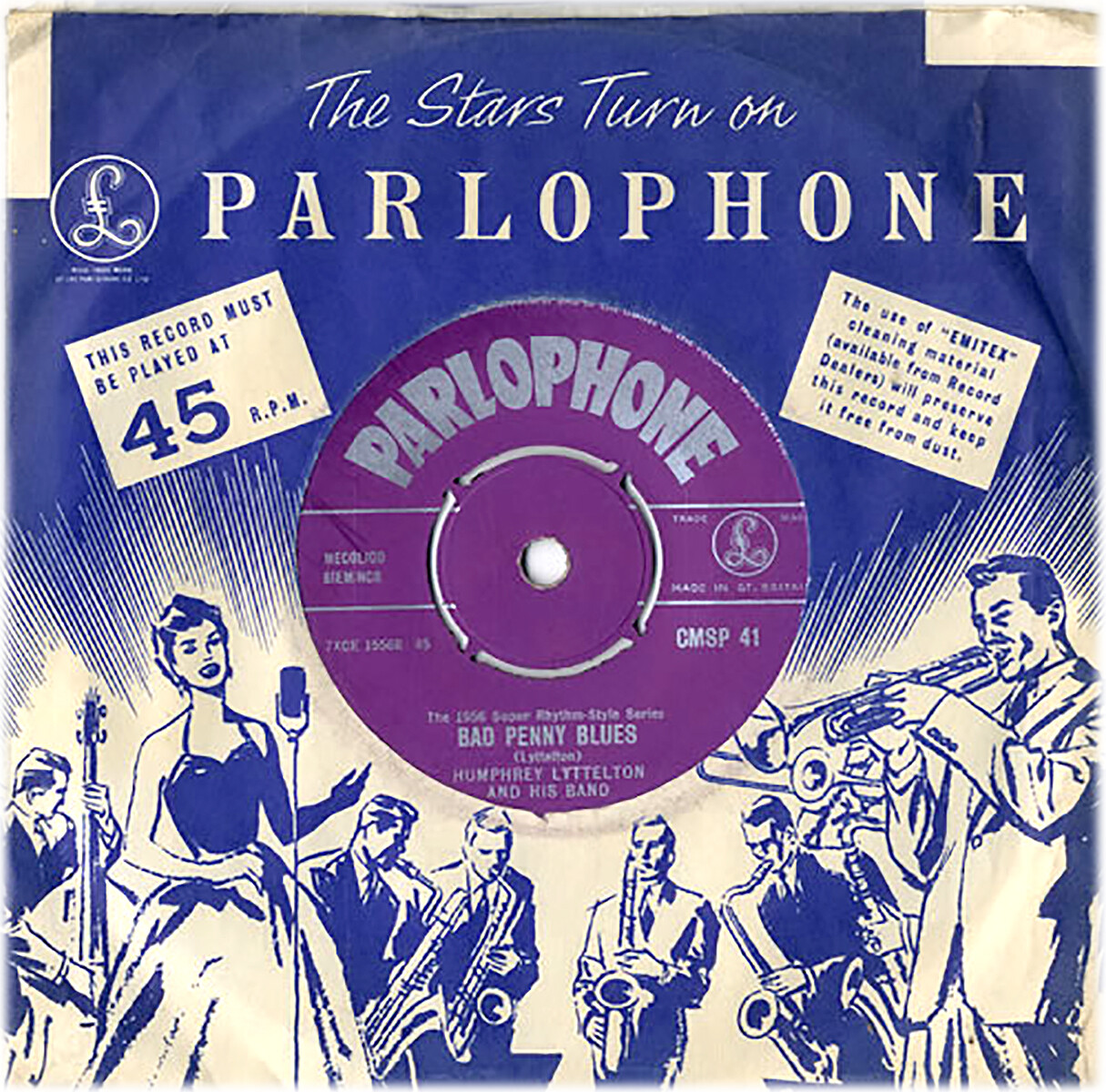 "Bad Penny Blues" was Lyttelton's one big hit on the British top-20 singles charts for six weeks in 1956. But he felt it represented his own intent less than that of its nefariously creative producer, Joe Meek. For a while his manager was George Martin, who soon produced The Beatles, becoming the so-called 'fifth Beatle.' In fact, the jangly piano line of "Lady Madonna" might have been inspired by the barrelhouse-boogie piano of "Bad Penny Blues."
His broad popularity grew steadily, publishing four autobiographical memoirs spanning 1954-84. He authored nine incisive books on Jazz, writing commentaries from a musician's viewpoint.
In 1972 Lyttelton was hired by Radio BBC to host a cheeky panel radio quiz show, I'm Sorry I Haven't A Clue. It became a national institution. He was the witty on-air "chairman." His sly double entendre and deadpan delivery charmed Britons for decades.
The Buddy Bolden Project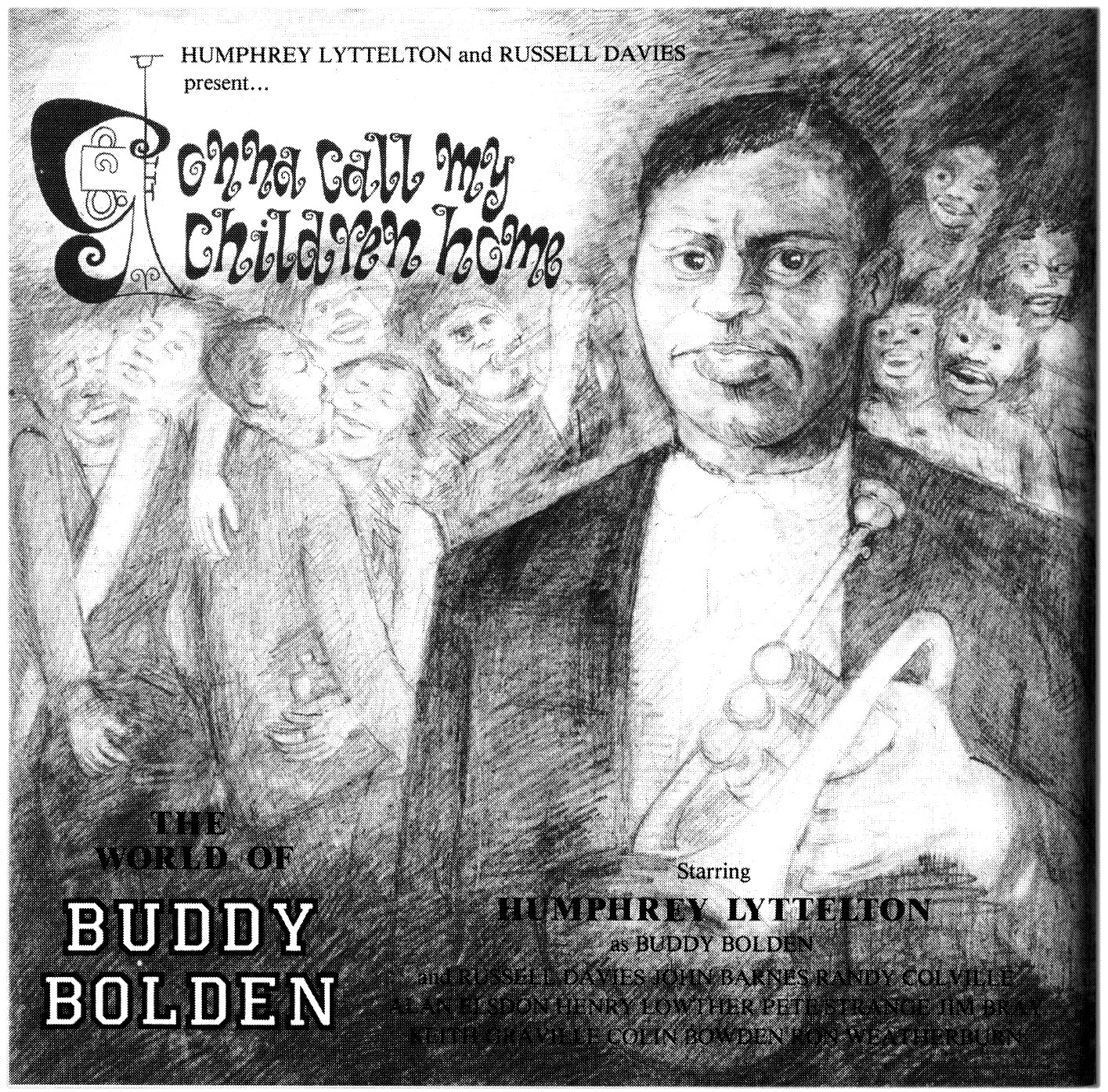 In 1986, Lyttelton was engaged for a landmark BBC documentary about the first Jazz trumpeter, Buddy Bolden. He aimed for an approximation of Bolden's rough, loud trumpet sound, instrumentation (two clarinets), performance style (such as bowed bass) and early New Orleans repertoire and can be found on Youtube.
In an audacious feat of Jazz archaeology, he attempted to recreate Bolden's strutting style of blues-played-for-dancing that had launched Jazz in New Orleans c. 1905. The resulting music is thought to reliably approximate Buddy's style and repertoire: "The Bucket's Got A Hole in It,"  "If You Don't Shake"  and "Don't Go Way Nobody"  which was reputed to be Bolden's opener.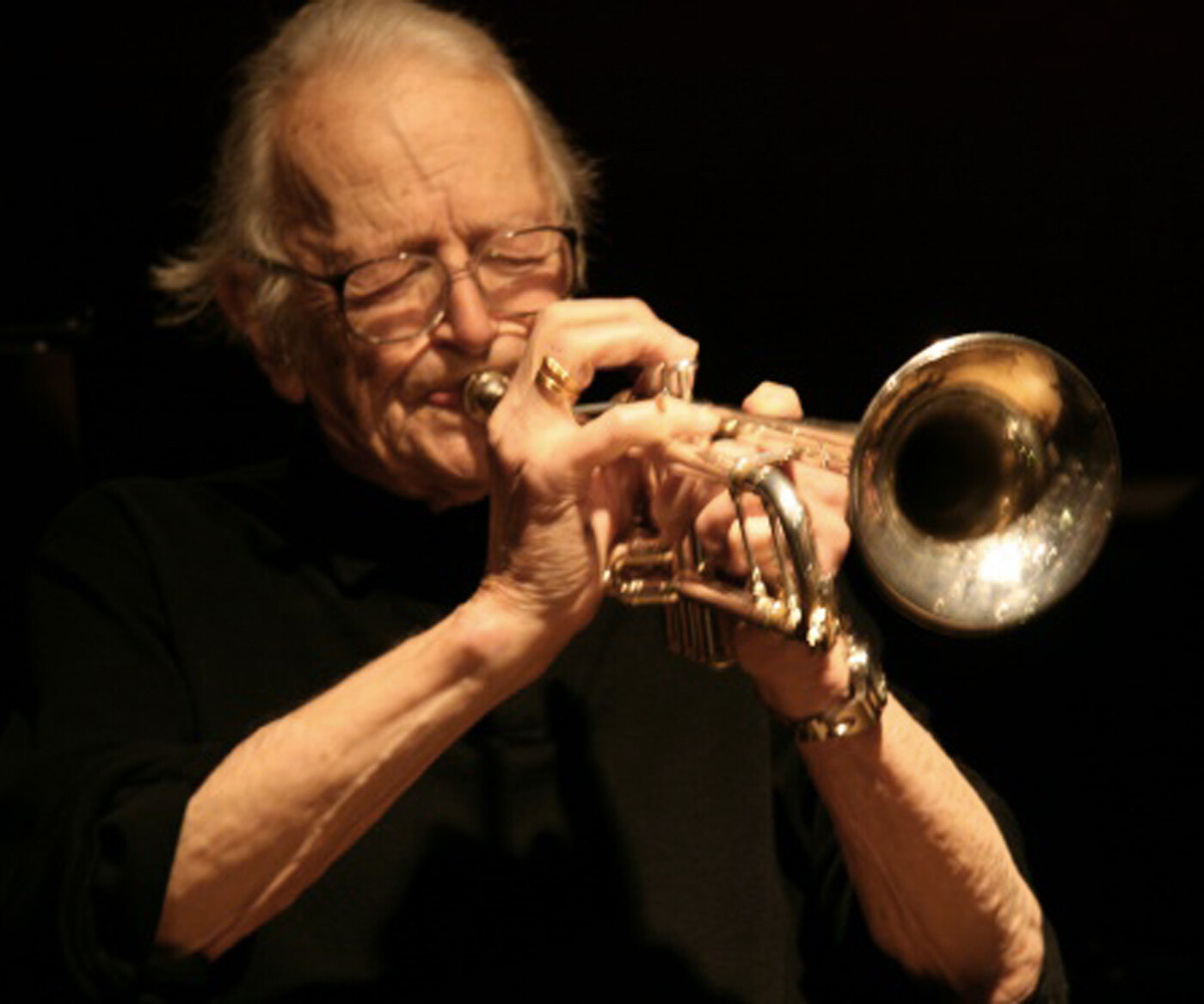 A Jazz Polymath
Revealing a brilliance equal to genius in several fields of endeavor, Lyttelton excelled in broadcasting, illustration and journalism. He was unparalleled for his prolific range, type, volume and duration of creative output.
For instance, during the 1950s Lyttelton was a full-time musician performing several nights of the week with his band, writing weekly music columns for three publications and touring out of town a few days a month and overseas two or three times a year.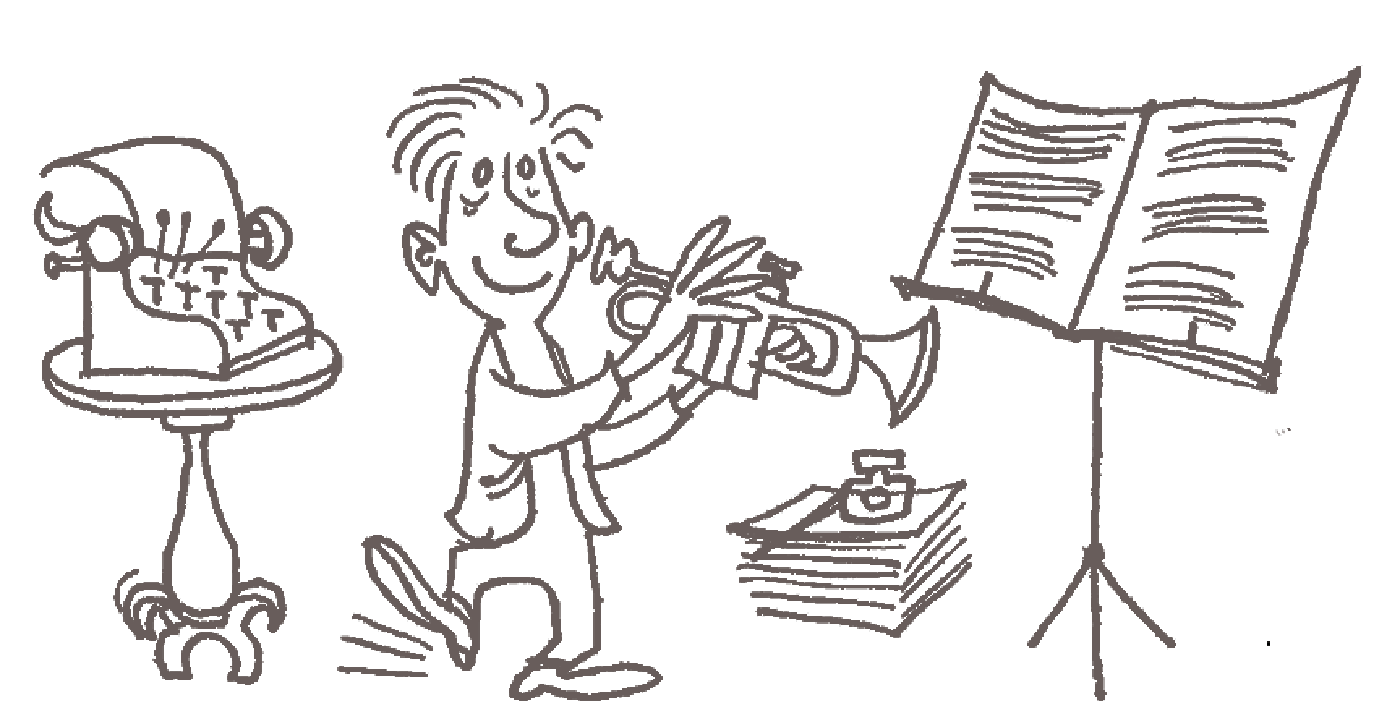 He described a typical week in his 1958 memoir, Second Chorus:
. . . filled to overflowing with odd jobs . . . there are all sorts of things to be written — scripts for TV or broadcast shows, bits and pieces for record albums, souvenir programs, the club bulletin which goes out to our members bi-mo88nthly. There are programs to be compiled, new numbers to be dug up, new arrangements to be timed and adjusted for TV shows, new records to be listened to for review, new books to be read, new tunes to be composed . . . [and] a band rehearsal of at least four hours.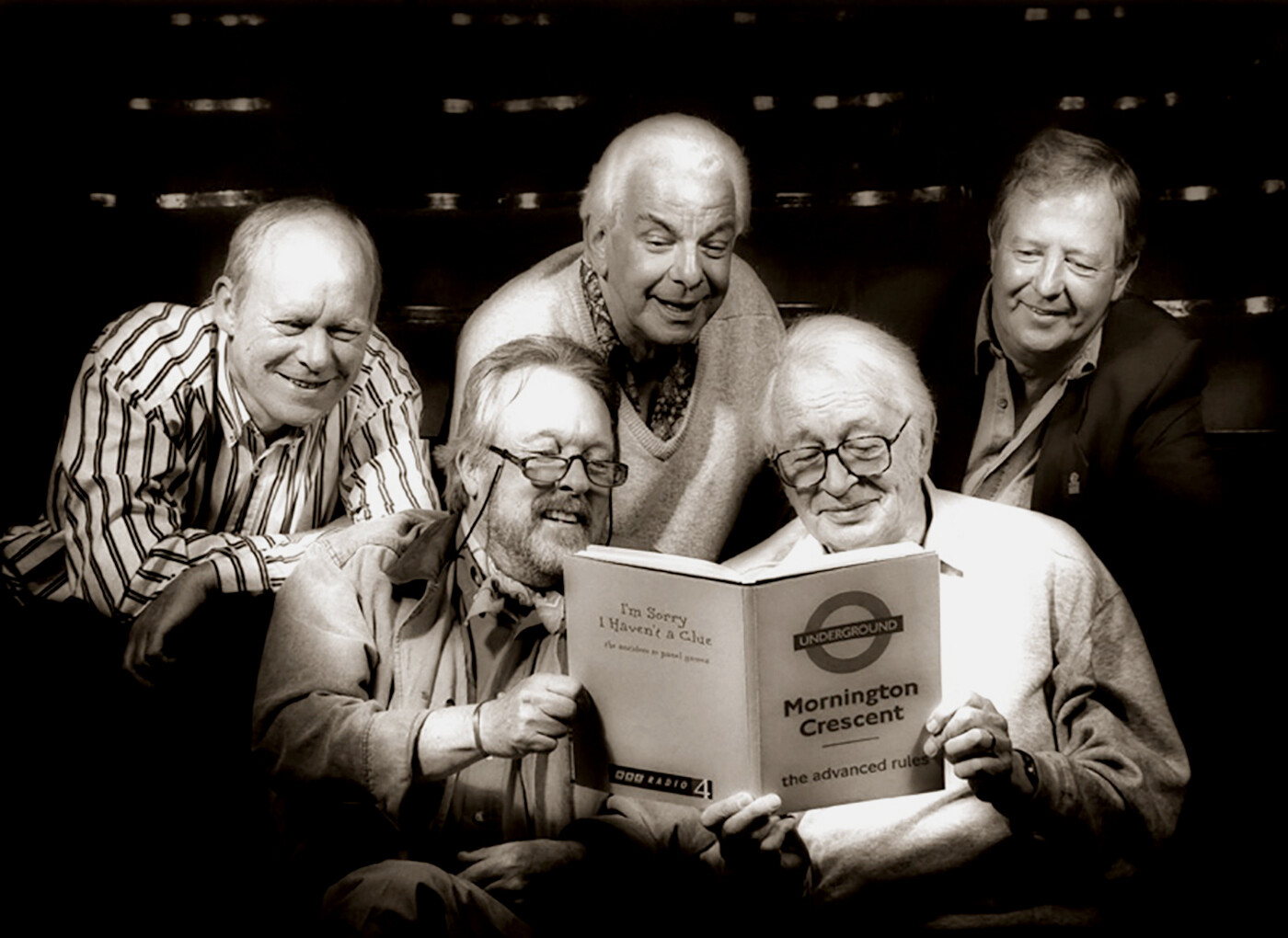 A British National Treasure
Lyttelton produced a jazz commentary program for Radio BBC, The Best of Jazz, from 1967 to 2007, and excerpts may be found on Youtube. It was the basis for, and the title of, his highly regarded two-volume anthology surveying the early years of Jazz, The Best of Jazz.
His greatest fame resulted from his role as the witty master of ceremonies for a satirical and somewhat naughty BBC Radio panel quiz show. For 35 years he hosted I'm Sorry I Haven't A Clue until weeks before passing.
In 1968 NASA invited Lyttelton to play a selection of jazz numbers 99transmitted live to the crew of Apollo 8 on their mission to orbit the moon. In 2000 he collaborated with the Rock band Radiohead, joining a concert in Oxford for 50,000 and calling it one of the most moving experiences of his career.
An independent thinker, creative artist and self-made man of many parts, he was deeply loved and granted numerous honorary degrees. Despite his broad celebrity Lyttelton was an intensely private individual, reportedly declining more than one offer of knighthood.
In broadcasting, his dry wit and wordplay made him a deeply loved media personality. In commentary and cartoon art, Humph offered fresh insights and playfulness. For more than a half century his effervescent musical voice, direct leadership and open mindedness made Humphrey Lyttelton a British national treasure.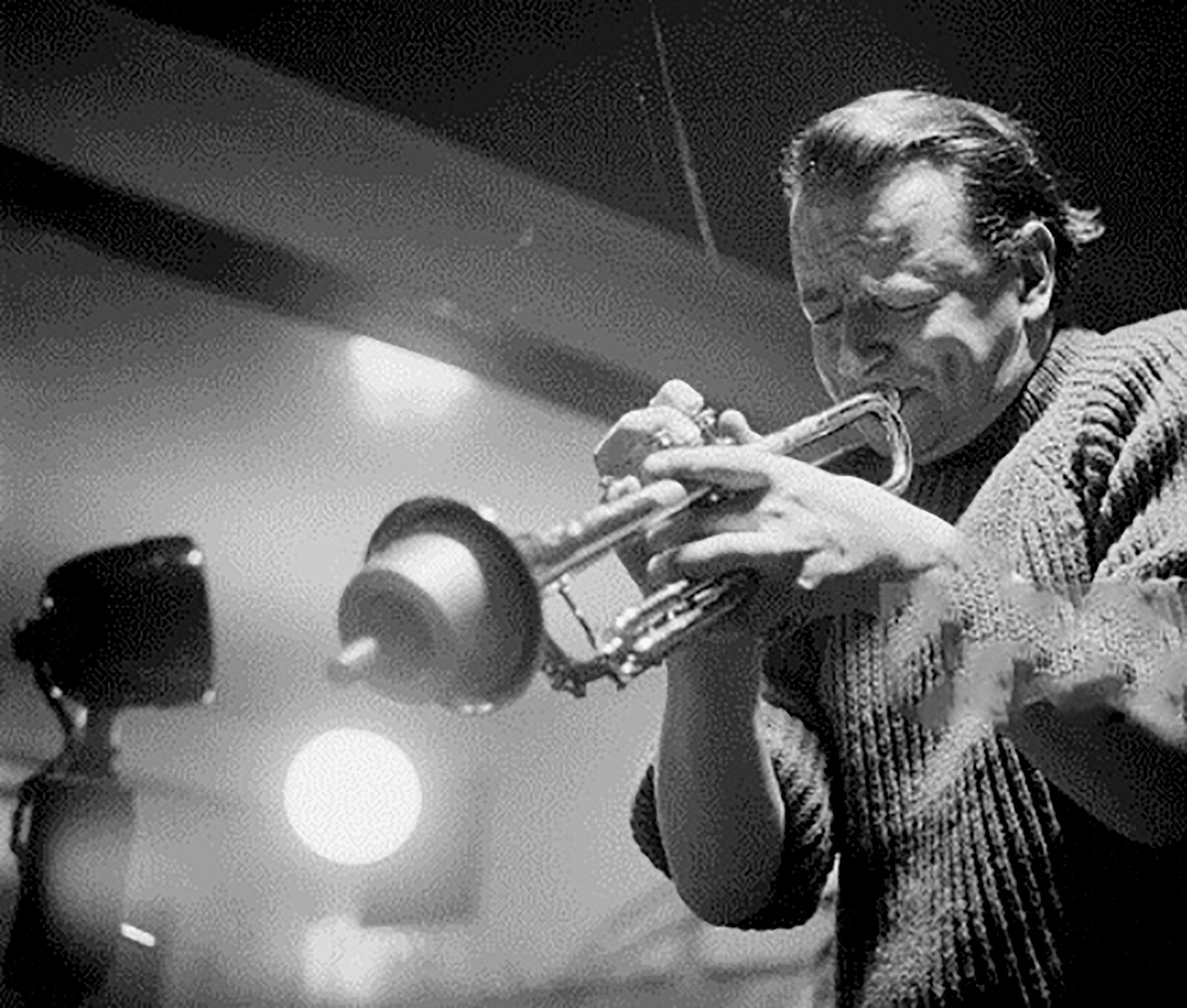 Thanks to Bert Thompson for assistance. Find music, photos and more at the Humphrey Lyttelton page of the Jazz Rhythm website: www.JAZZHOTBigstep.com.
Selected Lyttelton Book Titles:
I Play As I Please, 1954
Second Chorus, 1958
Take It from the Top, 1975
The Best of Jazz, two volumes, 1978, 1981
Why No Beethoven?, 1984
A partial sampling of tunes composed by Lyttelton:
Blue for Waterloo  Twelve-bar blues influenced by Muggsy Spanier 1949
Straight from the Wood Lyttelton and his Band, 1950
Humph Meets Trog Celebrating the partnership of Fawkes and Humph
Open House Bell-Lyttelton Jazz Nine, 1951
Hoppin' Mad Band with Ade Monsbourgh, 1951
Small Hour Fantasy Fawkes featured in the rhapsodic style of Bechet.

The Bell-Lyttelton Jazz Ten
Midnight Creep The Bell-Lyttelton Jazz Ten, 1951
Vox Humana Blues 1949
Blues for An Unknown Gypsy Royal Festival Hall, July 14, 1951
Randolph Turpin Stomp Royal Festival Hall, July 14, 1951
It Makes my Love Come Down Royal Festival Hall, July 14, 1951
Bad Penny Blues Lyttelton and his Band, 1956
Mezz's Tune Referring to Mezz Mezzrow, Lyttelton doubles on clarinet. The Humphrey Lyttelton-Wally Fawkes Troglodytes, 1992
The BBC Buddy Bolden Project, 1986:
Lyttelton on Youtube:
Jazz at the Royal Festival Hall 1955
Grant- Lyttelton Paseo Jazz Band:
LINKS:
I'm Sorry I Haven't a Clue archive