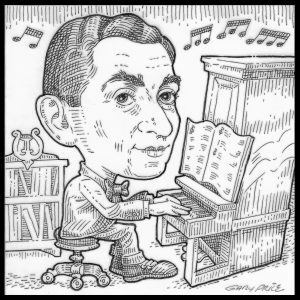 Irving Berlin was born Israel Beilin on May 23, 1888, in Tyumen, Siberia. Israel's family emigrated to the United States when he was five years old. At Ellis Island in September 1893, the family name was changed to "Baline."
Izzy Baline was motivated to make money from an early age, to help support his family who were living on the Lower East Side of New York City. Unable to provide for his mother and his siblings to his own satisfaction, he left home in his early teens. Drawn more to music than to manual labor, he at first sang for pennies in saloons and eventually found work as a singing waiter at the Pelham Café in Chinatown.
There he discovered he had a facility for making up risqué song parodies to the delight of the patrons. He also set about teaching himself to play piano, mostly using the black keys.
Collaborating with the Pelham house pianist, Mike Nicholson, Izzy wrote and published his first song, "Marie from Sunny Italy" in 1908. On the cover he was credited as "I. Berlin." Before long "Irving Berlin" was a prolific denizen of Tin Pan Alley, and he scored his first major hit in 1911, "Alexander's Ragtime Band." Dozens of other hit songs followed.
Irving Berlin in a sense was the Thomas Edison of American Popular Song. Both were formidable figures without whom we would not be able to imagine the 20th century as we experienced it, either in terms of popular music or technology. Yet both had lives fraught with controversy and were as deeply human as they were indispensable to our national life.
Scott Joplin (who may be seen as the Tesla of American popular music) accused Berlin of appropriating his work, though nothing could ever be proven. Berlin wrote the eloquent anti-war song, "Stay Down Here Where You Belong," in which Satan beseeches his son not to visit the earth because "men up there are bigger devils than your dad." He repudiated it when we entered World War I, during which he wrote our "second national anthem," "God Bless America."
Whatever his contradictions, Irving Berlin contributed more to American music than we can ever hope to assess. He died, at age 101, on September 22, 1989.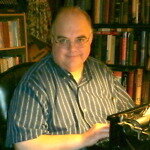 Andy Senior is the Publisher of The Syncopated Times and on occasion he still gets out a Radiola! podcast for our listening pleasure.