"Listening jazz that just happens to be great for dancing" is the gist of one recommendation I read about Jack's Cats, a surprising group of pre-bop swingsters from Los Angeles. I knew instinctively from the quality of their website and promotional material their playing would be crisp and professional. What I wasn't expecting was an album that passed the tush in the chair test.
There are bands that specialize in tight metronomic swing presentation for dancers. If your moving these albums are great, and the musicians are accomplishing what the set out to do. But often there isn't much there for the wallflowers to brood over. With Jack's Cats, there is plenty to move both hearts and minds. The playing is creative, intelligent, and joyful, under pleasing, artful, and slightly sultry vocals. They should be a mainstay of California festivals desiring to please toe-tappers while filling the dancefloor.
Jack's Cats straddles this line perfectly on their new album, "The State of Swing". While remaining danceable this newly minted swing material is excitingly musical throughout. 14 original compositions capture the "pre-bland portion of the big band era" with a six-man small combo sound. There is a lush softness to the slower numbers that will bring dancers close at the end of the evening and the upbeat numbers are full of joyful vigor.
Unlike groups that revel in nostalgia for their grandparents' high school days, there is something decidedly alive about these new compositions. They emerge organically from a scene that is vital and part of modern identity for its participants. That may be why the album has had so much success with swing DJs and one track, "Ain't Gonna Be Blue", was featured on the television show Riverdale.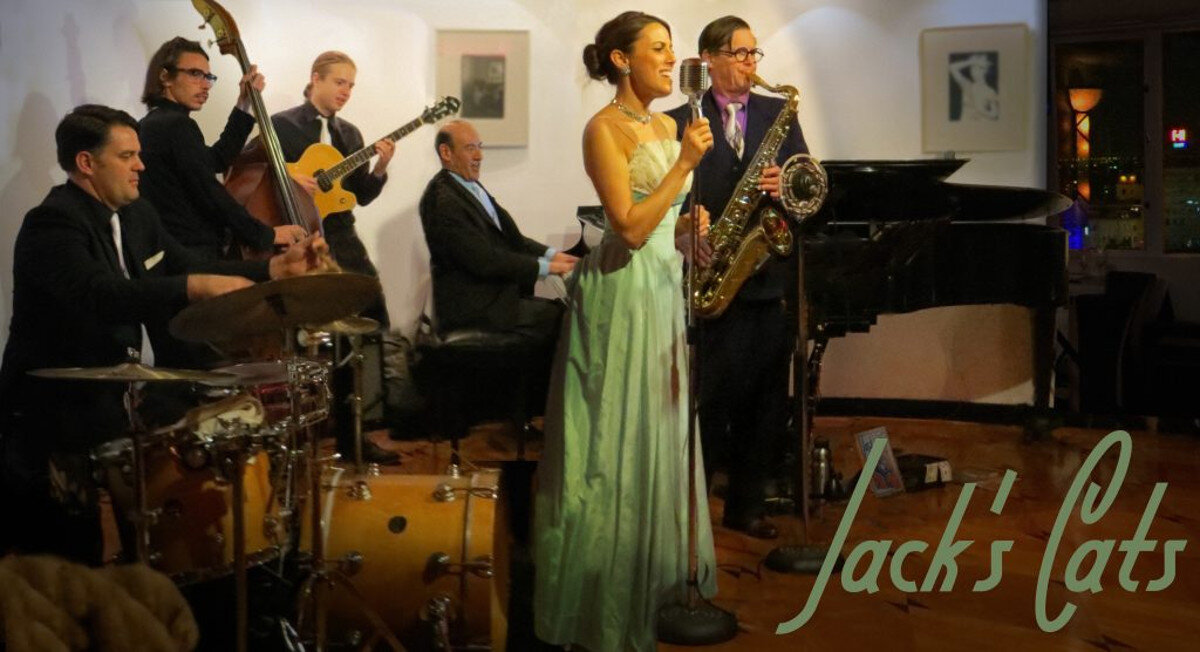 Clarinetist Jack Malmstrom composed all the material for this album. He first formed Jack's cats in his native Nova Scotia where the band drew the best swing musicians in the Halifax area and successfully released a live album in 2014 titled Low Down Dirty Swing. Since relocating to LA he's brought together a new group of fantastic musicians and the band appears regularly at the Cicada Club. For a period the band even had a three night weekly residency at that Art Deco landmark, and a song on the album is named for the establishment.
Gretje "Kitten" Angell is the glamorous female vocal through most of the album. With a background in opera, she has not only the range but the expressiveness and mastery of voice for the material. She is sought after by other groups and recently released her own jazz vocal album accompanied by guitar. It's fabulous and while I won't have time to review it I recommend you go listen for yourself.
The rest of the band is Phil Small (piano), Bryan Dedlow (guitar), Mark San Filippo (drums), Marcus Buser (bass), and Blake Handler (vibes). Each contributes mightily to the sense that this album is something worth deep attention as well as enjoyable on a surface level. The drumming and electric guitar add to the contemporary feel. The piano takes off on "Phil's Boogie" which brings the band for one track to the edge of rock n' roll. The vibes are a really nice touch, and I wish they were present more often in modern swing outfits.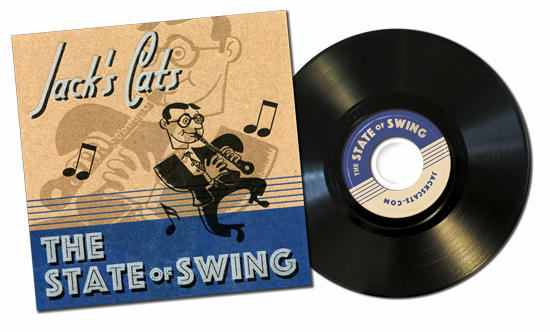 The CD version of the album contains full liner notes in a signed, limited edition (500 copies), letterpress art sleeve. The letterpress process, which is done individually by hand with rich and slightly varying results, is itself seeing a comeback in the digital age. Get your copy while they last.