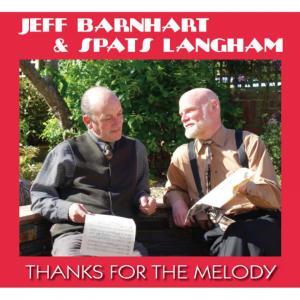 Pianist Jeff Barnhart and guitarist Spats Langham, both of whom sing in their own charming way, love playing together. They enjoy coming up with obscure vintage tunes and engaging in spontaneous interplay. Barnhart and Langham had recorded as a duo once before for the Lake label and Thanks For The Melody, which was recorded in a single eight-hour session, is their encore.
The 20 songs include such rare numbers as the title cut (recorded by the Temperance Seven in the early 1960s although not released at the time), "Mississippi Sandman," "Dapper Dan" and "Halfway To Heaven." While the other numbers are slightly better known, they sound fresh in this setting with the highlights including "Poor Papa," "Singing In The Rain" (inspired by Ukulele Ike), "How Could I Be Blue," a "Lulu" medley, and three instrumentals ("Temptation Rag," "Bouncin' Around," and "Stompin' Em Down").
While I wish that the solos were a bit longer and that there were more instrumentals, this set is full of creativity, new discoveries and pure joy. It leads one to ask, is there a Jeff Barnhart album that is not filled with fun music?
Thanks For The Melody (Lake LACD 355, 20 selections, TT = 76:54) www.fellside.com