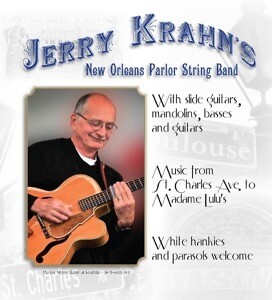 Jerry Krahn's New Orleans Parlor String Band has released a six-song promo CD that I very much enjoyed. With this disc, Jerry is reviving a local string tradition influential to the development of early jazz.
This style of band—featuring Spanish and steel guitars, mandolin, and string bass—was popular in New Orleans during the first years of the 20th century. Stringed instruments were more affordable than brass—and the sound produced was agreeable as indoor listening. String bands were welcomed into the homes of the well-heeled and wealthy as well as the bordellos of Storyville. As Krahn insists, this is "not Gypsy, not jug, and certainly not bluegrass."
Krahn's most direct influence is the legendary Six and Seven-Eighths String Band, which played in New Orleans from 1912 into the 1960s, by which time all the musicians had settled down as middle and upper-class professionals in various fields but continued to play for pleasure and to preserve the tradition.
Jerry Krahn's New Orleans Parlor String Band may be enjoyed in person at the upcoming Jazz Bash by the Bay in Monterey, California. The CD is the next best thing to having them play in your own parlor.
The disc is available for a small fee directly from Jerry Krahn. You may get in touch with him via email at [email protected]