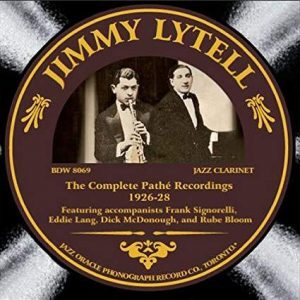 Jimmy Lytell (1904-72) may be a largely forgotten name today but he was quite busy in the 1920s. He was a member of the Original Dixieland Jazz Band (succeeding Larry Shields) for four months in 1921 when he was just 16, also worked with the Original Indiana Five that year, and in 1922 teamed up with trumpeter Phil Napoleon in the Original Memphis Five. That group recorded constantly up until the time the clarinetist left in 1926, whether under the original band name or as such similar groups as Ladd's Black Aces, Jazzbo's Carolina Serenaders, the Southland Five, the Cotton Pickers, Bailey's Lucky Seven, and the Savannah Six.
After that period, Lytell became a studio musician, played classical music, and spent years as a staff musician at NBC. He popped up in some jazz settings on records during 1936-42 (including with Erskine Butterfield's Blue Boys and Dick Robertson), led six songs on a Dixieland date in 1950, joined Connee Boswell and Phil Napoleon on a hot album in 1956 and was on a Miff Mole session in 1957. But he was largely forgotten long before his 1972 death.
However during 1926-28, Jimmy Lytell was well showcased on 25 titles recorded in trios with pianist Frank Signorelli and usually Dick McDonough on guitar or banjo (two songs have Eddie Lang and five are with banjoist Lou Calabrese). Reissued on the Jazz Oracle CD Jimmy Lytell 1926-28, these are the finest recordings of his career.
The 18 songs and 7 alternate takes have Lytell mostly in the spotlight, displaying an impressive technique, a clean sound, and swinging ideas in his own original tone. While typically these performances were not reissued in full until 2012 (up to 86 years after they were recorded), they show today's listeners that Jimmy Lytell deserves to be remembered.
Jimmy Lytell 1926-28
(Jazz Oracle BDW 8069, 25 selections, TT = 70:24) www.jazzoracle.com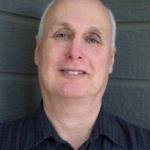 Since 1975 Scott Yanow has been a regular reviewer of albums in many jazz styles. He has written for many jazz and arts magazines, including JazzTimes, Jazziz, Down Beat, Cadence, CODA, and the Los Angeles Jazz Scene, and was the jazz editor for Record Review. He has written an in-depth biography on Dizzy Gillespie for AllMusic.com. He has authored 11 books on jazz, over 900 liner notes for CDs and over 20,000 reviews of jazz recordings.
Yanow was a contributor to and co-editor of the third edition of the All Music Guide to Jazz. He continues to write for Downbeat, Jazziz, the Los Angeles Jazz Scene, the Jazz Rag, the New York City Jazz Record and other publications.