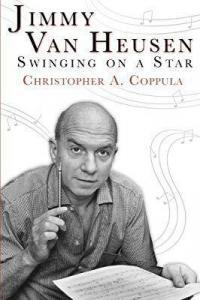 Jimmy Van Heusen, literally and figuratively, led a double life. Witty, talented, personable and dedicated to his craft of songwriting, he was in many ways a very private man. His given name was Chester Edward Babcock. The professional name of Jimmy Van Heusen was adopted when his boss at the radio station thought that the last name of Babcock was distraction. So, Chester adopted the first name after a friend and the surname after the shirt company.
Following the double-life theme, during WWII he was working for the movie industry in Hollywood and, wanting to do his part for American defense and yet retain his profitable profession, he became a test-pilot for Lockheed. He signed on with Lockheed using his real name. For a long time, work colleagues in either camp didn't know of his other profession.
As Van Heusen not prone to give details of his personal life, this may explain why he is the last of the Sinatra Rat Pack to have a written biography. First-time author Christopher A. Coppula credits three major sources for his information: an incomplete and unpublished biography by Robert de Roo, some writings by Van Heusen himself and Jim Burns, producer of a PBS documentary about Van Heusen.
From the book, we learn about Van Heusen's early songwriting efforts and his working relationships with lyricists Eddie de Lange, Johnny Burke, and Sammy Cahn. In Hollywood, Van Heusen becomes somewhat of an understudy and later friend of Bing Crosby. He writes songs for Crosby, Hope and Dorothy Lamour for the "Road" movies.
When Sinatra arrives in Hollywood, the two become good friends, drinking and carousing companions. Also, Van Heusen's piloting skills can greatly extend their drinking and womanizing range.
Van Heusen was a bachelor until late in life, so he has no direct descendants.
The author gives some insightful comments about the musical construction of the various hit songs of Van Heusen and details the awards and honors earned.
The book was published without an index and endnotes. Consequently, I obtained a delightful and informative telephone interview with the author, Mr. Coppula. He explained that in the rush to publish near the release of the PBS special (which I have not yet seen), those items were omitted. It is hoped to correct that deficit in the near future. Since many of Van Heusen's contemporaries have also died, it was difficult to get additional information about this personally private man. He wasn't able to get any comments from the Sinatra family. However, he was able to speak several times with Kitty Kelley, author of a somewhat critical biography of Sinatra.
I asked Mr. Coppula, an attorney for a construction firm in Washington, D.C., about how he came to write about Van Heusen. Coppula is a trained pianist and vocalist. His father was a fan of this music and when Coppula was at U. of Notre Dame, he was a campus disc jockey who came under the influence of his boss who was a "walking encyclopedia" of the so-called Great American Songbook. He expressed thanks to the Babcock family for allowing him access to the materials for the authorized biography.
I asked further if there was possibility of another book in the future. His reply was that it was doubtful, what with a growing family and responsibilities of his professional career. Let's hope there is time and interest for that additional pursuit.
Jimmy Van Heusen: Swinging on a Star
Christopher A. Coppula
Twin Creek Books, pp.545 ©2014