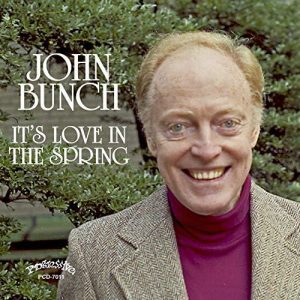 John Bunch (1921-2010) was already in his mid-thirties before he made his first recordings, but he lasted long enough to leave behind a strong musical legacy. A member of the Woody Herman Orchestra in 1957, he worked along the way with Maynard Ferguson, Eddie Condon, Tony Bennett (1966-72), Benny Goodman, Buddy Rich, and Gene Krupa.
In the 1970s when the rise of Scott Hamilton and Warren Vaché launched the comeback of small-group swing, Bunch was utilized on many sessions despite being twice as old as many of the movement's pacesetters. He led over 20 record dates of his own during 1975-2009. A flexible swing pianist who had no difficulty playing with both Ruby Braff and Louie Bellson, Bunch was an asset to every group in which he appeared.
It's Love In The Spring, which was recorded March 1, 1977, teams Bunch in a drumless trio with guitarist Cal Collins and bassist George Mraz on eight songs plus two previously unreleased alternate takes. The repertoire covers a wide ground, from "Struttin' With Some Barbecue" and Hoagy Carmichael's "Jubilee" (both of which are taken as romps) to Bud Powell's "Celia" and "Emily."
Bunch, who contributed two originals, works very well in this setting, guitarist Collins has many fine solos, and bassist Mraz holds everything together quite well. The variety of songs and tempos make It's Love In The Spring a very satisfying listen and an excellent example of John Bunch's tasteful and swinging piano.
It's Love In The Spring (Progressive PCD-7011, 10 selections, TT = 49:29) www.jazzology.com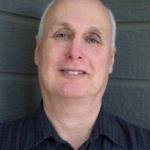 Since 1975 Scott Yanow has been a regular reviewer of albums in many jazz styles. He has written for many jazz and arts magazines, including JazzTimes, Jazziz, Down Beat, Cadence, CODA, and the Los Angeles Jazz Scene, and was the jazz editor for Record Review. He has written an in-depth biography on Dizzy Gillespie for AllMusic.com. He has authored 11 books on jazz, over 900 liner notes for CDs and over 20,000 reviews of jazz recordings.
Yanow was a contributor to and co-editor of the third edition of the All Music Guide to Jazz. He continues to write for Downbeat, Jazziz, the Los Angeles Jazz Scene, the Jazz Rag, the New York City Jazz Record and other publications.