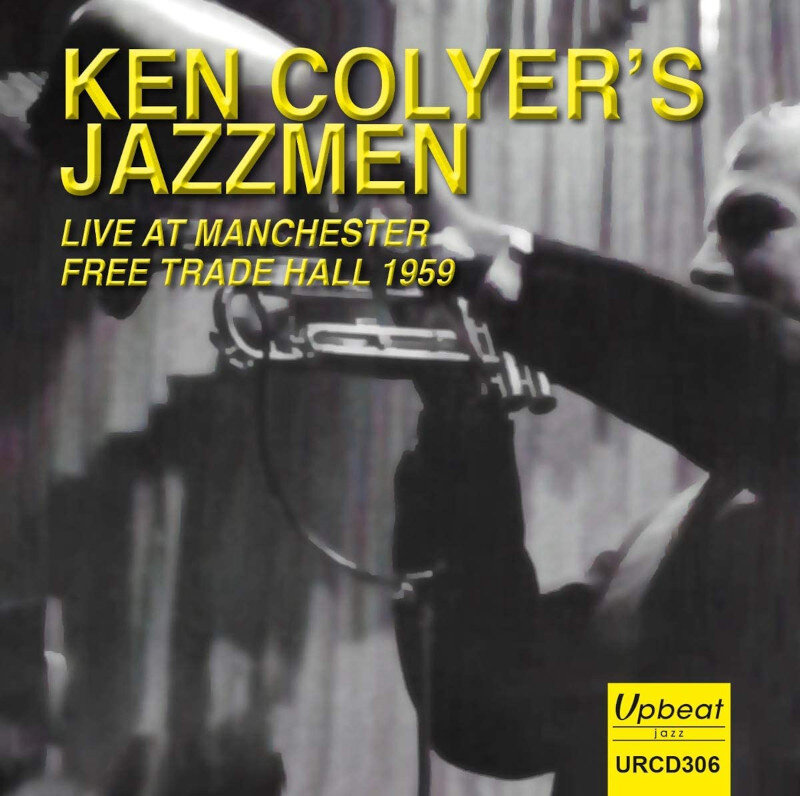 One of the best known of the British traditional jazz musicians is the late Ken Colyer (1928-1988), and interest in his recorded output has not lagged in the 32 years since his death. Now we have another previously unreleased recording of a Colyer performance, which should gladden the hearts of the Colyer faithful.
Not all of the recordings issued since Colyer's death have been of premium quality (Colyer himself would probably have nixed many from their being issued), but this one, a concert given in Manchester in 1959, falls outside that pale; as Ray Foxley says in his album notes: "It contains some of the best Colyer I have heard for many a year …." So there is much cause for rejoicing—a new issue and one of some merit. And the cherry on the top is that the personnel on this disc comprise what is often referred to as the "Colyer classic band."
None of the tunes on the play list will be strangers to Colyer fans, but as is always the case, the treatment each gets is unique to that performance, making for a memorable listening experience. The interplay between the horns when a band is engaged in collective improvisation is one which affords the devotee of the New Orleans Revival style immense satisfaction, and such is the case here where most of the tracks feature polyphonic interaction.
The pattern is immediately established in the first track, "Sweet Fields," as Colyer states the melody and maintains the lead for several choruses, then allows Wheeler on clarinet to take over, trumpet and trombone falling into a riff sequence behind him. Following that is more ensemble and then a piano solo where Foxley falls victim just a tad to the Colyer nemesis, a propensity to rush to which the rest of the rhythm section contributes a little. (Colyer himself and the rest of the group were aware of the tendency, the band referring to it elsewhere as "controlled acceleration.")
However, that slight flaw does not mar the effect of the fine counterpoint Duncan supplies below Colyer's lead and the scintillating weaving that Wheeler does above the two brass. Colyer ends the coda with high notes, a range he does not venture into frequently, all of it adding up to a track which provides a lively start to the proceedings.
In typical Colyer fashion, all tunes are given a complete workout, two being over ten minutes long, almost all the rest coming in at around six minutes each. Two tracks contain a couple of unusual and pleasant surprises: the dramatic triplets crescendo the band launches into twice at the coda, followed by a dramatic ritard, in "Aunt Hagar's Blues"; and the chimes played by the front line on "Chimes Blues." So often where there is a piano, that instrument takes the chimes, but here we get both. The tempi at which these two numbers in particular open are very slow, and given the Colyer acceleration proclivity, my initial response was, "Oh, Oh." But no—the tempo is maintained, rock steady, all through in both.
And bestriding all of the numbers is Colyer's presence as he marshals the troops, demonstrating that wonderfully expressive vibrato, coupled with the masterful use of the derby mute—two of his trademark signatures. The years drop away as one hears these Colyer hallmarks while he leads his merry men through the rhapsodic ensembles that comprise the disc. If we close our eyes, we can bask in an acoustic ambiance which is redolent of that of the dance halls of New Orleans, such as Luthjen's or the Eagle Hall, for example.
This is classic Colyer fare which I am sure will delight the legions of Colyer aficionados and remind them of what a loss his passing occasioned. Once again we are beholden to Liz Biddle and Upbeat records for making this performance available. With some luck perhaps more like this will be unearthed and Upbeat moved to issue them. Like all Upbeat recordings, it can be had from the Upbeat web site www.upbeatmailorder.co.uk and Amazon.
KEN COLYER'S JAZZMEN • Live at Manchester Free Trade Hall 1959 • Upbeat URCD 306. Playing time: 65 mins. 45 secs.
Sweet Fields; When I Leave the World Behind; Nobody Knows the Trouble I've Seen*; Aunt Hagar's Blues; Cheek to Cheek; Willie the Weeper; Muskrat Ramble; Peanut Vendor; Chimes Blues; Don't Go 'Way Nobody.
Ken Colyer, trumpet, leader, vocal*; Ian Wheeler, clarinet; Mac Duncan, trombone; Ray Foxley, piano; John Bastable, banjo; Ron Ward. Bass; Colin Bowden, drums.
Recorded at the Manchester Free Trade Hall, Manchester. U.K., on Saturday, Jan. 31, 1959.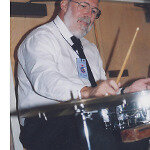 Born in Dundee, Scotland, Bert Thompson came to the U.S. in 1956. After a two-year stint playing drums with the 101 st Airborne Division Band and making a number of parachute drops, he returned to civilian life in San Francisco, matriculating at San Francisco State University where he earned a B.A. and an M.A. He went on to matriculate at University of Oregon, where he earned a D.A. and a Ph.D., all of his degrees in English. Now retired, he is a professor emeritus of English at City College of San Francisco. He is also a retired traditional jazz drummer, having played with a number of San Francisco Bay Area bands, including And That's Jazz, Professor Plum's Jazz, the Jelly Roll Jazz Band, Mission Gold Jazz Band, and the Zenith New Orleans Parade band; he also played with some further afield, including Gremoli (Long Beach, CA) and the Phoenix Jazzers (Vancouver, B.C.) Today he reviews traditional jazz CDs and writes occasional articles for several publications.