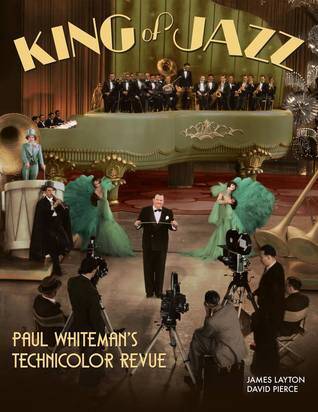 King of Jazz: Paul Whiteman's Technicolor Review
by James Layton and David Pierce
Media History Press (kingofjazzbook.com), $40
This elegant book, 8.75" x 11", comes at a time when the 1930 early Technicolor movie about Paul Whiteman and his band, is undergoing a revival. The authors have documented the making of this movie in painstaking detail. There are elegant photographs, many in color. The index is complete so that one can find his/her favorite musician easily in the text or photographs.
Whiteman's band comprising 20+ musicians was at its peak about the time of the making of this movie. Gershwin's Rhapsody in Blue had been commissioned for performance at Whiteman's 1924 concert at Aeolian Hall in NYC.
Many of the outstanding jazz musicians of the time were associated at one time or another with the Whiteman band. Bing Crosby got his big break with Whiteman. Both Tommy and Jimmy Dorsey played with Whiteman. Some of the others included Bix Beiderbecke, Joe Venuti, Eddie Lang, Frank Trumbauer, and, of course, arranger Ferde Grofé.
Interestingly, even though the elegant movie featured America's most famous band at the time, it was not a commercial success, the timing of the release couldn't have been worse because of the severe economic depression.
The movie has been restored using the most modern techniques and is currently being shown in a few cities at art museums and other similar locations. In contact with Mr. David Pierce, one of the authors, I learn that the movie will not be available for release in movie theatres or on DVD in the near future. Mr. Pierce indicates that the book is for sale through their company, address above, with signed and numbered copies. It is also available commercially through Amazon and other outlets, but not signed and numbered.
Subscription Options
---
Or get the Print Edition with Online Access. To get the print edition of The Syncopated Times use this Paypal link. After you pay you will be issued a coupon for free online access.