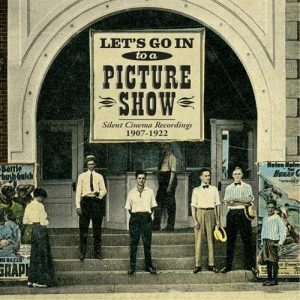 The recording industry and films grew up together. As early as 1895, a composition called "The Kinetoscope Dance" (which was available as sheet music) referred to a motion picture. During the silent movie era, particularly by 1910, there were quite a few recordings that talked about the joy of seeing movies with one's potential girlfriend or about the films themselves.
Let's Go In To A Picture Show 1907-1922 has 20 recordings (all but "Dream Of A Rarebit Fiend" from the Edison Military Band and the Metropolitan Military Band on Charlie Chaplin's "The Peace Patrol" feature vocals) plus, for variety, six piano rolls including "Movie Rag." Among the topical titles are "At The Ten-Cent Movie Show," "He's Working In The Movies Now," "Poor Pauline," "Those Charlie Chaplin Feet," "Since Mother Goes To Movie Shows," "My Picture Girl" and "Take Your Girlie To The Movies." The performers include Ada Jones, Billy Murray, Arthur Collins, and a variety of long-forgotten singers, mostly drawn from vaudeville.
While the jazz content is light (the closing number is an early version of "The Sheik Of Araby"), this unique set is something that collectors of early music and historians will find of interest, and mostly quite fun.
---
Let's Go In To A Picture Show (Harbinger HCD 3403, 26 selections, TT = 79:52) www. harbringerrecords.com